#TBT
Those "warm and happy thoughts" will lead to high near 80 today.
Warmer temps will provide more energy for showers to develop Thursday afternoon. HRRR Model predicts most of the showers will stay to our north.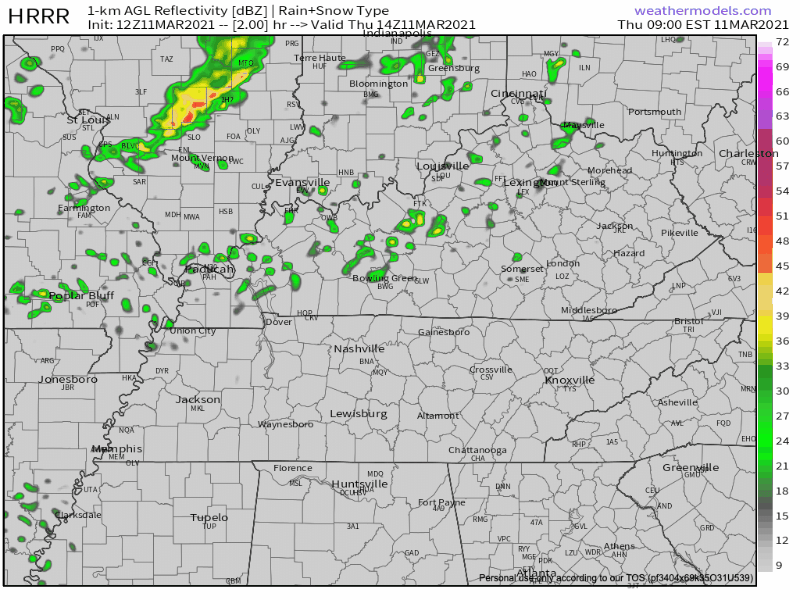 The further north you are, the better your chances of getting your backyard wet (Joelton-Goodlettsville). This activity should be rather light with no severe worries.
Rainy Front Sinks In Friday-Saturday
Better rain chances come Friday afternoon/evening into Saturday morning. Euro Model shows the activity to our north dip down into the northern half of the state.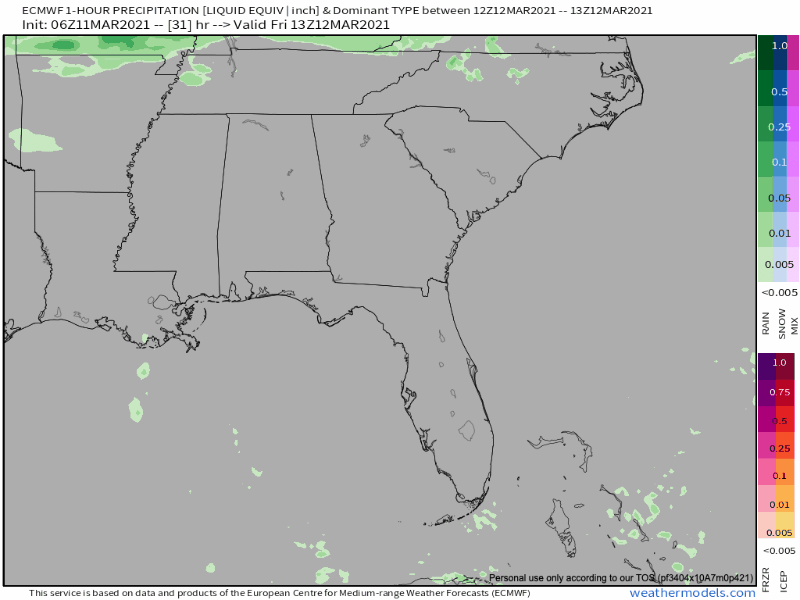 GFS agrees with similar rain chances and amounts. This activity too won't be especially strong or heavy.
Rain chances should diminish as we progress through Saturday with everything ending by the sunset.
Total Rainfall amounts through the weekend will vary drastically across Davidson and Williamson Counties.
Joelton in northern Davidson County could receive up to 0.75″ whereas Thompson's Station in southern Williamson County may only see 0.25″.
More Significant System Monday
This will be a strong/severe thunderstorm event in Arkansas on Sunday. But what will it be when it gets here Monday? Pretty weak, probably. Models show it showing up Monday morning when our storm-fuel will be gone.
Along with shower chances, there maybe enough instability across our area after midnight Sunday night through Monday morning to support isolated thunderstorms.

NWS AFD 03-11-2021
Current thinking is that instability will be lacking. Thus limiting the severe potential. As always this could change as newer information becomes available.
If the line delays and arrives Monday afternoon – giving time for instability to build to power up storms – we may get some thunderstorms with a damaging wind risk. From the Storm Prediction Center:

A remnant of the squall-line may be ongoing ahead of the front in the morning. This line may re-intensify by midday as instability increases. The current thinking is that an isolated wind damage threat will develop during the afternoon from middle and eastern Tennessee southward into Alabama.

SPC Day 5 Outlook, 3/11/21
Current Panic Level:
Yet another storm system is due in here towards mid-week. Thunderstorms could be involved with that one too. Deets are fuzzy and speculation is unhelpful.
More on that in upcoming blogs. Until then, Happy Thursday!