Nothing happening until Thursday, when rain sets up north of us.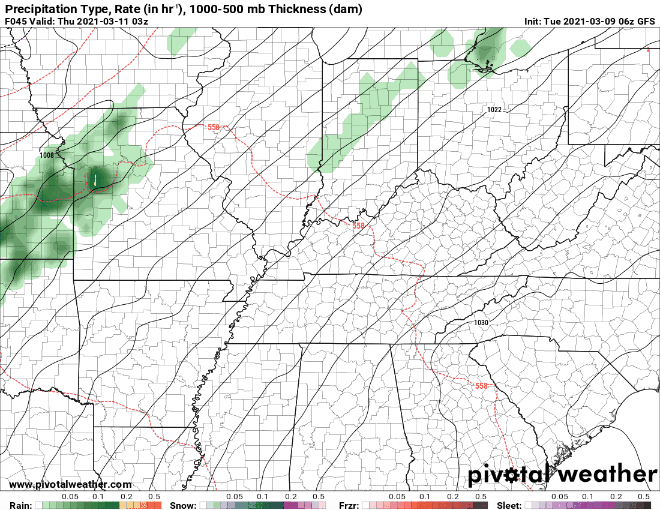 Will it get here? Maybe not. Thursday showers will mainly stay north of I-40. They may not even make it into Davidson County.
But Friday and Friday night that stationary rainmaking boundary should sag south and send a few off and on, scattered, and unconcerning showers into to our area. A few isolated thunderstorms are possible, but just thunder and lightning, nothing severe.
The Weekend, pretty much the same. That rainmaking boundary will stay mostly north of us, with a few scattered showers dropping by off and on. Does not look like a washout, but a few areas may see enough rain to say "we should have brought an umbrella."
Here we see weekend rainfall estimates. Notice the washout-quantity rains stay in Kentucky.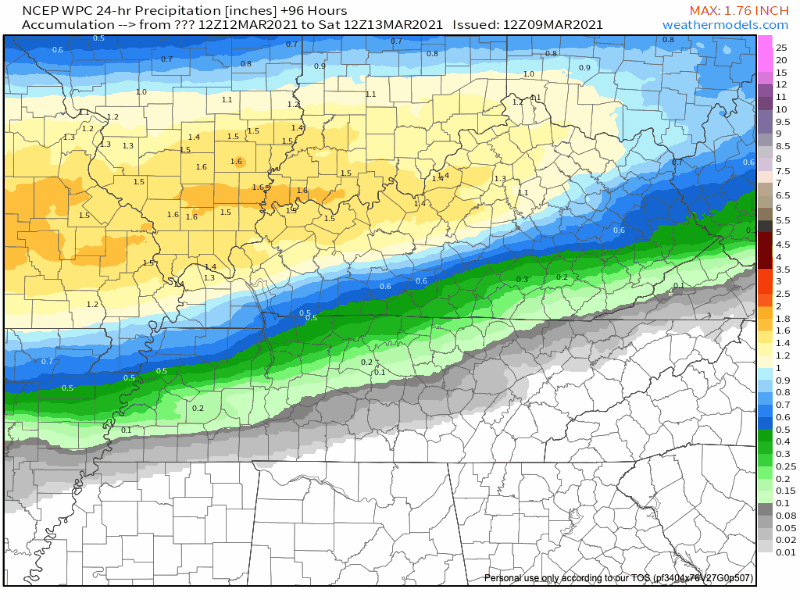 Storms Next Week?
If you've been reading us for even a hot minute you know: forecast resolution and "accuracy" at this range is poor.
A signal to a rainy/stormy period is seen Sunday night into early next week:
A much more significant and stronger weather system is expected to move into mid state region Sunday night into Monday especially if ones leans toward latest GFS solution. This system could potentially push at least an area of showers across mid state region. GFS solution also advertising yet another potentially strong system approaching mid state region as Tuesday progresses. Will wait for additional model runs and forecast analysis and interpretation before mentioning more widespread convection with potential of thunderstorm activity.

NWS-Nashville Forecast Discussion
They're talking about a squall line moving west to east across Middle Tennessee. Here is the SPC write up about it:
On Monday and Tuesday, model solutions diverge. Although a cold front is expected to move across the Ohio/Tennessee Valleys and Gulf Coast states, substantial uncertainty exists concerning the upper-level level pattern. Strong thunderstorms will be possible along and near the front but uncertainty is high. This uncertainty continues into Tuesday due to very large differences among model solutions.

Storm Prediction Center, 3/9/21.
The data is inconclusive, as usual. It's March, strong systems are commonly seen in medium range models. Few materialize locally. Note also this signal is from the GFS model, it's a decent model, but the Euro is better and it's not exactly on board with what the GFS is selling.