The Storm Prediction Center in Norman, OK has given us a Slight Risk for Sunday afternoon, but we don't expect widespread severe weather.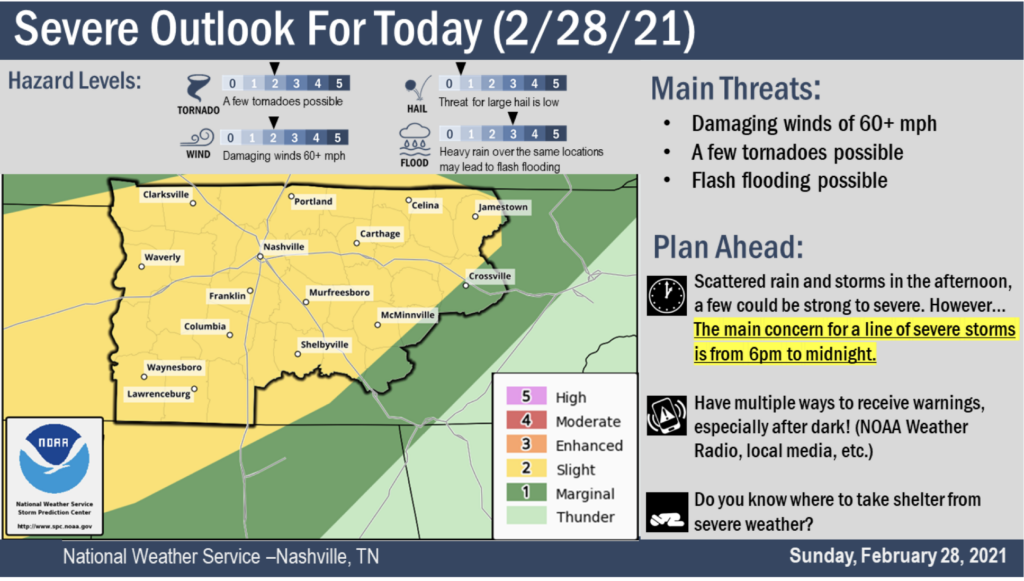 Sunday
As mentioned above, spc put us in a slight risk for Sunday. The main concerns are flooding, and a non-zero chance of brief Tornados, damaging wind, and small hail. This isn't some widespread severe weather event, but it has us interested enough to write a special blog to discuss it. So let's dig in.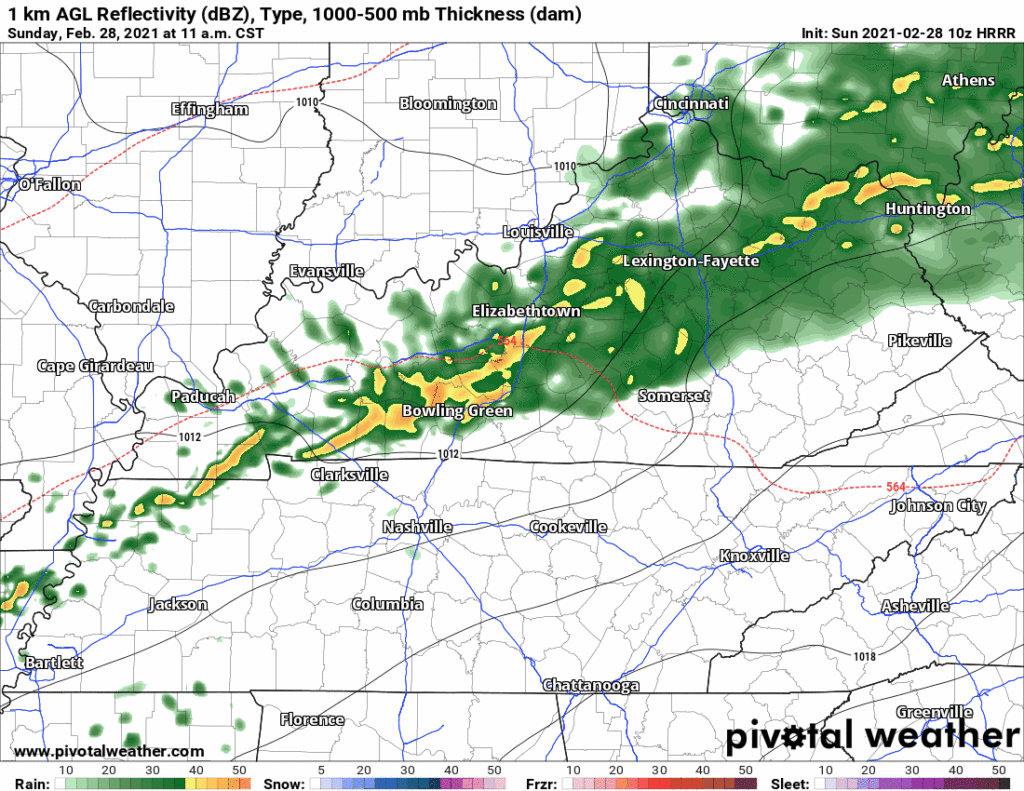 10z HRRR Reflectivity Loop
Above, the HRRR model is running through Sunday night. A storm complex riding a cool front comes our way Sunday afternoon. Exact timing is still a little unsteady, but we think it will be Sunday evening for the "main event".
We know it will bring us lots of rain.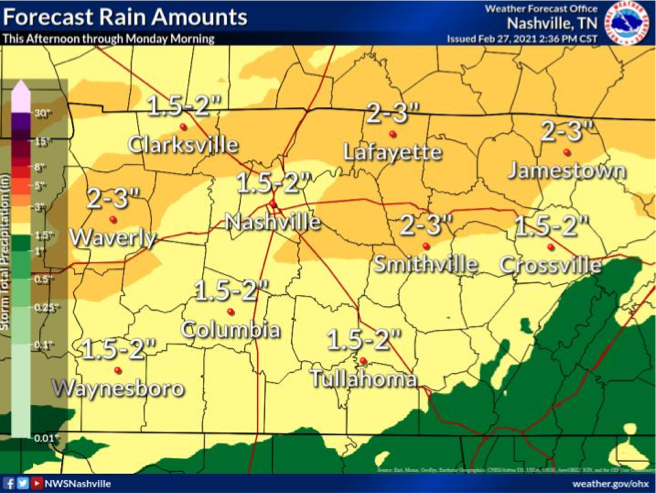 The above graphic is showing a forecasted amount of multiple inches, and that has triggered a flood watch through Monday morning. Creeks, rivers, drainage ditches will remain full and may exceed flood guidance, triggering flood warnings tomorrow night. An isolated 4″ of rain for some us is not out of the question. Flash flooding will be of most concern in areas that receive a lot of rain yesterday. Creek and river levels can be checked here… NashSevereWX Flood Resources
A flood advisory will like remain in effect through 6pm Wednesday.
Severe Threat
It's low. But it's not zero and the greater threat exists if there isn't a cloud deck in place tomorrow afternoon. The setup Sunday is going to be influenced by storm fuel (heat + instability).
Here's what the NWS said in their Saturday afternoon AFD…
Afternoon
high temps on Sunday expected to sore into mid 70s south with a
good amount of instability and favorable lapses rates for strong
to severe convection development, especially if rainfall does not
move into this portion of mid state region until late afternoon
hours allowing for increased atmospheric instability due to
enhanced diurnal heating influences.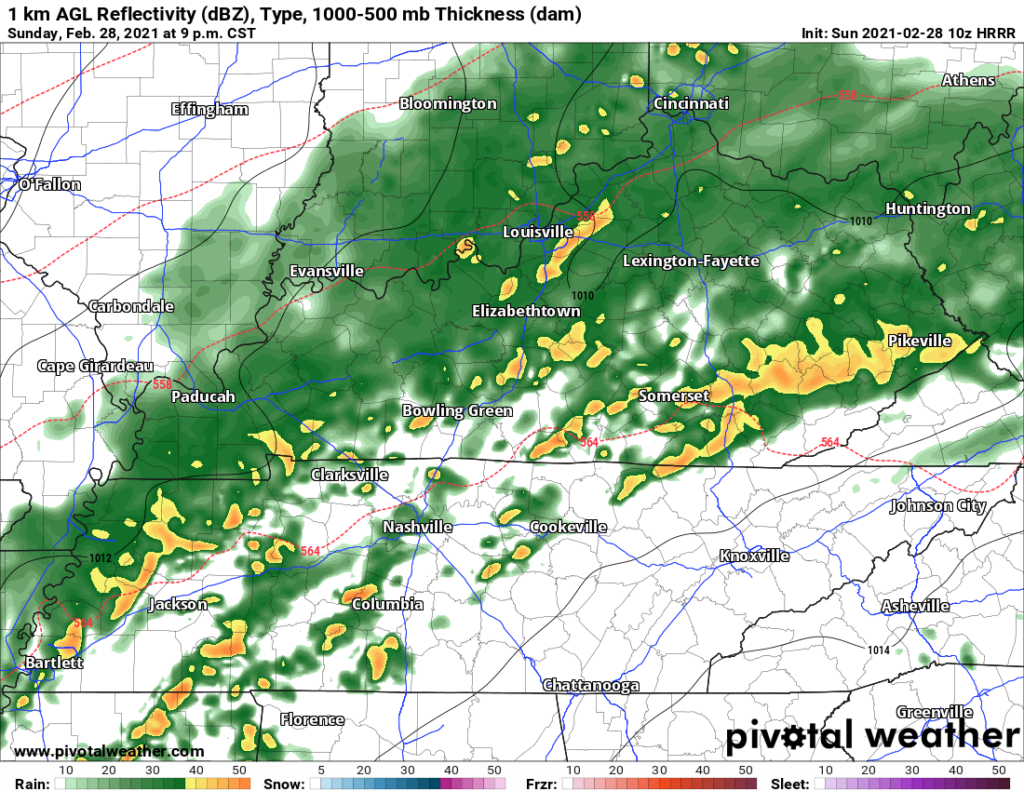 Digging into a single image of the HRRR loop, this particular model shows us a broken line of storms with embedded cells capable of producing damaging wind and brief tornadoes. This image isn't an exact replica of what the radar will look like tomorrow, but it does tell us to be alert.
These setups have made for damaging winds in the past. We will watch this storm system with all due attention this evening and Monday morning.
Below are SPC's Categorical outlook for severe weather and probability outlooks for Tornado (5%) and Damaging Wind (15%).
Severe Weather Awareness Week
Welcome to severe weather season, please take a look at some helpful preparedness resources. Community resiliency beings with you!