While ever-shrinking piles of plowed snow hang around to remind us of the big snow that was, we look ahead to a multi-inch rain that could bring flooding.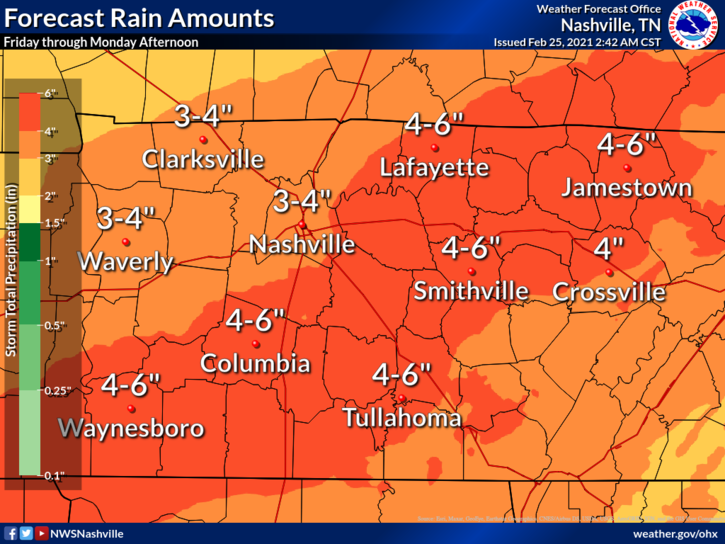 It wasn't too long ago we were looking at snow accumulation maps that resembled this, but rain in these amounts is a different ballgame. Much more water will fall from the sky and will likely run right off into local ponds, streams, creeks and rivers due to the saturated ground.
Our biggest concern for flooding comes Sunday through Monday morning. We've been through these setups before. An event of this magnitude might look something like heavy rainfall training over the same areas for quite a while. If you live near a creek or stream that overflows a couple of times a year, this could be a time when that happens. Creeks like Mill Creek, Browns Creek, Whites Creek, etc. can get full or overflow.
However, every event is different. Your mileage will vary. Stay tuned as fuzzy details become more in-focus.
Timing
While rain chances increase tonight and remain on the board for the next seven days, we don't expect constant rainfall.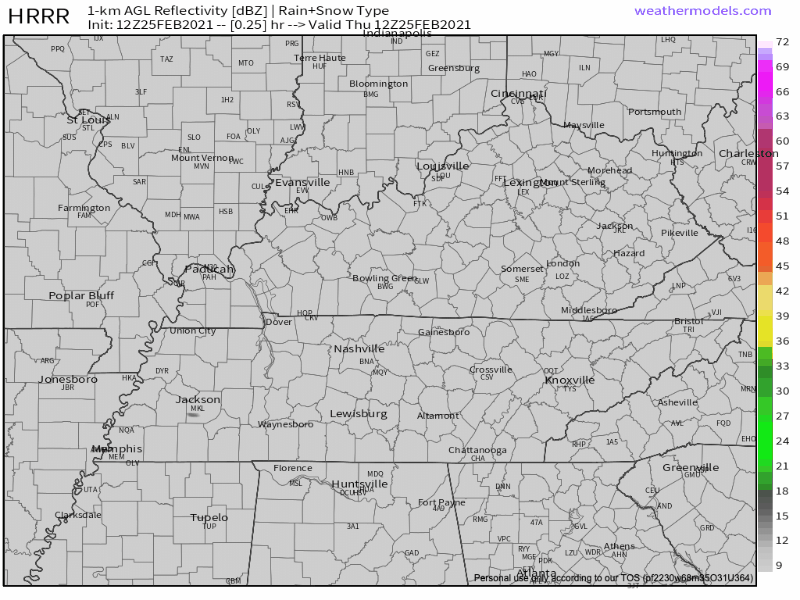 The HRRR run from 6 am this morning thinks there will be light rainfall, especially S of I-40 overnight tonight, then another round off/on for most of us during the day Friday.
It also shows more rainfall overnight Friday into Saturday morning. Saturday ball sports will likely be impacted.
The GFS thinks another round of rainfall, potentially heavy, will move through sometime between Saturday afternoon and Monday morning with training storms possible. Eyeballs will be on flooding with this round.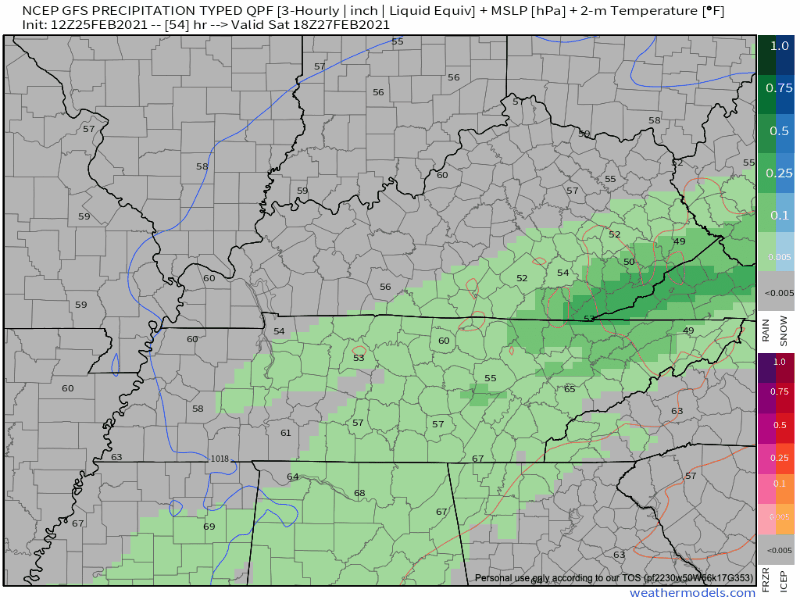 If the band of heaviest rain sets up north or south of us, our rainfall amounts will be less. If it sets up over top of us, amounts will be more likely to cause local flooding issues.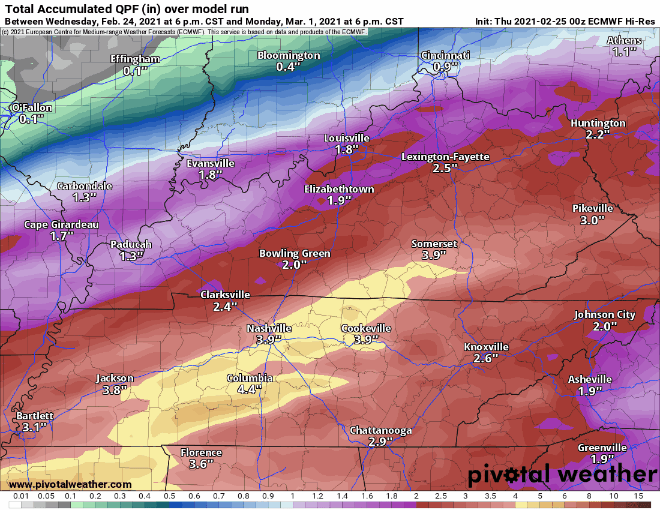 By 6 pm Monday, the GFS, Euro and NBM all agree rainfall in the two to four inch range, with locally higher amounts, is possible.
How To Prepare
If your roof still has ice and snow packed in the gutters or valleys, you might consider addressing that. It may be hard to believe, but I saw several homes on my commute today with ice and snow remaining on the north facing rooftop valleys. If heavy rainfall has trouble getting to your gutters, water could find its way into your house. Trust me…no fun.
If you have storm drains or drainage ditches, make sure yard debris, leftover sleds, yard toys, etc. won't block stormwater from freely flowing where it's supposed to.
Driving: When we had the ice, you likely considered a route with the least amount of hills. With heavy rain, consider alternate routes that aren't near creeks or streams that could flood. Turn around, don't drown!
Severe Weather Awareness Week
February 28 – March 6
Our local NWS Office is putting together a series of classes and discussions for you! Check it out, and register here. All FREE: https://www.weather.gov/ohx/swaw2021