Ice missiles fly off the tops of cars and truck and onto the windshields of cars and trucks behind them. These are this weekend's biggest hazard. Sometimes the ice doesn't missile backwards causing property damage or an accident. Sometimes it slides forward and covers your windshield while you are driving. Clear the top of you car and truck before going out.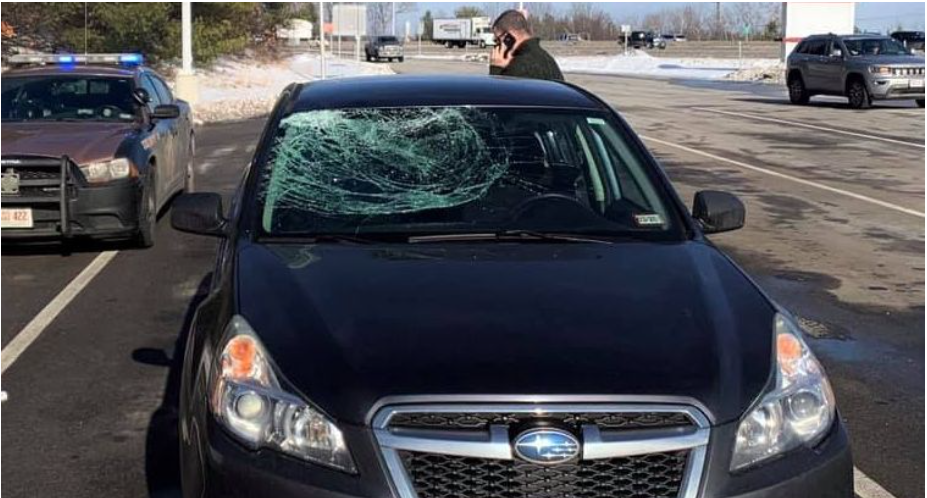 Watch your ceilings for water damage. Ice will melt off your roof. The water needs a place to drain. Problem is, it can't drain, ice in your gutter is blocking it. Water can find its way below the shingles. See if you can clear the path to your gutters. The ice blocking water flow is called an ice dam.
Sunglasses. Sunlight bouncing off that snow is pretty bad for your eyes.
Melting will accelerate today with constant direct sunlight and temps rising above freezing by late morning. Afternoon high 41°. Remaining slush will begin refreezing after dark — low 24° — before undergoing another melt beginning late Sunday morning. Sunday afternoon high 55° should blast away all the snow. Clouds arrive Sunday. Rain is coming.
Rain ETA midnight Sunday night. Ending around sunrise Monday morning. Surface temps and temps aloft too warm for frozen precip. HRRR model: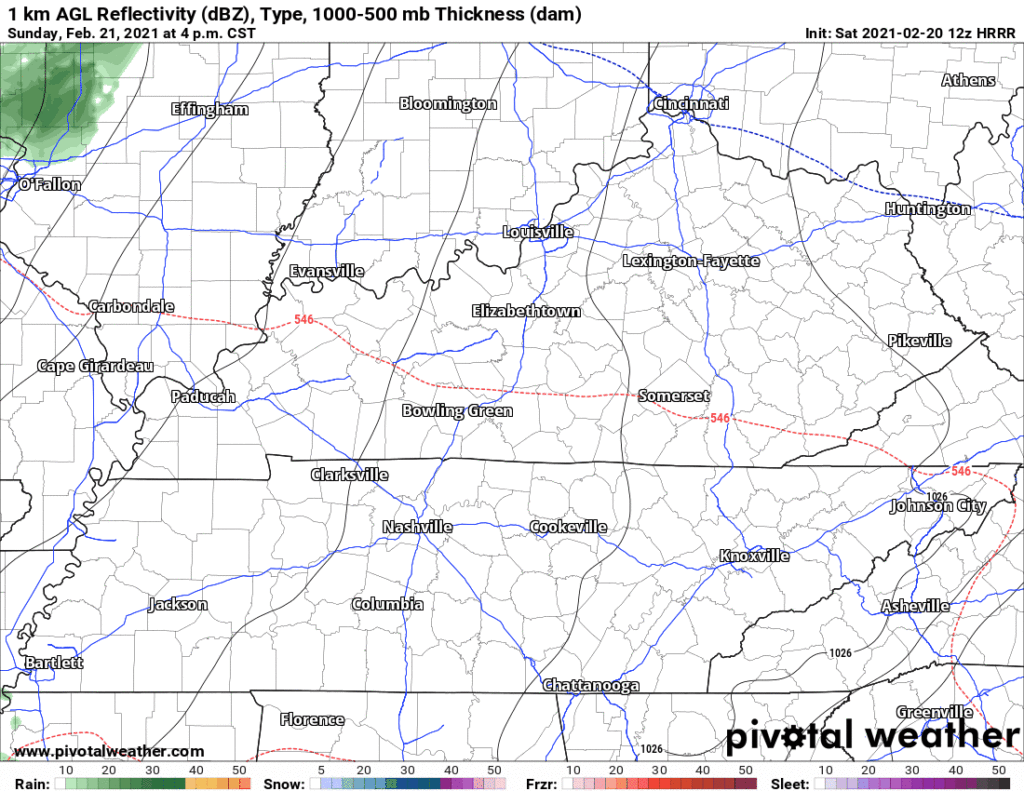 Sunday night – Monday morning will be our first overnight with above-freezing temps. Overnight rain averaging 0.39″ total will help wash out the ice. We suppose there may be high elevation tree-shaded roads protecting its ice, but I anticipate for most places travel will return to near-normal Monday. This is a general statement. Doesn't apply to every surface within the almost 1,100 square land miles in Davidson and Williamson Counties.
Warming up: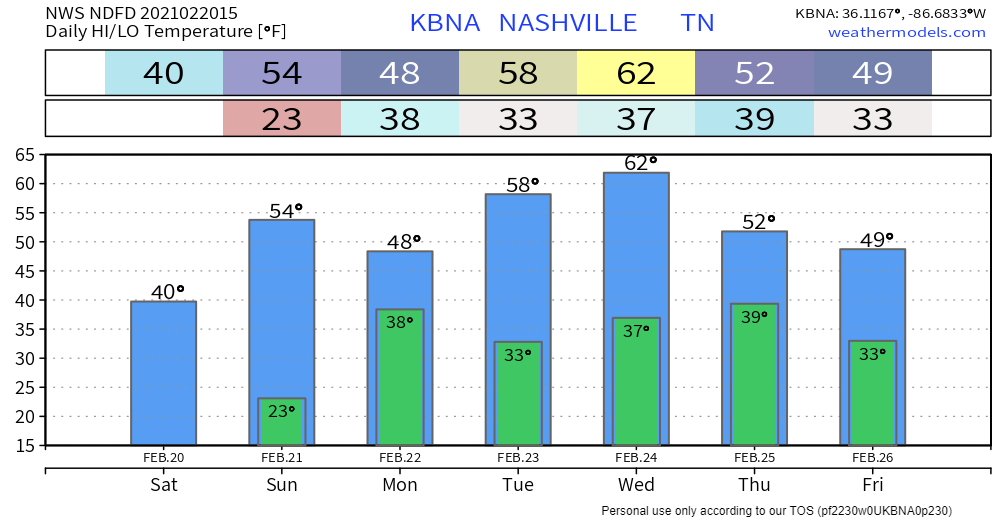 Light rain is possible Wednesday night. System lacks oomph and we may see nothing. The Euro model, meh: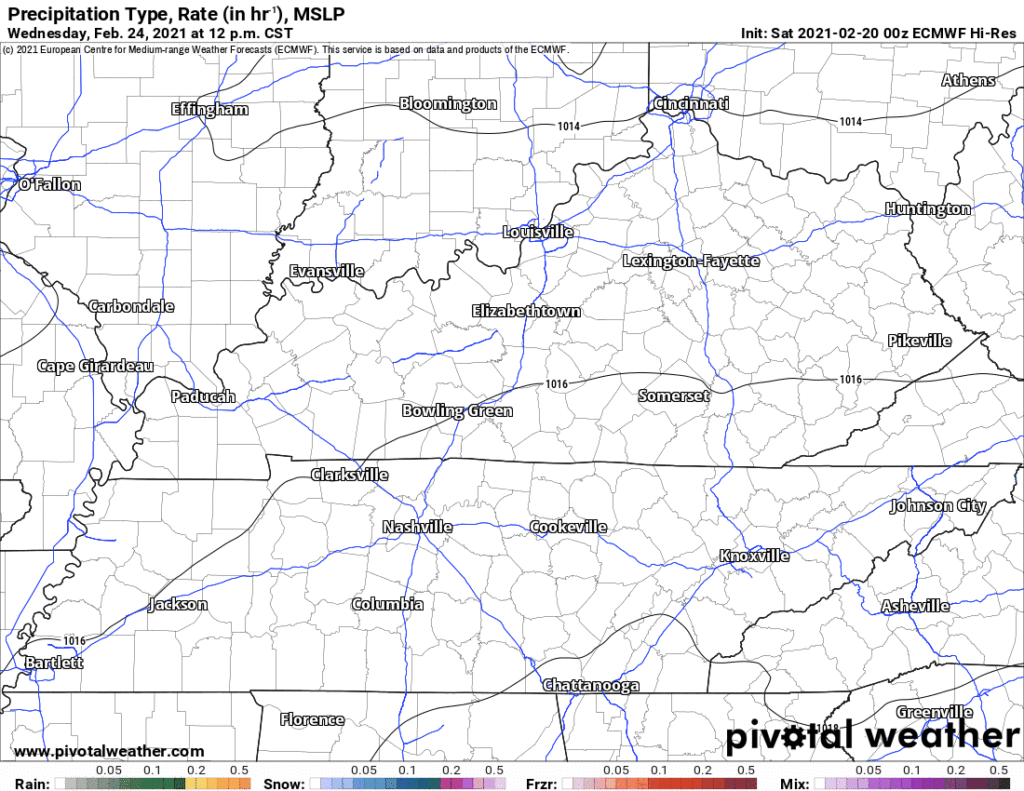 Snow/Sleet/Rain is showing up on the Euro and GFS models for late Thursday into early Friday. Somewhat different from the systems we had this week. This system is warmer, not as much precip, and the precip placement is different. Nevertheless, 0z run of the Euro drew the sleet/mix line right across Nashville, whereas the GFS put all the precip south of us. Models agree a low pressure center will pass south of us. That's usually what we need for snow here. Not time to party/panic though, even if we got snow late Thursday night into Friday, a lot of it would melt on contact when the event starts. Anything remaining on the ground would melt quickly Friday, afternoon high 50°.
Middle Tennessee will be on the north side of the low and enough cold air might be available for some wintry precipitation. There's plenty of details to work out and a lot of time for things to change, but it is something to keep an eye on.

NWS-Nashville Area Forecast Dsicussion 2/20/21