More Snow Beginning This Afternoon
Road conditions are still extremely hazardous across Middle Tennessee.
Enjoy the sun this morning but don't expect anything to melt. High temperatures will be hard pressed to make it above freezing. Anything that falls today and tomorrow will sit on top of this stubborn layer of ice.
---
Now to what's on everybody's mind: the winter storm arriving this afternoon. A whole lotta mess is headed our way: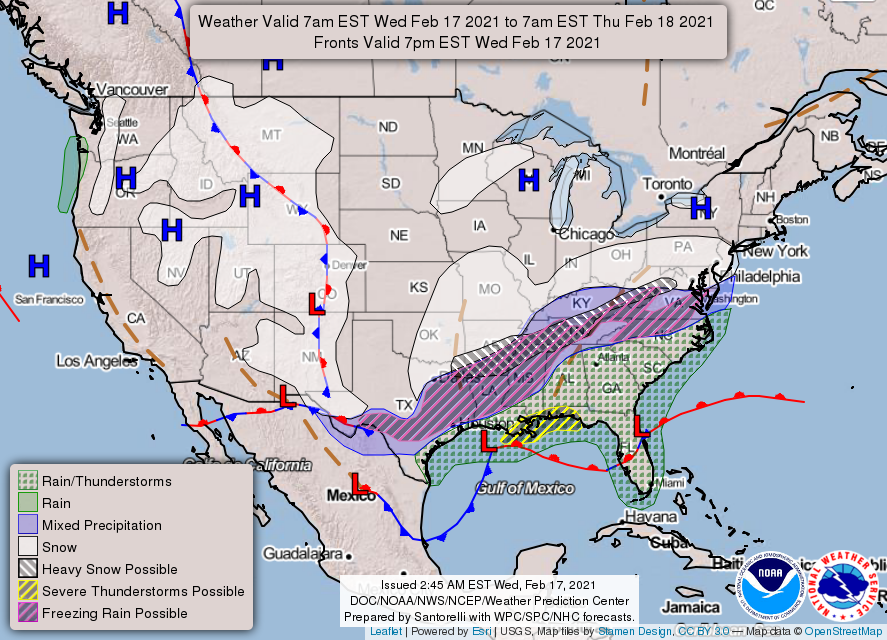 (It took me a while to decipher this map, but the WPC has Middle Tennessee under watches for mixed precipitation, snow, possible heavy snow, and possible freezing rain. Oy.)
The system is currently sitting near the Gulf Coast. The Gulf is feeding the system with moisture, so there's plenty of fuel for this storm. The Dry Air Monster may have a lunchtime snack, but tonight he will return to hibernation.
Our temperatures aren't expected to make it above freezing today and just above freezing tomorrow, so freezing temperatures + moisture = cause for concern.
The HRRR 12Z run shows the precipitation arriving in two rounds: the first this afternoon through tonight and the second beginning tomorrow morning and ending tomorrow afternoon.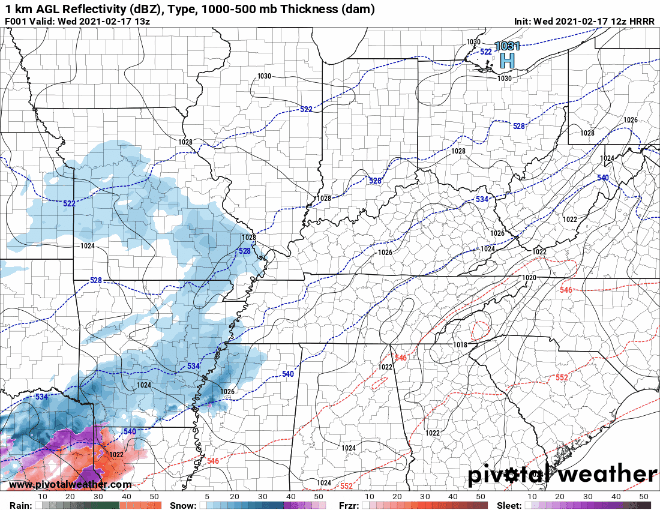 The NAM is another high-resolution model that shows a similar solution. It brings snow in two rounds, one this afternoon through tonight, and a second tomorrow midday. The biggest difference between the two models is that the NAM brings all snow tomorrow.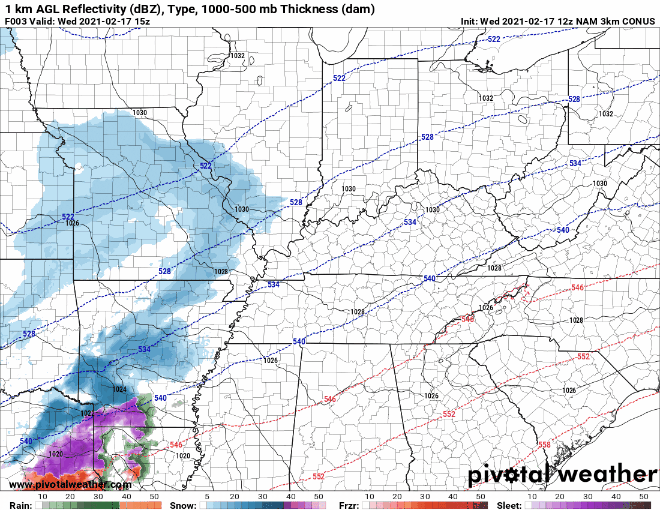 Round 1: Snow Wednesday Afternoon & Overnight
The first band of precipitation looks to approach us around 2pm this afternoon. This should continue until after dark, and it should taper off overnight.
Temperatures this afternoon and tonight will likely remain below freezing. At this point in time, this round will be entirely snow. However, this is only by a matter of a few degrees. If the atmospheric profile changes by just 2 or 3 degrees, this could change to sleet or freezing rain.
Round 2: Thursday Snow/Sleet/Freezing Rain
The second band of precipitation is messier. This is still 24 hours away, so models are even less reliable. Expect it to arrive Thursday morning after sunrise and last until Thursday afternoon.
Our temperatures Thursday are a bit more variable. As we warm up to around/above freezing, the precipitation may transition from snow to sleet to freezing rain. It depends upon the model as to what form the precipitation will be tomorrow.
Remember, models are guidance, not gospel. Conditions are constantly updating, so nothing is certain. The only thing that is certain is that @NashSevereWx on Twitter will keep you posted with the most up-to-date information.
Snowfall Totals
At this point in time, most models agree that we will see 3-4 inches of snow. Keep in mind this is highly variable. Your backyard may see more or less. Models may be overestimating or underestimating this event. Embrace the uncertainty.
Editor's Note: Again, for those in the back, "Keep in mind this is highly variable. Your backyard may see more or less."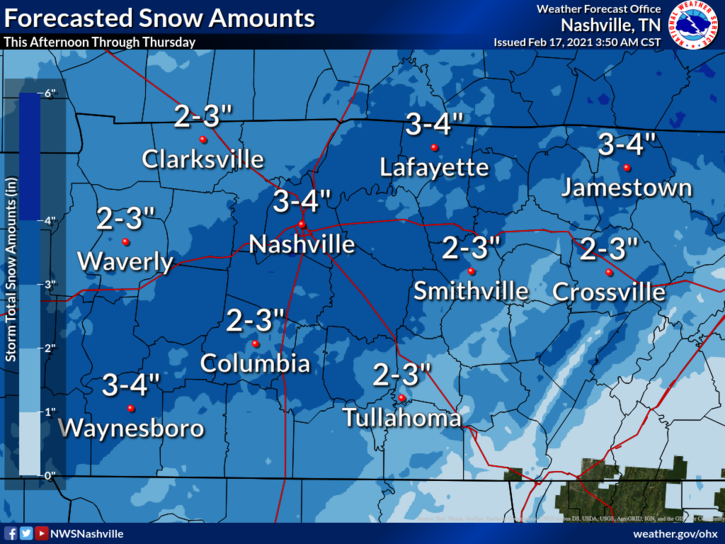 We also think there could be some freezing rain accumulations, especially Thursday. However, amounts are currently forecast to be low.
Continued Impacts Friday
One of the dangers with this system is travel impacts lasting through Friday. Our high temperature will likely not reach above freezing. Any snow removal will have to be done with a shovel.
Saturday will bring our first shot at melting. High temperatures will nearly reach 40º. Balmy, after what we've been through this week!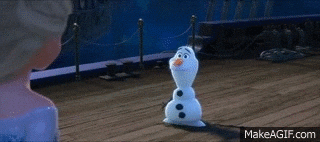 The next system will approach Sunday night. Our temperatures will be too warm for this to bring anything frozen–just rain.
Until then, stay warm and enjoy the winter wonderland!