It is bitter cold out there with the highs only reaching 22 degrees today. Wind chills no more than 10. The only snow removal will be manual.
Another Round of Snow, Sleet, and/or Rain Wednesday and Thursday
Models disagree where the snow – sleet – rain line will be. Early this morning NWS-Nashville summarized it like this:
Note the blue area is "Area of Greatest Accumulation." Not "exclusive" accumulation.
Let's take a deep dive into this complex, variable, and in constant need of an update forecast.
Plan for additional travel hazards Wednesday night through Thursday morning, with maybe a temp break Thursday afternoon, then a hard refreeze Thursday night lingering through Friday.
The GFS model thinks we'll see snow, then sleet, then rain, then sleet, then snow from Wednesday night through Thursday into Thursday night. Wintry precip when the sun is down, switching to sleet or rain mid-day Thursday, then wintry precip after sundown Thursday.
The HRRR model delivers a little mid-afternoon snow Wednesday, then a solid snowfall late Wednesday night overnight into Thursday morning (2″ to 3″). The model hits the end of its range just after sunrise Thursday when it puts the sleet line — separating the snow to the NW from the rain to the SE — right through Davidson and Williamson Counties. Also note the dry slot developing Thursday morning that may shut things off altogether: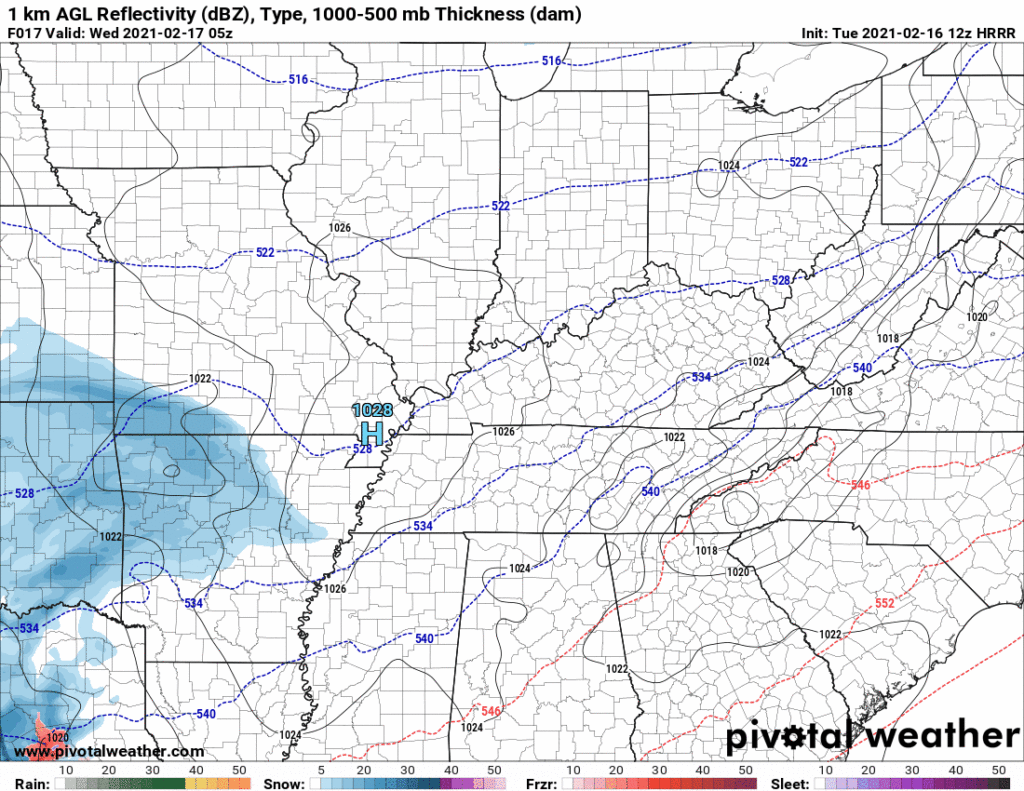 The Euro model is off and on snowy for us Wednesday night into Thursday, but the bulk of the moisture is pretty far south of us. We don't get much: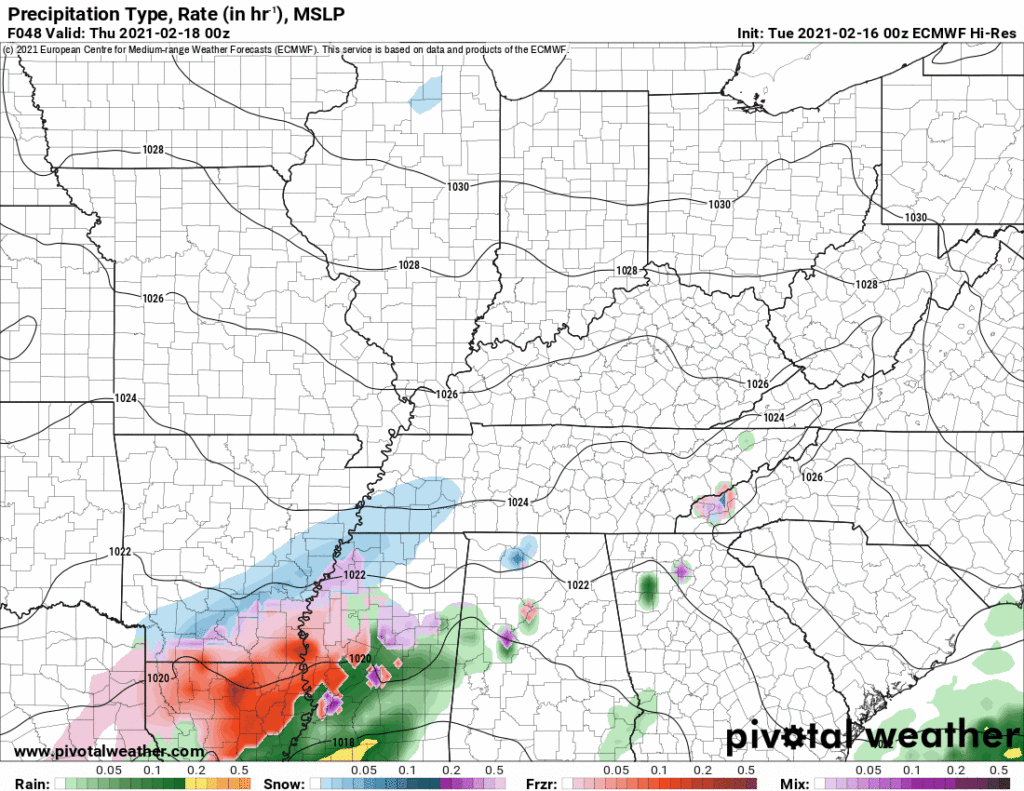 Confidence in what exact precipitation type will be in this system is still low at this time. But a few patterns are emerging.
Precip Wednesday night into Thursday morning (while the sun is down) is generally thought to be snow. Here are 12 models all looking at the same time on Wednesday night: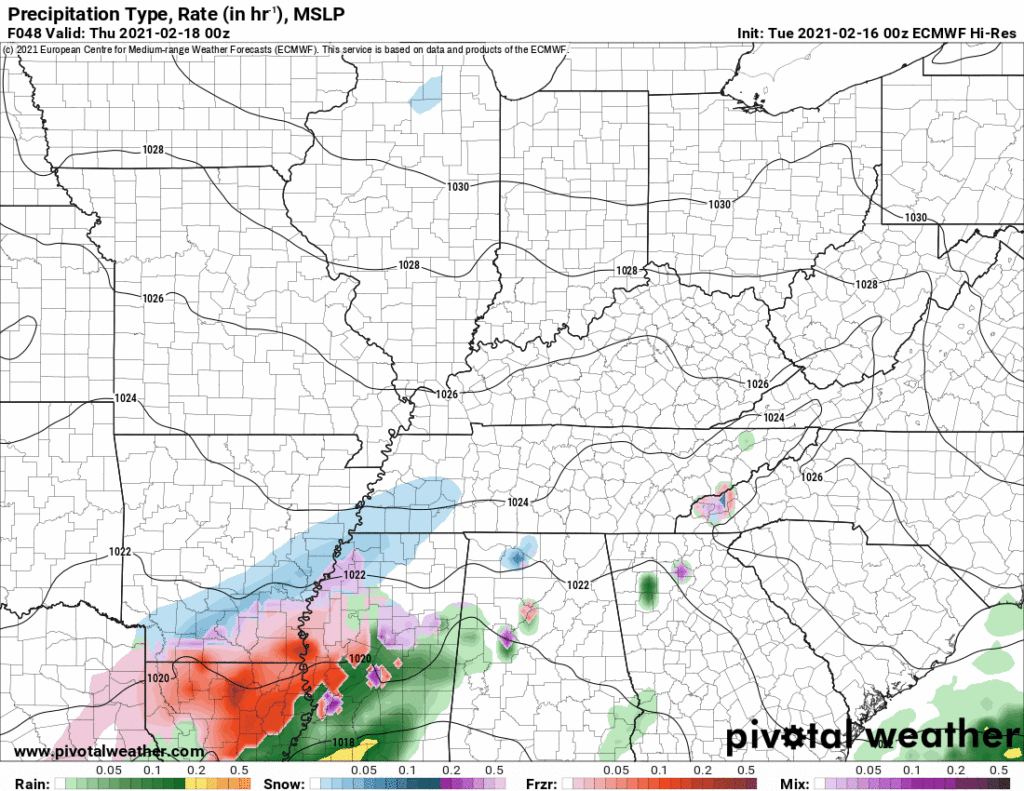 But when you run all the models forward 12 hours to Thursday morning, you get snow, rain, sleet, or no precip at all: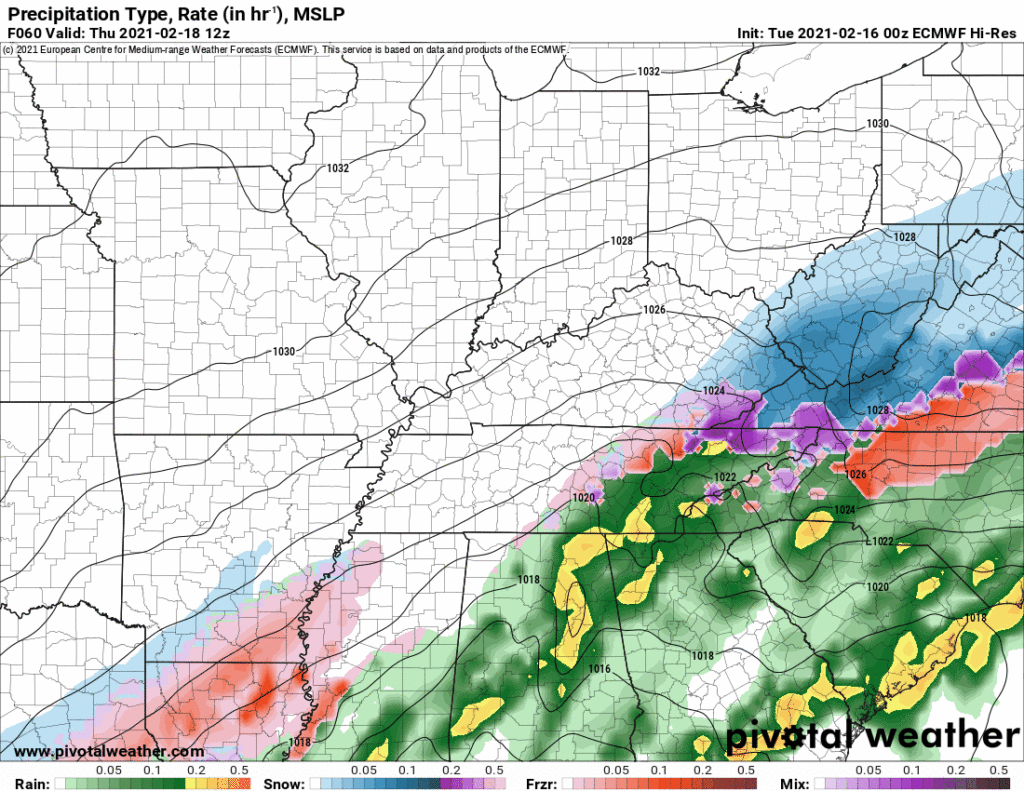 Go forward another 12 hours to late Thursday, and we get either some snow, or nothing at all: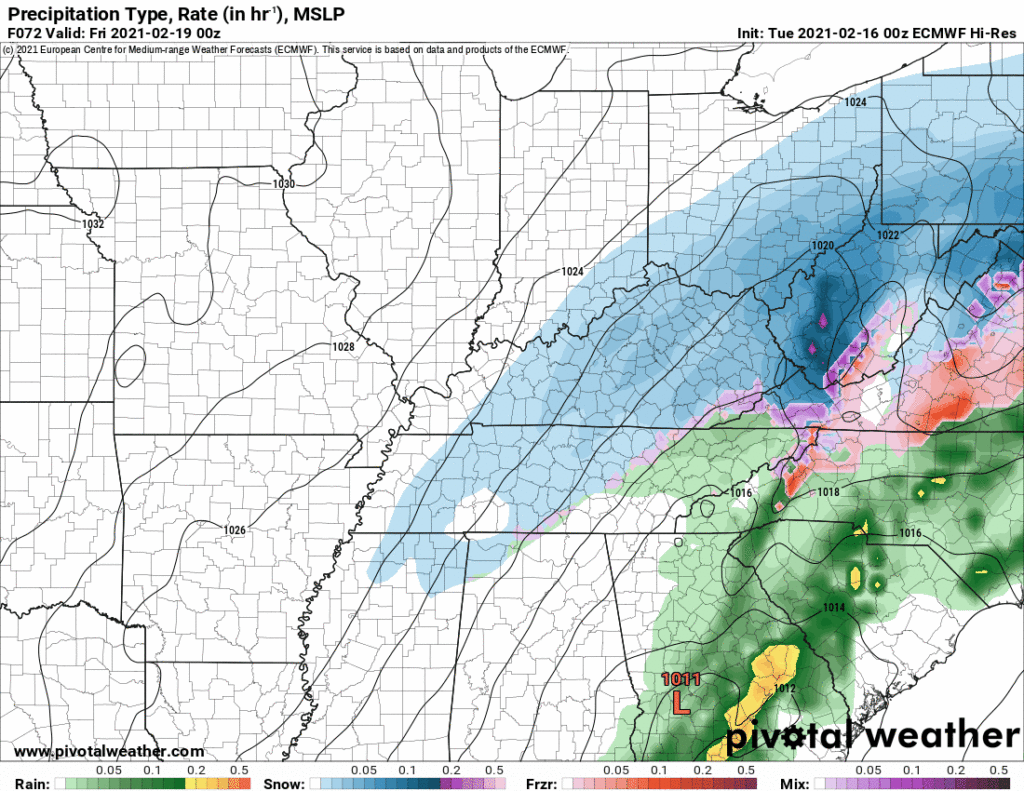 Editor's Note: So for those in the back, it has to be said: forecast confidence is low with this system. It's complex, developing, and not much is known. Right now it appears we'll see snow Wednesday night into Thursday morning, then when the sun comes up we may peek a little bit above freezing aloft (sleet) and/or at the surface (rain) before the precip moves out. If precip comes in fast Wednesday night, this is a pure snow event. If the precip comes in slow, we may see rain, sleet, or freezing rain. Surface temps will be below, around, at, or just above freezing at various elevations, causing a crazy slight melt, freeze, refreeze situation during the day.
But by Thursday night, temps will crater to 15F, and the high Friday is 30F. Plan for any gains to travel safety to be taken back by this system. Travel should not meaningfully improve until the weekend when temps finally get warm enough for melting.
NWS Forecast Totals
These will be updated at least a few times today and Wednesday. Stay connected for updates.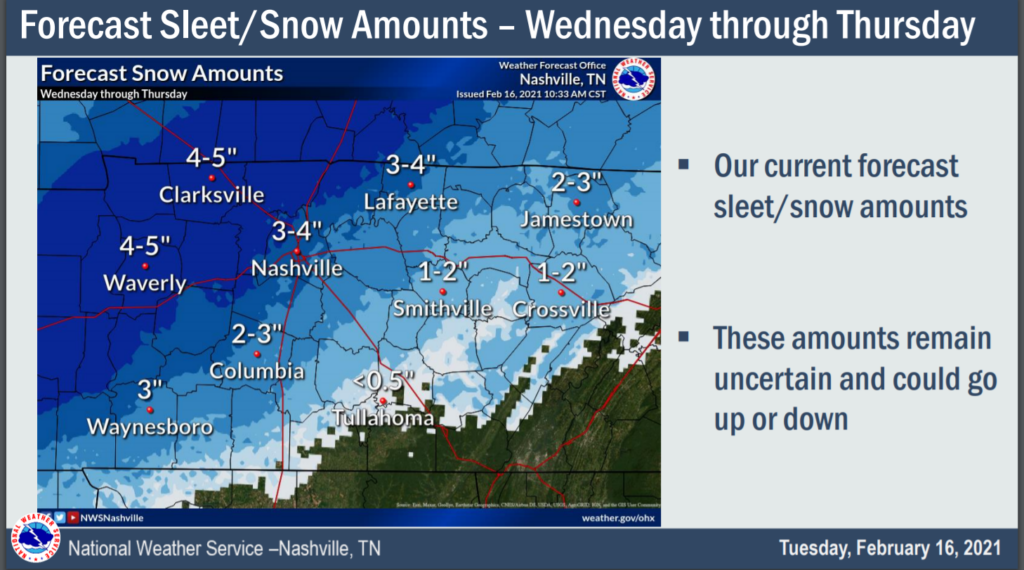 As for ice/sleet/freezing rain:
Moving Out Friday / The Weekend
Snow, sleet, freezing rain, and everything in between will finally be out of our hair by Friday, but it will still be cold.
Sunny on Saturday with highs in the 40's that will hopefully melt what's left of the ice and such.
Mostly sunny again on Sunday and much warmer with highs close to 50, but Sunday night we will see some showers that potentially could be snow showers. Stay tuned for that development.