First a personal note. I put on a guy on blast on Twitter this afternoon. I shouldn't have. I got frustrated because I thought his criticism was unfair, and for a minute I thought I was in court. Those who disagree with me or don't like the way we do things nevertheless deserve my respect. Dragging anyone's tweet out in front of our audience out of anger and revenge in order to shame them to try and win an argument is not cool. What I did was, and is, wrong. Twitter feuds drive a wedge between us, no minds change, we all just end up angry. I apologized to him (to his credit, he was the bigger man and reached out to me first). The truth is my pride in what we built made me a jerk. I should always be kind. I've been given grace, and I did not return it. David.
---
Temps overnight will plunge to 12° at BNA and probably single digits in many backyards. Those with old and vulnerable pipes should put your faucets on drip tonight. Charge your stuff. Ice coated power lines remain vulnerable, they won't get less heavy through the night.
---
Nothing will melt tomorrow. But crews will attempt to manually remove the sleet and sludge. Expect main roads to be most passable, but "passable" is relative. We should have a thin layer of black ice under an inch or two or three of sleet under a thin layer of snow that'll be undisturbed overnight and freezing hard. All travel will be hazardous. Tuesday afternoon high 23°, overnight Wednesday down to 14° for another hard freeze.
---
Melting may begin Wednesday afternoon. Temps in the mid 30°s. This will help the road clearing process but many secondary and tertiary roads will remain hazardous.
Then along comes the next system.
---
The HRRR is just out of range — it only goes out 48 hours four times a day — but we see a snow event approaching west Tennessee Wednesday afternoon:
The Euro brings in a little snow Wednesday night, then Thursday — and, I am not making this up — it predicts the snow/sleet/rain line will slice right through Davidson and Williamson Counties. That's not giving anyone confidence in this forecast.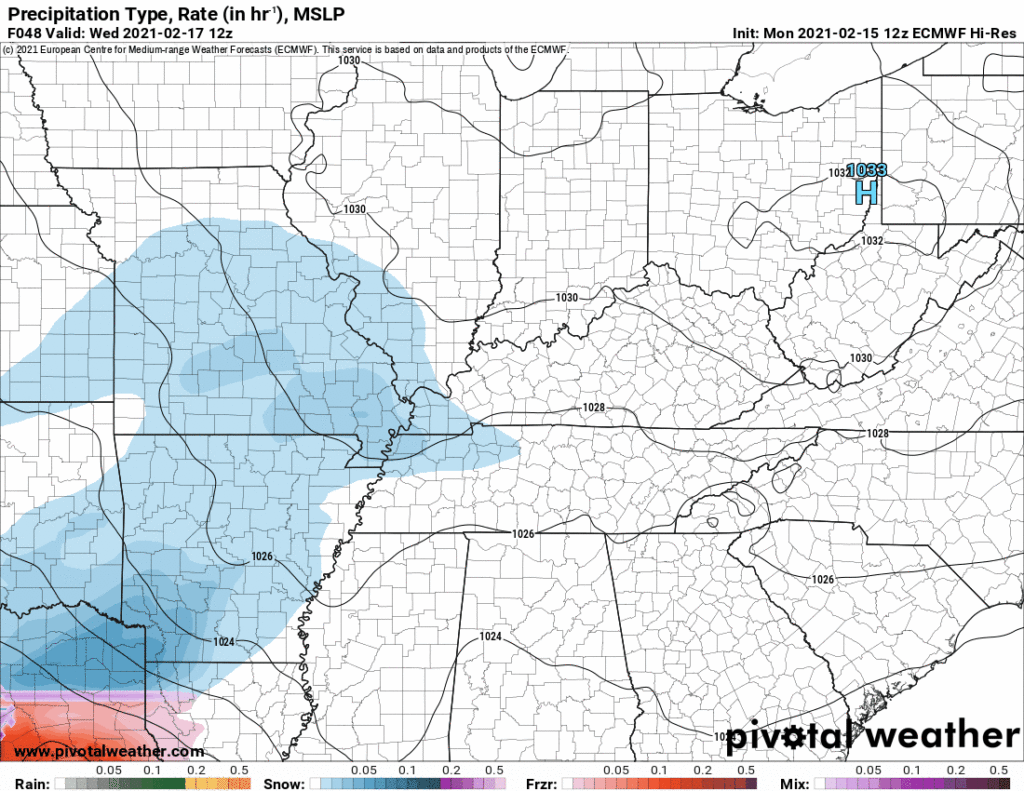 The GFS puts in some snow late Wednesday night:
Then Thursday it drives sleet right through us again before trying to change it all over to snow. (We've heard that before, haven't we?)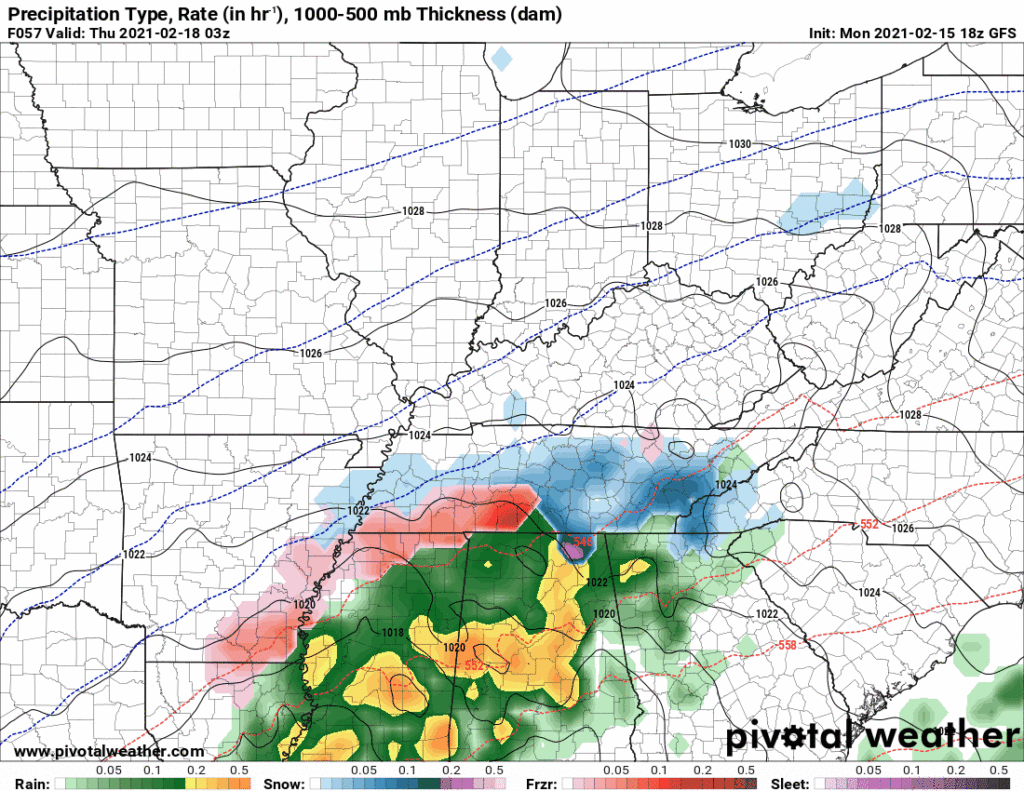 ---
We can't really conclude anything from this data. Why?
One reason is these are global models running a time and space resolution too low to nail down a reliable forecast in Davidson or Williamson Counties. What makes or breaks snow cannot be generalized, and generalizing is what those global models are doing. The forecast will improve tomorrow when higher res models come into range.
The second reason is the uncertain depth of the warm air running atop the colder air below it. A few degrees here or there….you know the drill. Life living here, we are the rope in the tug of war between cold, drier air battling warmer, wetter air. The key details are everything, and the model data we have gives no reliable signal on the depth of warmer air aloft.
The third reason is timing: to get snow to stick we need the colocation of precip and surface temps below freezing. Daytime surface temps Thursday may be a few degrees above freezing. So an afternoon precip would cause no real impacts. However, after dark Thursday night, temps will plummet below freezing again, so if we can get the precip in by then, we'll have more sleet or snow to deal with.
The National Blend of Models right now is a guess, it's showing 3″ of snow or sleet, and under 0.1″ of ice, through Friday morning. Freezing temps overnight Thursday night will freeze everything Friday morning, and we should not get above freezing at all Friday.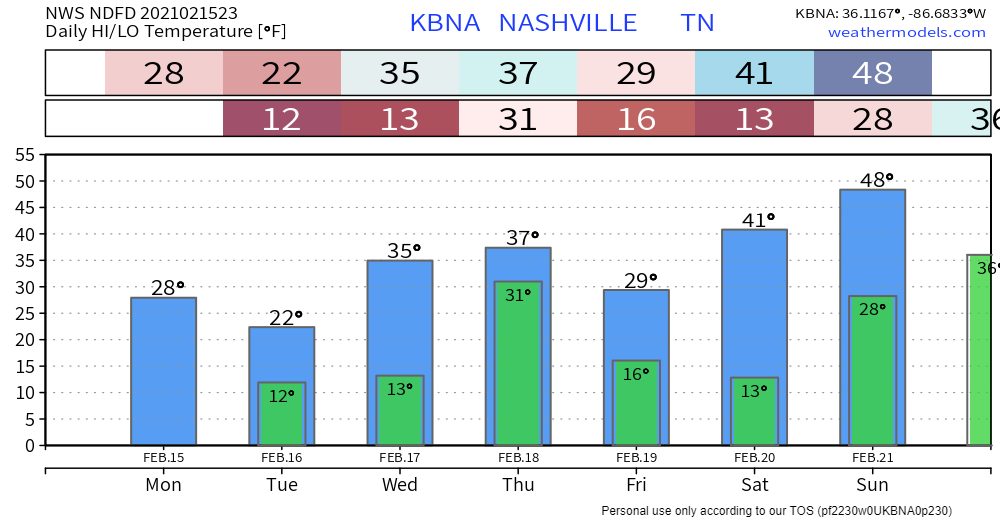 Need to wait for the weekend for well-above freezing afternoon temps to help comprehensive road improvements.