Until 10 AM this morning (Saturday) a Winter Weather Advisory warns of freezing fog, freezing drizzle, and a few patches of light freezing rain laying down "ice accumulations of a light glaze."
Temps have been below freezing for some time. Bridges, overpasses, decks, steps, and mostly untreated roads could be slippery right now.
We see this layer of drizzly fog on radar. It's so light most free radar products can't see. We see it on "correlation coefficient" (right). It's there. Be careful, y'all.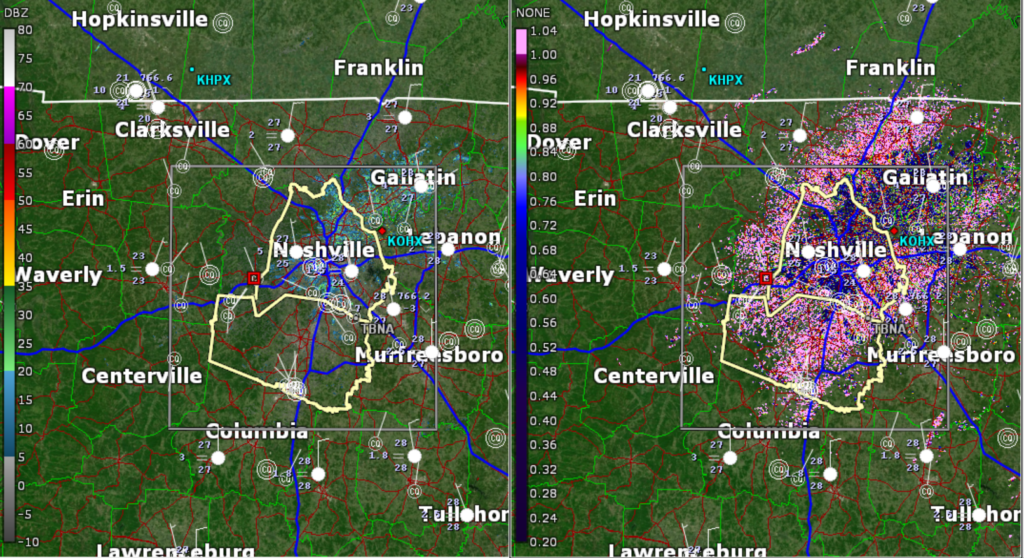 Temps may not make it above freezing where you are today. The official high is 33° at BNA but it'll only get that "warm" for an hour or so. Not much time to melt anything. And most locations are a bit colder than BNA.
---
Winter Storm Watch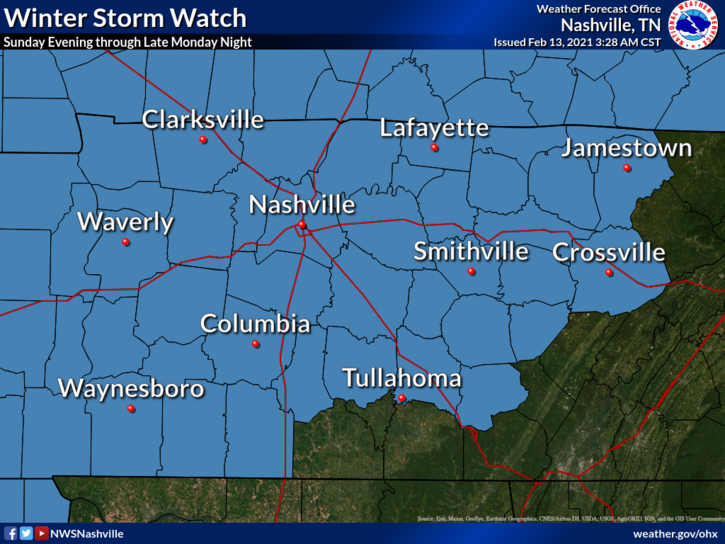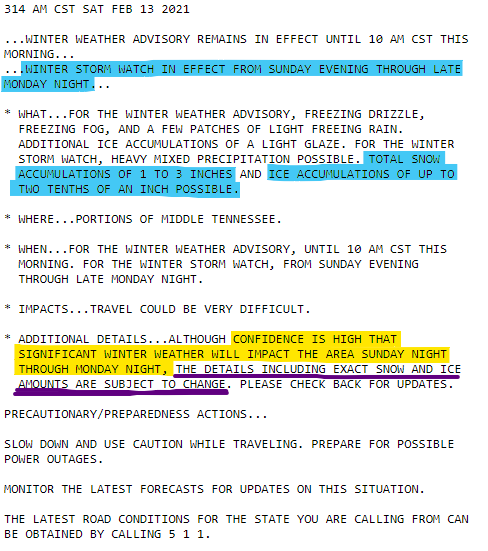 That is general information for the entire Watch area. Let's drill down to Davidson and Williamson Counties because where you are exactly is going to matter what you get.
I wrote this tweet yesterday because it'll be a critical fact regarding ice and snow accumulation:
Our trifle looks like sleet Sunday. See the HRRR model (below). Sleet is that stuff that sounds like raccoons in your attic and looks like Sonic ice. Sleet should stick to roads and cause travel problems beginning Sunday night.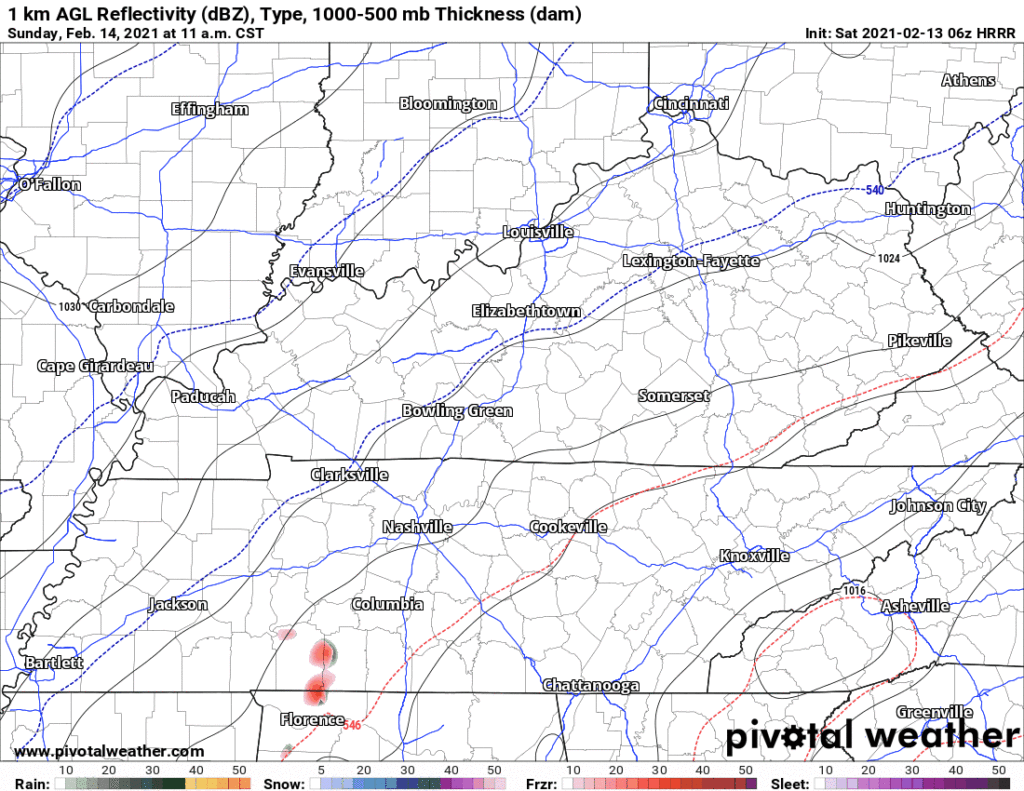 If the HRRR model is only a little bit off, this precip will be either rain that falls then freezes, or straight up snow. But right now it looks like sleet or rain that falls then freezes ("freezing rain"). Temps will freeze hard Sunday night into Monday morning. It should all stick. This Sunday afternoon/night wintry precip round could be pretty light, though, see the NAM model: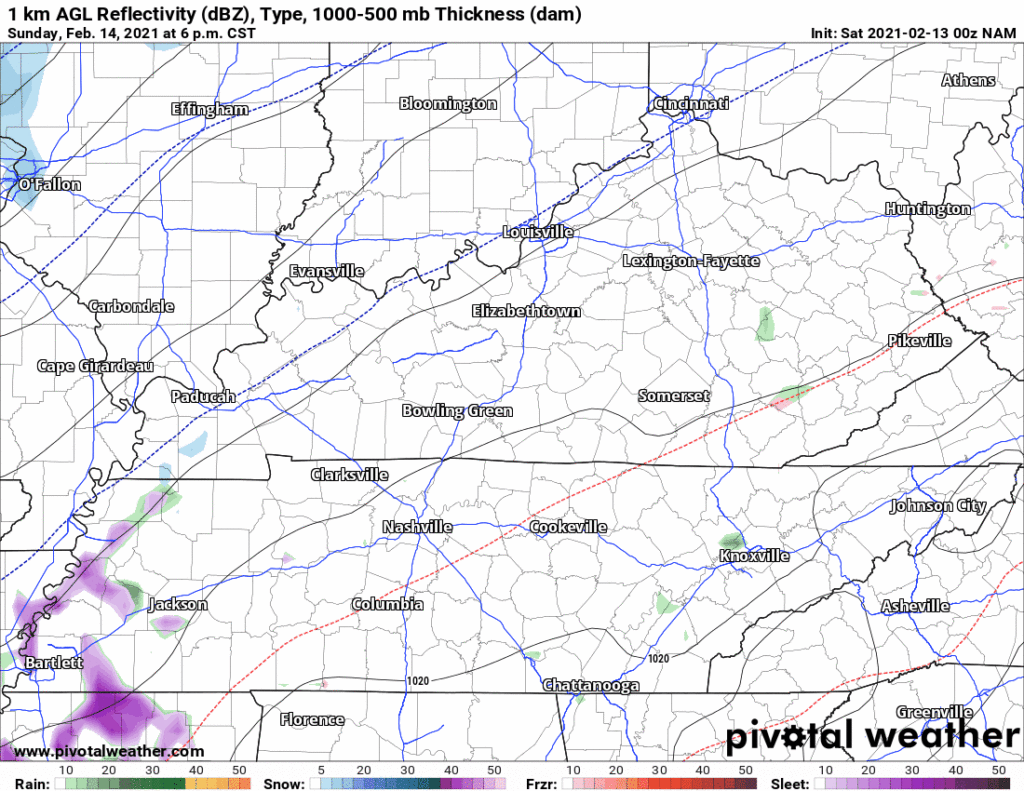 That's not much.
Some of Monday should be precip-free, temps solidly below freezing. Frigid air will settle in, most of us will stay mid-20°s, official high 28°.
Then comes another, significant round Monday afternoon and Monday night. We are right on the line between sleet and snow, but this looks to be more of a snow event.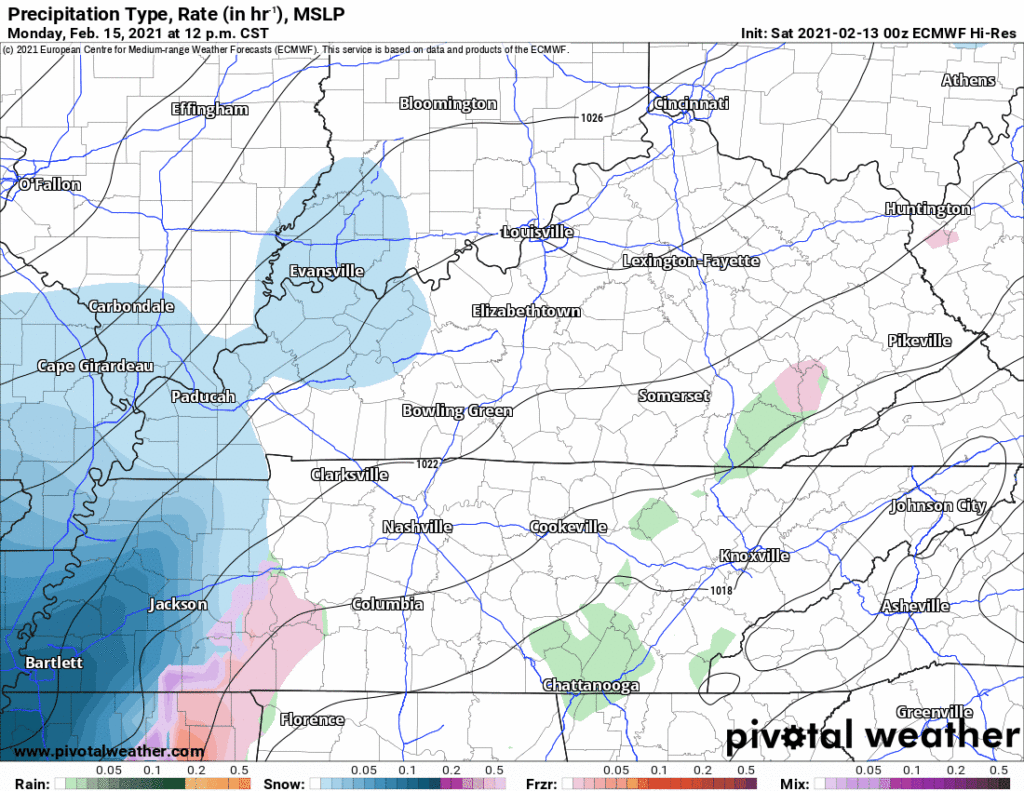 This should be enough snow to sled. Some models are dropping several inches on us, delivering the epic snowfall snow lovers want. Those models aren't exactly reliable in terms of accumulation. The National Blend of Models (below) is the best tool here, it has right around 3″ for Davidson & Williamson Counties, but it could be more than that. The Euro Ensemble output puts snow accumulation in the 3″ to 5″ range. Snow totals will decrease if we end up with more ice and less snow, which is entirely possible.
Snow should stop early Tuesday. Expect snow sitting atop of a layer of ice. Temps overnight Monday into Tuesday morning will bottom out in the teens, and we won't get above freezing at all on Tuesday. We may only peek above freezing for a few hours Wednesday afternoon. This snow/ice pack should be significant and should be around for a while.
Travel is going to be difficult Monday, Tuesday, and probably Wednesday.
President's Day 2015 featured a similar big snow event.
---
And then comes another winter storm Thursday.
IT IS LESS CERTAIN AND THE FORECAST FOR IT COULD CHANGE CONSIDERABLY OVER THE NEXT FEW DAYS. AT THIS TIME, IT SHOWS THE POTENTIAL TO BE ANOTHER DOOZY WITH SIGNIFICANT WINTRY WX ACCUMULATION POSSIBLE.

NWS-Nashville Forecast Discussion 2/13/21
I'll just put the Euro run here. At this range I don't trust it to be right. It could be, but 5+ days away events like this often do not happen. But we may be looking at a reinforcing blast of wintry precip.
Travel may end up being difficult all next week.
We are updating all this information on Twitter @NashSevereWx. Check there for new details.