Dry Air Monster Is Hungry Today
Precipitation is crossing over the Mississippi River as of 10:30am CST: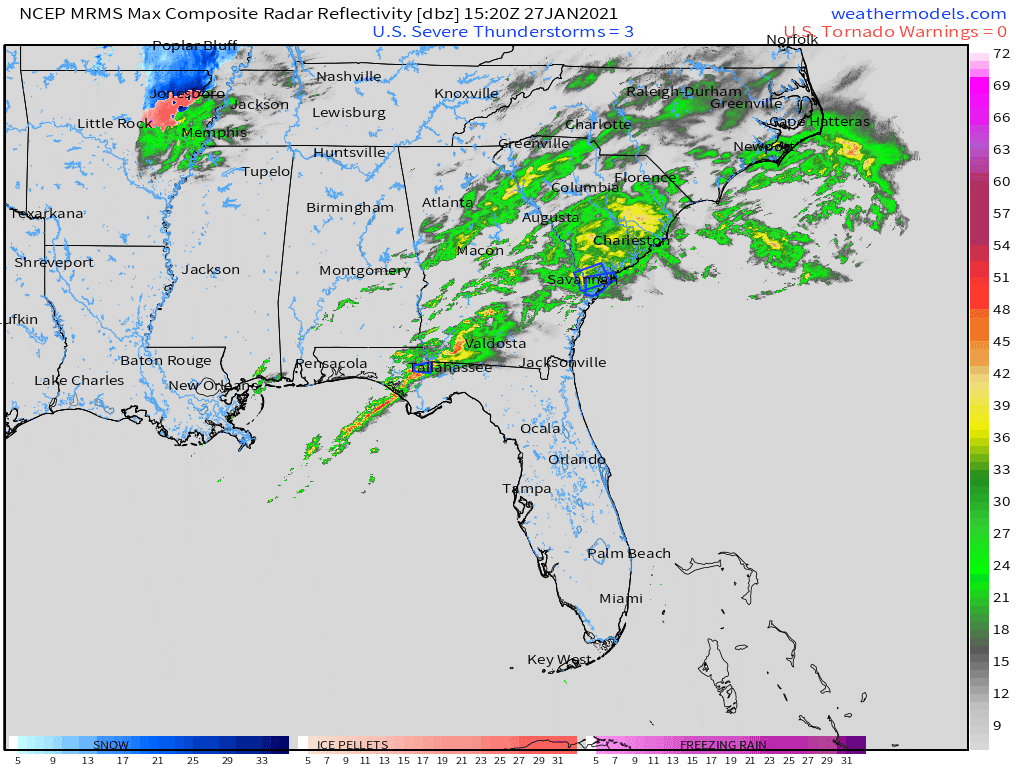 Radar imagery is constantly changing. For the most up to date data, visit https://nashvillesevereweather.com/radar/. The website will refresh every minute with the most current imagery. Also, stay tuned to @NashSevereWx on Twitter for updates (and some humor mixed in)!
Timing
Precipitation will likely begin in Middle Tennessee around 3pm. Don't expect it to stick around for too long. It should depart around dark.
What To Expect
The precipitation that's headed our way is falling in the form of rain, not snow. Also, a lot of what's falling isn't making it to the ground. We expect those trends to continue. Here's why:
Our temperatures are much too warm. At the airport, it's currently 42º. We would need to be a lot closer to freezing to see anything frozen falling. The ground would need to be 32º or colder for it to stick. Considering yesterday's high temperature was 67º, the ground is far from being cold enough.

Dry air in the troposphere is overtaking much of the moisture. Take a look at the Skew-T diagram below. See the red and green lines? They need to be closer together between about 850mb and 700mb (look at the black numbers on the far left), which would indicate that the air is saturated. Instead, there is a dry slot (shown by more space between the red and green lines). This is where the Dry Air Monster lives, eating our precipitation before it has a chance to reach the ground.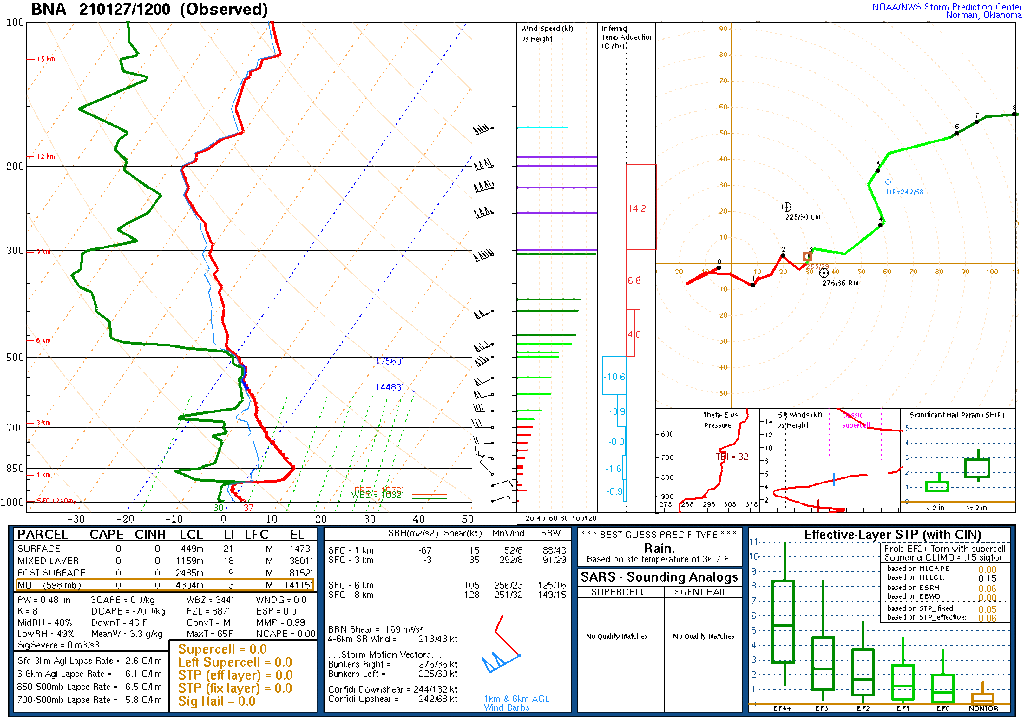 The combination of these two ingredients does not add up to promising snow chances for us.
The most likely scenario this afternoon is a little bit of frustratingly cold rain. Anything that makes it to the ground as snow won't stick.
You have a slightly better chance of snow the farther north you go. Poor chances for WillCo, but Goodlettsville & Joelton may see some flakes flying.
The latest model data is leaning heavily towards the "trace to nothing" side of things. Expect the worst (nothing), and be surprised by anything that does stick (up to a half inch).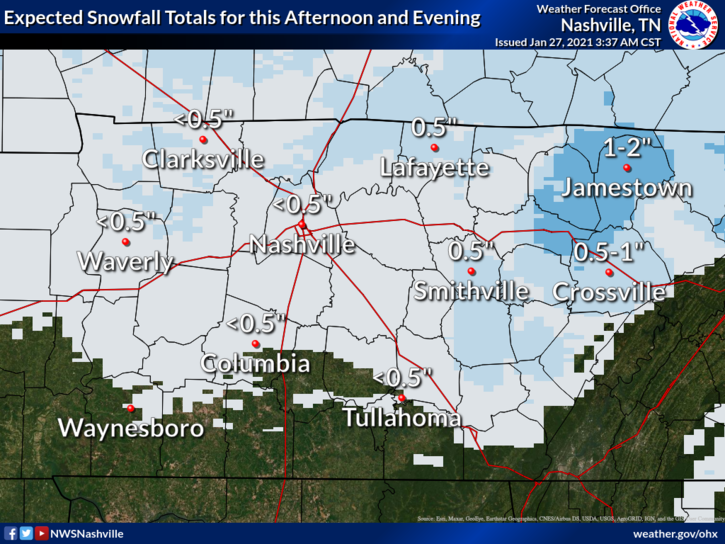 We are so close to real winter, yet so far.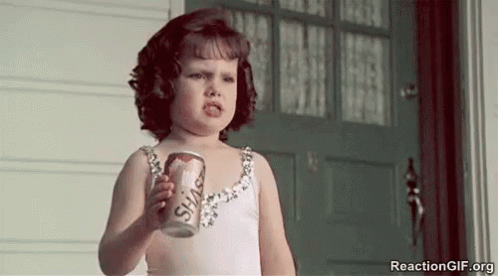 Next System on Saturday
Quiet & cold Thursday and Friday. Temperatures will return to seasonal norms in the 40's. A nice reminder that it is January after all!
This will be our chance to dry out before we do the whole heavy rain thing all over again on Saturday.
The surface low associated with this system looks to move north of us Saturday. This puts us in prime position for the cold front to sweep right over us on Sunday.
Some scattered showers may break out during the day Saturday. Showers will increase Saturday night and end Sunday morning.
Here's the GFS's current thinking: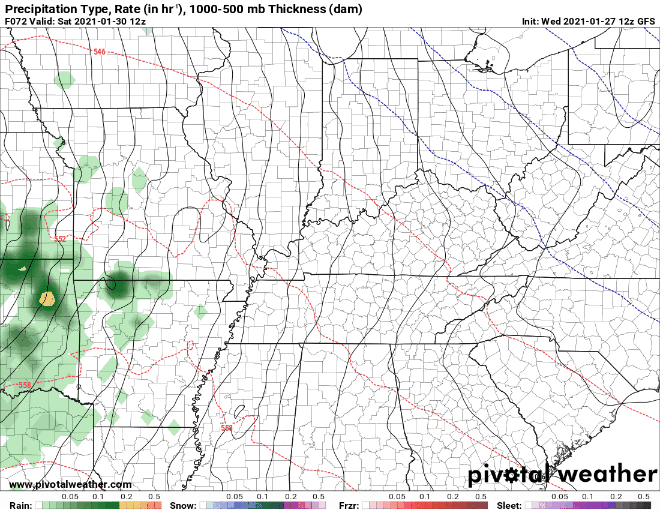 We may squeeze out 1 to 1.5 inches of rain with this system. Of course, we will continue to update you as we get closer to the event.
Until then, happy Wednesday!