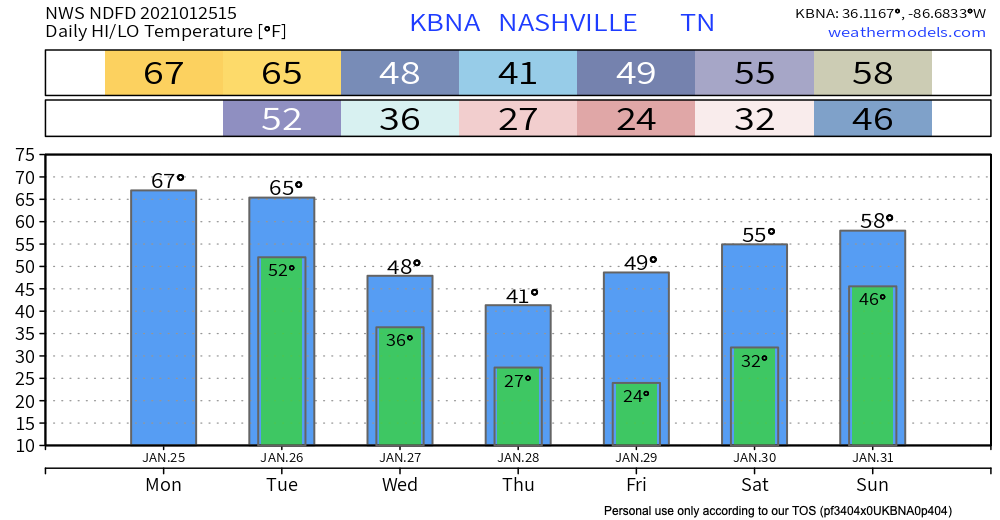 Check out this warm front:
Temps and dewpoints will rise through the afternoon, as shown here by the GFS model: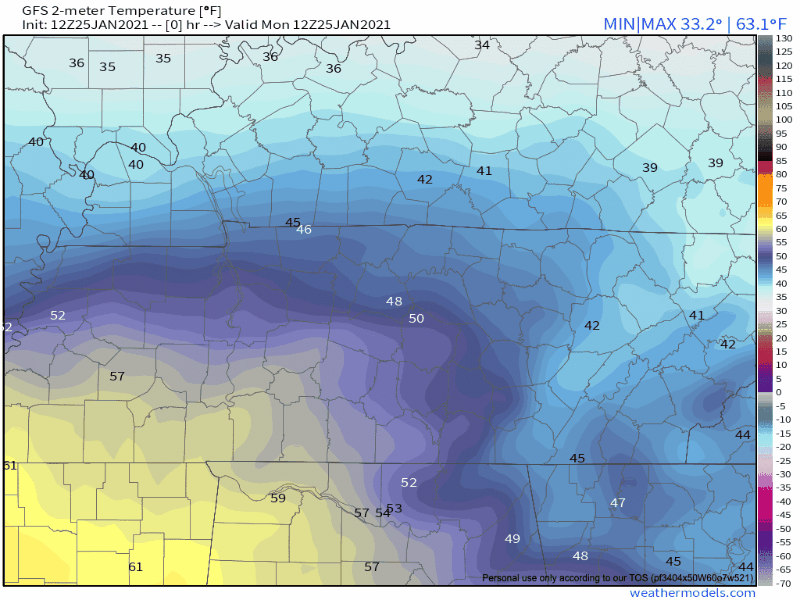 This lifting warm front is associated with a surface low moving out of the Plains into the Ohio Valley. That low is going to drag a cold front across Middle Tennessee and set off another round of rain, and perhaps storms — some possibly severe.
Here's the HRRR model.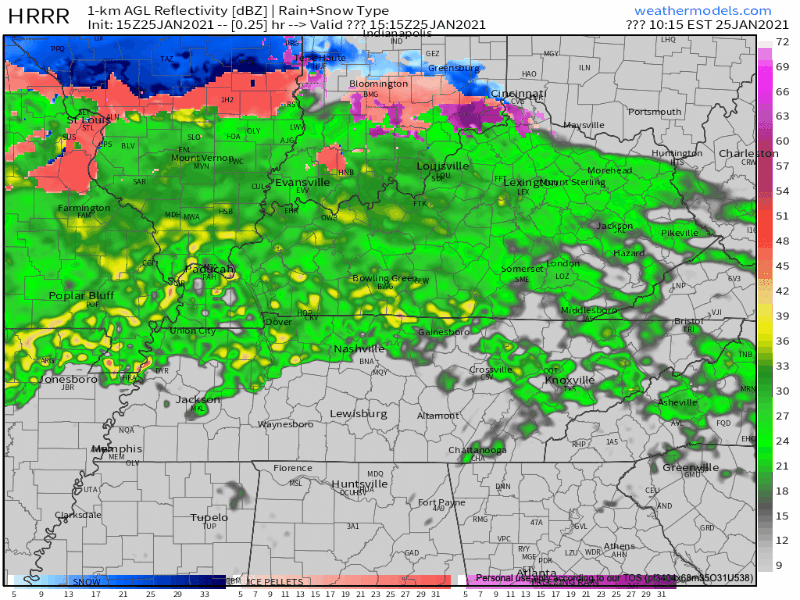 We're expecting a line of thunderstorms some time around 7-9 PM. This ETA may change, stay connected.
Damaging straight-line winds are the main "threat," but that threat is pretty low.
Our atmosphere will need to become more unstable this afternoon if storms are going to get severe tonight. Although the threat for a tornado is low, we cannot rule out a weak spin up tornado embedded in this storm line.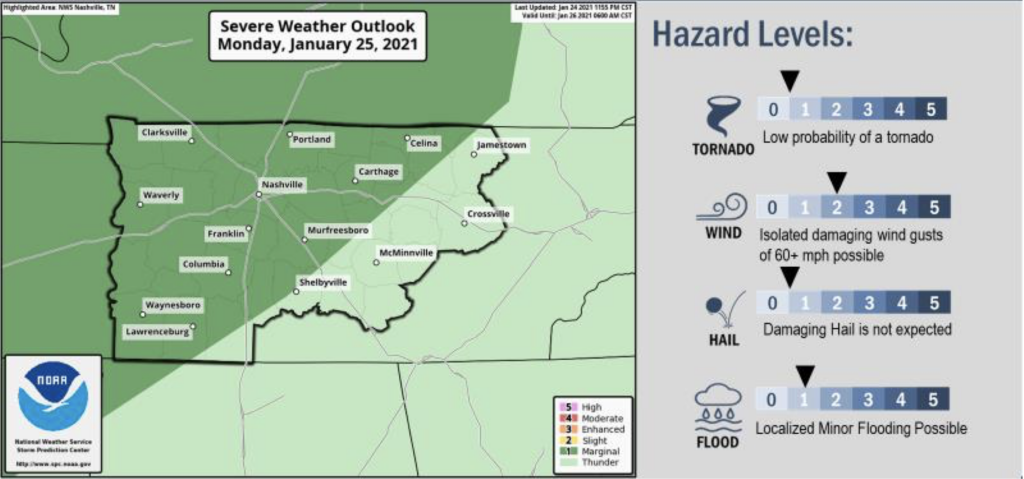 Editor's Note: The HRRR model shows plenty of CAPE/instability to power a rotating thunderstorm with this line; however, HRRR model soundings also show a low level inversion which will make tornado formation quite difficult. This should comfort your storm anxiety. Other models show insufficient instability for tornadoes and just a little bit of rain, wind, and lightning, with a brief opportunity for damaging straight line winds. We will be tweeting throughout the afternoon and evening to see if we are becoming more unstable (which would be bad for us). We'll also monitor whether the storm line approaching to our west is getting severe or tornado warned. My concern level is pretty low with this event, but do not turn your back on it.
Hail appears unlikely.
Just that one round of storms tonight.
SPC puts the probability of tornado within 25 miles of you at 2%. For damaging winds that probability is 5%.
What's this app doing?
The native iPhone app today shows the clip art flake Wednesday:
Editor's Note: this app, y'all. I can't even.
Rain is expected to enter the region on Wednesday before dinnertime. As temperatures fall closer towards freezing Wednesday night, the tail-end of this precipitation could transition into a wintry mix.
The Euro model shows a light event streaking by Wednesday with a rain/snow precip-type mix.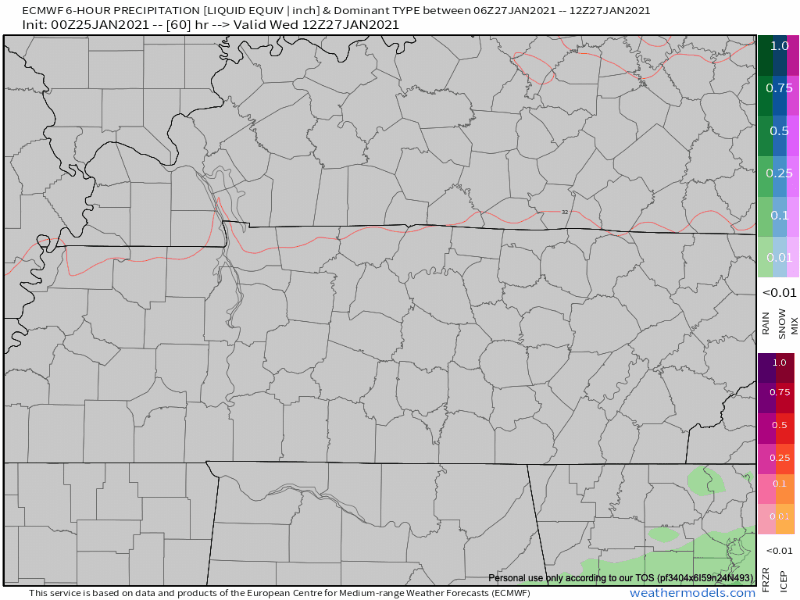 The GFS has a similar idea: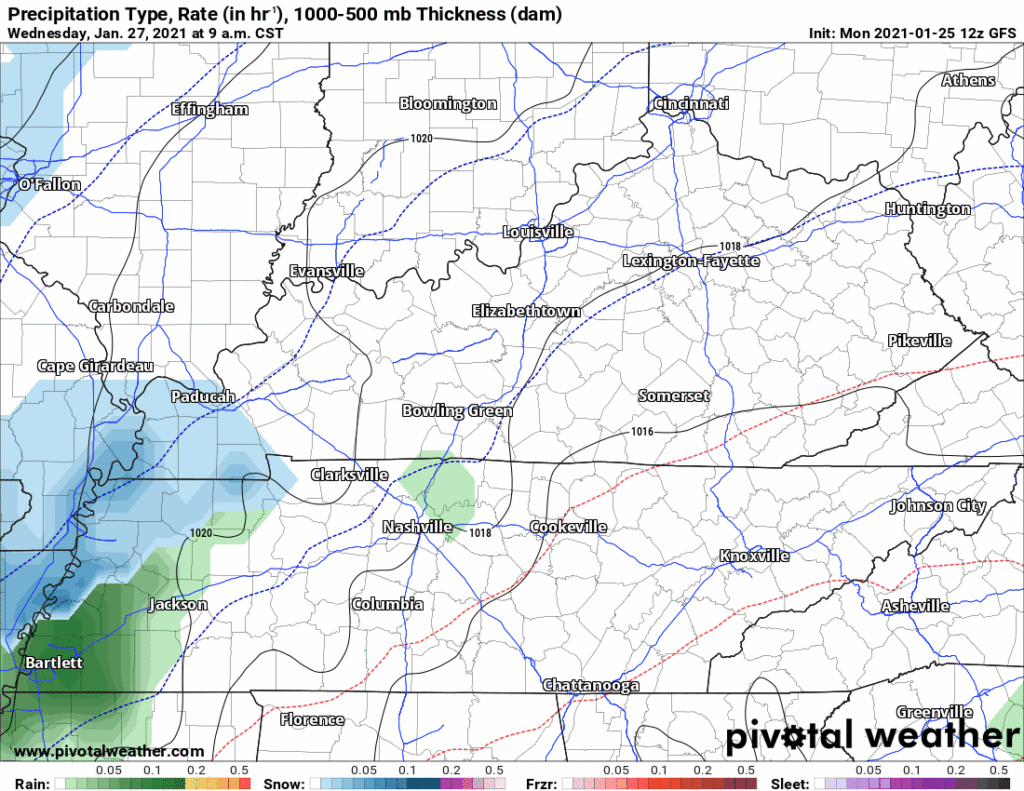 However, this does not look like an accumulating snow event. Surface temps will be too warm per both the GFS and Euro models. Any local flakes that make it to earth will melt. Maybe the plateau will get something, but:
Temps will stay on the cooler and drier side through the rest of the week into the weekend.
Next chance of rain: Saturday.