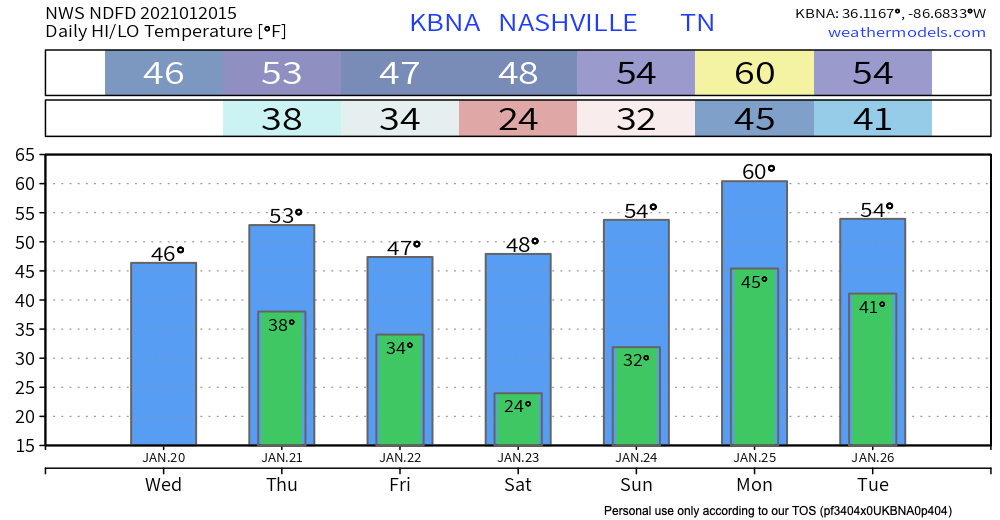 Light Rain Tonight
Light rain showers are expected to move through Middle Tennessee after midnight but will most likely be out of the area by around 6 AM.
The rain will be light – less than a quarter of an inch accumulation.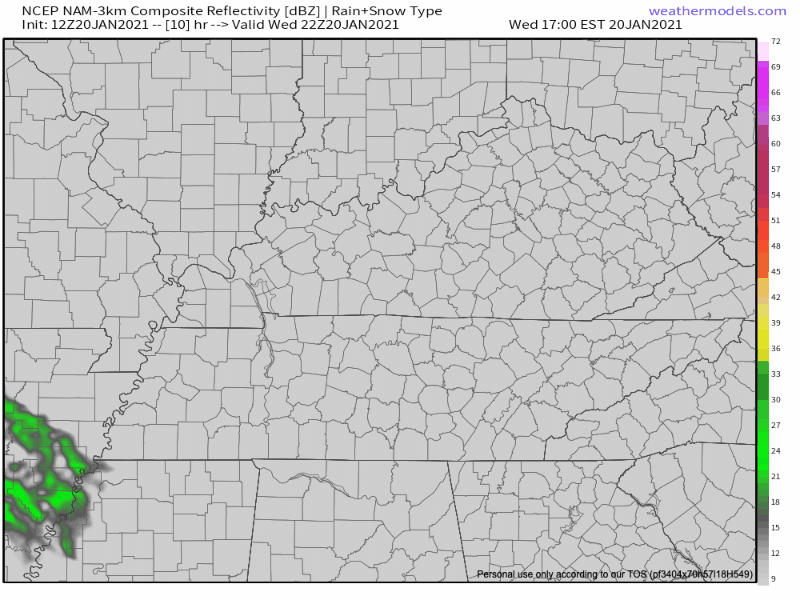 Through the Weekend
As the rain clears out by tomorrow morning, much colder and drier conditions are expected for Friday into the weekend. Both Friday and Saturday night low temps will drop below freezing.
Expect the sun to be shining on Friday and Saturday, but Sunday looks to be our next best chance for some more rain and a possible thunderstorm.
A warm front is anticipated to take shape along the Gulf Coast on Sunday then shift northward into or through the state Sunday night, with rain spreading into Middle Tennessee during the day and becoming moderate to heavy with a few thunderstorms Sunday night.

NWS Forecaster's Discussion 01/20/2021
Sunday looks to be a rainy day. We'll see just how rainy in days ahead as the forecast becomes more clear. The warm front, though, will be a key player through Sunday and Monday. Where exactly it ends up could dictate how heavy the rain will be and if we see increased possibilities of severe weather.
"Situation for Monday remains more unclear since it is dependent on how far north the warm front makes it. Should the warm front move through the area into Kentucky as the Euro suggests, our cwa would be put into the warm sector with little rain likely until the cold front approaches later in the day. If the warm front stalls near or over the state as the GFS shows, moderate to heavy rainfall could persist through the day." – NWS Nashville AFD 1/20/21
Heavy Rain Possiblities
If the warm front moves all the way through the state from south to north, our possibilities of heavy rain will go down. If the warm front does not completely clear the state, this could set the stage for heavy rainfall and possible localized flooding. Models disagree, which is typical this far out.
Rainfall totals are currently forecast to be near 1.25 to 1.50 inches.
Severe Weather Questions
Just as the warm front could influence how much rain we get, it also could determine if we see increased possibilities of severe weather. If the warm front clears our area to the north, it could bring a couple of the ingredients with it needed for severe weather. It might not. Worth watching. If the front does not get far enough north to our area, those chances drop considerably, nearly nonexistent.
We'll have more info and updated graphics on this as the time gets closer.