Rain should approach late Wednesday night but there is question about whether it'll miss us or not.
HRRR model has it going all south of us.
The Euro disagrees. It predicts a tenth of an inch or so Thursday morning: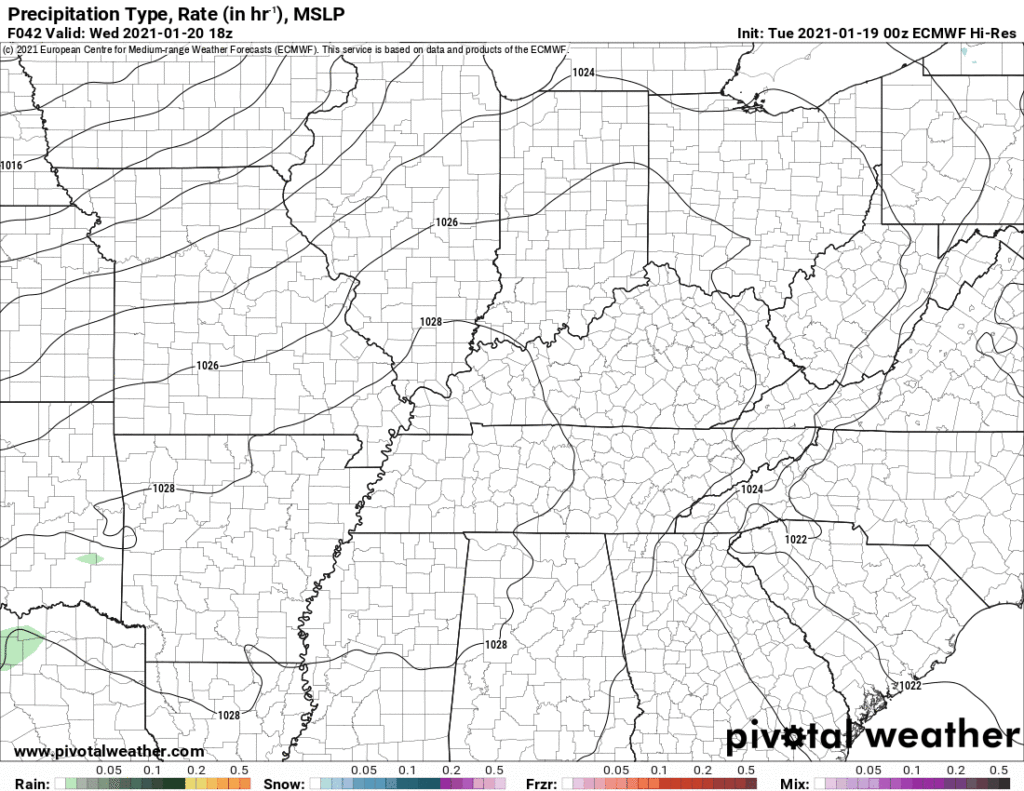 This explains the uncertainty "rain chances" on your weather app.
NWS splits the chances at 50/50, which is reasonable. Either way, this is not enough rain to alter any outside plans Thursday.
Another rain system should pass south of us Thursday night into Friday morning. NWS doesn't even include us in a meaningful chance of that rain so we will say no more about it.
Weekendcast
No rain Saturday. Temps will be cooler than we had this week with a high of 45°.
Rain chances are back again on Sunday. Timing is iffy as usual at this range. Looks like rain could start as early as Sunday morning, but it's more likely to start later in the day or hold off entirely until Monday.
Heavy Rain/Storms Monday?
Here's the Euro model for Monday:
That's a high-shear (uh oh…) low/no CAPE (whew, that's a relief) event on the Euro model. Plenty of big storm making shear but without instability, probably just rain and wind. Here's the forecast sounding for fellow weather nerds:
The GFS model has a slightly different take. It brings the low too close to us for bad storms.
So not worried about this right now, but model variability is high. If instability can work far enough north into Middle Tennessee, we may see thunderstorms.
Remains to be seen at this extended range if there will be any severe weather potential with this system, but will be something to keep an eye on.

NWS-Nashville, AM Forecast Discussion, 1/19/21
Both models agree this system will bring heavy rain Monday. Just about all the rain we'll get in the below 7-day rainfall forecast will happen with this system.