About Last Night
The line between rain and snow isn't always east or west like it was last night.
It's also a matter of elevation.
Snow in Boston, TN (SW Will Co) hit 3.5″ last night. Legit snowmen were rolled up in Leiper's Fork:
But most of Franklin and Brentwood woke up wet. And Nashville, sorry, another chance incoming Monday.
---
Ravens at Titans
Sunday at noon, Nissan Stadium will see near 40°, cold north breeze 5 MPH, and scattered clouds. No precip. Dress for mid-30° wind chills.
---
Monday Snow Potential
An upper-level low will be making its way through the Plains this weekend and will be the culprit of another potential weather maker Monday into Tuesday.

NWS Forecaster's Discussion 01/08/21
Scattered clouds Monday may release rain Monday night into Tuesday morning. Cold temps aloft may change evening rain to a wintry mix or snow late Monday night into the predawn hours Tuesday morning.
Surface temps Monday night into early Tuesday should drop below freezing early Tuesday morning. 30° at BNA, 29° at Franklin, other areas even colder than that. Snow may hold.
If we get it.
There's a chance the precip will pull away from us before we even get snow. It all depends on the strength and location of an upper-level low passing south of us. Each model run does something different.
For example, below is the 0z run of the Euro. The low is too far south and we miss out on the rain and snow.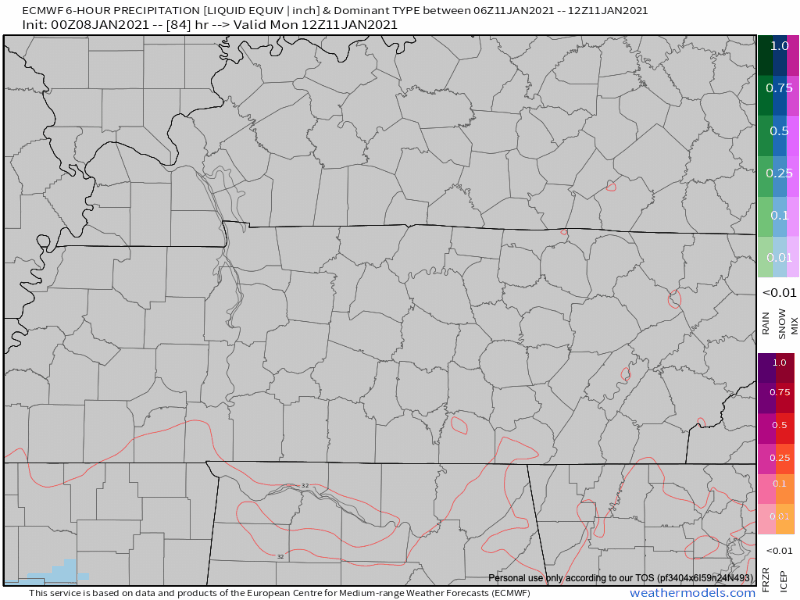 Today's 12z GFS run has a little snow coming through late Monday night.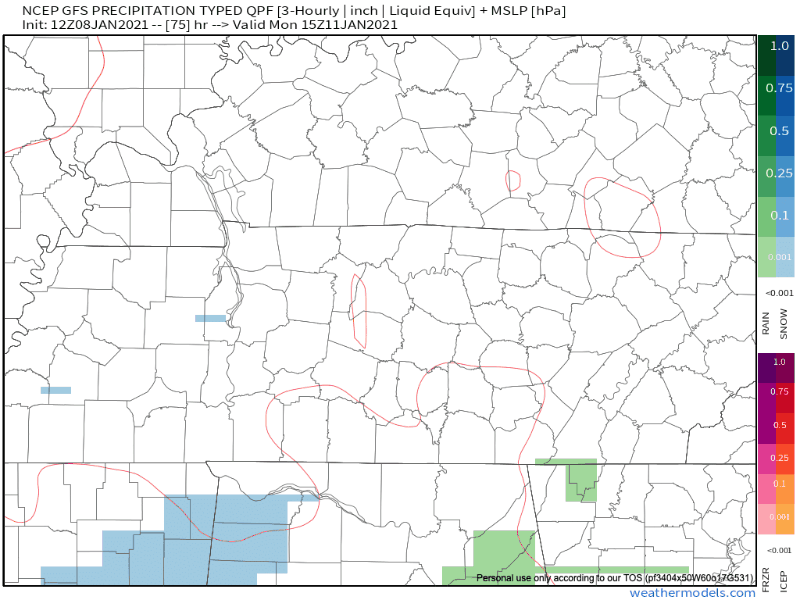 That's why confidence in snow is low right now. NWS-Nashville:
This appears to have the potential to be a better set up for some wintry weather, but there are still a lot of details to be sorted out in the coming days. The GFS and ECMWF continue to have timing and strength variations run-to-run, which makes confidence in the forecast low.

NWS-Nashville, AM Forecast Discussion, 1/8/21
---
The sun returns Tuesday and we dry out through much of the week.
As always, check back for updates to the forecast and be sure to follow @NashSevereWx on Twitter!