Thursday morning the HRRR model thinks our rain system will be near the MS/LA/AR intersection with rain on its northeast side. Notice it has a snow band in West Tennessee. That's not expected to impact us (but yeah, we're watching it).
The system is coming at us. We will get rain Thursday, most likely in the afternoon. Exact timing is iffy. Euro model: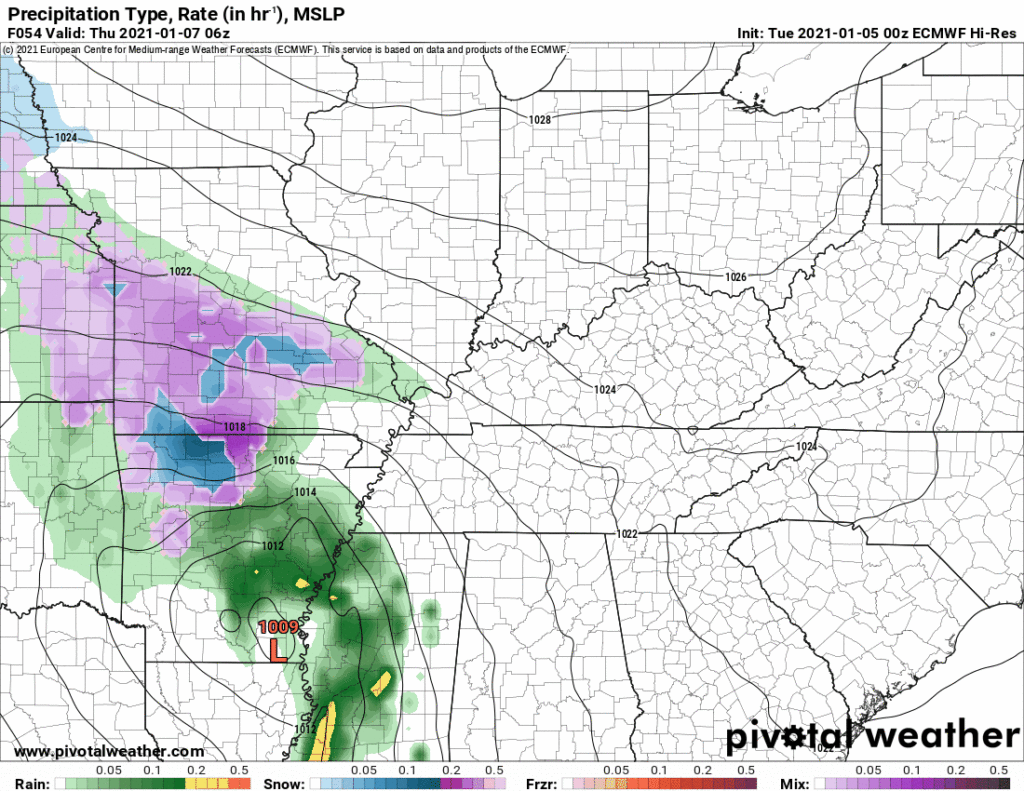 Rain will end sometime after midnight Thursday night, potentially with flakes mixed in. Total rainfall around 0.10″ with isolated amounts up to 0.25″.
Notice below a sharp line between very little rain (generally north of I-40) and potential-rainout rain (closer to I-840). Have low confidence the models have the line right. We could end up pretty dry, or kinda wet. All depends on the exact track of the low.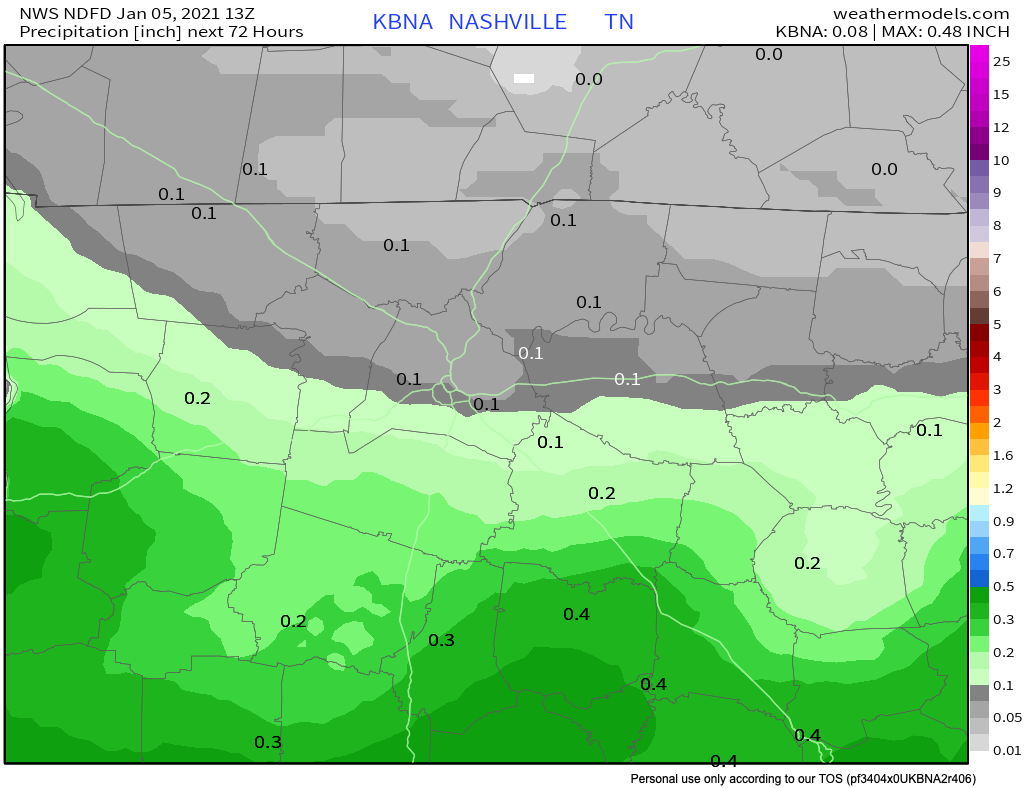 Frozen Precip Thursday Night?
Another classic "snowable air chasing the rain" situation.
Will it snow? Maybe.
Accumulate? Doubt it.
Several ingredients must merge at just the right time for snow: cold enough air for a long enough period of time aloft, surface temps cold enough to support freezing temps, and of course moisture timed up just right. Typically in these scenarios, the moisture heads out before temps can drop enough to support snow.
We might see a narrow window of opportunity for a few splat/melt snowflakes late Thursday night. Looks like temps may be briefly cold enough aloft, but too warm at the surface, causing flakes to splat/melt on the ground.
The Euro Model doesn't give snow fans much hope.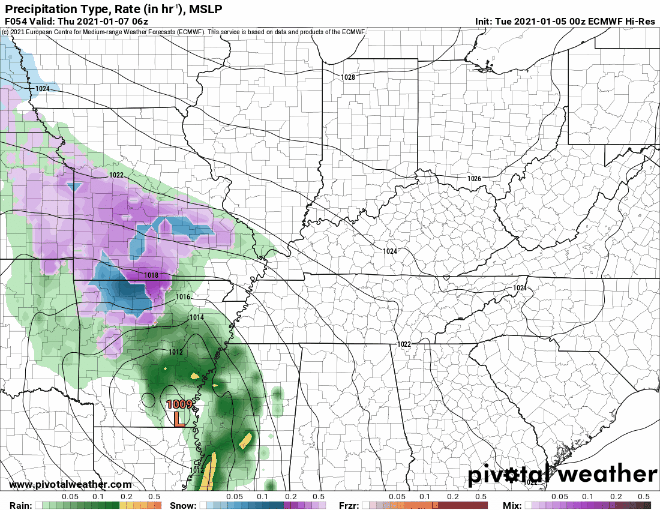 The Euro sounding shows temps cold enough for snow after midnight Thursday night, but melting when flakes hit the ground. Ground temps will be relatively warm.
The GFS Model is even less generous with snow chances.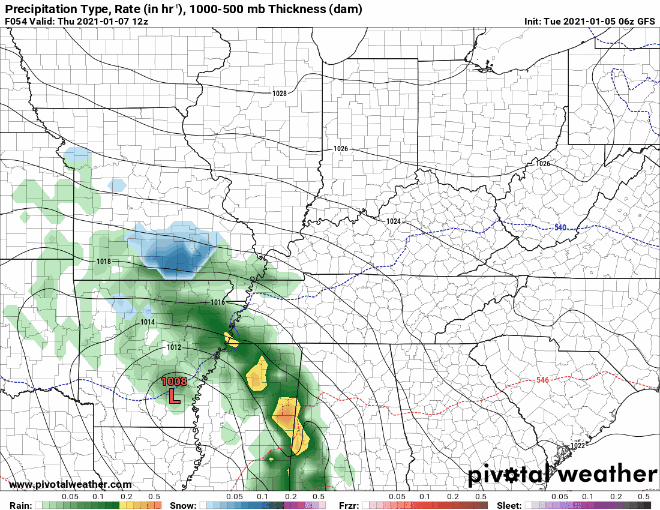 NWS Nashville says the Plateau (the "they get more snow than we do" area) has a chance:
Temps again look to cool enough for a rain/snow mix in the evening, and precip looks to remain on the Plateau overnight. As of now, kept out any accumulation, but will not rule out some light accumulation on the Plateau.

NWS AFD 01-05-2021y
Could the forecast change? Absolutely and it probably will. Keep expectations low for now.
Keep The Faith Snow Fans: Monday
Another system is due in here around Monday. A few model runs have a wintry look.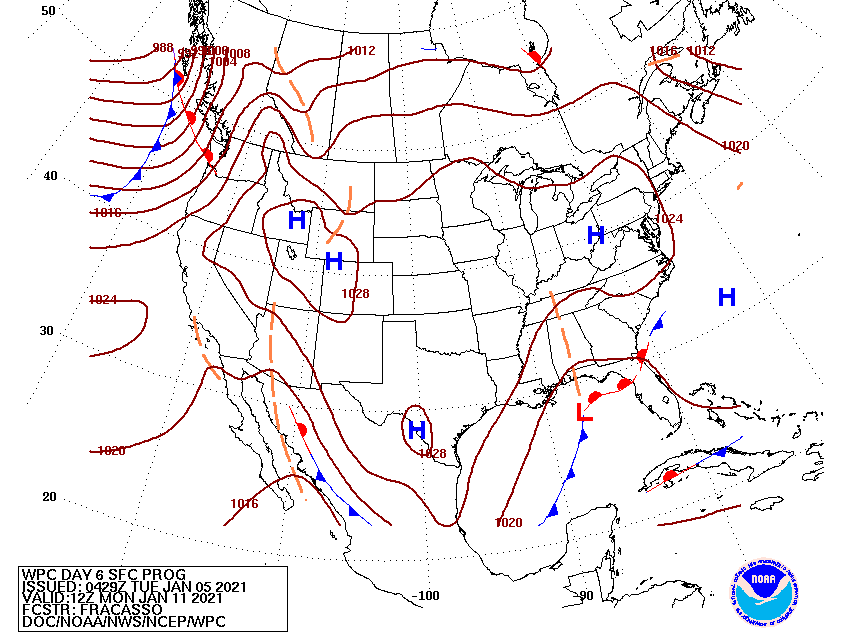 The last two Euro models runs were interesting. In one, we had a low passing to our south with high pressure in the plains. That's generally a good sign (but no guarantee) for snow. The latest run, not so much. Here's a GIF: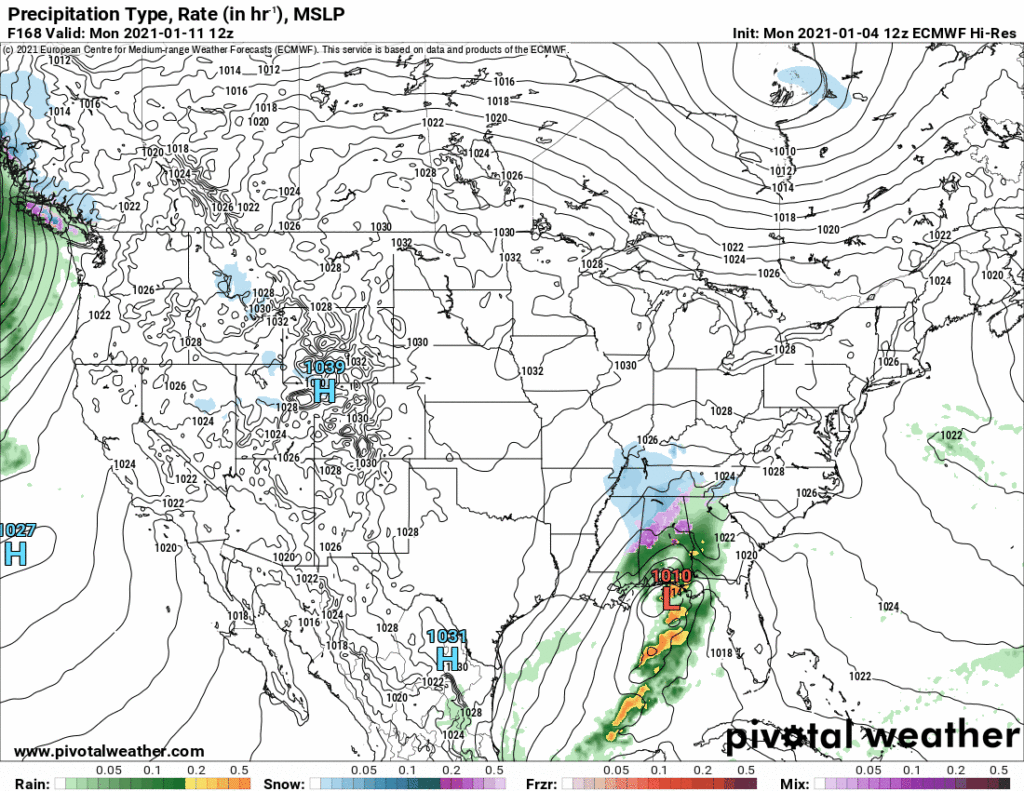 We are entering the time of year when it might actually snow. Models aren't good at pinpointing when or where, especially here. We aren't far enough north to get reliable snow temps and we are not far enough south to reliably tap Gulf of Mexico moisture. Temps/Moisture are always playing tug of war. But sometimes, snow happens.
Stay connected with upcoming blogs as new info becomes available. Remember, old info is bad info.