Happy New Year's Eve!
I know most of us are pretty excited to watch 2020 go and move into the New Year of 2021!
The weather, unfortunately, remains gross – rain, rain, and more rain.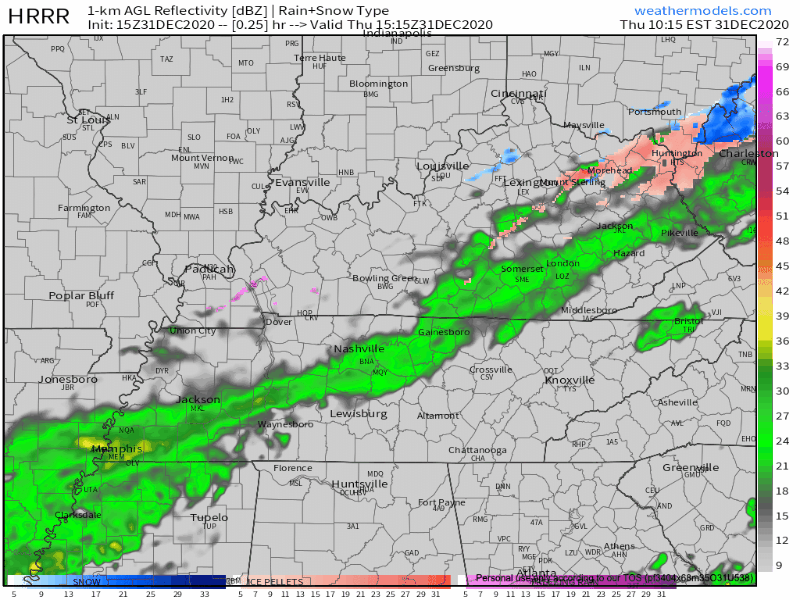 HRRR model indicates some light rain/drizzle on and off until early afternoon hours. We'll see a break in the rain from mid-afternoon until early this evening.
Tonight into Tomorrow Morning
Rain will be on the increase late tonight into tomorrow morning as this major storm system moves across Texas, into parts of Missouri, and makes a beeline toward the upper east coast.
The best chance for showers and thunderstorms is very early tomorrow morning through the afternoon. HRRR below from 10:00 pm – noon tomorrow.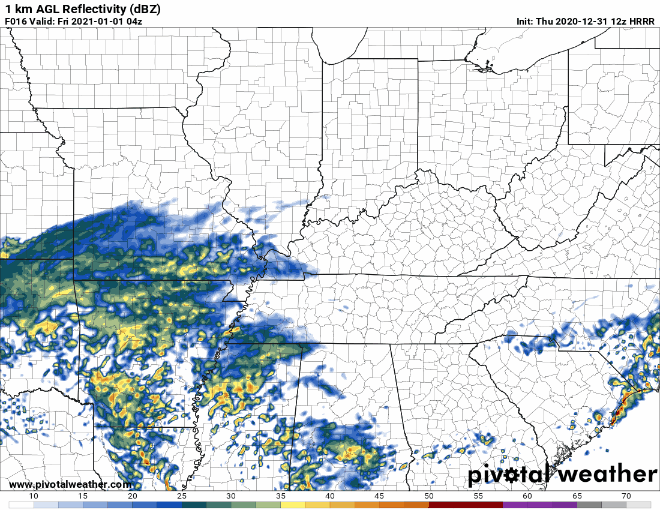 Let's talk severe weather ingredients.
SPC has the following probabilities in place for severe weather Friday, all probabilities of occurring within 25 miles of you.
Tornado – 2%, Damaging Straight-Line Winds – 5%
Severe weather requires ingredients to come together. If an ingredient is missing, the setup won't yield much or any severe weather. Let's look at a few specific ingredients: CAPE, shear, forcing.
CAPE (HRRR model)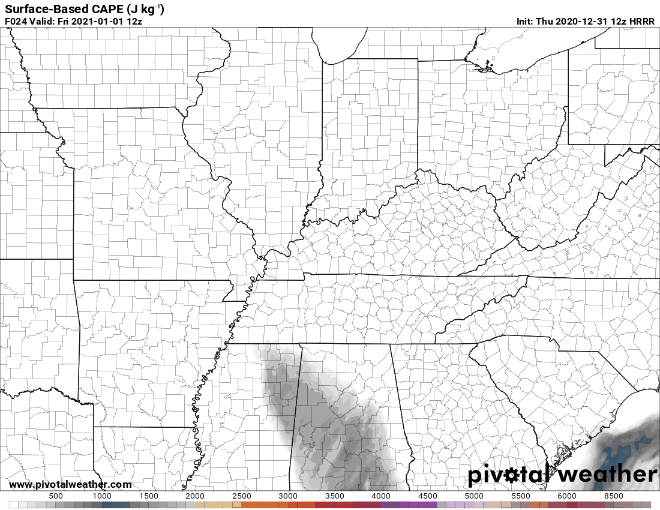 There is a brief window where some CAPE (Convective Available Potential Energy) could be available. This will be dependent on how warm our temperatures are and how much moisture (measured by the dewpoint) can get up into our area. So, if this model verifies, it could be enough. We aren't convinced yet, though.
Shear (HRRR model again)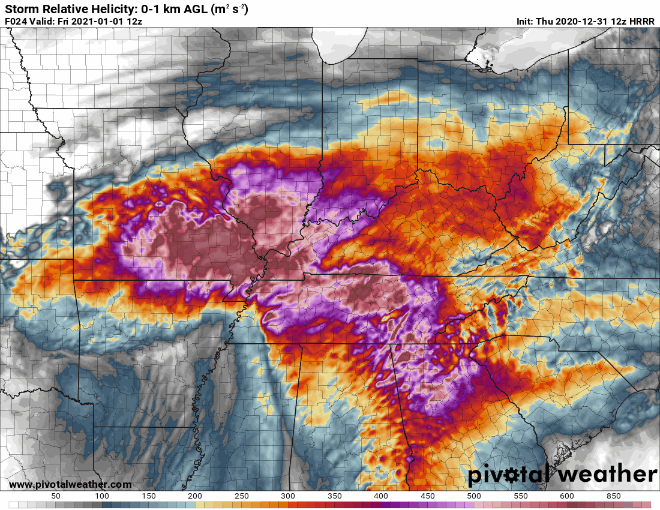 Shear values (using storm relative helicity here) will be very high early in the day, but higher values will be pushing east as the higher CAPE values push in. Still, there will be a hefty amount of shear around. So, let's consider this ingredient present.
Forcing: Using the HRRR gif from above, the models simply don't initiate many storms.
Caveat: If, storms can initiate, they can use the available ingredients to potentially cause problems. We don't foresee a widespread severe event. However, local severe wind gusts and a low grade tornado threat exists.
David will do another blog tonight to update this forecast.
Rainfall Estimate
Rainfall totals below from 3 AM this morning until tomorrow.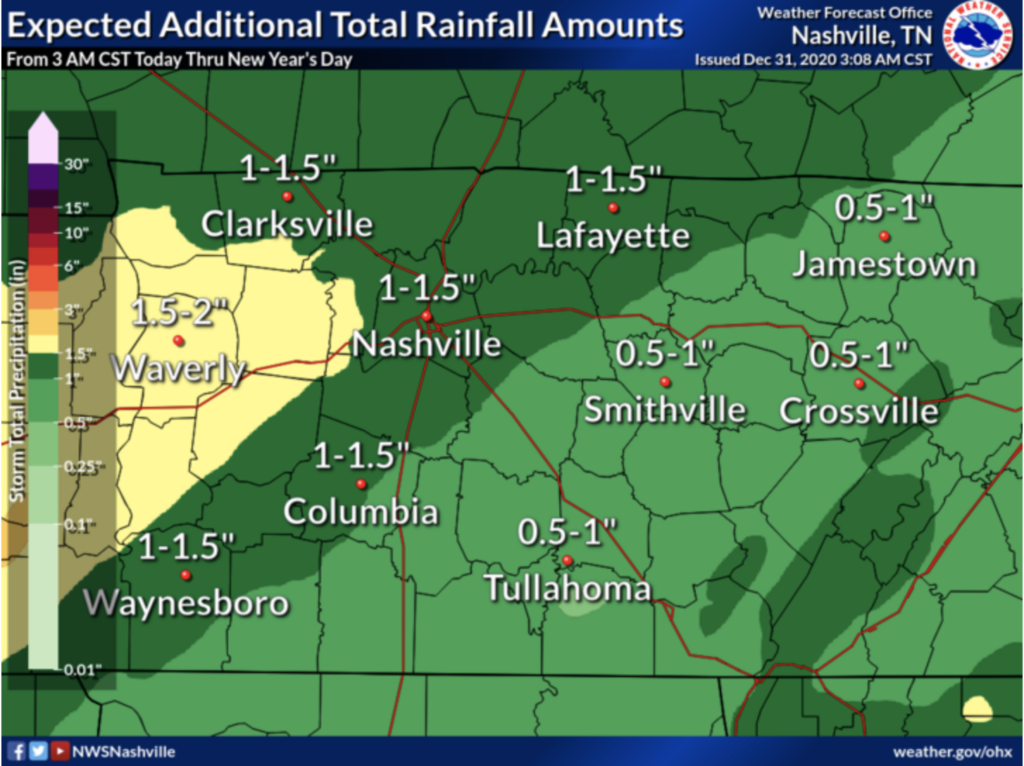 The End of the New Year's Rain
Rainy weather tapers off tomorrow around lunchtime.
Clouds stick around throughout Friday night and into Saturday morning. We could see another chance for some showers on Saturday night between 7 PM – 1 AM.
No rain in the forecast for Sunday with temperatures lingering in the upper 40s.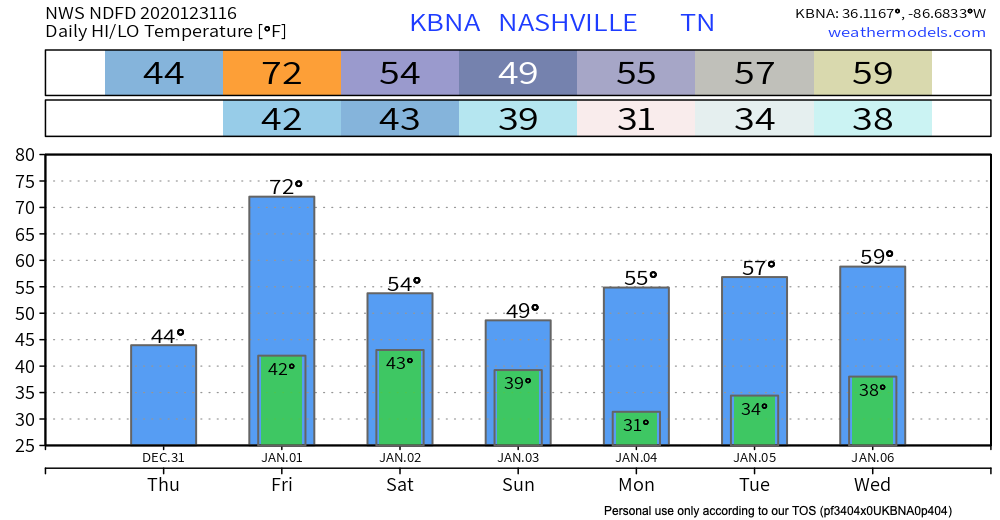 And the rain stays away through the beginning of next week with high temperatures from the mid-to-upper 50s.
Until then, have a safe and happy New Year!
As always, check back for updates to the forecast and be sure to follow @NashSevereWx on Twitter!