Some rain and gusty winds are in store for us today into tonight as a cold front moves eastward across Tennessee.
Any outdoor holiday decorations that aren't secured down could end up in the neighbor's yard with wind gusts to 35 mph.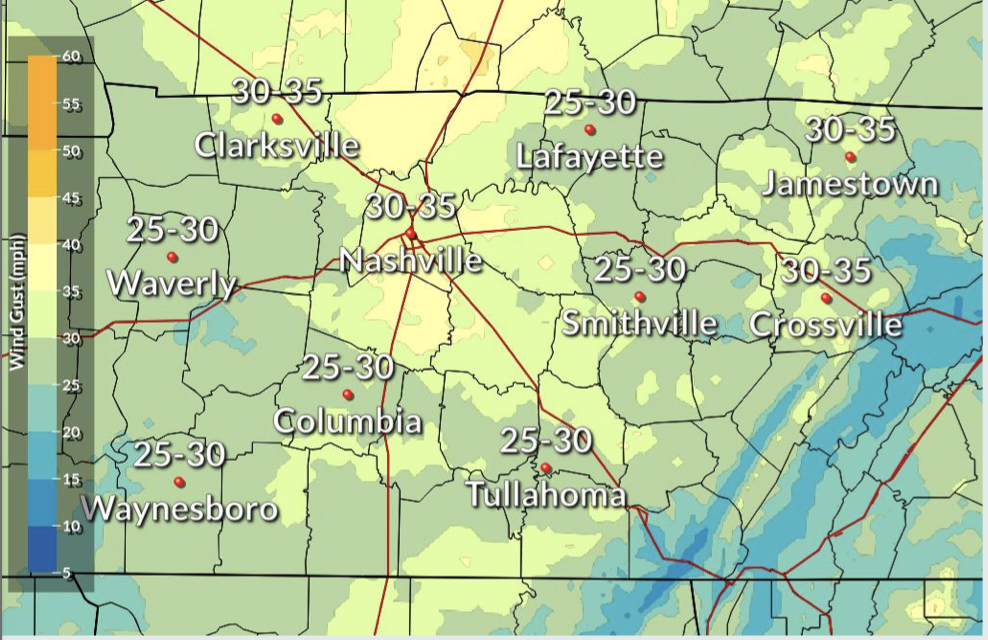 Our temperatures today should reach the low 60s, which will serve to warm the ground. Keep reading to see why that's important.
Showers will develop later this afternoon ahead of the cold front that could pack some heavy rain at times (mainly around midnight). Rain will continue throughout most of the night.
Once the front passes, temperatures will begin to fall, and the rain may transition into snow in the early morning tomorrow, but this is not guaranteed.
HRRR model below shows the rain and the potential transition to snow showers/flurries.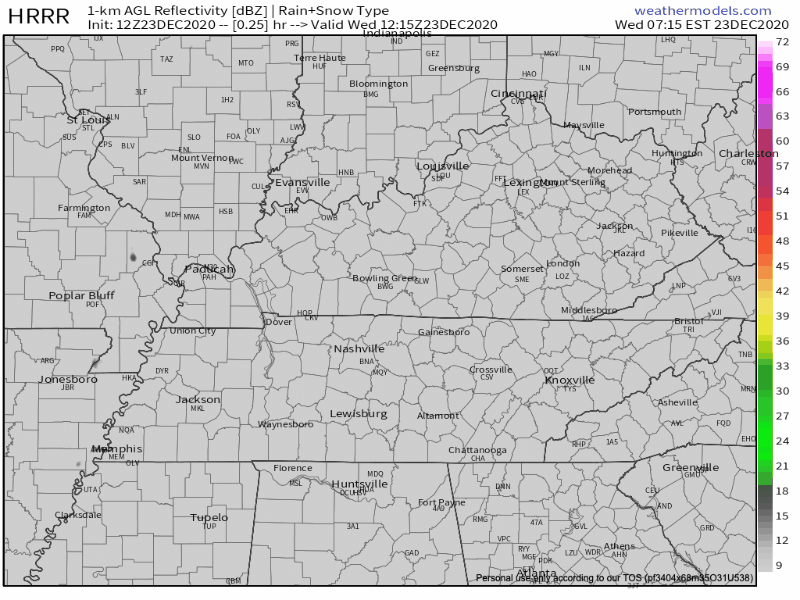 As well as the NAM below: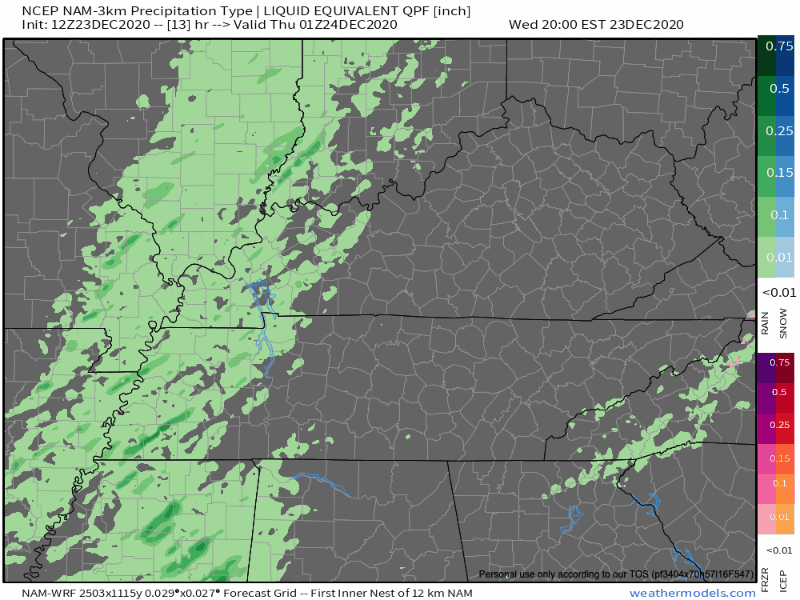 A light dusting is possible tomorrow morning east of I-65 and west of the Plateau but since most of the moisture will be out of Nashville before early afternoon, most of the snow will end up east of us in the Plateau region.
Some flurries could hang around throughout the day, but they appear to be inconsequential, accumulation-wise. HRRR, above, shows this possibility.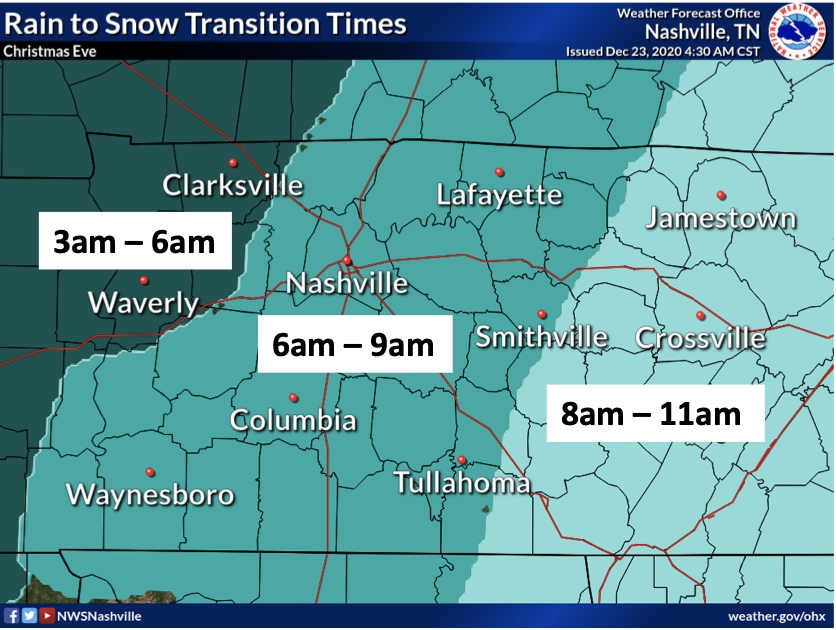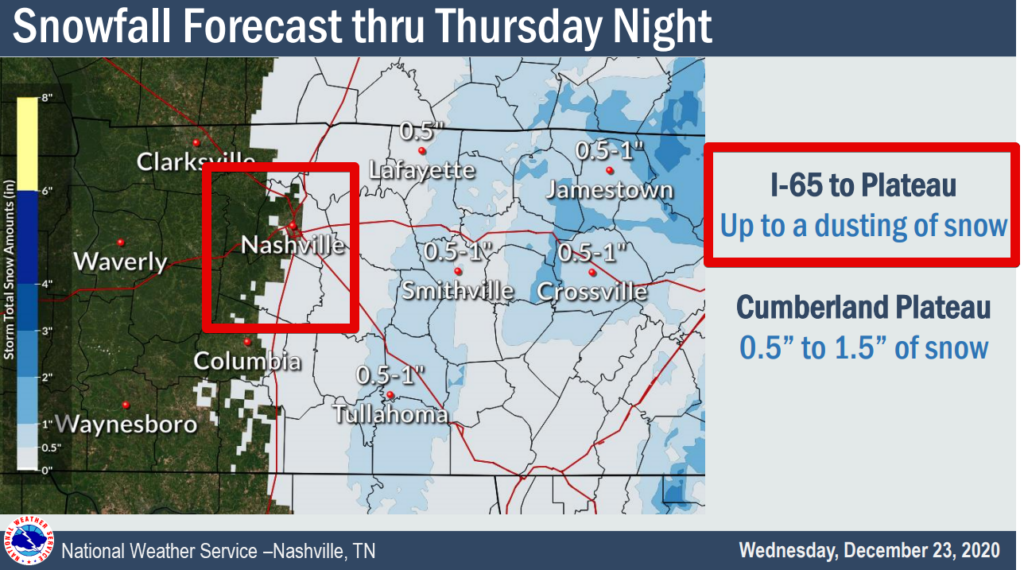 We could see a light dusting on grassy areas, but the ground will be warm and remaining moisture will be limited.
Temperatures…..COLD
The other big story will be the temperatures behind the front. If you see a high temperature forecast of 49 degrees tomorrow, beware. That will occur at midnight as temps begin to fall and remain a few degrees within the freezing line most of the day.
Temperatures will continue to cool throughout the day on Thursday, leading to some slick spots where roads remain wet and in areas where light snow accumulations occur.

NWS Forecaster's Discussion 12/23/2020
There's a low but non-zero chance wet roads won't dry off in time before temperatures drop below freezing. So, be aware of this as you drive. Ice could be an issue in some places.
Overnight Thursday into Christmas morning, temperatures will drop into the mid-upper teens, with wind chills on Christmas morning in the single digits.
[Editor's Note: Reading this blog…thinking about my fire in the fireplace Christmas morning…I noticed I needed to go get firewood off the pile and bring it into the basement, like, now. Now's my chance (and yours, too).]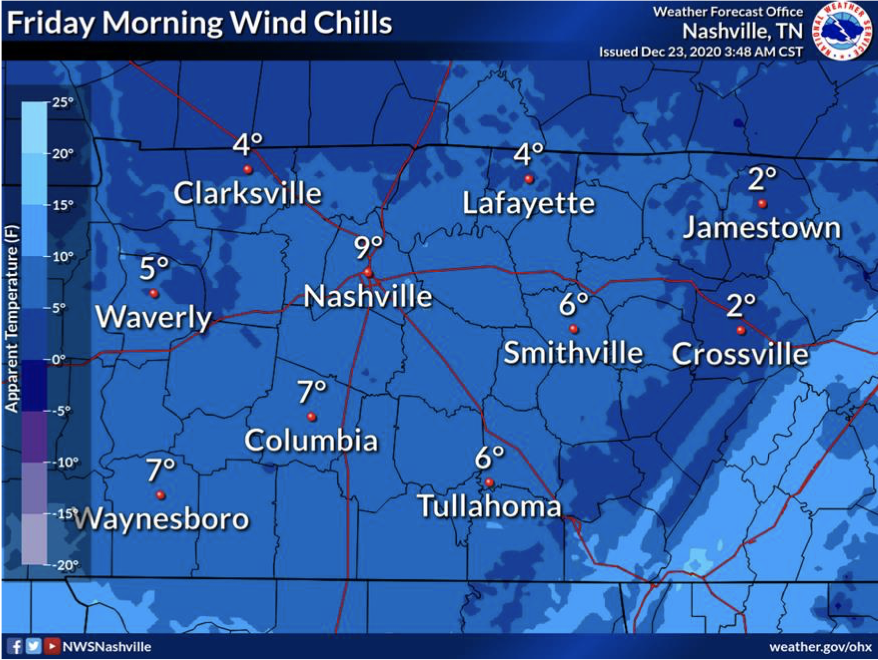 A 9° wind chill is ouch. We'll "warm up" into the upper 20s for the high on Christmas Day. Not exactly a slip-n-slide day, says the editor.
Luckily, Christmas Eve through the weekend, we remain dry.
The Rest of the Weekend
Saturday and Sunday look to be clear and a bit warmer than these next upcoming days. We'll gradually warm on Saturday with a high of 47° F to 54° F on Sunday.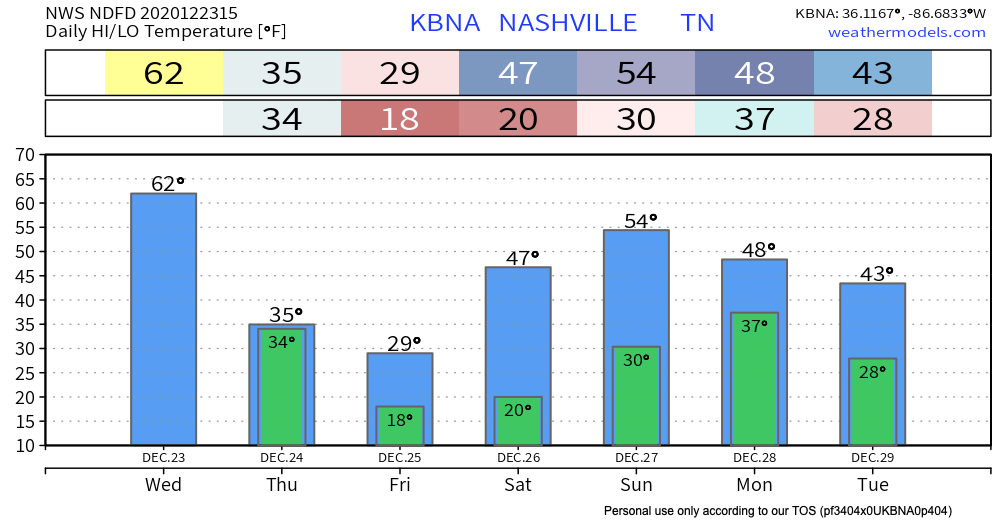 Next chance of showers possible on Sunday night, but we'll have more on that as the time gets closer.
For now, Merry Christmas Eve Eve!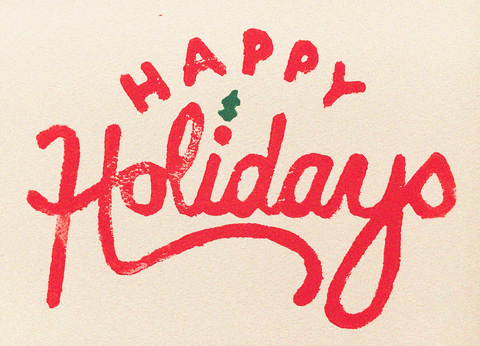 David will be writing an updated blog before bed-time tonight. He's already threatened to make it heavy on the Seinfeld references. Happy Festivus.