Overnight rain has moved out and we are left socked in with clouds. Good news is that we do start the warming trend today. Should top out around 50 today.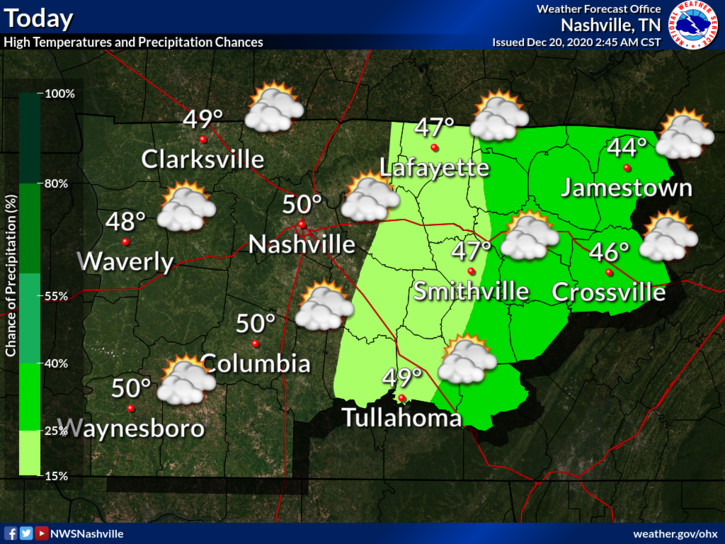 And it's only going to get warmer from here…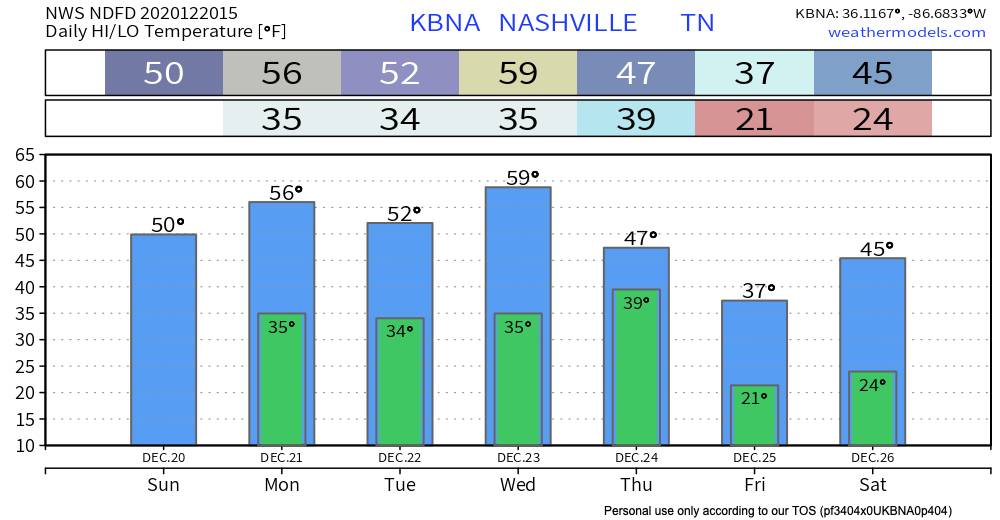 Maybe touching 60 on Wednesday.
Now To The Good Stuff
First and Foremost – if you are looking for a blog hyping up a monster snowstorm for Middle Tennessee Christmas Eve, this isn't the blog for you. We are going to keep it real and brutally honest.
(Editor's Note: he means it)
Euro Model shows a batch of showers entering the area Wednesday Night into Thursday. Some of the rain could be heavy at times, especially before noon Thursday. A cold front is pushing this rain. All the rain will be ahead of the cold front.
Arctic air is behind the cold front. The question is (as usual when this happens here), will there be enough moisture left behind to turn to snow?
Well, maybe, just a little. The Euro model shows rain rain Wednesday night into Thursday morning. Then very light moisture behind it, with snow showers possible.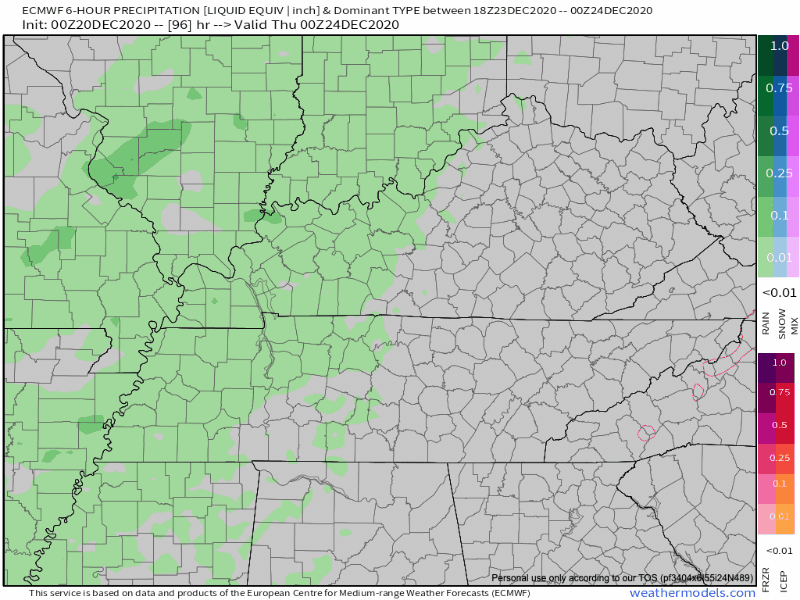 In this scenario, the cold air catches up to the moisture in time for *maybe* a quick dusting.
Other models agree that it's going to get cold, but disagree on when that cold air moves in and if there will be any moisture leftover for it to interact with.
NWS Nashville explains it really well…
Behind this passing front, significant cooling is expected on Thursday, and especially Thursday afternoon/evening, as the closed low moves over the immediate vicinity. Thursday afternoon, temps should be cool enough to see a changeover to a rain/snow mix across the northwest [that's not us]. Temps really plummet on Thursday night and any lingering precip likely to change to all snow. At this point however closed upper low will be moving to our east, and moisture will be limited. Thus we are not really setting up for significant snowfall. Thursday night into early Friday, the plateau could see an inch or so but elsewhere, trace amounts seem most probable. So some locations could have a dusting Christmas morning.

NWS Area Forecast Discussion 12-20-2020
We are "some locations" that "could have a dusting Christmas morning."
This meteorological set up happens frequently in Middle Tennessee. Plenty of moisture, but air too warm, so we just get rain. By the time the cold air catches up, the moisture leaves.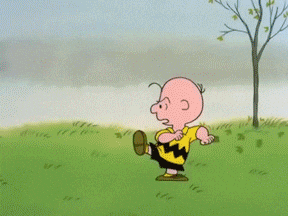 Let's assume we get this little bit of snow. What will it be falling on? The answer is a warm, wet Earth. We are going to approach 60° the day before. It is going to take time for the ground to cool off enough to accommodate snow.
That said, the air behind this cold front should be very, very cold. Timing on this may change but looks like we can expect freezing temperatures from around dark Christmas Eve until just before lunch Christmas Day, with the low bottoming out near 20° before sunrise Christmas morning.
But for the majority of you, even if we get a few flakes, or a flocking, that counts as a White Christmas.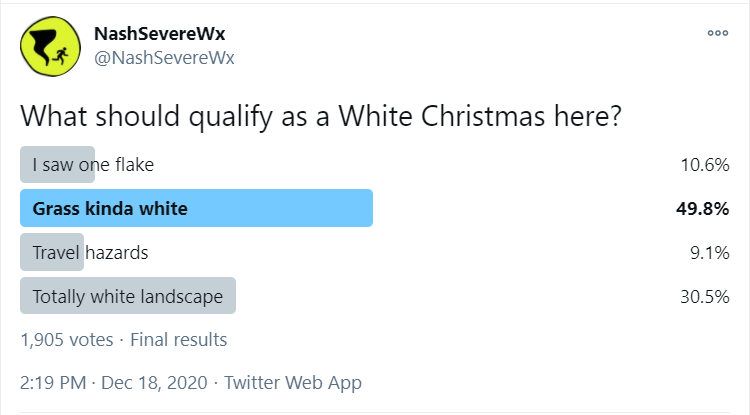 Closing Thoughts
We are 3-4 days away from this event. We don't know if the flocked trees are in stock. Forecasting winter weather in Tennessee is difficult the day of an event. Don't believe "crap apps" that give actual accumulations this far in advance. And don't give any clicks to clickbait social media posts that predict apocalyptic snowfall amounts by willfully misinterpreting model data. Trust the science and embrace the uncertainty. We will have much more on this event in upcoming blogs.