It's Hump Day!
Light rain continues across the region this morning with temperatures in the low 40's.
This system should be moving out around lunchtime/noon.
Those temperatures aren't going to warm up very much as the day goes on with only a high of 44.
Later this morning, some brief rain/snow mix could be possible. But this is mainly along the Tennessee River counties and Cumberland Plateau. "No [impacts or] accumulation expected due to the brief period of
potential wintry mix and temperatures remaining well above freezing." – NWS Nashville
Lows tonight will be in the upper 20's.
Rain Free For Rest of the Work Week
Very cold and dry weather is anticipated for Thursday and Friday.
Thursday will start off cloudy and be a little stubborn to clear up, but may allow some gradual sunshine.
It'll also be our coldest day in this forecast with the high only reaching 41 degrees. Temps drop to 25 degrees overnight into Friday.
Friday is pretty much the same story, but with more sunshine and warmer temps reaching a high of 49.
Rain Returns for the Weekend
Saturday will start off mostly cloudy and dry in the morning hours. By the afternoon (mainly after 1pm), showers will be possible.
This system is forecasted to be much weaker than today's events with only light rain expected and small rainfall amounts with only a few hundredths of an inch possible.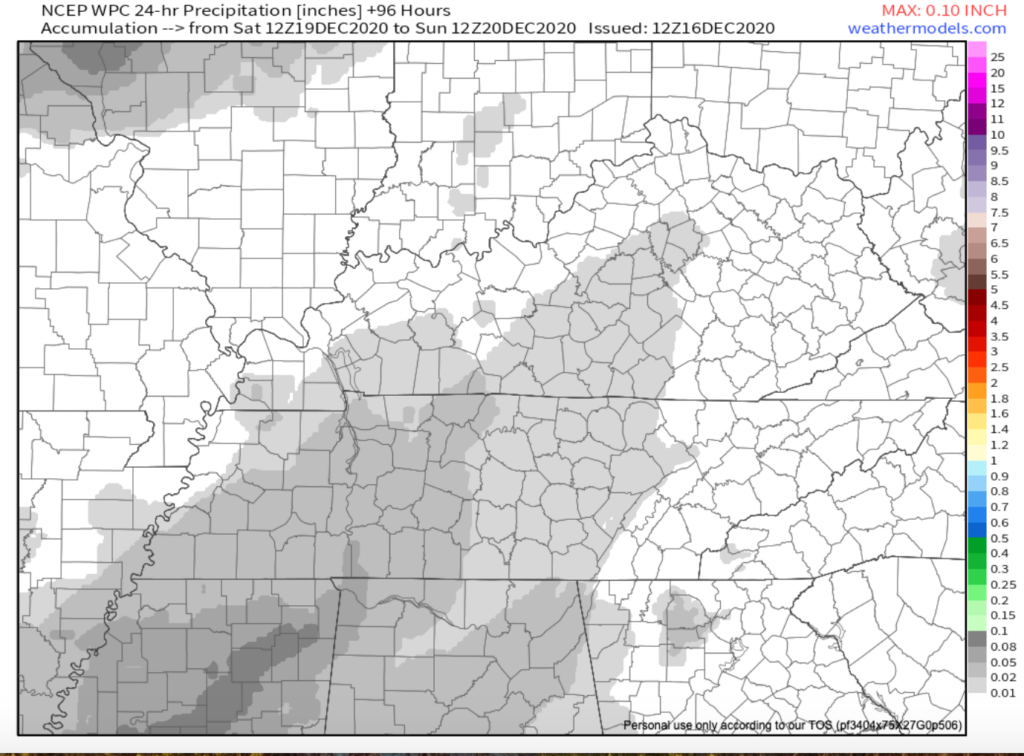 Rain will continue to be possible into the early morning on Sunday, but should be moving out by 7am.
This will leave us with some slightly warmer temps to start next week, and we should stay dry.
Looking WAY Ahead
…models indicate a strong cold front may plow through the area on Wednesday or Thursday of next
week, bringing our next chance of precipitation along with potentially much colder temperatures.

NWS Nashville, morning AFD December 16, 2020
Could be chilly as we approach the end of next week. But, this could change. Stay tuned!