Happy Friday, Middle Tennessee!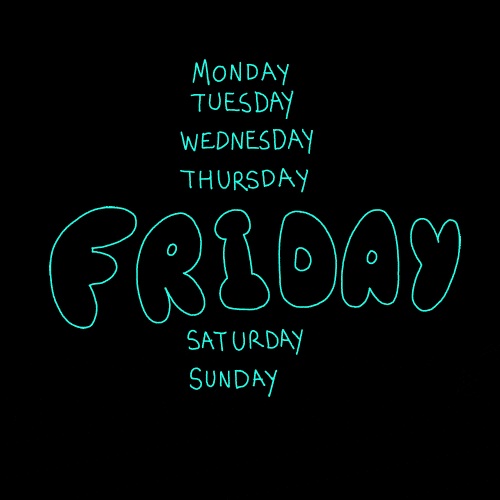 Today Through Tomorrow
Another day, another high in the low 70s this afternoon. Above-average temps for much of the state rollover from yesterday into today, but don't get too comfortable with these highs.
Average highs for this time of year are near the low 50s, so we're sitting about 20° above average!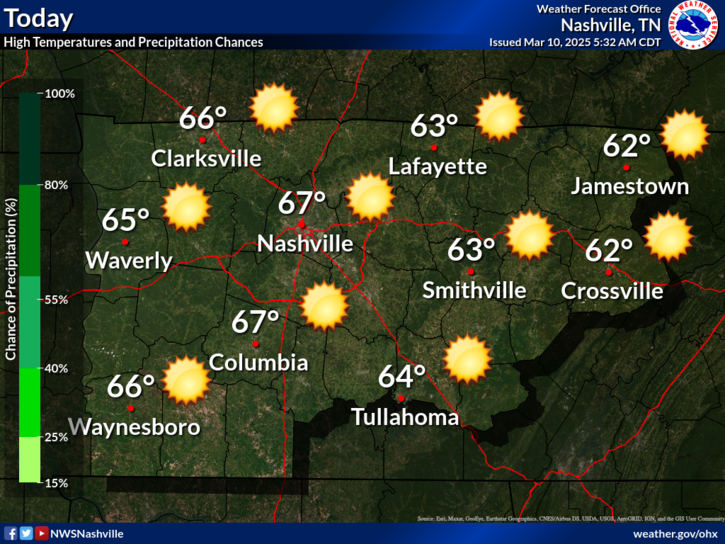 Increasing clouds this afternoon make way for a storm system that will move eastward over Tennessee late tonight into tomorrow morning. Showers move into the area mainly after 2 AM ahead of a surface cold front.
Due to the lack of instability and main upper dynamics passing off to our north, no thunderstorms are anticipated.

NWS Forecast Discussion 12/11/2020
No thunderstorms, but we'll see some pockets of heavier rain. Right now, we're only expecting less than a quarter of an inch of rain.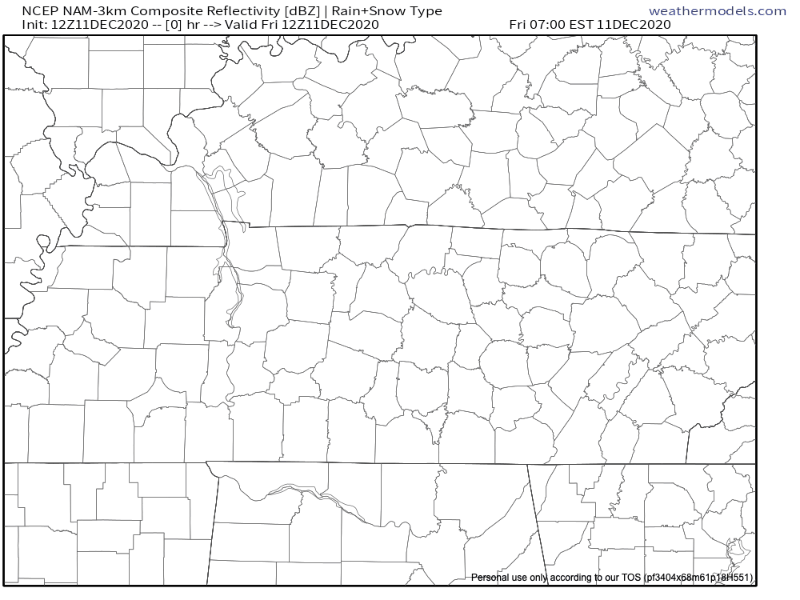 Rain will likely move out by 10 AM tomorrow and cooler air ushered behind this front will drop our temperatures on Saturday into the mid-60s.
A beautiful Saturday expected after lingering showers and cloud move out with comfortable temps and mostly sunny skies!
Potential Mix Rain/Snow On Sunday
Another round of showers on Sunday night could bring a chance of rain/snow mix for Middle Tennessee. Temperatures on Sunday will reach a high of 54° with mostly cloudy skies.
We could see some flurries/very light snowflakes Sunday evening. Temperatures will quickly drop into the mid-30s Sunday night into Monday morning, but due to our previous 70-degree highs from yesterday and today, the ground is far too warm for any snow to accumulate.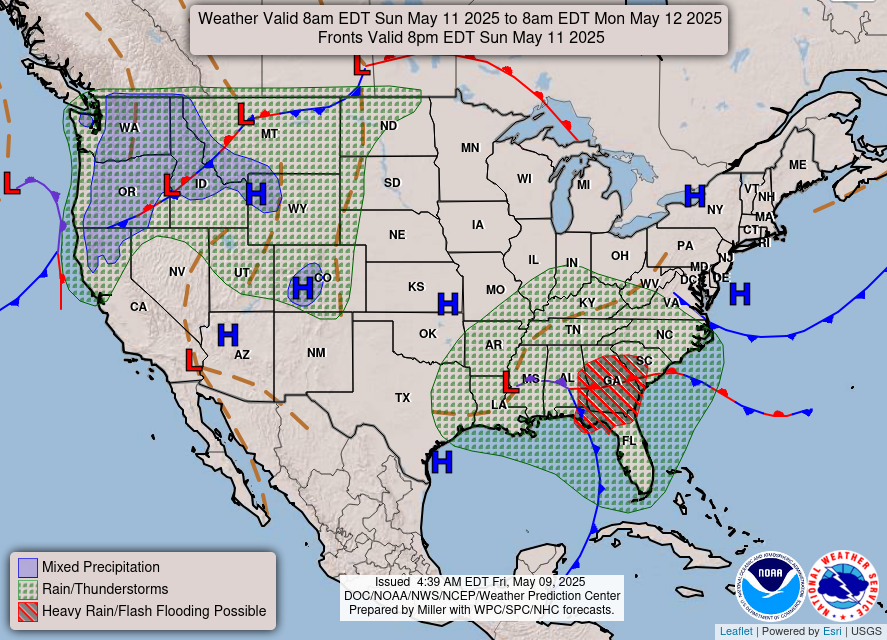 A bit heavier rain for our Sunday event but our rainfall amounts won't exceed anything more than a quarter of an inch possible.
The Euro does a really good job at forecasting some mixed precipitation Sunday night, but the chance for any snow is slim-to-none.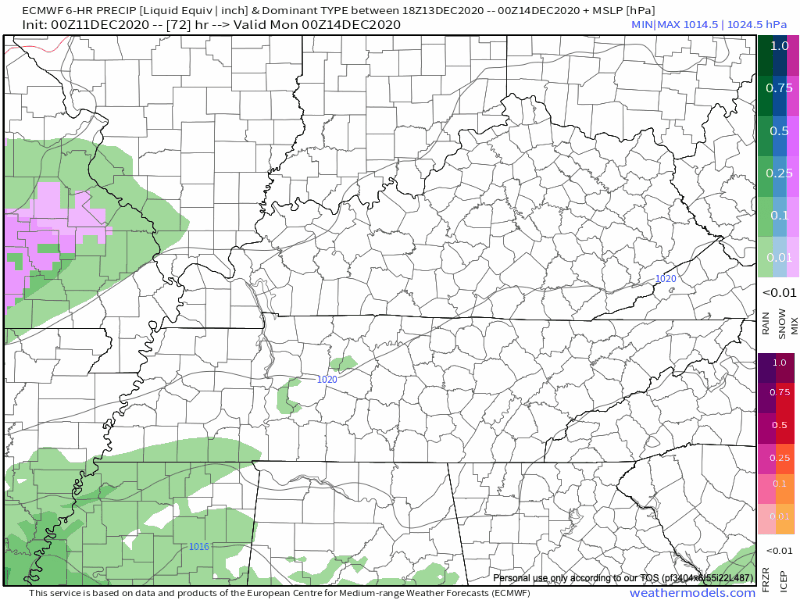 With more significant cold air bottled up across the Midwest, wintry mischief will be hard to come by, and in fact most guidance keeps this an all rain event.

NWS Forecast Discussion 12/11/2020
Temperatures dip back into the upper 40s early next week. Sunshine returns Monday and sticks around through the workweek. Lows Monday night and Wednesday night drop into the upper 20s.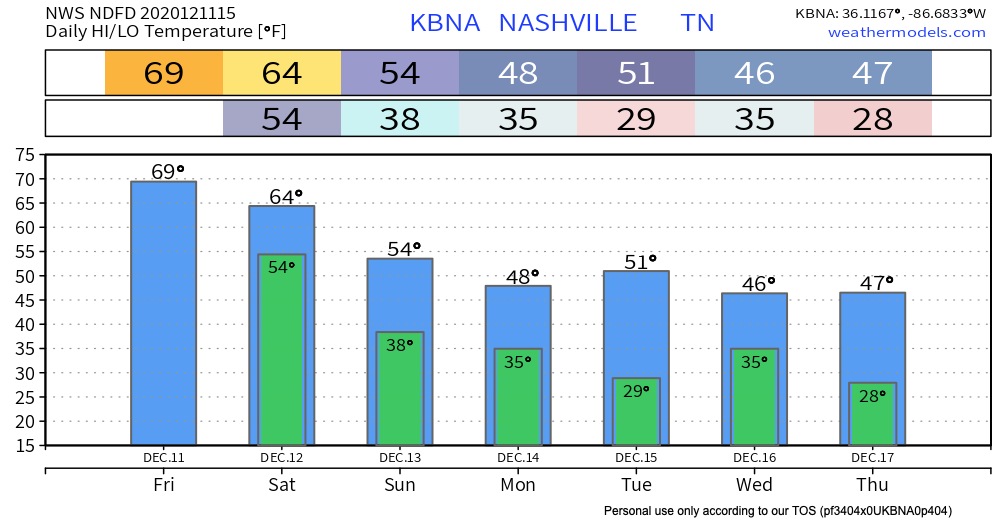 As always, check back for updates to the forecast and be sure to follow @NashSevereWx on Twitter!