Many locations across Davidson/Williamson Counties dipped into the upper 20s this morning.
Trivia alert! In 1917 we set our record low, 5° in Nashville and 10° in Franklin.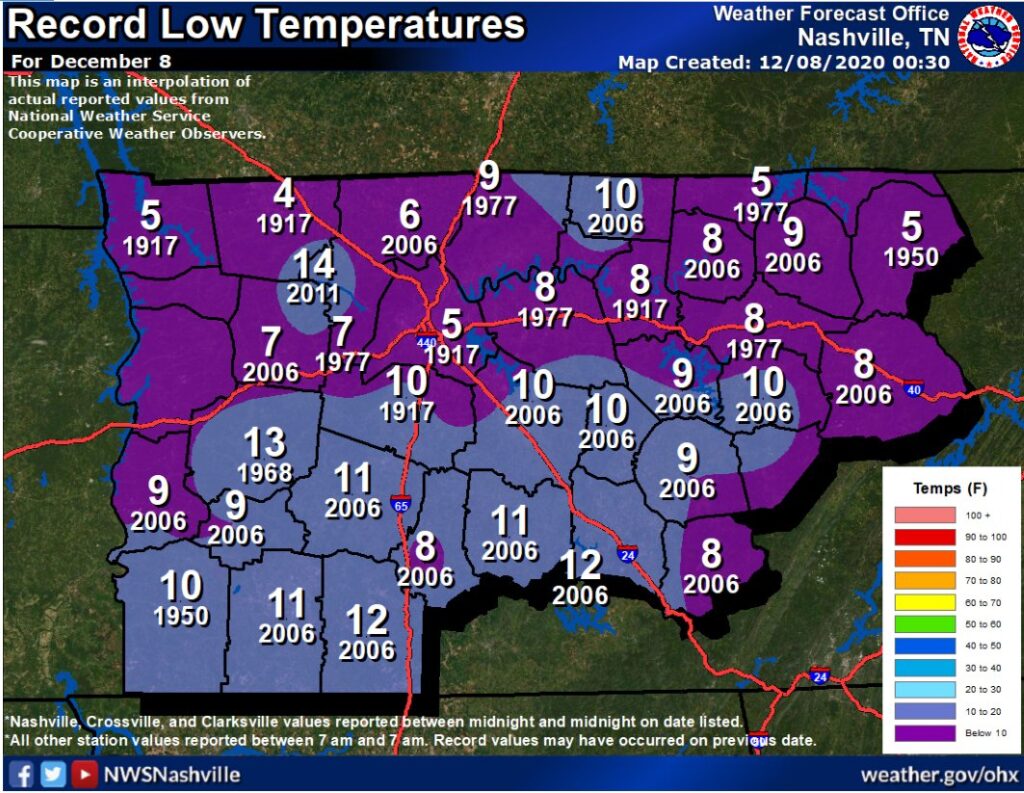 No record lows in sight.
Clouds may clear this afternoon before it gets dark. It'll be close. Look for mid/upper 40°s.
Foggy Overnight/Early Weds Morning?
Fog is possible after midnight tonight into Wednesday morning. Skies will clear, the temp will drop close to freezing, and the dewpoint will be close to the temp. Winds at 5 MPH may prevent widespread fog but would not be surprised to see another round of fog or even isolated freezing fog where winds are calm. Here's the hour by hour temp grid: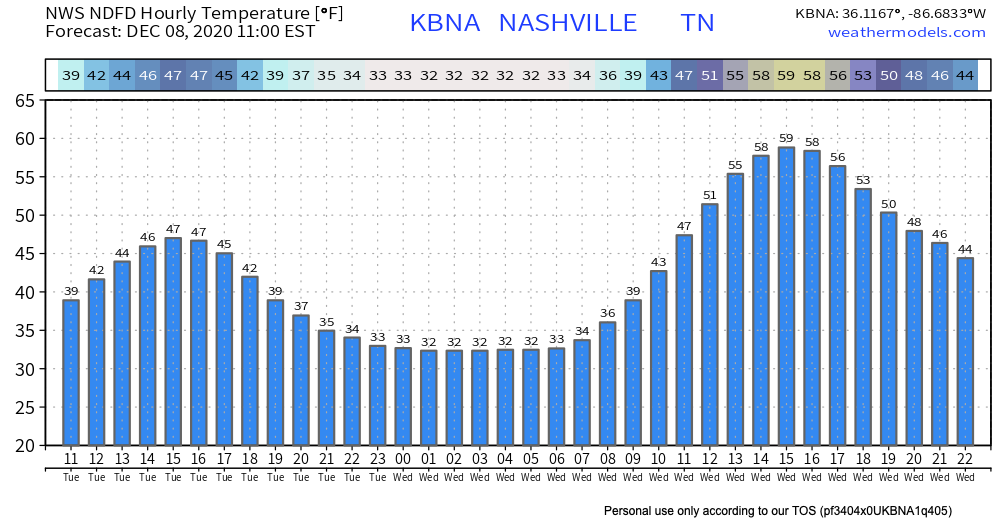 Warming Up and Staying Dry
Wanting to get outside? You'll have plenty of chances over the next few days.
Each day warmer than the next through Friday with bright sunshine.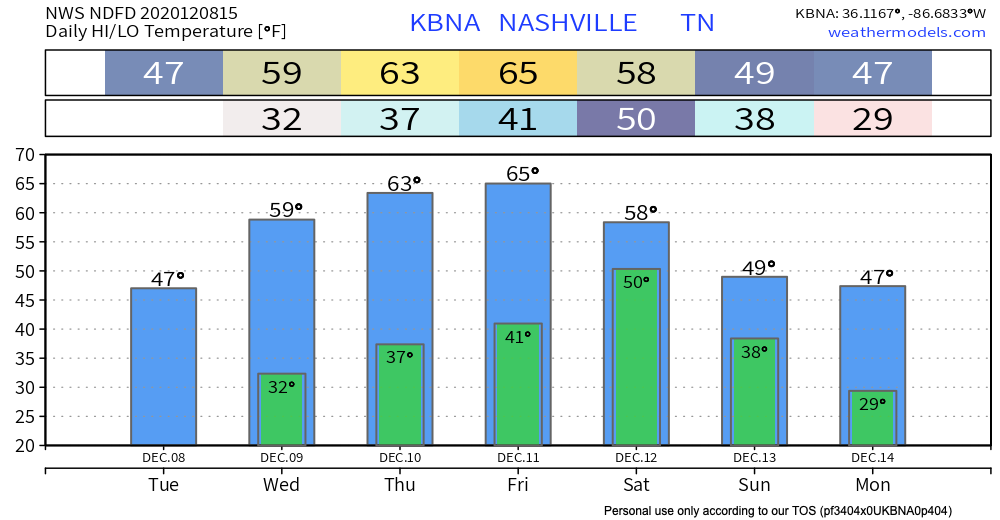 When and How Much Rain This Weekend?
Models this far out are low-res making data inconclusive about timing and amounts.
Euro Model shows rain to begin Friday night around Midnight to 6AM Saturday. Then off and on showers throughout the day, ending Sunday morning. This makes the most sense to us.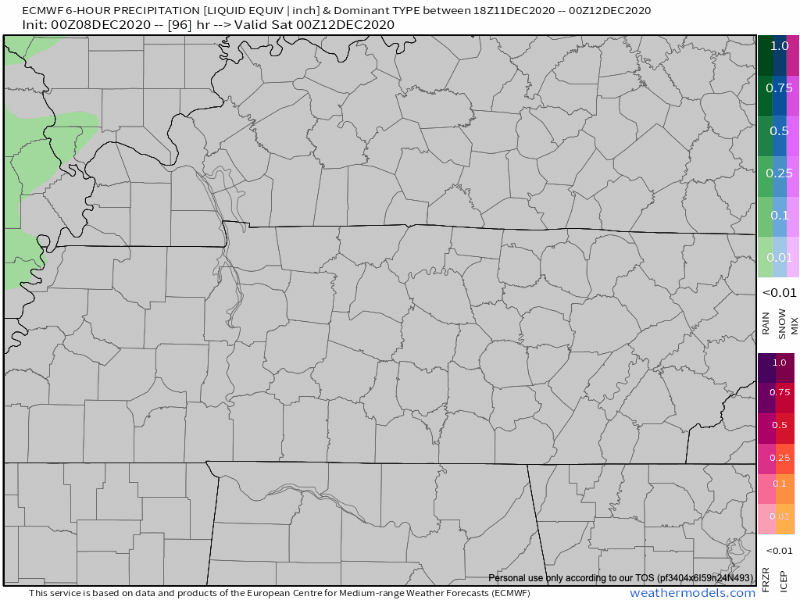 As for amounts…meh…
Forecast soundings PW's for Saturday are crummy (sub 1″) which means we won't get much rain out of this one and it looks like our next system could be 4-5 days after this one. That drought monitor might get a workout over the next couple of weeks.

NWS Nashville AFD 12-08-2020
PW means precipitable water. Low amounts of water in the atmosphere = low amounts of water reaching the ground.
Rainfall amounts from WPC through Sunday morning show 0.10″-0.25″ on the high end. That's usually not enough to cause rainouts.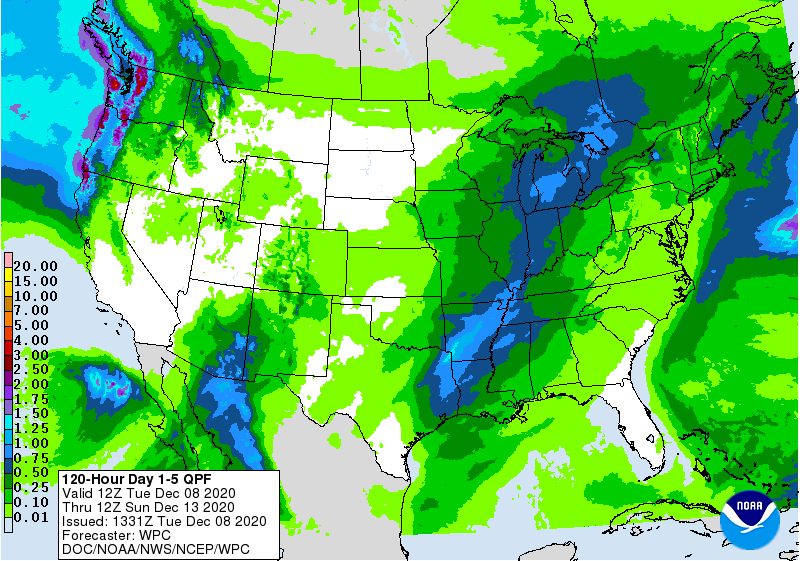 Bottom Line: Don't cancel outdoor activities yet. Check back often for updates as higher-res models become available.