Snowflakes mixing with rain possible while we sleep overnight. No accumulation.
More snowflakes possible again Monday mid-morning into the afternoon. Accumulation unlikely.
Wind chills will drop Monday into the 20°s.
Temps should drop below freezing Monday night around dark. Snow should have departed by then, but black ice may form on wet roads late Monday night/early Tuesday morning.
Check back in the morning and through the day for updated information.
---
Rain will continue off and on tonight and overnight.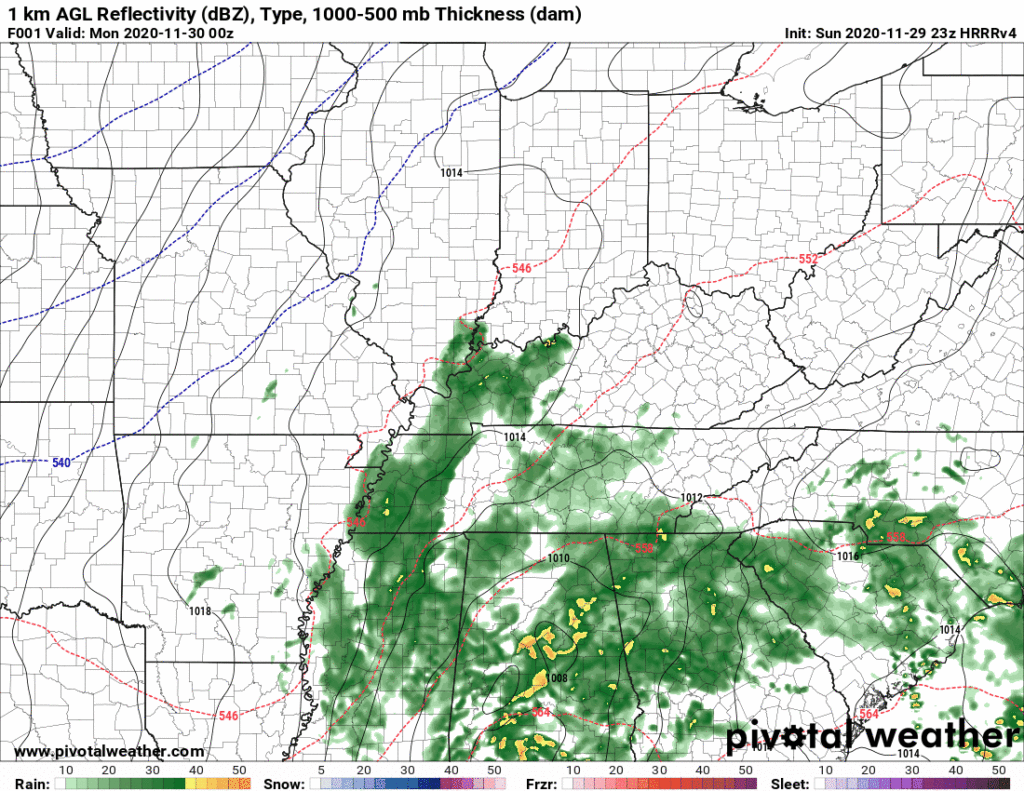 Forecast rain totals increased slightly from this morning. 1.00″ on average, but local rain gauges will vary. More rain is likely southeast (Nolensville, Antioch, College Grove, Franklin). Less rain is likely northwest (Bellevue, Bordeaux, Joelton, Fairview).
HRRR model total rainfall: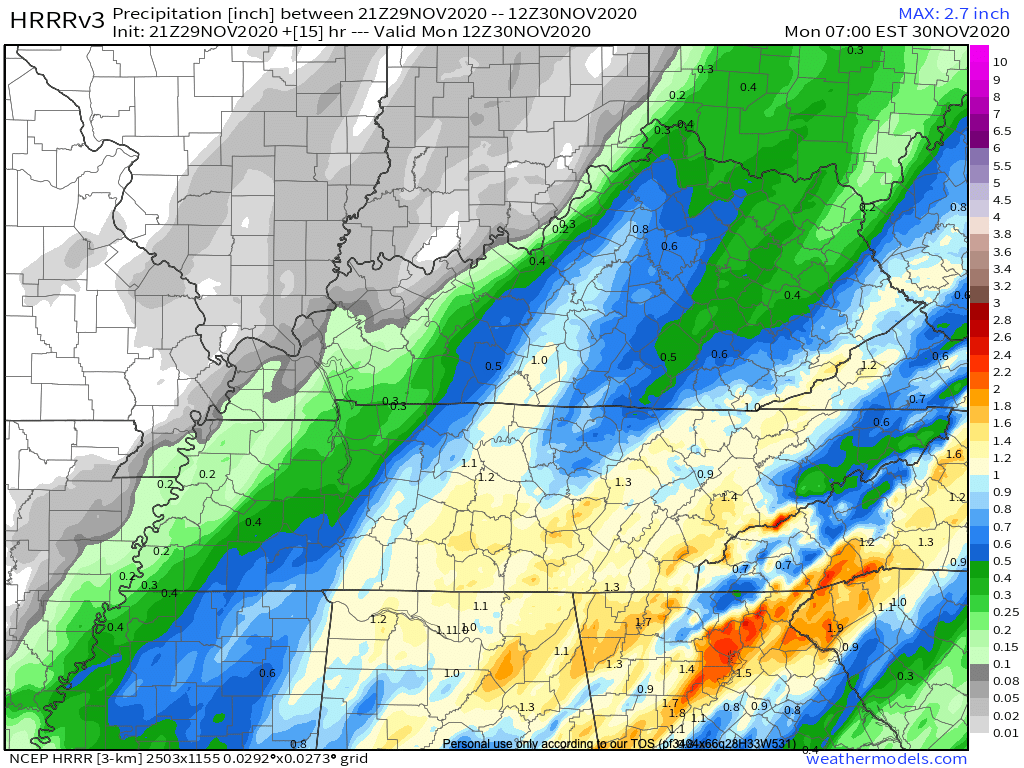 Rain should end Monday before sunrise. Sleet or snow may mix in with predawn rain. Most data (HRRR data below, for example) predicts surface temps will remain above freezing Monday morning. Any sleet or snow should splat/melt on contact.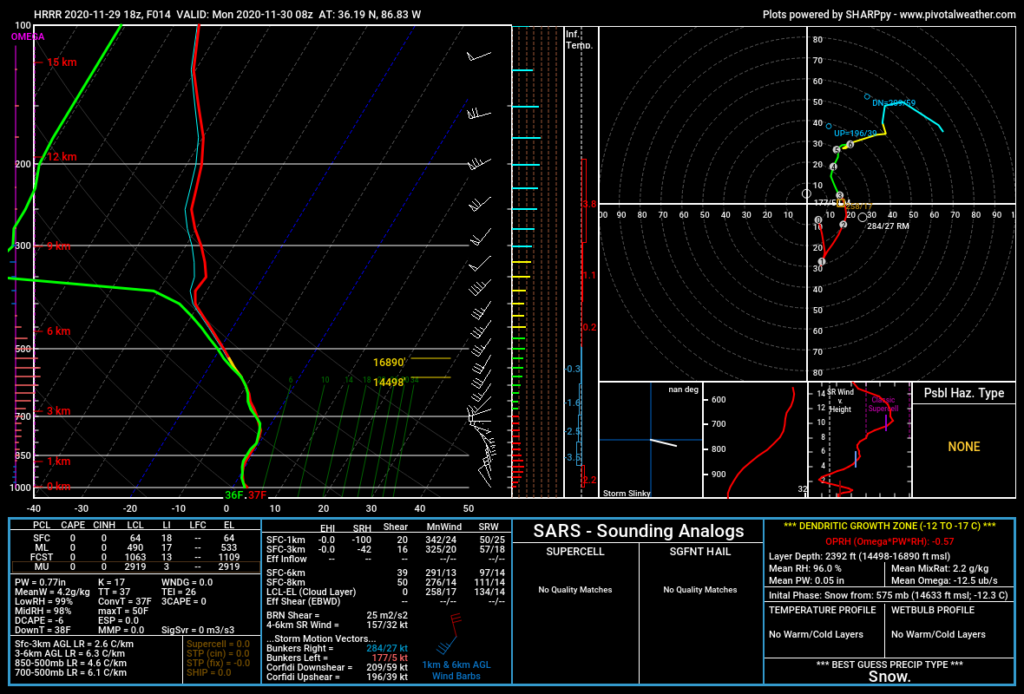 Officially 38° is forecast as the rain pulls away before dawn.
Monday After Sunrise
Low pressure will move off to the northeast. With it will go the bulk of the moisture. The "bulk" of the moisture. Not all of it.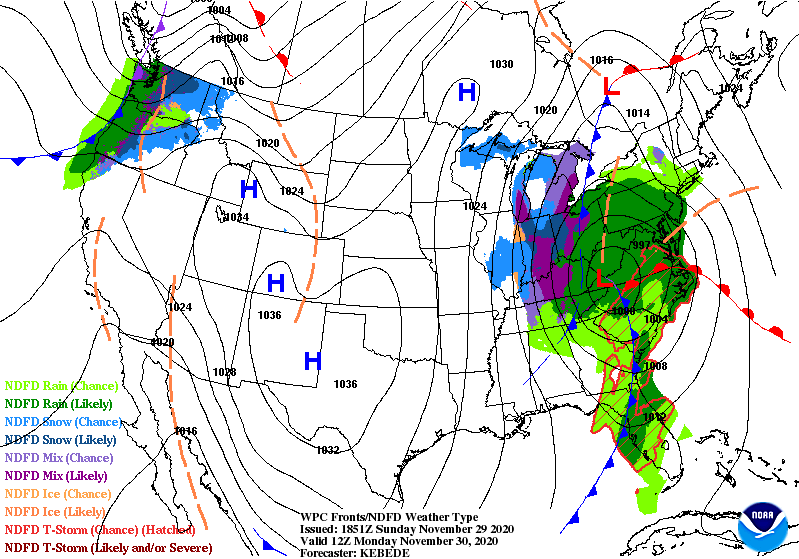 North winds will spill in Monday and slice wind chills into the 20°s. Leftover precip will get caught in those north winds and rotate through Middle Tennessee during the day Monday.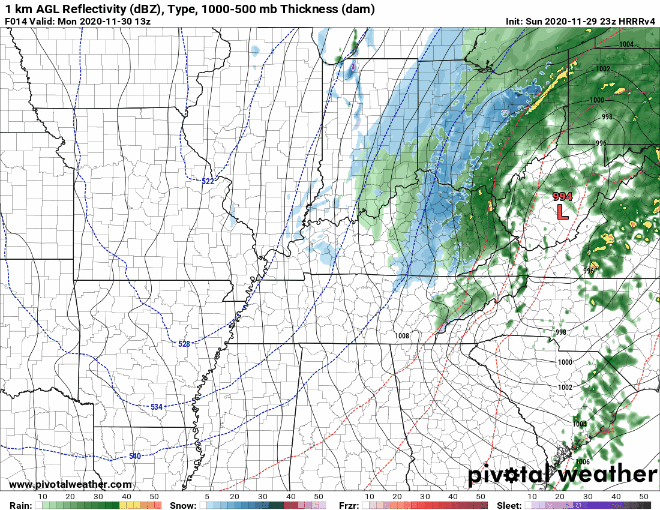 What'll happen next is a classic race between subfreezing surface temps chasing leftover moisture.
Surface air temps are expected to stay above freezing during the day Monday when flakes are expected to fly. This is not good news for snow fans. Surface temps above freezing mean any snow that falls would splat/melt. Daylight temps Monday are expected to be 33°-36°.
How could it snow with above freezing surface temps? Because temps way above us will be below freezing. Temps warmer here on the surface.
Freezing temps are not expected to get here until after dark Monday night. By then most, if not all, of the snow should have escaped east. But if the freezing temps can catch the moisture, we may see a dusting.
While we aren't roadway engineers, we've been through these scenarios enough to know that pavement is warmer than grass/elevated surfaces. You will almost always see snow stick to grassy areas and elevated roads first. We aren't expecting enough precipitation for snow accumulation on the roads (keep reading).
If you're looking for accumulations…
The usual area of Jamestown-Crossville. Those fine folks know how to make the most out of a little moisture.
While accumulating snowfall isn't a big concern, black ice is.
Temps will plummet into the 20°s Monday night. Wet roads will try to freeze. We hope fallen precip will evaporate during daylight hours and/or dry via that north wind. But be aware of bridges, overpasses, and areas that are shaded from sunlight. Wet roads can and probably will host black ice late Monday night into the wee hours of Tuesday morning. Predawn low Tuesday is 26°.
The Mercury alone is expected to fall into the low 20s. Start thinking about any winter prep you may need to do — water pipes, automobiles, checking on elderly, bringing pets inside, etc…

NWS Nashville AFD 11-29-2020
Note this forecast can still change. Weather models aren't perfect and might be missing something important. Check back often for updates.
Departing words from NWS-Nashville:


More in the morning, and tonight/overnight as necessary.