Our quiet November is about to change.
Sunday: All Liquid Precip
Daylight hours Sunday should be dry. Rain expected around sunset or shortly thereafter.
Euro Model shows a 6PM start time.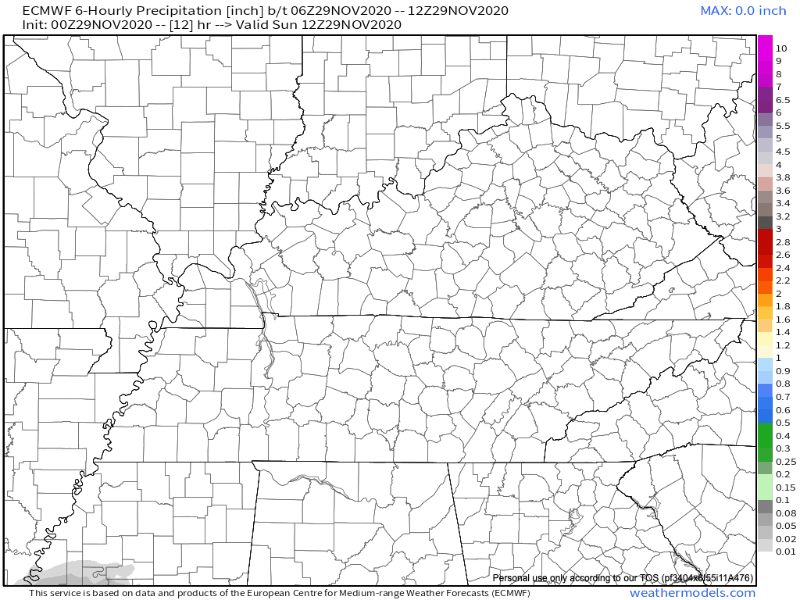 This is a soaker. NWS-Nashville lists 0.75″ but that's an average. Data suggests more rain southeast (Nolensville, Antioch, College Grove, Franklin) and less rain northwest (Bellevue, Bordeaux, Joelton, Fairview), but that line could shift a bit here or there and give everyone 1.0″ or 0.5″ or less. Some may see more than 1″. We'd rather see less rain to limit the potential for black ice Monday night into Tuesday morning. Here's the HRRR model total rainfall: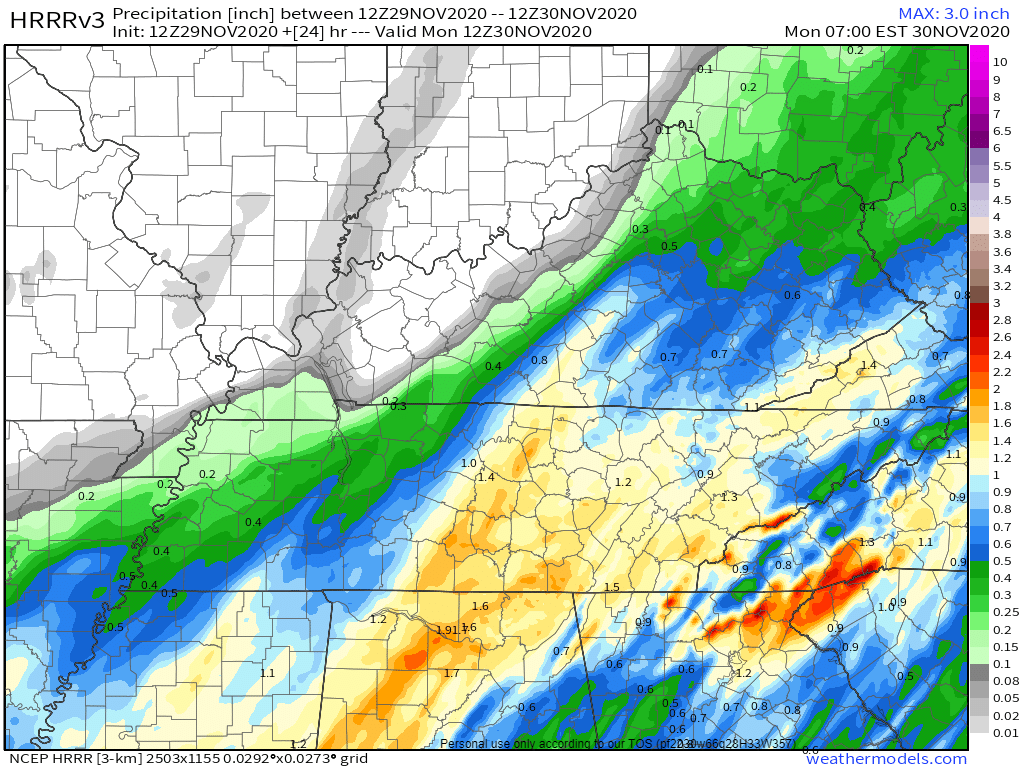 A few flakes are possible before sunrise Monday morning. HRRR data (the two images below) shows snow may form aloft where the model thinks temps will be exactly 32°. If that's what happens a snow or sleet event might happen; however, at the surface we'll still be several degrees above freezing so anything that hits should splat, melt.
Monday: Liquid/Frozen Precip
Many apps and national maps (like the one below) show snow and mixed precip for Monday: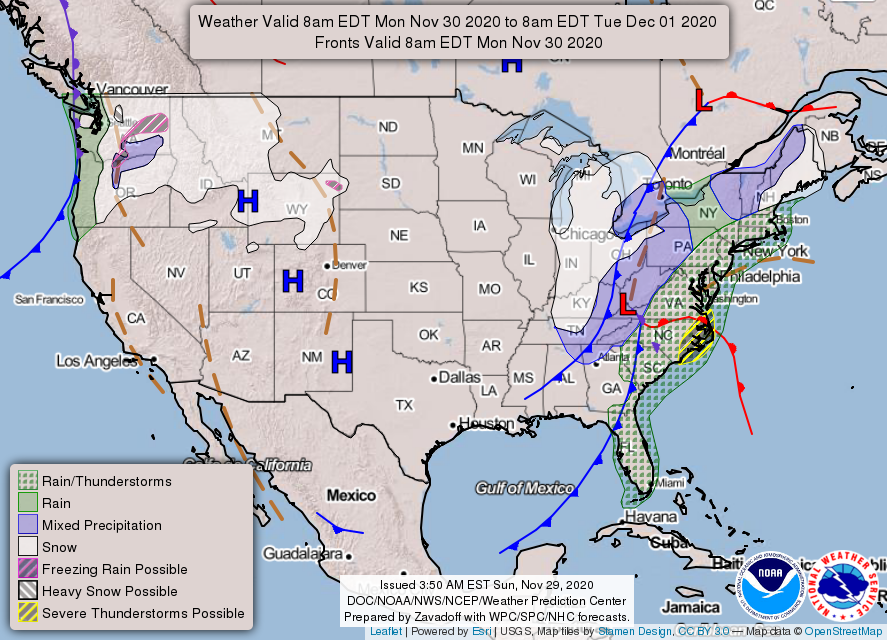 Here's what'll be happening after the pre-dawn rain Monday stops.
Low pressure responsible for the rain will pull away to the northeast. Cold, drier air will filter in behind the departing low. We'll feel that cold, drier air for sure. North winds 12-16 MPH will slice wind chills into the 20°s all day Monday.
Light precipitation will get caught in north winds. Precip should spread into Middle Tennessee during the day and potentially into the night Monday.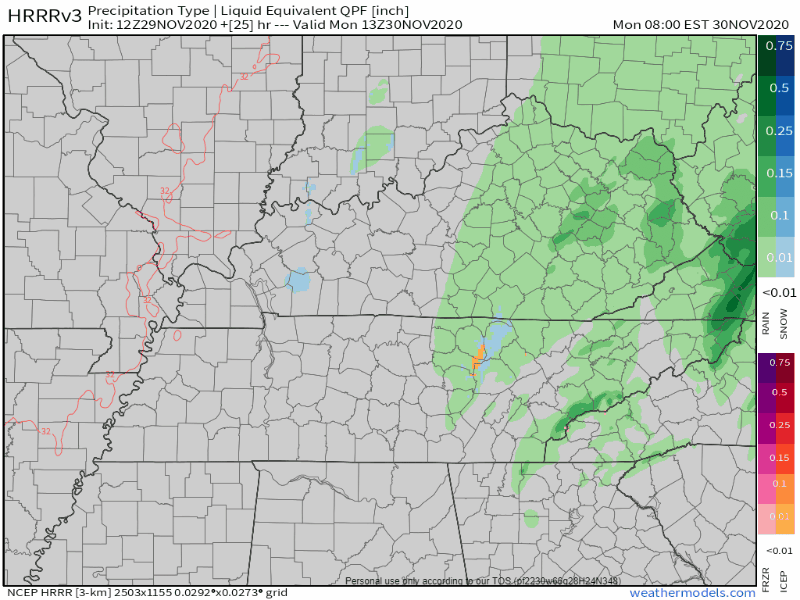 Surface air temps are expected to stay above freezing during daylight hours Monday while this light precip moves through. We'd need freezing temps (32°) throughout the atmosphere in order for snow to accumulate and it doesn't look like we will get them. You'll have to go east for that. While precip may fall as snow, or sleet, or a mix, it's expected to hit the ground and melt.
This is because surface temps are forecast to be between 36° and 32° during the day Monday.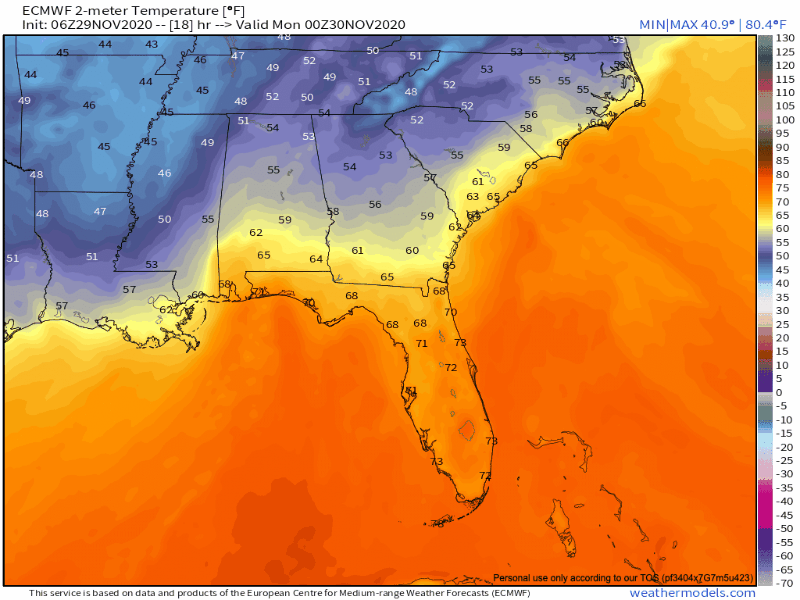 Roads will be warmer than the air around it. That's why we see snow more likely to accumulate on grassy surfaces, garden gnomes, decks, and mailboxes, but not the road.
While the difference between 32° and 34° may not seem like much, in winter weather, one degree means either a cold rain or some flakes.
Surface temps will reach freezing Monday night. Any leftover precip might make a dusting on grassy areas, but quickly Monday night the snow will follow the low east.
Euro Model, below, shows the entire event. Rain, a few flakes, then by Monday night all precip races east.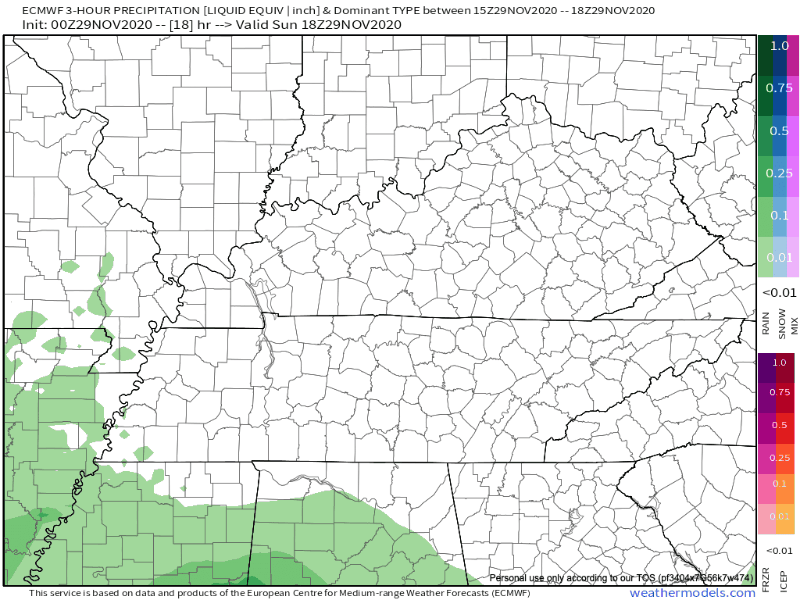 The big concern isn't any accumulation (not expecting any) but the black ice potential as temps dive into the 20° around midnight Monday night. The pre-dawn low Tuesday is 26°.
Right now it looks like temperatures may cool enough to see some snowflakes mix in with rain over much of the mid-state Monday morning and afternoon. but accumulation is unlikely for areas west of I-65… Temperatures will plunge into the mid 20s Tuesday morning as the upper trough axis passes overhead.

NWS Nashville Discussion 11-29-2020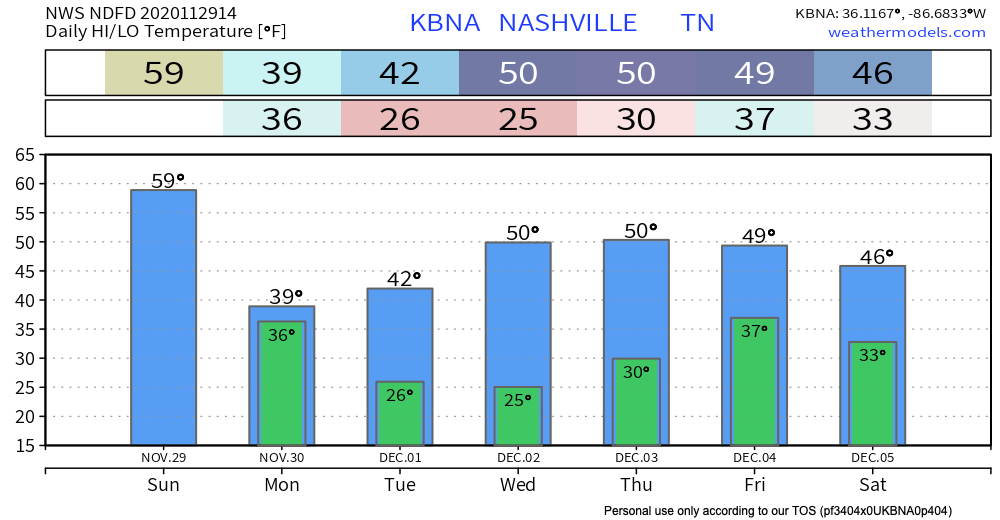 Any residual moisture on the roadways will try to freeze, first on bridges and overpasses. This should happen Tuesday morning. The good news is Monday we think there will be around 10-12 hours of daylight and a steady wind, which should help the drying process. But black ice formation early Tuesday morning is still a concern.
Also make it a priority to look after those furry friends. If it's too cold for you, it's definitely too cold for them.
So, bottom line, maybe just a flocking, but you'll need to go east to see anything good.
Check back frequently for changes and updates. We're talking about weather models and a degree of difference here or there. You should pay attention.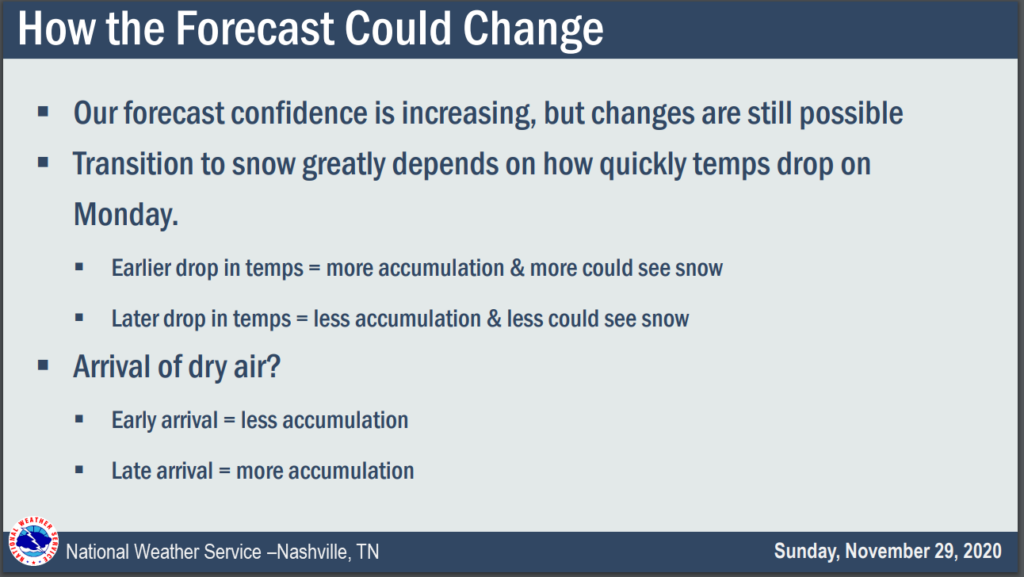 We will warm up to near 50° by midweek, just in time for another rainmaker Thursday. We'll be talking about snow then, too, but one thing at a time. (No, that one also doesn't look like a big deal).
Finally, we have new merch. Use the coupon code HOLIDAY for 15% off until Sunday at midnight. New sweatshirt, new scarf. All proceeds fund @NashSevereWx. https://nashvillesevereweather.com/shop/