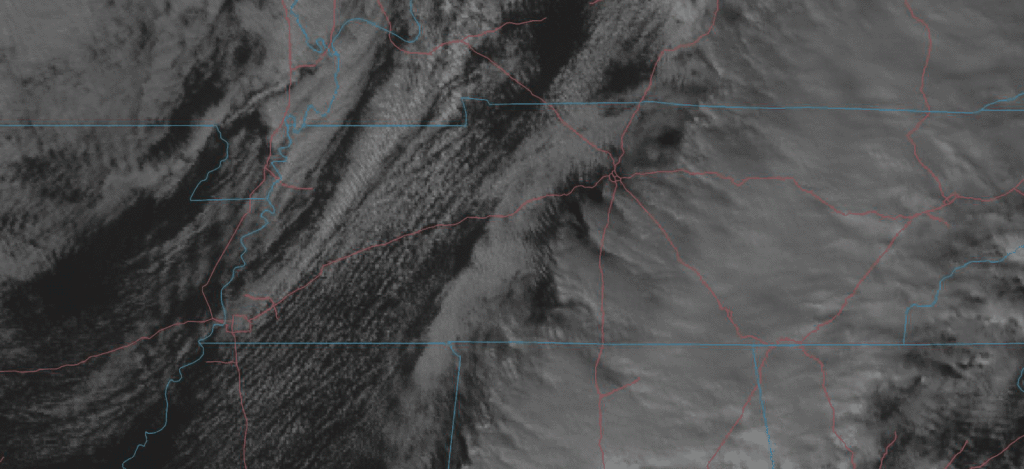 Sunshine Incoming
As of 1:00 pm, a cold front is moving east through west TN. The widespread clouds we've seen so far today are also moving east, leaving us with what could be a partly sunny afternoon.
In some scenarios, this would destabilize the air above our heads enough to create damage-making severe weather. However, today, the general mood of computer models and forecasters is somewhat chill.
In fact, the Storm Prediction Center has removed us from the severe probabilities we were under earlier today.
Caveat
This doesn't mean we're shutting the computers down and heading out for an afternoon round of golf. We're staying right here to see what this incoming front is up to (or not up to). Some of the storm making ingredients are still present (looking at you, shear). But, as NWS Nashville noted, chances of development are limited currently.

That sunshine, though, is something we're all watching very carefully.
We'll be over on the @NashSevereWx tweeter with updates from this point forward. If storms do go up along the front, we'll be all over it.
Wind Advisory In Effect Until 3:00 pm
Outside of any rain or storms today, south winds could gust to 45 mph, which could result in some limbs blown down or a few power outages. High profile vehicles on E/W highways like I-40 could require some extra handling.
The Rest of the Week, Sun
Thanksgiving Day will be nice…62°
Friday also nice…65°
Saturday a little cooler…56°
Mixed Precip to Start Next Week, Wut?
This time of year, low pressure systems begin to dig further south than they do in the summer. We pay special attention to these systems when they go south of us, or when there is moisture present on the cold side of an area of low pressure.
This surface low should move NE into western Carolinas by shortly after sunrise next Monday morning. Upper level low will then also move NEWD and become stacked with surface low across western Carolinas. This could usher wrap around moisture into mid state region on Sunday. There is even a possibility on Sunday morning and again on the back side of this system, of which the mid state will be positioned in, on Monday morning, that enough cold air advection could occur to result in a rain/snow mixture during these morning hours.

NWS Nashville, Early Moring Forecast Discussion, November 25, 2020
Basically, they're describing this.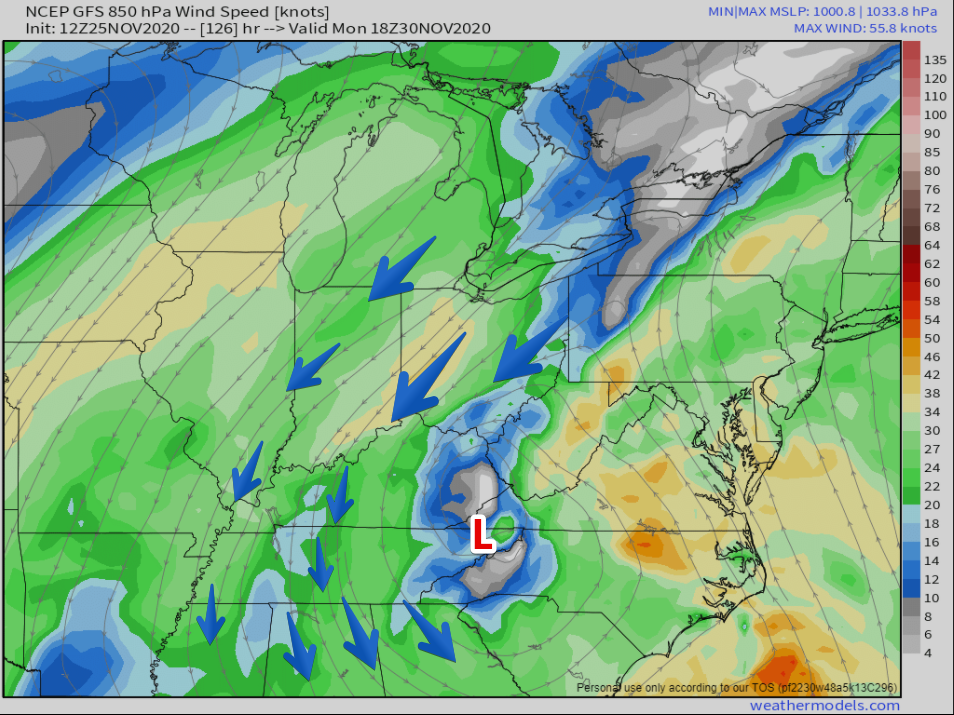 And this.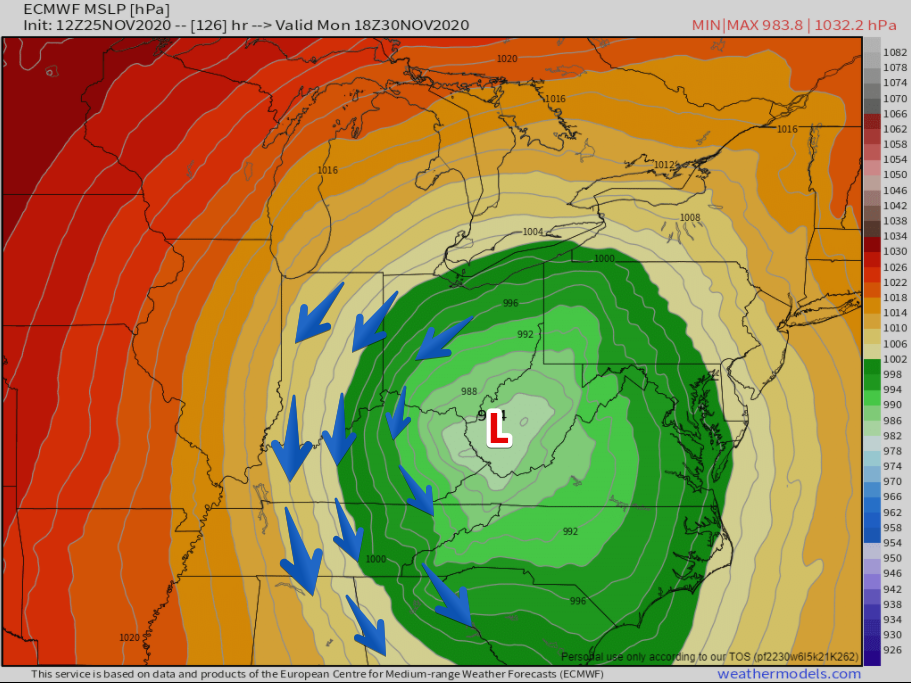 These maps look a little different from each other, but they're showing the same basic idea. The GFS and the Euro models, both at long range, show a low pressure center east of us spilling cold air into Mid TN.
For anything other than rain, we need cold temperatures to coincide with the moisture. Will this happen? We don't know yet.
Window of Opportunity
The window for precipitation opens Sunday morning and closes Monday afternoon-ish. There are two windows of opportunity for frozen precipitation of some kind, Sunday morning and Monday morning.
Around here, usually, the moisture outruns the cold air. The air dries out as cold air spills in, and we get nada. We're not getting excited about these frozen precip chances yet. Our experience tells us to settle down.
The forecast will be revised, re-visited, re-worded and basically rebuilt from the ground up to make sure the best data is being used between now and Sunday morning. It may look the same. It may look different. Don't take this forecast and then disengage. Check back as models deliver us much better information over the next few days.
Cold Temps
Whether we get any frozen precip or not, it's going to be cold. Highs both Monday and Tuesday are not forecast to break out of the low 40s.
Mother Nature is wasting no time serving up a taste of winter.