NWS-Nashville writes a technical long form forecast discussion twice a day, every day, 365 days a year. In some years 366 days a year. One is published sometime between 2 AM and 4 AM, another 12 hours later. These long form discussions cover the next seven days. NWS-Nashville is the essential weather infrastructure in Middle Tennessee. Without them, the entire weather enterprise collapses. #Thanksgiving.
Not every day you see "tornado" and "snow" in the same discussion.
We got that this afternoon.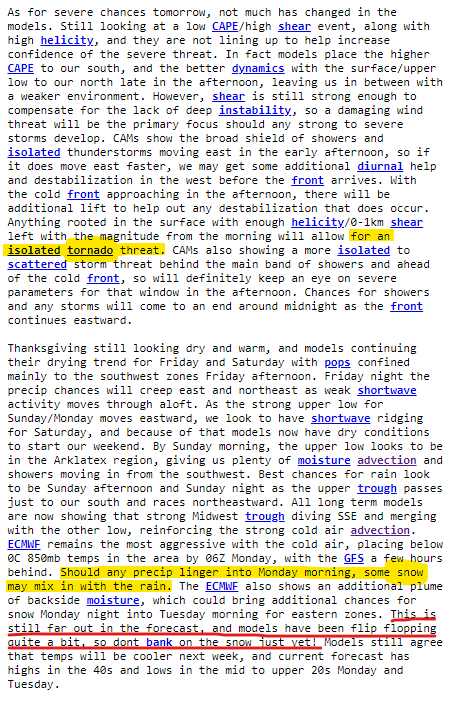 I'm not sold on either tornado or snow, and you shouldn't panic/party.
---
Storms Wednesday
Damaging winds and an isolated tornado are possible Wednesday afternoon, but both seem unlikely. We will know more tomorrow. Here's what we think tonight:
Damaging winds remain the highest probability threat, but the risk of that within 25 miles of you remains 5%. No change from this morning.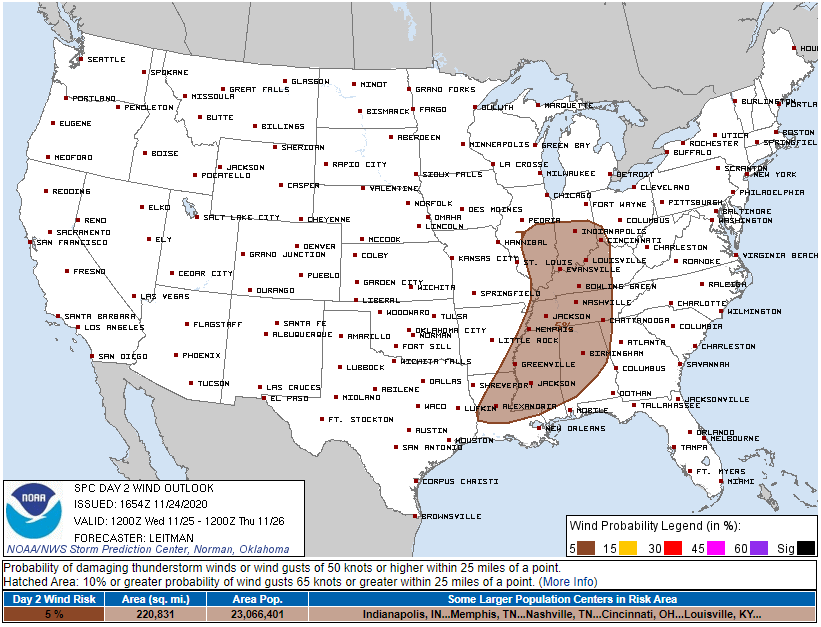 Same for tornadoes. Probability of that within 25 miles of you is 2%.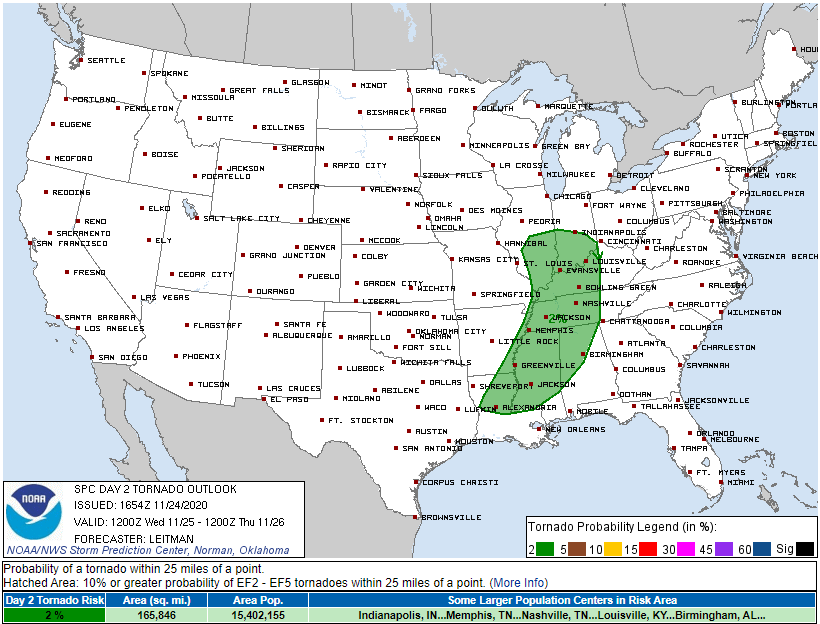 The HRRR model this afternoon was freaking out, spinning in 61° dewpoints around 3-5 PM with 800 j/kg CAPE, no temperature inversion, a surface to 1KM storm relative helicity of almost 600, and a strong cold front trucking through to initiate storms. This data favored straight line wind and tornadomaking storms rolling in here around/few hours before it gets dark Wednesday afternoon.
Problem is, none of the other data is going along with the HRRR. We suspect HRRR has gone full Drunk Uncle and will sober up tomorrow. The family of other weather data (NAM, SREF, Euro, GFS) have either insufficient instability and/or a temperature inversion preventing both tornadogenesis and the strongest winds from getting transported to earth.
The brand new HRRR model run seemed a bit more reasonable. A slight temp inversion is a good sign, and meager CAPE is also encouraging.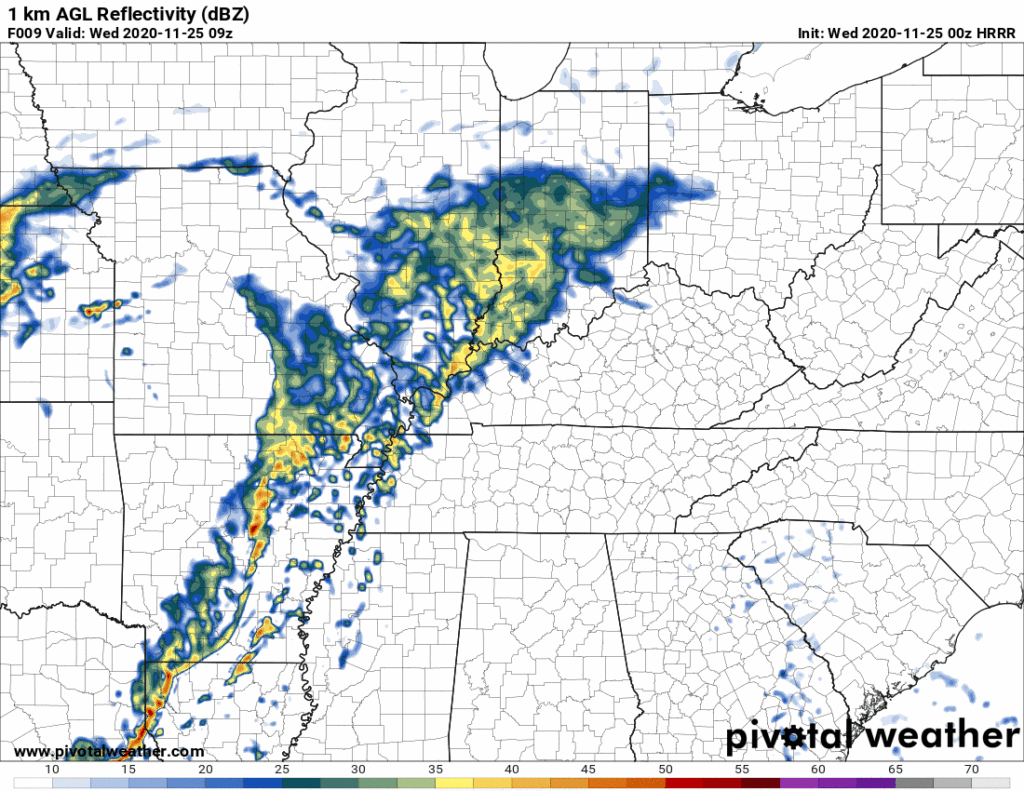 But a closer look at the meganerd forecast sounding shows the tiniest bit of concern for late afternoon.
Not really worried about this but let's not turn our back on the weather tomorrow. This "low CAPE, high shear" event can sometimes bite, and models don't always work that great.
Expectations
Expect a windy day, winds sustained 15 to 25 MPH with southern gusts over 30 MPH. A Wind Advisory may be needed.
Expect off and on rain beginning after sunrise and lasting until a "main event" tries to develop to our west and move in here sometime in the late afternoon, guessing right now 2 PM to 6 PM, but check back in the morning on that.
By late afternoon a line of storms may try and form just ahead of the cold front. We'll see them coming if they're coming at all. We hope they'll lack sufficient instability to power through. We hope a temperature inversion will suppress severe potential. We think that's what'll happen but we don't really know.
You should check multiple reliable weather sources tomorrow and familiarize yourself with tornado safety, just in case.
My anxiety level is low, but don't ignore the weather tomorrow. We'll be pounding our keyboards for Twitter @NashSevereWx.
---
Monday Snow?
Ehhhh probably not.
Here's what causing the fuss on your apps and in the afternoon forecast discussion.
GFS model: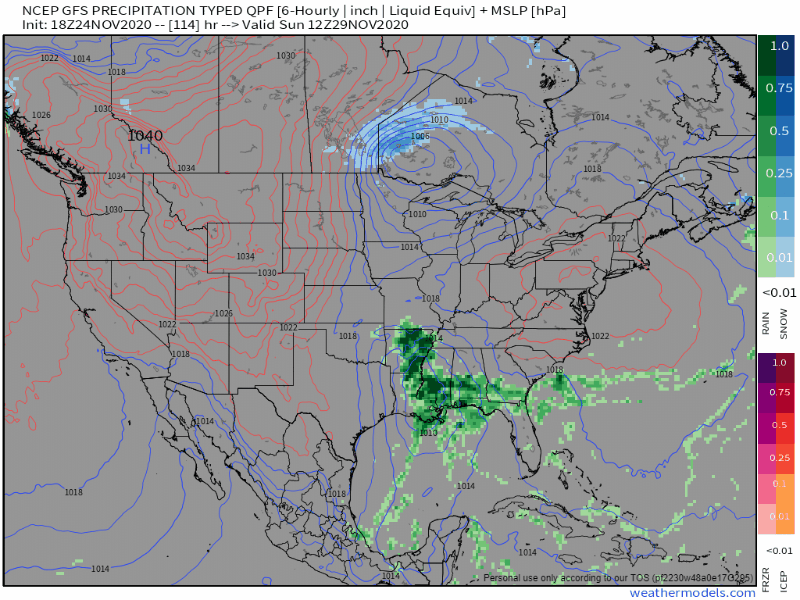 Euro model: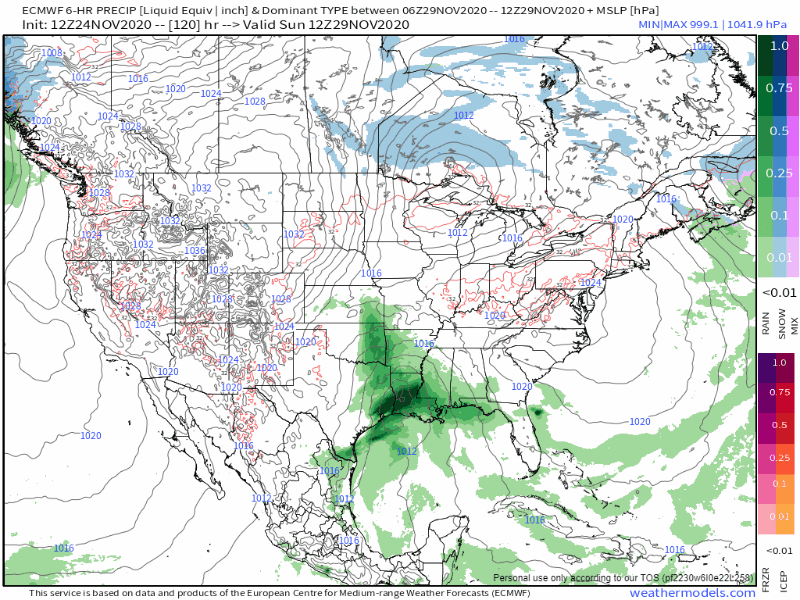 This isn't your typical early season snow event. In typical snowhope events, models predict a cold front to sweep through with snow behind it. That usually doesn't happen because the air behind the cold front is too dry. By the time it gets cold enough for snow, the moisture escapes east or the Dry Air Monster arrives and nom nom noms all the precip. Nothing happens.
This one is different. It's a low pressure system passing southeast of us. That's a more reliable snowmaker for us. Buuuut, to make it snow here that low pressure center has got to be just right, perfectly positioned.
Not sure this one will perfectly positioned.
The GFS model pulls the snow further to our NE. The Euro model kinda does the same thing. Looks pretty meh to me.
Reiterating NWS-Nashville:
This is still far out in the forecast, and models have been flip flopping quite a bit, so dont bank on the snow just yet! Models still agree that temps will be cooler next week, and current forecast has highs in the 40s and lows in the mid to upper 20s Monday and Tuesday.

NWS-Nashville, Afternoon Forecast Discussion, 11/24/20.
Expect rain Sunday. If snow can mix in Monday, it'll probably splat/melt. Ground will be pretty warm.
See you on the Tweeter tomorrow.