A cool, pleasant day ahead with high temperatures reaching low to mid 60's and mostly sunny skies.
It's a bit breezy today with a south wind at 10-15 mph gusting as high as 20 mph.
Rain and Storms Wednesday: Severe Weather Possible.
A warm front will lift across Middle Tennessee early Wednesday. Meanwhile, a strong low pressure system will move north of Middle Tennessee late Tuesday night into Wednesday, dragging a cold front through our area by Wednesday night. This sets up a rain and potential strong/severe storm event.
Timing
Right now ETA looks to be mid-morning. The HRRR model shows a broken line of showers and storms crossing the Mississippi River around sunrise. That puts them here around mid-morning.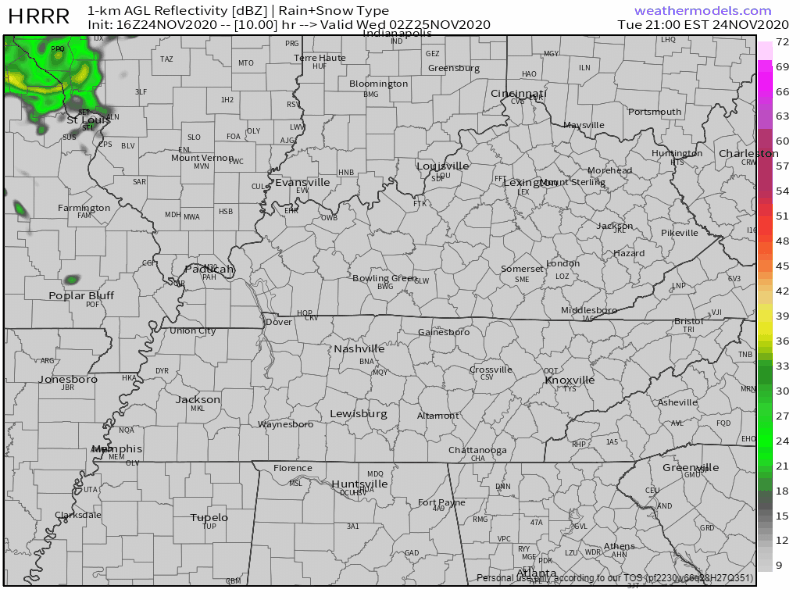 The Euro model thinks the rain (storms?) will get here closer to sunrise.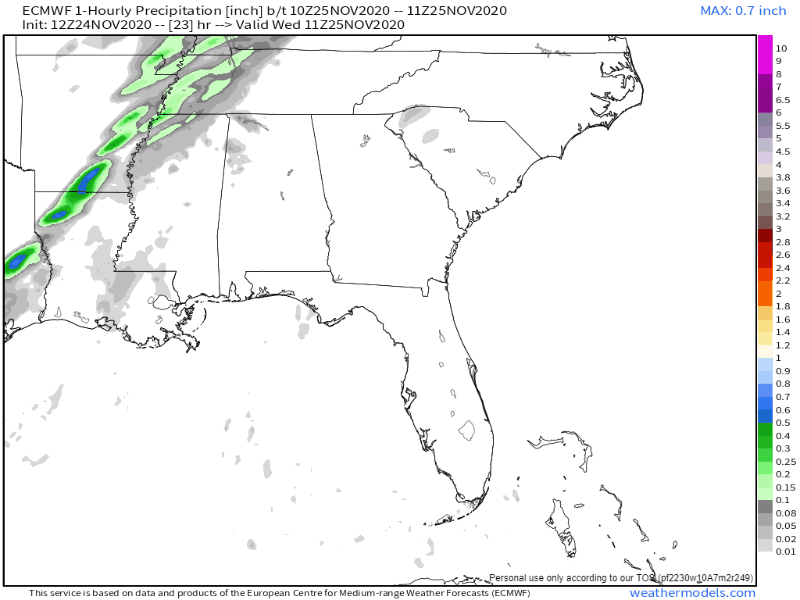 We expect to have a better handle on timing tonight. For now, looks like a daylight hours event. Any strong/severe storms that might develop should occur while the sun is up. Rain totals meager, under a half inch. Looks like there will be a few waves of rain/storms going off and on through the daytime.
Hazards & Probabilities
It'll be windy regardless of storms. Sustained around 20 MPH, with gusts over 30 MPH. These winds will blow from south to north, so be careful driving Wednesday especially in SUVs and other large vehicles.
The probability of severe thunderstorm winds (58+ MPH) happening within 25 miles of you is 5%.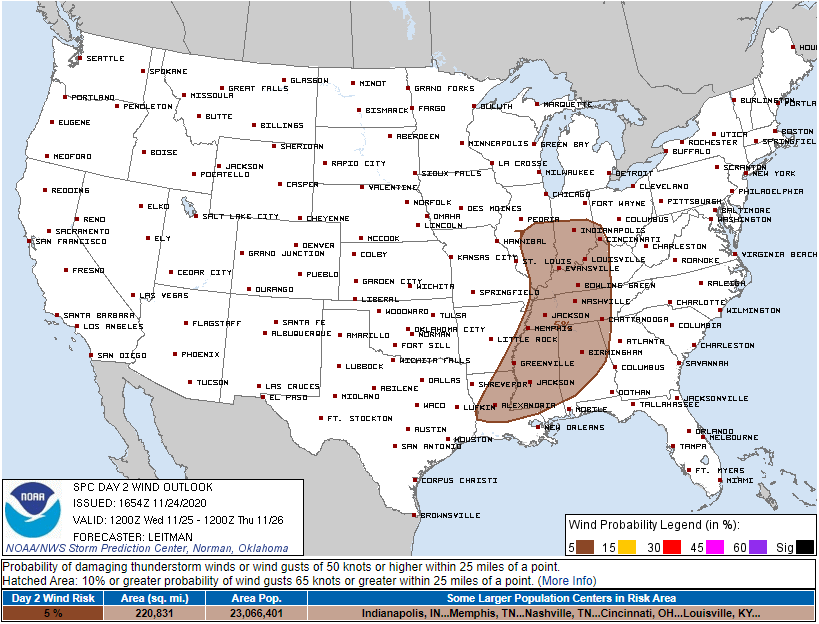 The probability of a tornado happening within 25 miles of you is 2%.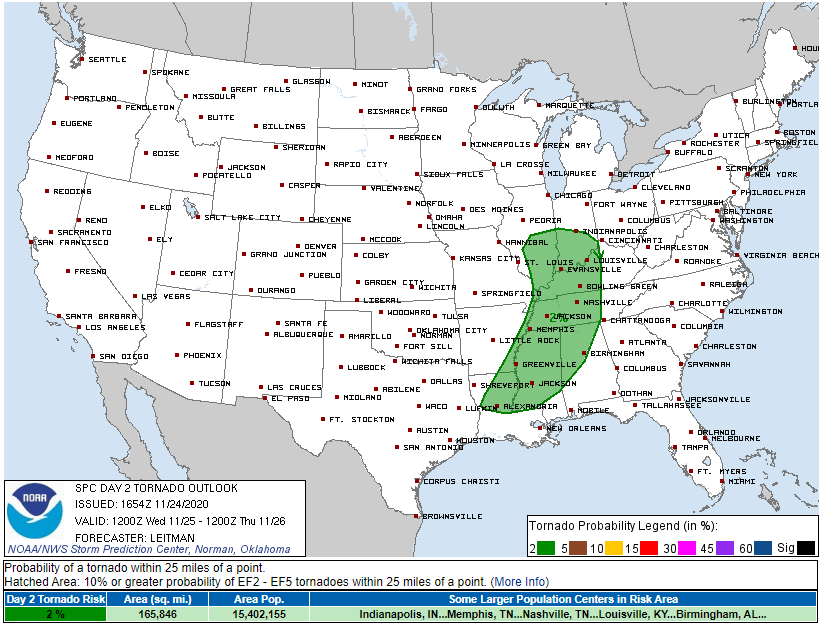 These probabilities are low because weather models think there will be a temperature inversion near the surface. When this happens, storms cannot become "surface based," meaning they don't originate close enough to the ground to transport intense downdraft straight line winds. It also means storms aren't close enough to the surface to sustain rotating updrafts needed to cause tornadoes to reach the ground.
Here we see one example of the temp inversion (#1) below, check out the slope of the red line in the circled area: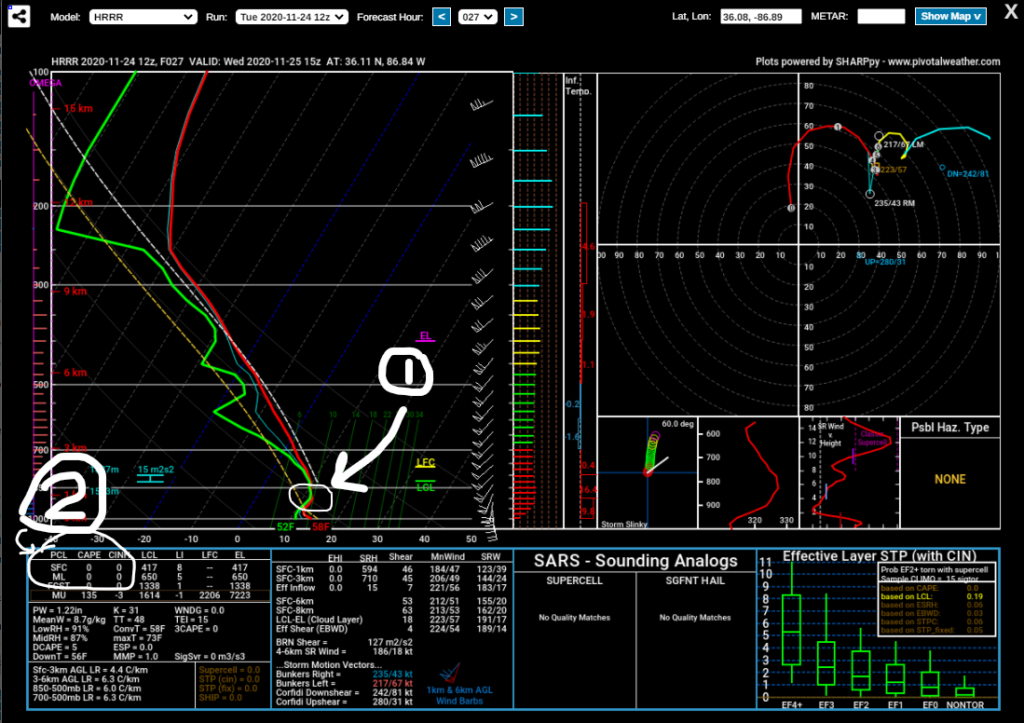 CAPE/instability is also missing. See #2, above. The lack of instability will limit the ability of this system to threaten tornadoes and strong thunderstorm winds.
So why is the risk not 0%? Because models can be wrong, and the margin of error here is pretty small. If even a few hundred j/kg of CAPE shows up, and there is no temperature inversion, then there's potential for a downdraft severe thunderstorm wind event to make it to the surface, and/or it's possible for rotating updraft to drop a tornado. But those probabilities are really low.
Below observe the colocation of strong storm shear and maybe 100 j/kg of CAPE around late afternoon.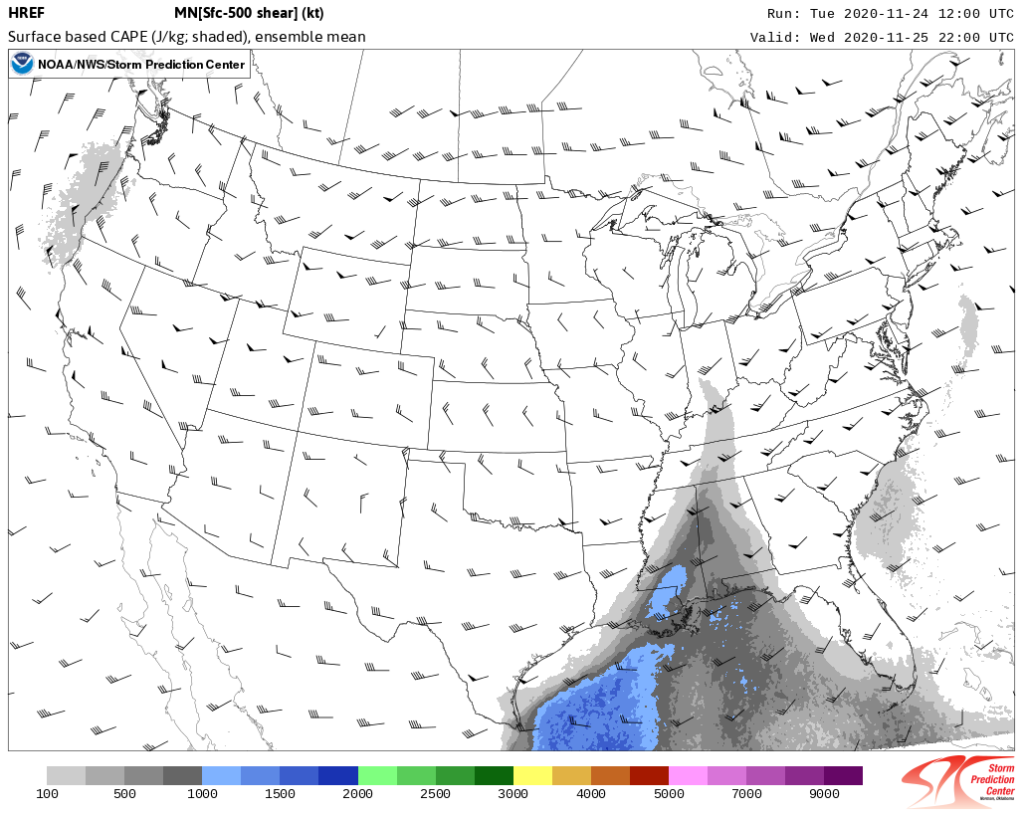 This is probably nothing to worry about but after looking that, we are reminded to never ignore low CAPE, high shear events in November. Most turn out to be nothing, occasionally they can create severe weather, and there is no reliable way to distinguish one event from the other in advance.
Hail is not expected and we don't expect much/any lightning with these.
You should always know what to do in a severe thunderstorm and/or tornado warning. Understand where you are on a map so if a warning is issued, you'll know if it applies to you or not. Have multiple ways to get a warning (TV, app, weather radio, social media) in case something fails. Check often for storm updates. David, Will, and Andrew will post frequent updates on Twitter @NashSevereWx.
Our concern level is pretty low, but no storm event like this should be ignored.
Thanksgiving Day
Wednesday's severe weather will have moved out and cleared into a beautiful, sunny day just in time for Thanksgiving.
Temperatures will have cooled off into the low 60's as well.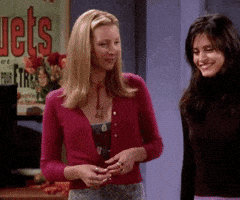 Rain Chance Back for the Weekend
Due to a weak cold front moving through Friday night, rain chances will continue into Saturday morning.
This front will bring a wave of showers and cooler temperatures.
Saturday's showers should occur mainly before noon, then will clear up for a sunny, cool afternoon with a high of 57.
Showers likely again on Sunday with a higher chance than Friday and Saturday. High of 58.