36° expected Tuesday morning. Many of us will hit freezing around sunrise. But you're not here for a temp forecast.
SPC hasn't updated their storm outlook for Wednesday's potential storm event since this morning. The next update is due Tuesday morning at 1 AM.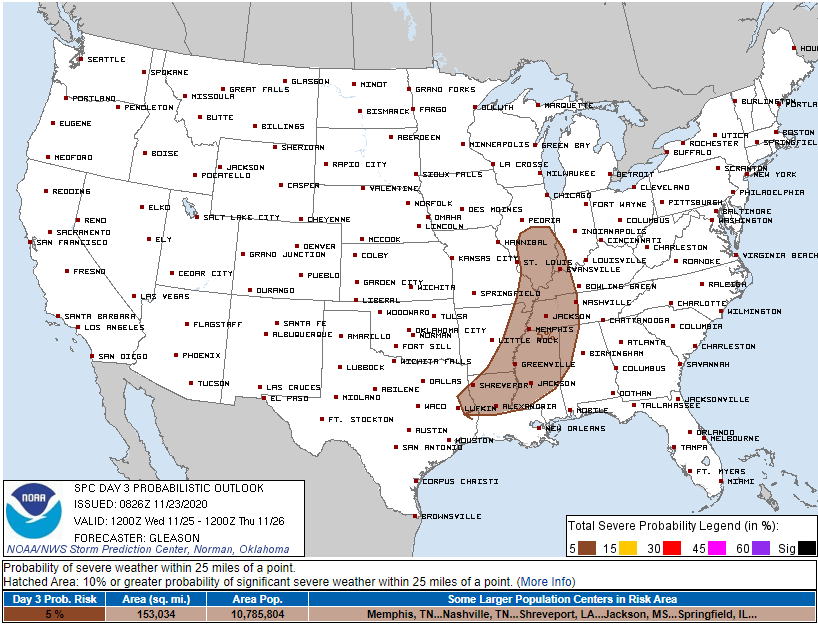 So for now the probability of a severe weather event (damaging straight line winds, and/or tornado) within 25 miles of us remains 5% for everyone and anyone inside that big brown doody area above. We're included inside that risk area, barely.
But we got updates from NWS-Nashville and the models.
Winds should start howling after midnight Tuesday night. Winds will continue Wednesday morning into mid-afternoon. Gusts to 33 MPH coming out the south will cause high profile vehicles problems, especially those traveling east to west. Westbound drivers will feel that wind on the driver's side, eastbounders will feel it pushing that passengers side (this gets confusing if you're delivering for USPS).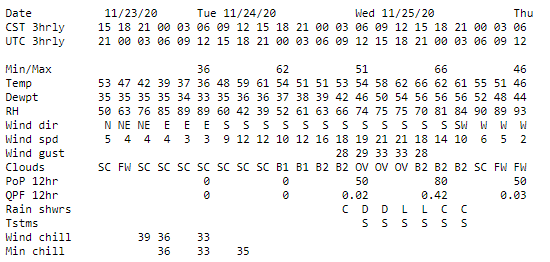 NWS-Nashville expects rain to begin Wednesday as early as 3 AM, but more likely around sunrise continuing and intensifying into noon and lasting maybe until it gets dark. Don't think it'll rain continuously during time but it might.
Officially NWS-Nashville predicts under a half inch, and it's easy to see why. The higher res models have a few lines of rain (storms?) developing in a few waves, broken up like an after dinner turkey.
Behold the NAM12 model, one of the worst models, but still worth a look: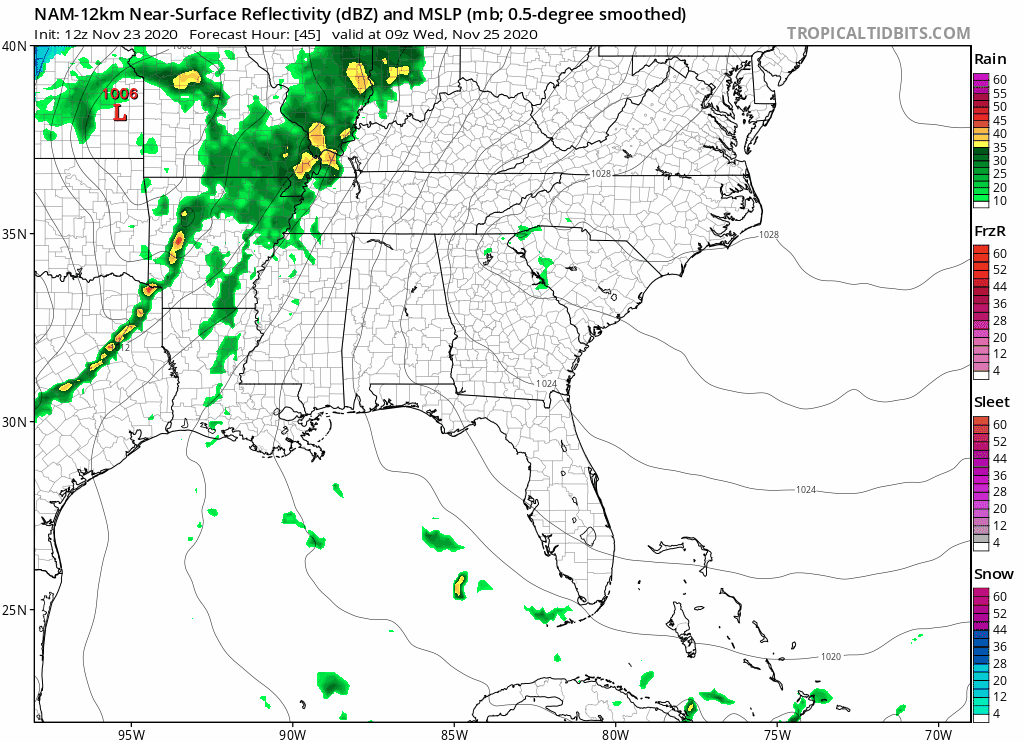 Here's the Euro model. Looks like rain coming in a few waves.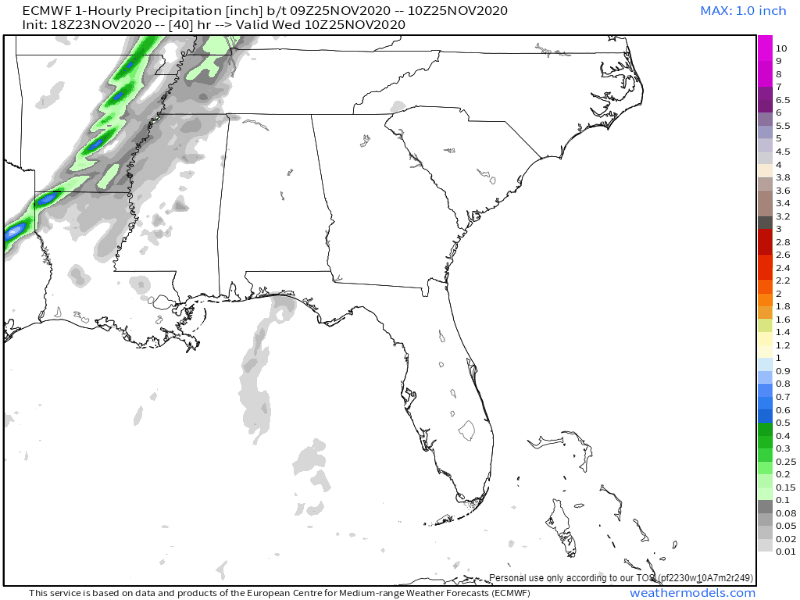 Our bae, the HRRR, is finally kinda in range. Looks like it predicts a storm line crossing the Mississippi River around sunrise and maybe getting to us before lunch. Guessing that main line will be the main event.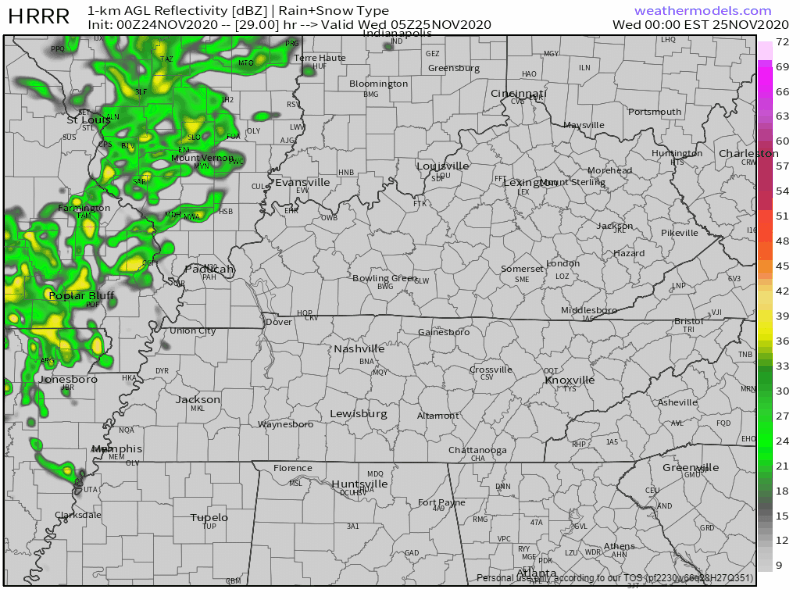 Will any of this be severe? Maybe, but probably not. It's just so hard to say.
You need several ingredients to make severe storms, but if you don't have shear and instability, you got nothing.
Storm-making shear will be plentiful.
But instability (CAPE) may be lacking. Instability is a key ingredient to severe weather. Check out how the strong CAPE is pretty far south of us. We still get a little CAPE into Middle Tennessee during the day, so mayyyybe this event has potential…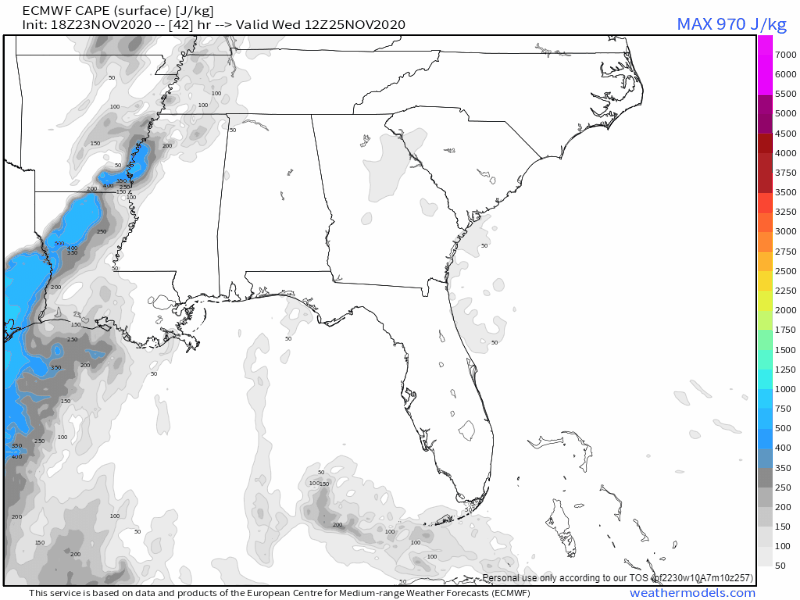 This is a "low CAPE, high shear" event. These events usually just bring wind and rain. But sometimes, if the storms can root themselves near the surface instead of thousands of feet above the surface, we can get a few isolated tornadoes. The science hasn't (yet) figured out what differentiates the boom scenario from the bust scenario in advance.
But we have had tornadoes in these events before, so we got to stay on top of it.
There is some good news. If some of the model data is correct, a temperature inversion near the surface should suppress tornado development. We hope that's what happens here. That's what NWS-Nashville referred to today in their afternoon forecast discussion:
Models are showing a classic low CAPE/high shear scenario with around 100-500 J/kg of MLCAPE and up to 70 knots of deep layer shear in the afternoon. Soundings show that most of the instability is elevated off the surface and showing a shallow inversion. This would point to largely a damaging wind threat should strong to severe storms develop. However, 0-1km shear is around 30-40 knots and helicity values are around 400 m2/s2, so if any strong storms are able to tap into the surface, isolated tornadoes will be possible. Best timing for any strong to severe storms looks to be during the afternoon and evening where the best diurnal support lines up with the warm sector ahead of the front, and looks to be along the I-65 corridor and west.

NWS-Nashville Afternoon Forecast Discussion 11/23/20
My anxiety level is pretty chill. November is tied with February as the fourth most tornadoey month, and this year November has been been quiet. But real talk, these storm systems are common for November, and they usually are uneventful. Sometimes, something severe pops up, so we got to
We'll have more data, with higher resolution, tomorrow. Expect forecast revisions as current data becomes garbage and is discarded for new data. Updates coming here, and on the Tweeter @NashSevereWx.