Another warm, sunny (ish) day in store!
High today will reach 69 degrees, some of us will make it into the 70's, which is fairly average for this time of year.
Mostly sunny, with some clouds.
Temps will drop the low tonight and overnight into the mid 40's.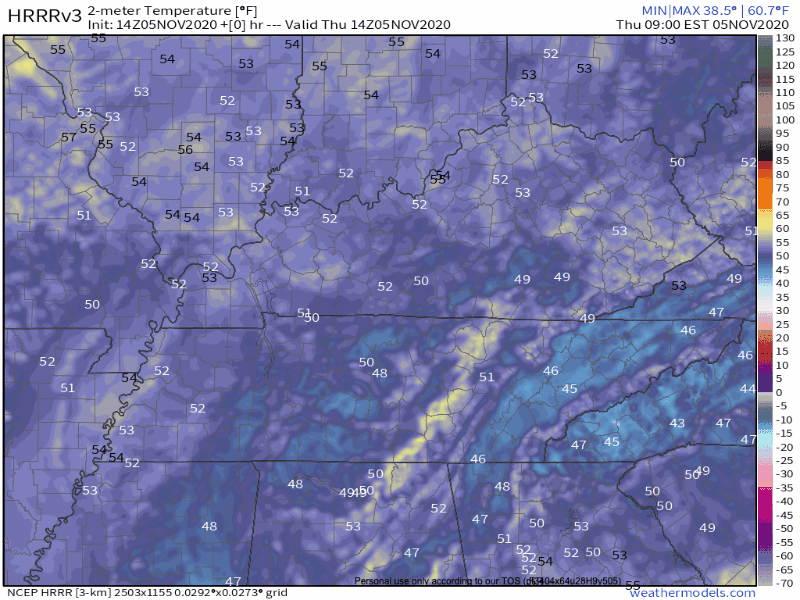 High Pressure for the Win
The high pressure system in place to our east will allow this nice, warm weather to keep hanging around.
Same story continues for Friday with sunny, afternoon high of 72.
Dew points will return to the low 50's starting Friday night, but still really comfy.
Beautiful Weekend
Sunny Saturday with a high of 75°. Lows in the mid/high 50°'s for the night. Great bonfire weather!
Gradually warming up on Sunday with a high of 77°. Mornings a bit warmer as well in the high 50's.
No rain expected.
Next rain chance next week.
Dewpoints will approach 60° Tuesday night courtesy of tropical moisture. Remnants of Tropical Storm Eta probably will not make it to us, thanks to a cold front crossing across Tennessee. It'll push Eta away. Too far away to time that cold front, but it should produce some rain here, best guess rain ETA range Tuesday night into Wednesday.