If this could not get more 2020…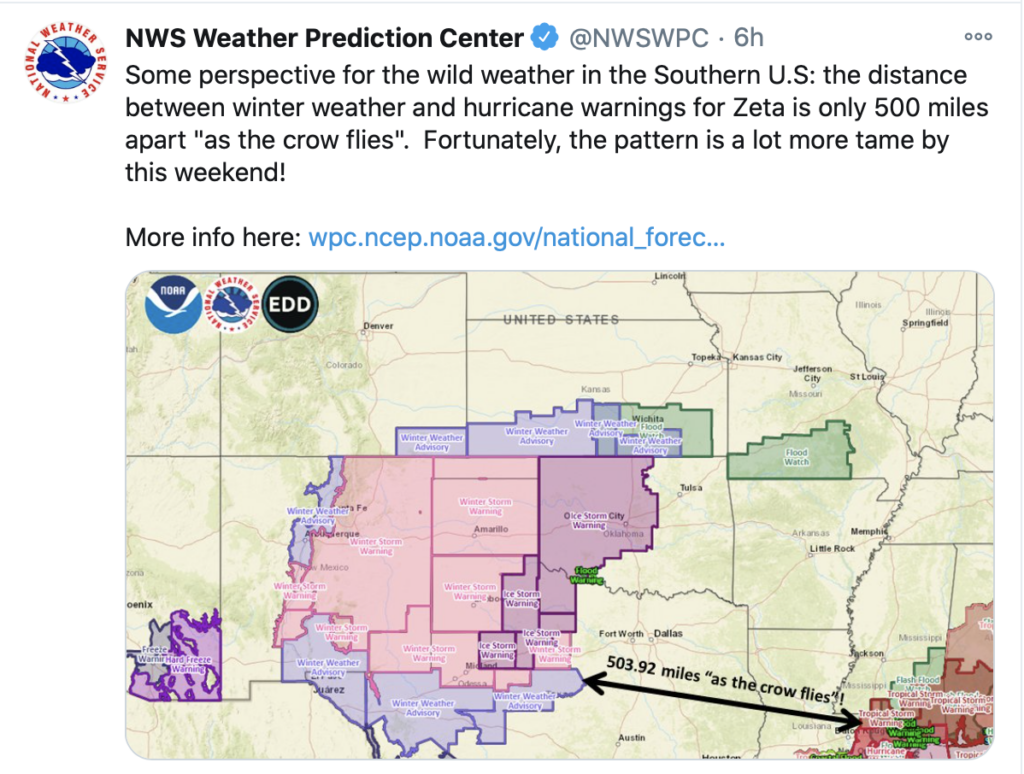 A Flash Flood Watch is in effect for Davidson and Williamson County starting at 1 PM this afternoon until 7 AM tomorrow morning.
Heavy rain will be possible today into Thursday, with amounts of around 2 to 3 inches expected across the area. Some isolated areas may see amounts exceed 3 inches, especially in the northwest and southern Plateau. Heavy rain may result in minor flooding this afternoon into the early morning Thursday.

Hazardous Weather Outlook – National Weather Service
Hurricane Zeta, currently situated about 150 miles from the coastal United States, is expected to make landfall this afternoon and evening along the coast of Louisiana and Mississippi.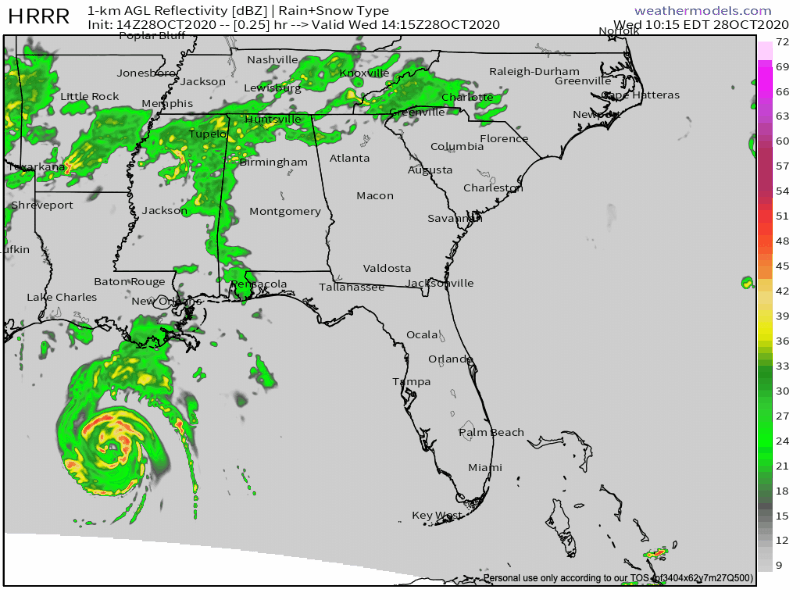 Showers increasing from the south to the north this morning bringing much of the rain into Middle Tennessee by this afternoon. Widespread showers and a possible rumble of thunder will increase later this afternoon, bringing heavy rainfall totals to the area overnight.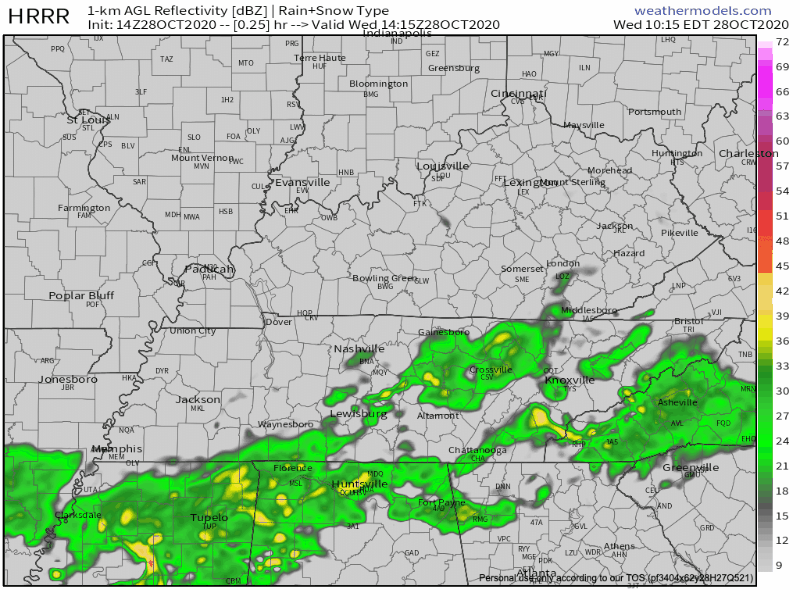 Rain accumulations will generally total between 1-3 inches with locally higher amounts. Nashville expected to accumulate less than 2 inches.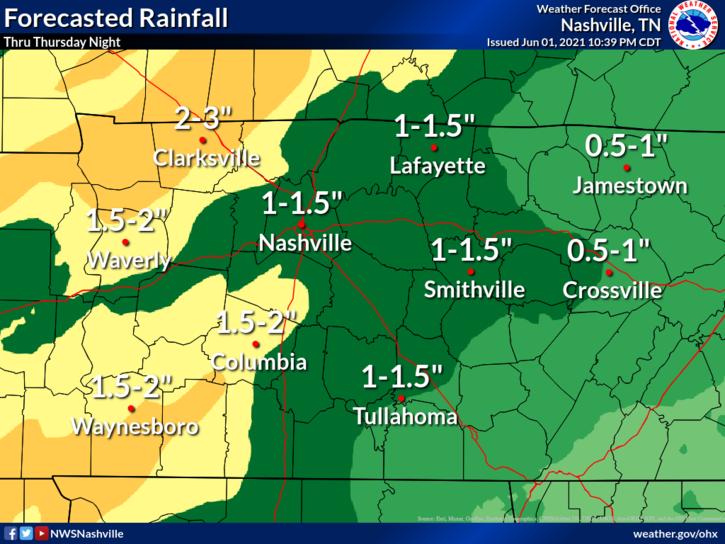 If we see flooding, it would likely come in the form of flash flooding. These floods happen quickly in low lying areas that typically see issues when we see a quick few inches of rain. Careful while driving, especially after dark. Turn around, don't drown!
Cold Front Following Right Behind Zeta
After Zeta moves inland and gets picked up by the westerlies, it will shift off to the east coast… but behind it? A cold front that will swing through the area dropping our temperatures by roughly 15 degrees.
NAM 2-m temperature model shows that cold front moving eastward through the area Thursday afternoon. This will be the major force that keeps our temperatures cooler for the weekend.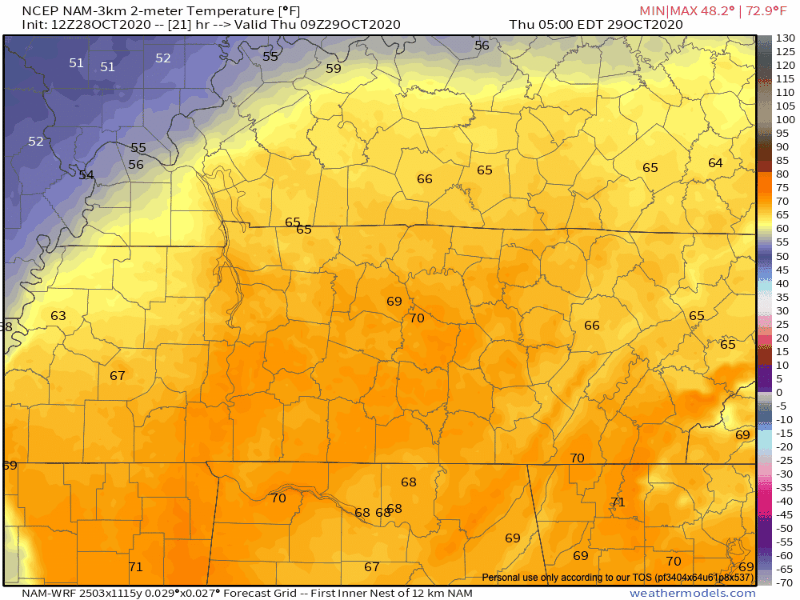 High temperatures tomorrow will rise into the lower 70s before dropping off into the lower 60s after the frontal system moves over. Low temperatures expecting in the mid-40s tomorrow night.
A Chilly, But Dry Halloween Weekend
Halloween is nearing! And the rain will luckily be out of here by Thursday night leaving us with a dry weekend.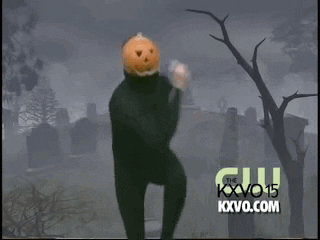 High temperatures will be fall-like in the 50s and 60s while lows will be in the upper 30s and 40s.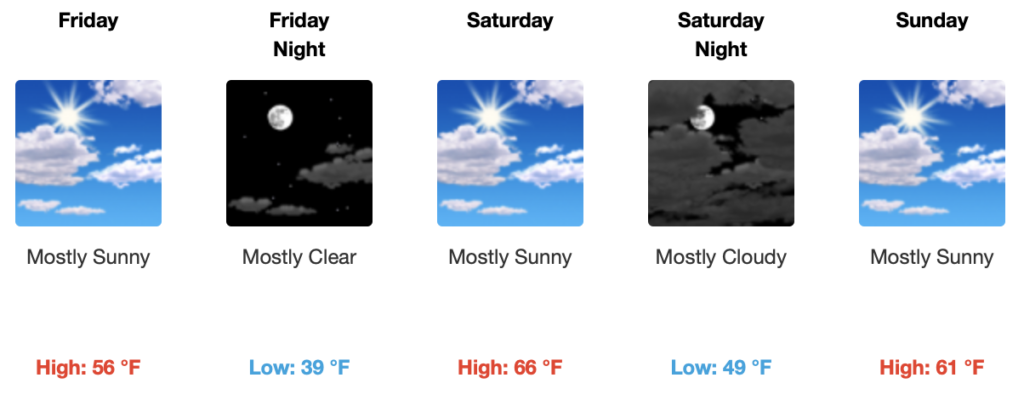 If you're headed out Saturday night to trick-or-treat, a light jacket may be needed after the sun goes down.
As always, check back for updates to the forecast and be sure to follow @NashSevereWx on Twitter!