It's a foggy, misty Monday morning. Seems about right, huh?
A slight chance for light rain/drizzle to continue for the morning, but otherwise cloud cover will stick around.
Highs are a bit cooler today at 61.
Patchy fog will return later this evening and continue overnight into Tuesday morning.
Same Thing, Different Day
Tuesday looks to be very similar to today waking up with fog once again along with mostly cloudy skies, except it'll be a little warmer with a high of 66.
Most of the precipitation chances have moved off to the northwest, so only those areas have mention of rain Tuesday.
Two Systems Conspire into Soaking Rain Event
A closed low with advancing warm front, plus remnants of Zeta, might create heavy rain Wednesday and/or Thursday, but there are several uncertainties.
Warm front will lift north from Mississippi and Alabama. The Euro model below shows precipitable water value. The model begins noon Tuesday and ends noon Thursday. Watch how this thick, rainfriendly airmass arrives around midday Wednesday.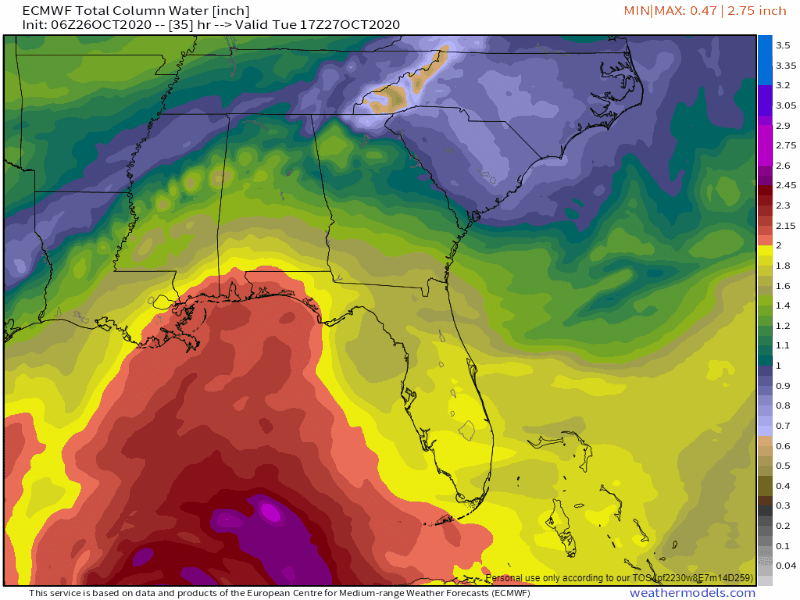 Associated with that is Zeta, predicted to weaken and pass south of us late Thursday.
Warm front timing and Zeta's track have changed over the past 24 hours. More changes are possible, if not likely. Timing is important because it's the timing that will determine how much rain we get, and when we get it.
All this could still take a new turn and change things for us.
Our best guesses right now:
Rain could begin as early as Wednesday morning.
Rain is more likely to begin early Wednesday afternoon.
We are most confident that it'll be raining Wednesday night, and most fields will not be able to handle that much water. We should pass 0.5″ sometime Wednesday night, and rain should continue until around sunrise Thursday morning.
Rain could continue until noon Thursday, or even into the afternoon hours, but we think that's less likely right now.
Rain may be heavy at times Wednesday and Thursday, but confidence for exactly how much and specific timing
still needs to be worked out.

NWS-Nashville, Media Briefing, 10/26/20
Values/Totals range between 1″ and 3″, but the trend is toward less rain, not more.
WPC QPF values paint us in the 1.5″ category, but notice how all the heavy rain should follow Zeta's track to our south and east.
New information almost always is better than old information when it comes to weather. Check back for more updates on Twitter and on this website tomorrow & Wednesday.
Clearing Up for Trick or Treat
All of this nasty weather will be on its way in time to clear up for the weekend.
Friday and Saturday are both calling for sunny skies and cool, seasonal temperatures. Just in time for Trick or Treat!