Today will be the opposite of a week ago.
Last Sunday:
Fall-like temperatures continue today along with mostly sunny skies. High temps shouldn't exceed 80.
Fall is Coming.
Fall officially starts Tuesday! As you can see by the graphic, the lowest temps this week will be on Tuesday. So festive.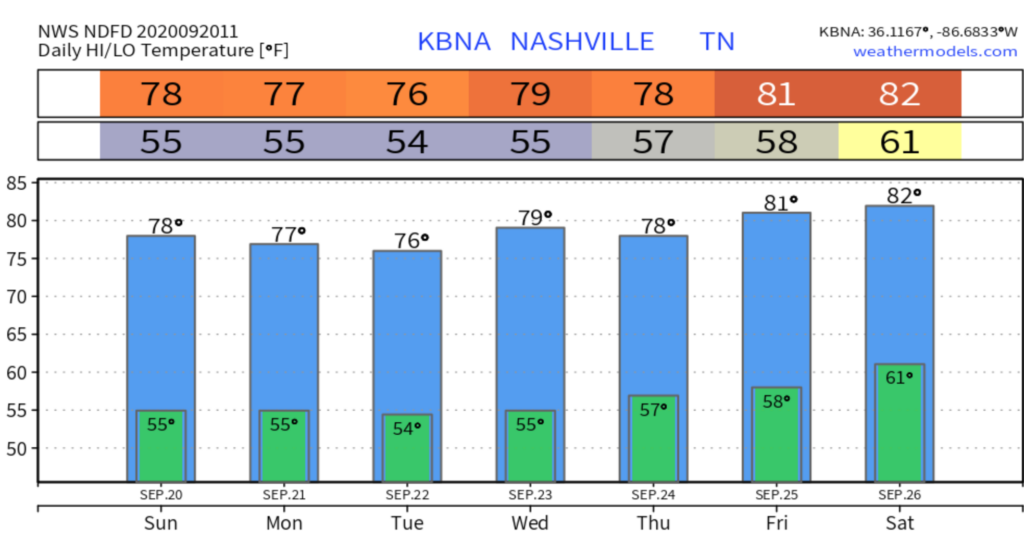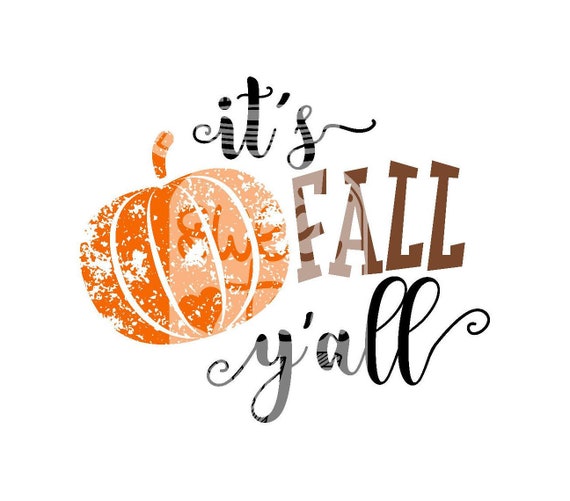 Tropical Storm Beta & You
Tropical Storm Beta is slowly (at 3mph) making its way to the Texas coast.
It should landfall in Texas early Tuesday morning, likely as a tropical storm. Rain will be Beta's legacy (if it has a legacy).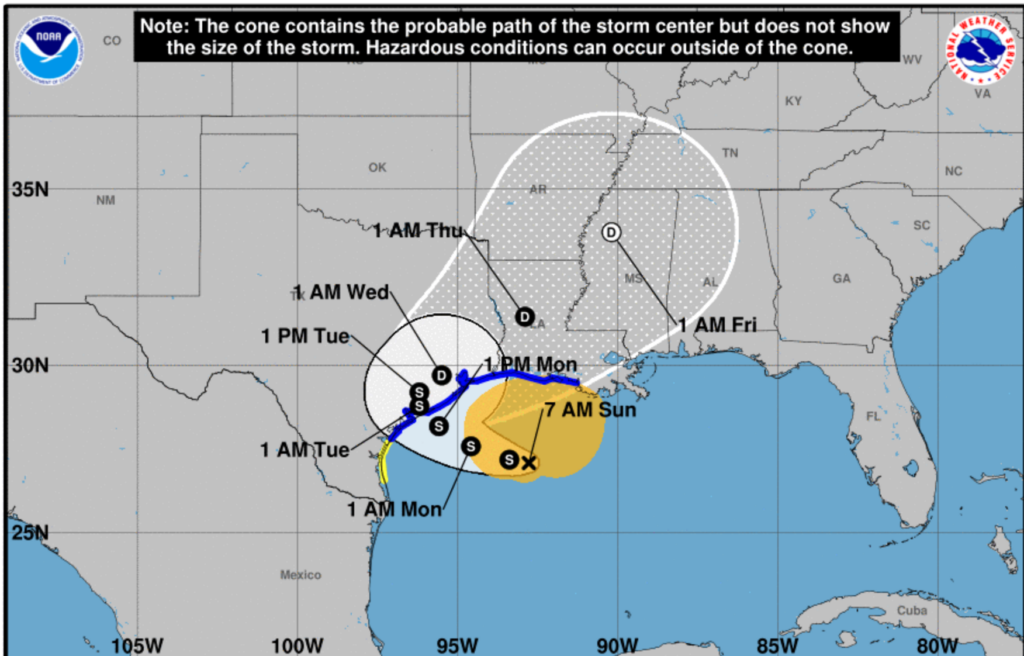 Our region will be influenced by Beta's path but we may not be impacted by it. Models still don't know which way it's going; without that, the amount of rain we might see is unknown. That big shaded area covering the west half of Tennessee is the range of where the center of the weak tropical depression could be.
The GFS & Euro models disagree on the forecast track by this point. For example, at 12Z Thursday, the GFS places the low center south of Lake Charles, LA while the Euro moves the low center all the way to Memphis.

NWS-Nashville AM Forecast Discussion 9/20/20
The Euro thinks some rain, GFS is rolling its eyes.
But a lot can change between now and then.
Consider the data.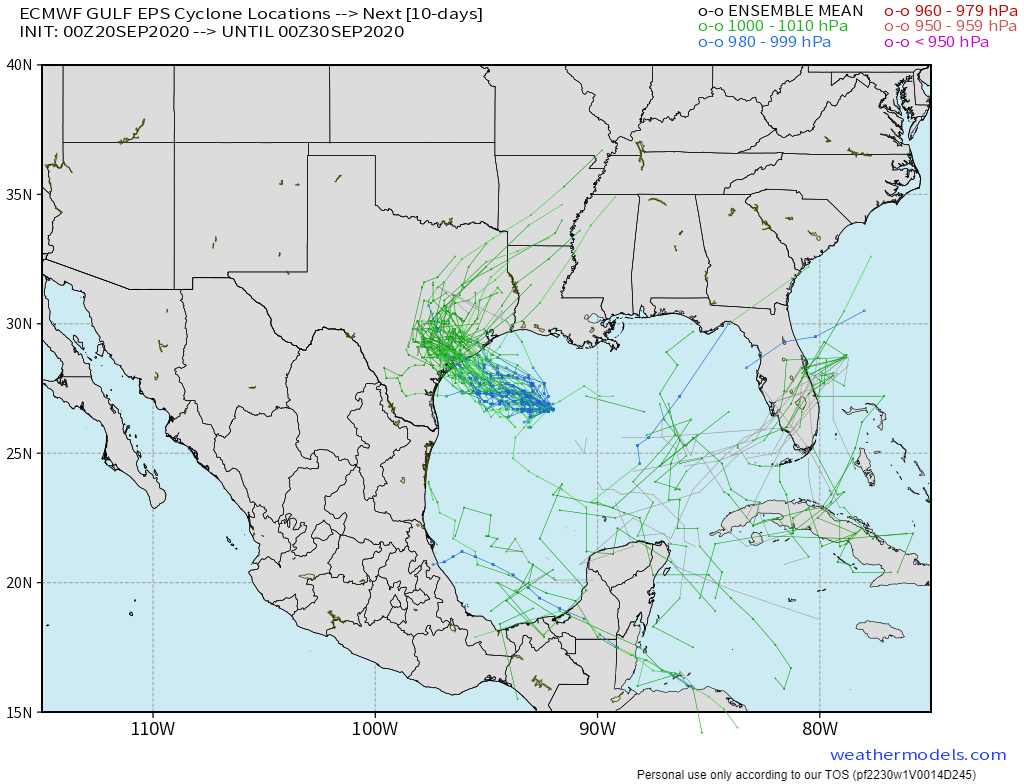 That's the Euro Ensemble Model, a chorus of voices trying to sing the song Where Is Beta Going? The choir is singing "Texas for sure," from there, a half dozen baritone voices are trying to convince the choir to get some of those overrated ribs at the Rendezvous.
(Editor's Note: The Rendezvous joke was mine, not Marilee's. I lived once in Memphis, in Middle School. Went to Germantown Middle School. We were the Red Devils and my mother duct taped the word devils across the cover and my father would not allow me to attend the Russian Exhibit field trip so that's kinda how it went. I transferred to White Station Jr. High for almost an entire year (we moved a lot) and having attended more elem, middle, and high schools than 98% of you reading this, it was the best school of them all).
Anyway, Beta rain should creep close to us by Thursday but after that is anyone's guess.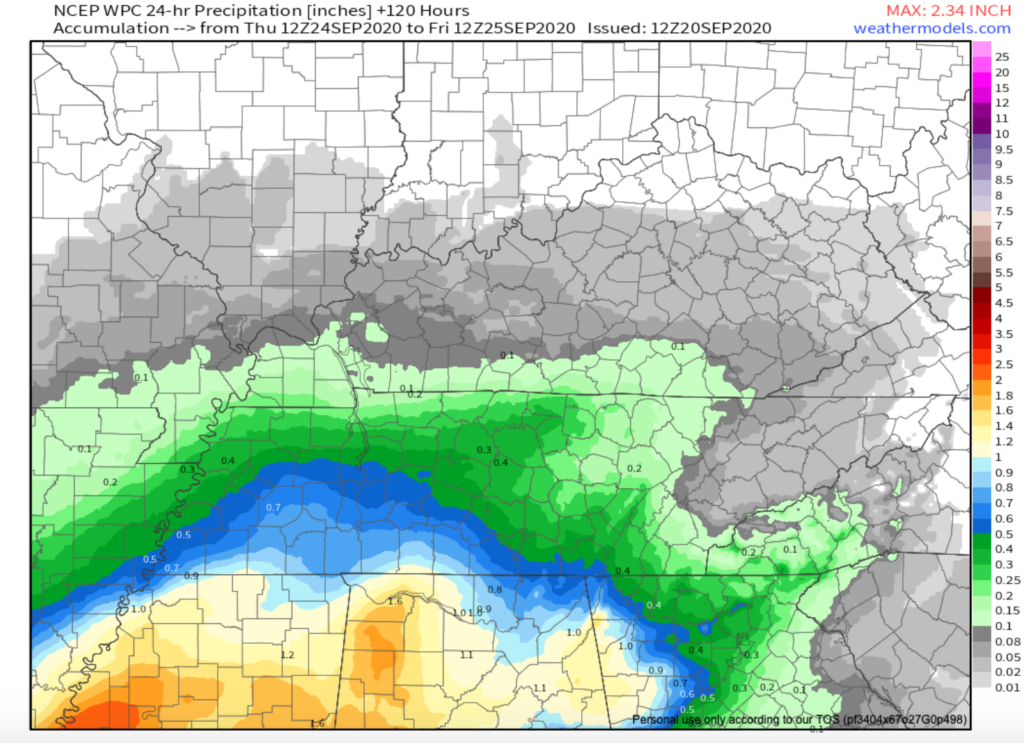 Beta has potential to wash out our Thursday, but confidence in that conclusion is low. Too many variables and contradictory data.
GFS and Euro models show a cold front dropping down late Sunday night into Monday. That should make some rain.