A non-Zoo tiger is loose in Knoxville, parts of hurricane hit Louisiana remain without power, and check out the smoke covering large parts of Oregon and California.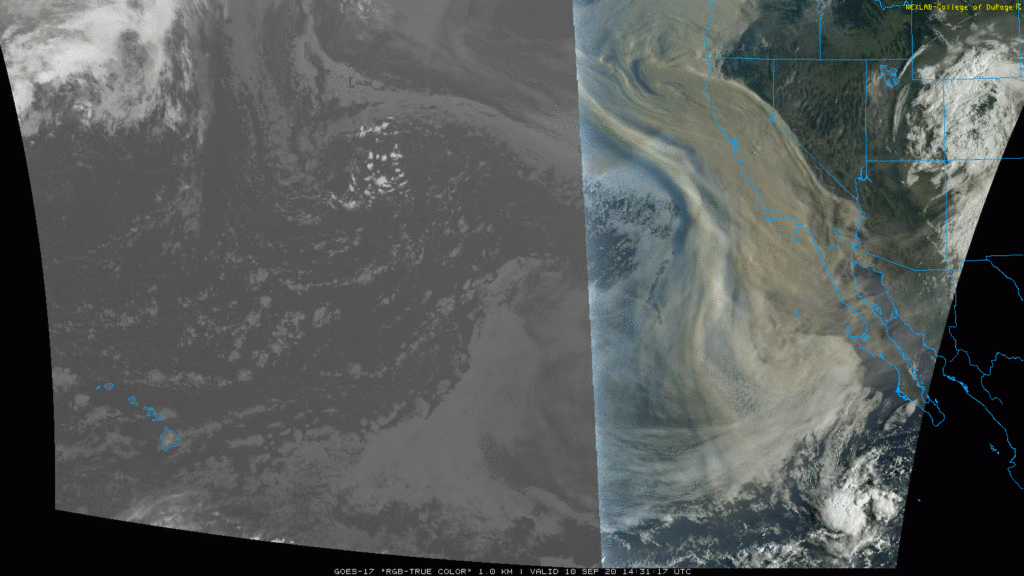 Things aren't so bad here.
Plenty of sunshine Thursday with a high around 91. The rain will be way east of us.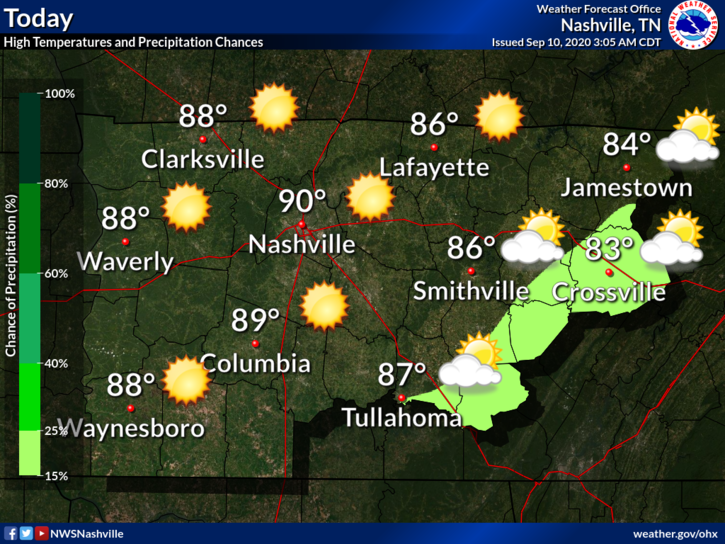 Dew point values will continue to be in the upper 60s to around 70. Uncomfortable at best.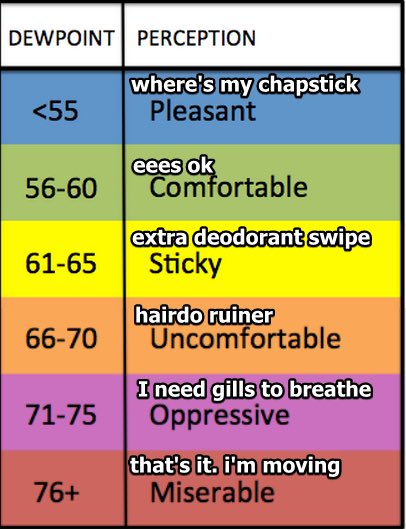 Friday
Similar to Thursday. High around 90 with dew points around 70.
It's possible that someone might see a stray shower but I think the majority of us will stay dry. HRRR Model shows one or two showers popping up around Davidson/Williamson Counties, mainly during the afternoon.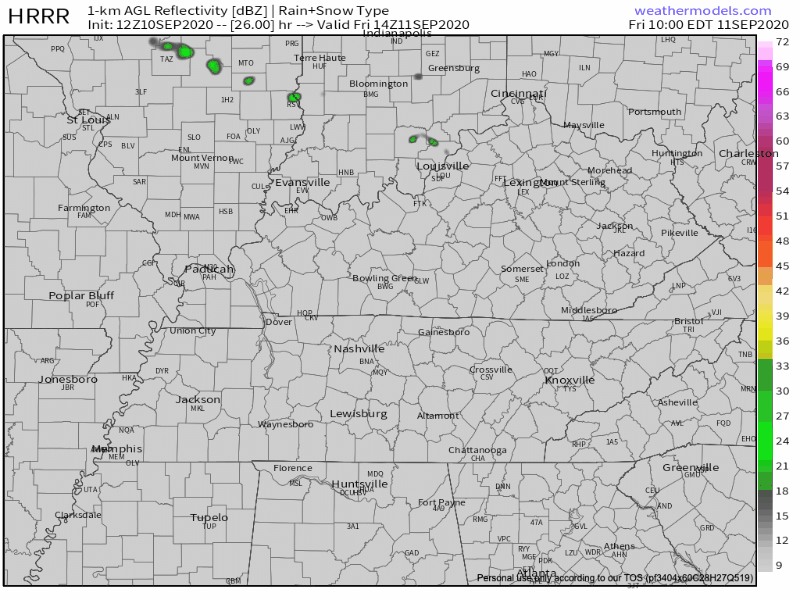 If one happens to pay your backyard a visit, it probably won't last long with no flooding or severe concerns.
Wet Weekend?
We know two things for sure: It's going to be warm with temps in the upper 80s, and very humid. Dew point values both Saturday and Sunday will be in the low 70s.
Rain will increase Saturday and especially Sunday as a boundary lifts northward. A cold front will also setup to our northwest Sunday.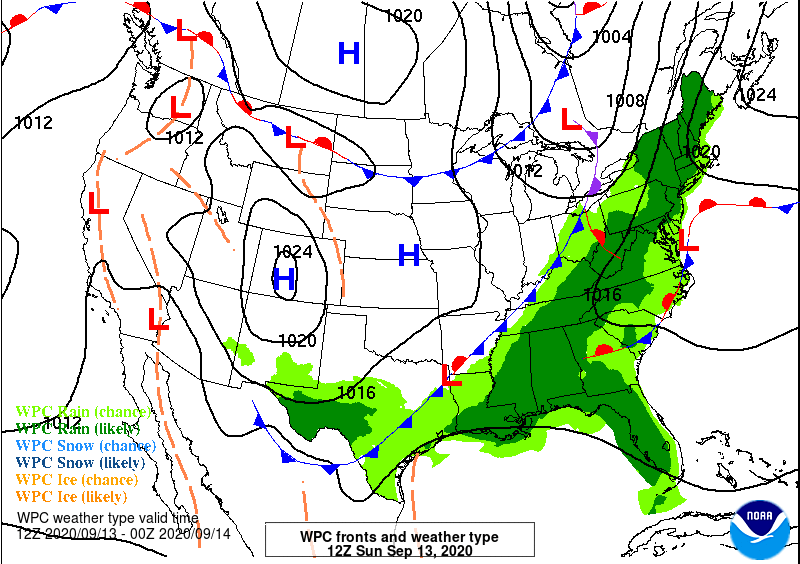 We are well in range of some of the higher-resolution models like the 1-hour Euro Model. It shows scattered-numerous showers and maybe some storms rolling through both Saturday and Sunday afternoon/early evening.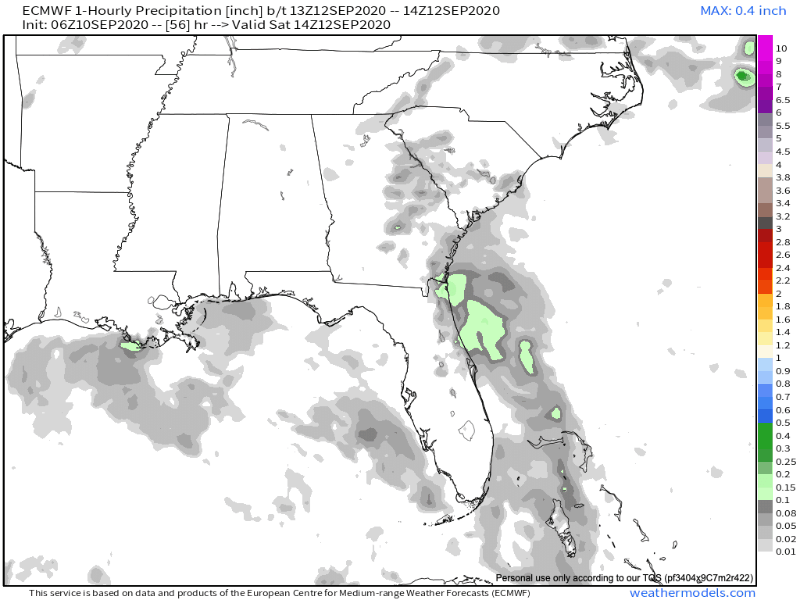 Briefly heavy rain and lightning are possible. Severe weather is not a concern. Here's what NWS Nashville says about this weekend:
By early Saturday moisture will be pretty deep and will remain so through Sunday night until the front passes. Instability will also be more elevated and over the weekend we are looking at scattered/numerous shower and storms… especially in the afternoons. Severe parameters still unimpressive at this point.

NWS AFD 9-10-20
Rainfall totals will vary due to the scattered nature of the showers but it's not out of the question for someone to pick up an inch of rain this weekend (or get nothing at all). Most should see rain somewhere in between.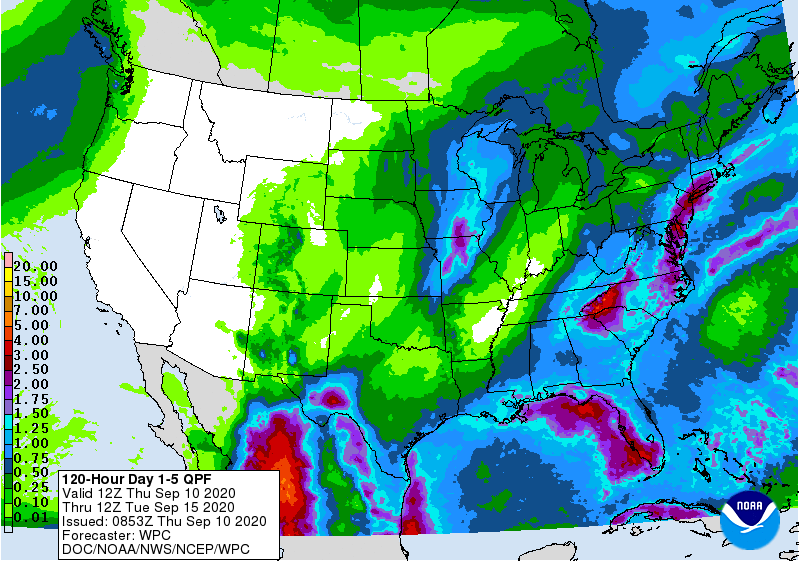 Next Week
We might get a brief break in the rain Monday with better rain chances Tuesday/Wednesday. Temperatures and dew points look to back off some as well.