Tuesday
Full supply of sunshine today with temps around 92.
You might feel a little stickiness with dew points in the low 60s but nothing too unbearable.
Clear conditions tonight with a low of 67.
Rising Humidity Wednesday
No change to the "warm and dry" part of the forecast with a high of 91. Humidity, however, will be a bit higher with dew points in the mid to upper 60s.
Isolated Showers Late Week
A weak front will push into our area from the northwest Thursday and should move south of us by Friday (as noted by the blue line along the Southern TN border)
This might try and squeeze out a few widely spaced showers. We're not convinced and neither is NWS Nashville:
This front will be quite shallow, and moisture will be limited, thus we are only looking at only isolated showers/storms Thursday afternoon on the Plateau, and across the south/east on Friday. But most will remain dry, really through Fri night.

NWS AFD 9-8-20
If any showers form, they will probably be short-lived with no flooding or severe concerns. Temps remain around 90.
Weekend Rain?
An upper-level low will work its way out of the High Plains and into the Great Lakes this weekend. This will drag a cold front into our area Sunday.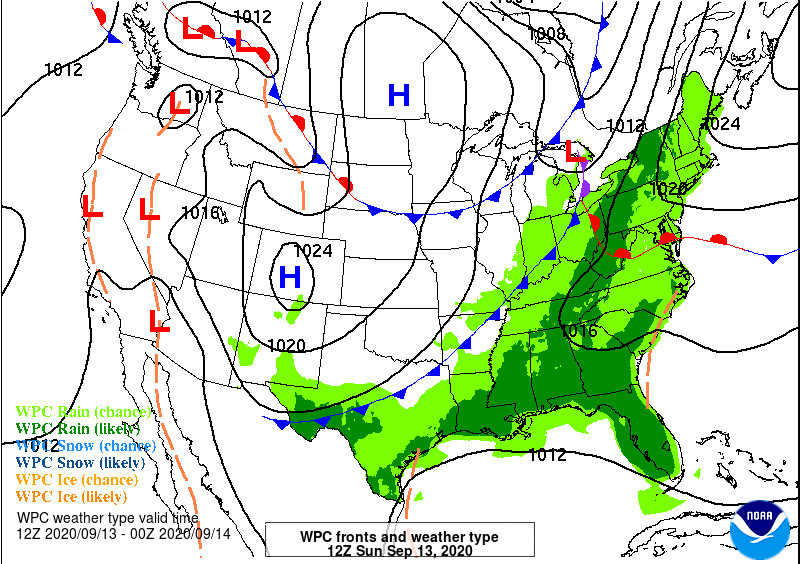 While it's too early too say how much rain we might receive, it's looking like we'll have to dodge some showers in the Saturday-Monday timeframe. We'll be much more specific on this in future blogs.
Active Tropics
The climatological peak of The Atlantic Hurricane Season is Thursday and it's already been an active season.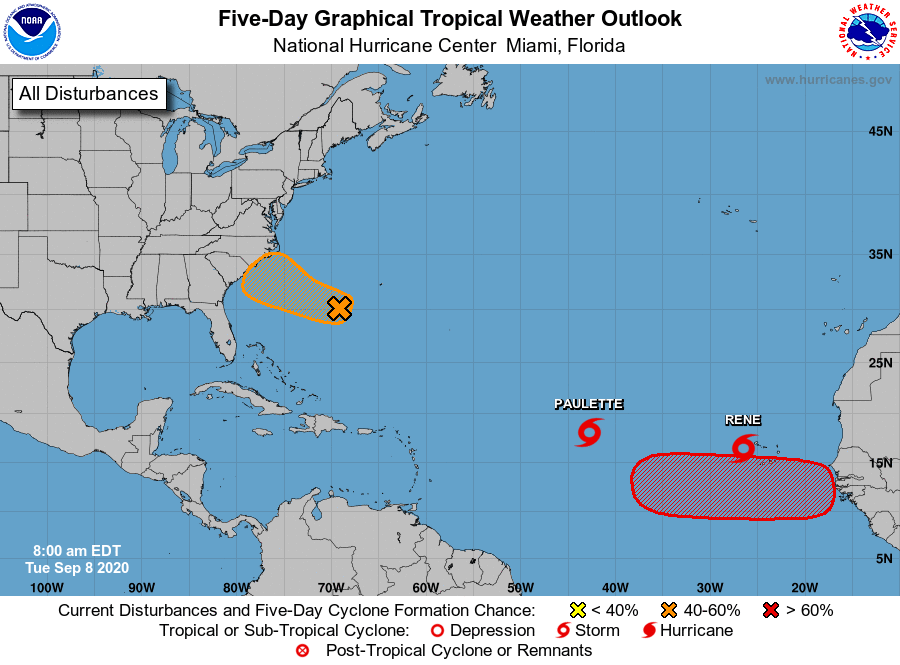 Paulette and Rene are the only named storms right now, both at tropical storm strength. They will gain latitude over the next few days and will likely recurve east of Bermuda with no threat to the U.S.
There are two other areas to watch: one southwest of Bermuda could develop into a depression and bring rain to the Carolina Coasts, the other is about to leave the African Coast. It's way too early to know if it will have any impacts on the U.S. Just something to watch for now.