Laura, a review.
Just before 5 PM what's left of Tropical Depression Laura was centered just north of the KY/TN line, moving east and dragging heavy rain and gusty winds along with it.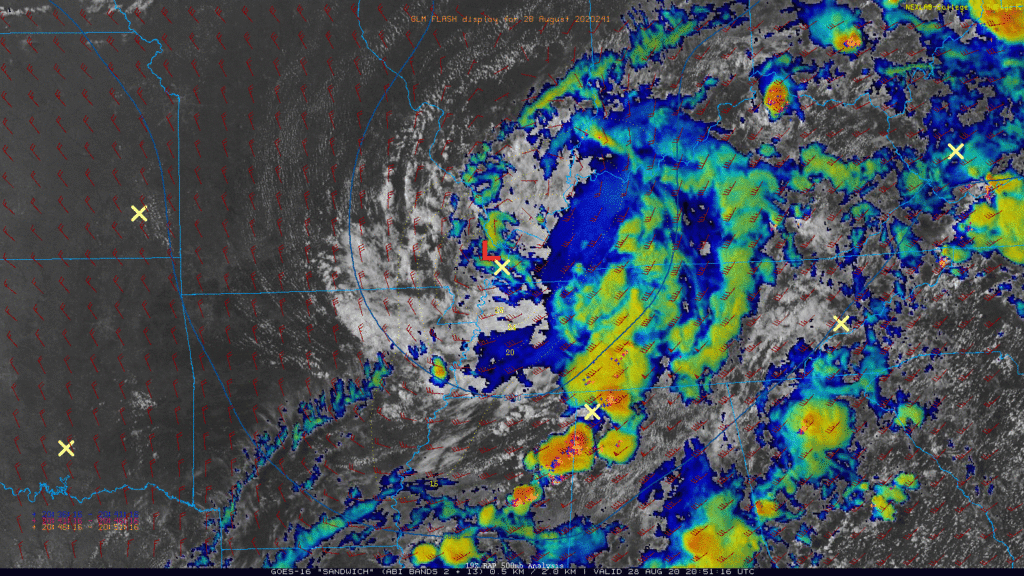 Laura was not cool today. Here's what happened.
Two Laura associated outer bands swept through today. A Tornado Watch was issued this morning for Davidson & Williamson Counties and was set to expire at 4 PM. Outer band #1 (aka Lauraline #1) arrived around lunch, prompting a Tornado Warning for western Williamson County, then a second Tornado Warning for circulation near Bells Bend. Each concerning, but there is no evidence a tornado occurred in either place. The book is not closed on that, though. Rotation aloft was pronounced, low level rotation came in and out. The storms had to be warned, and damage may be found as reports come in.
Will launched three weather balloons today. The first released before Lauraline #1 arrived. That balloon hit a tree, dislodged itself, then kept going. Will said the balloon took off like a rocketship heading north. Soon after it stopped transmitting. Will immediately launched a second balloon. This one was successful, and confirmed a non-alarming environment for End Of Days weather, but there was enough storm juice there to power a few tornadoes, and not long after here came those two two warnings.
The third balloon went up before Lauraline #2. It's data revealed a low level inversion. We did a nerdy high five; this was evidence storms could not root themselves at the surface, reducing tornado concerns to near zero. The Tornado Watch was cancelled, and Lauraline #2 blew through with gusty winds in Williamson County, and little else.
Rain and storms tonight/overnight should be weak.
They will lack instability.
Off and on rain. Gusts above 20 MPH, that's it. Doubt it'll lightning.
Rain should end after midnight.
The HRRR model thinks we'll be rainless beginning just after midnight tonight, and we'll remain rainless until Saturday night, and even then we may not see anything. Rain and storms should fire off to our east Saturday night. It's possible we'll see those storms, but probably not. The HRRR model illustrates: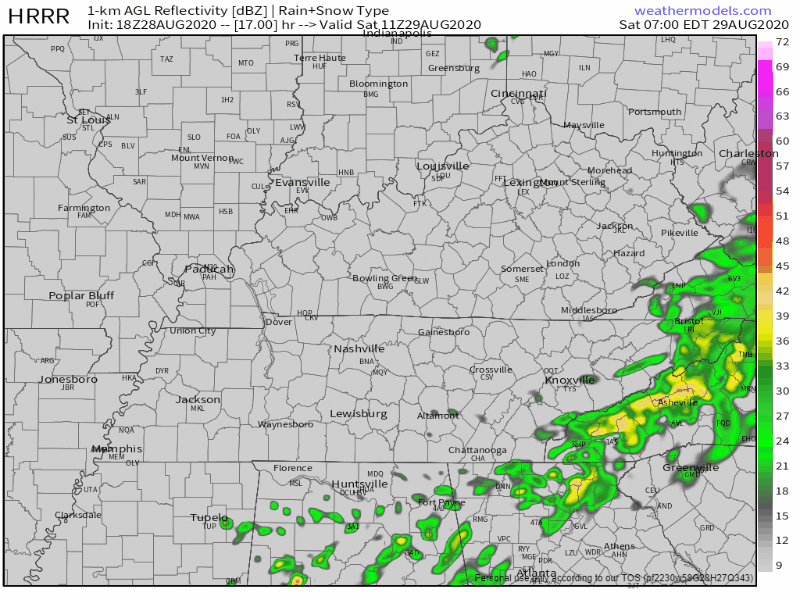 Slight drop in humidity Sunday, then more rain.
Rain looks likely from Sunday night, off and on through Tuesday.
We may be set up for flash flooding late Sunday night into Monday morning. Probability of that is 10% to 20%.
Total rainfall tonight through Monday night may hit 2″ to 3″: