This satellite image runs through 11:51 AM. Notice Laura in the Gulf (now a Cat 3 hurricane). Also notice cold cloud tops over Middle Tennessee indicating light rain.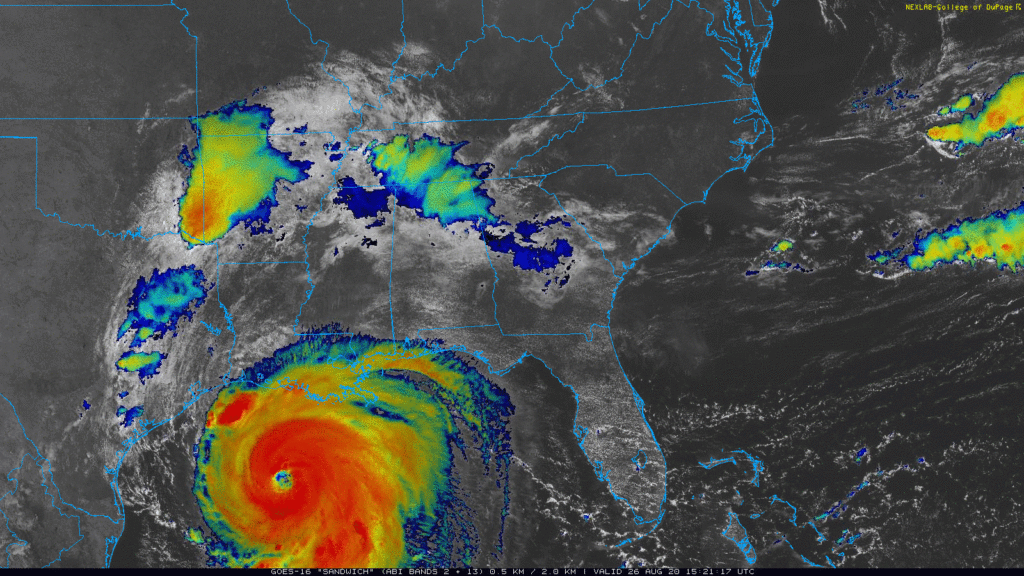 A hefty downpour to our south this morning should weaken and scatter this afternoon as the energy works north. So says the HRRR model: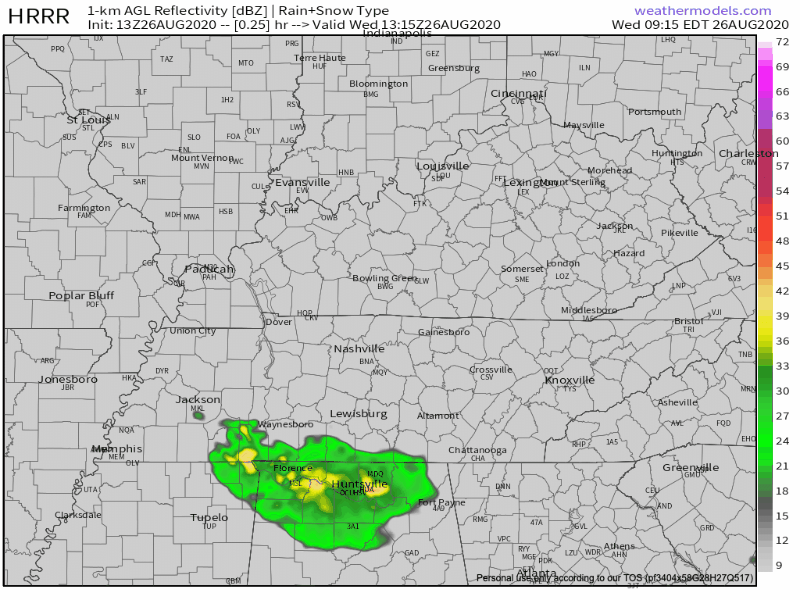 We do not expect severe storms today, but heavy downpours and 30mph winds will occur in the stronger storms.

NWS Forecast Discussion 08/26/2020
Average rainfall expected Wednesday for Nashville and Will Co is under 0.1″, not anticipating any rainouts, but suppose a few downpours will be possible in isolated locations. Most of us will see little/no rain.
Humidity is rising. Dewpoints creeping toward the lower-mid 70s in advance of Laura.
High humidity will be around until a cold front whacks the dewpoint back down to the low 60°s on Sunday.
Uneventful Thursday
Partly sunny skies and high humidity will continue into much of Thursday.
A high of around 92, but heat index values will make it feel more like 99.
A small chance of showers and storms exists after noon Thursday. The HRRR model predicts all rain will be east of us, so we will probably stay rainless: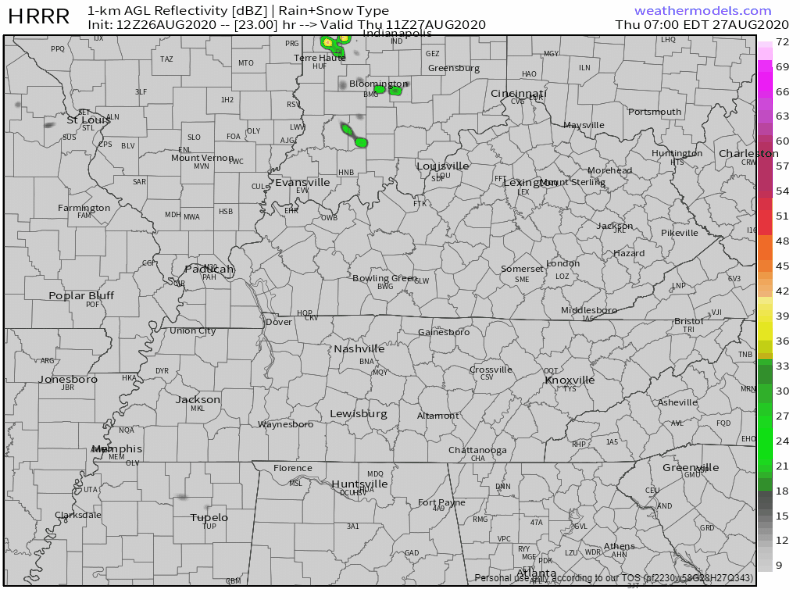 Where is Hurricane Laura Headed?
Hurricane Laura is expected to make landfall tonight into tomorrow morning on the Louisiana coast. There's concern Laura will landfall as a Cat 4. NHC is using alarming storm surge language ("unsurvivable storm surge") for coastal residents.
Laura will weaken from a hurricane to a tropical storm Thursday as it crosses north from Louisiana into Arkansas. Laura will weaken further, to a tropical depression, as it turns east and moves through NE Arkansas on Friday morning.
Laura should be a tropical depression located somewhere between St. Louis and Jackson TN by 7 PM Friday night; most likely it'll be near Paducah KY. Note this will be Laura's center, with heavy rain and strong winds wrapping around it, and covering a wide area. Midnight Friday night, or close to it, the storm should move east. Its center may pass over us, but more likely it will go north, and deliver us rain and wind from its right side.
ETAs remain iffy. The Euro model brings in the rain after midnight Friday night:
But the GFS model delivers the rain Friday afternoon, Friday night, and into Saturday morning: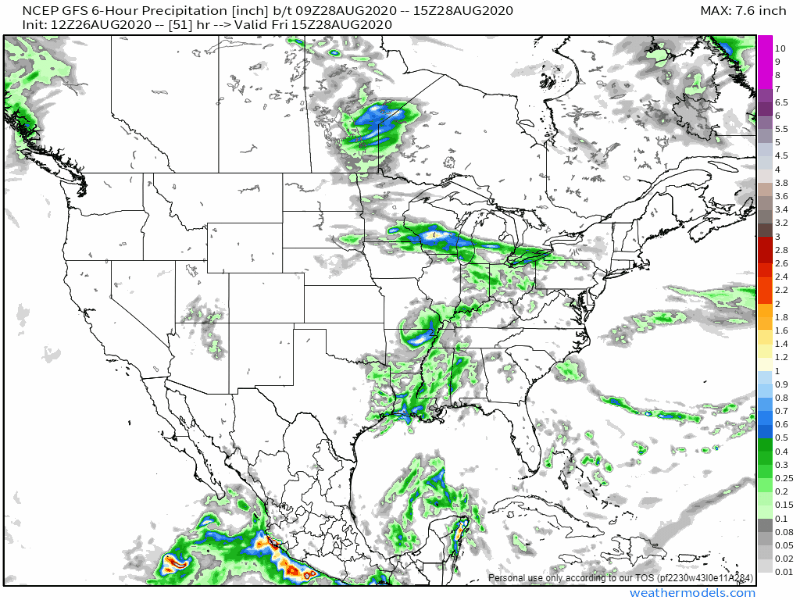 T.D. Laura will move quickly, reducing local flooding concerns. Heaviest rain should be north of us, assuming the models are correct and the center of the storm passes north.
Winds sustained 10-20 MPH, with gusts up to 30 MPH, are expected Friday night. A few areas may see especially strong wind gusts, close to 50 MPH, but those gusts are more likely to be near the storm's center. Laura's center may not pass close enough to us to deliver winds that strong, but this will be watched closely.
Winds will be stronger if the center arrives earlier (GFS model), weaker if it arrives later (Euro model). Again, timing is everything, and the models do not agree. H.S. football games Friday night might be OK. If the Euro model is correct, it may not even rain and a breezy but playable wind will be the biggest concern. If the GFS model is correct, games will be played in a humid, driving rain, making difficult the kicking and passing games. Saying which model will be "right" is always difficult; usually, it's a combination of the two, and either model could perform terribly compared to the other on any one given event, but generally speaking the Euro has a better track record.
More important, isolated tornadoes could be possible. T.D. Laura will create low level shear and helicity. Here are details from NWS-Nashville:
Wind forecasts show large curving profiles in the low levels that would support isolated tornado potential as the center accelerates along the TN/KY border late Friday through Saturday morning. Frequent wind gusts over 30mph are likely, and there could be brief pockets of stronger gusts over 50mph that bring down a few trees and cause power outages.

NWS-Nashville, AM Forecast Discussion, 8/26/20
Inland tropical tornadoes are often weak and short-lived. No one wants a tornado obviously, they're all dangerous, but strong tornadoes are rare in these situations. I would rather be on the "left" side of the center of Laura to avoid tornado potential, but looks like we'll be stuck on the "right" side where a spinup or two is possible. We are not alarmed by the tornado potential, but it has to be mentioned, and will be watched closely.
And while Laura continues to trek eastward this weekend, any sort of rain we get won't sit overhead for days on end. Our rainfall amounts should not exceed more than 2 – 2.5 inches.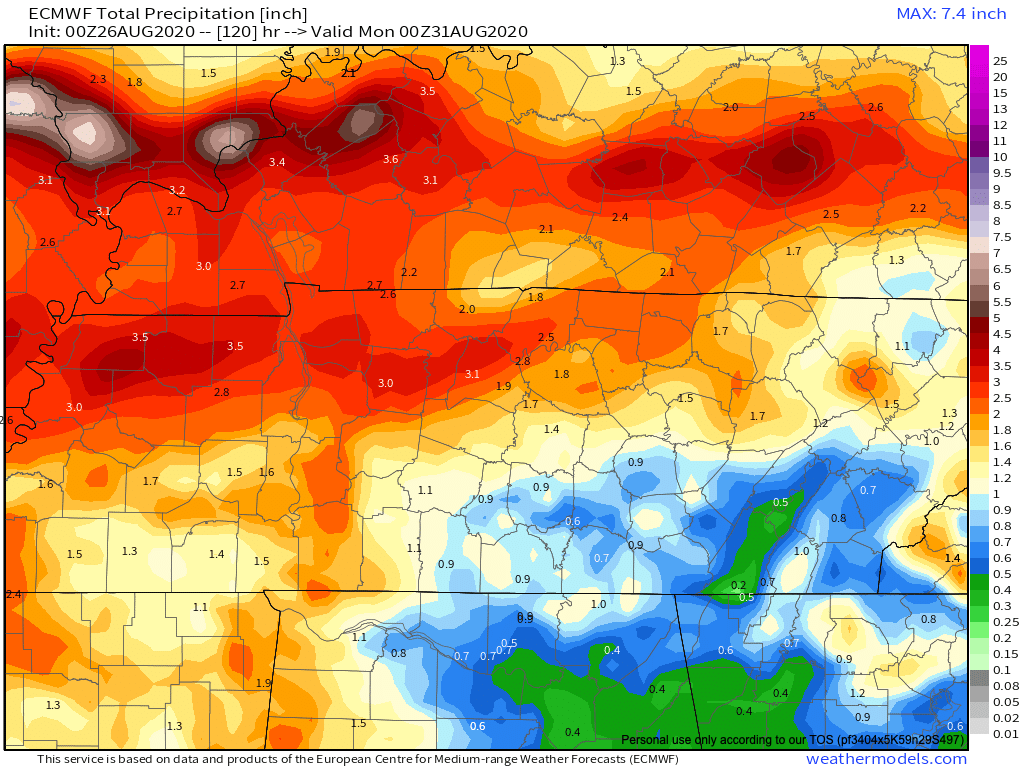 A cold front will chase Laura from Middle Tennessee late Saturday. The cold front passage should create more rain, but, on the plus side, cooler and drier will file in behind it on Sunday. Check out the temps to come.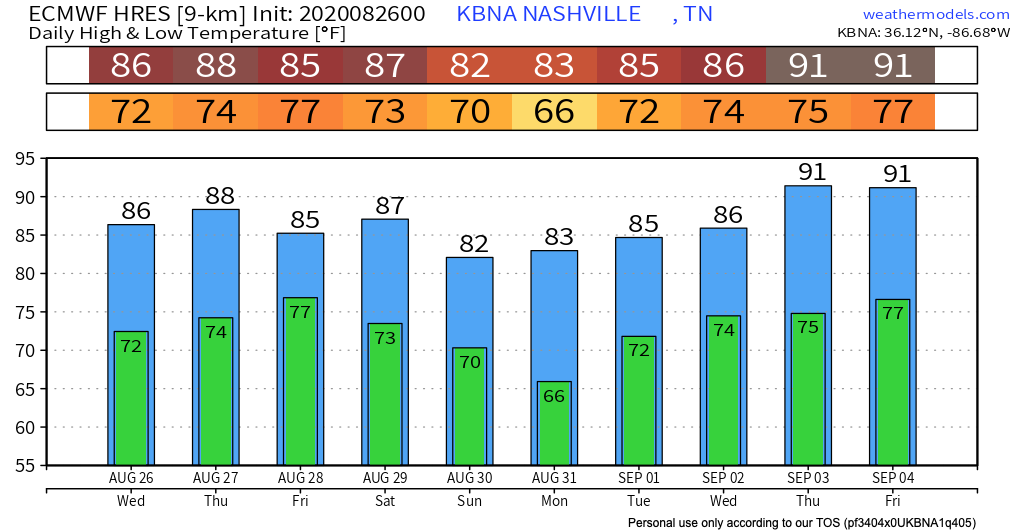 As always, check back for updates to the forecast and be sure to follow @NashSevereWx on Twitter!