We live in a world where Aunt Becky has gone to jail and consecutive hurricanes are about to enter the Gulf and there is a pandemic and there are injustices everywhere and now you need a cup of coffee to read these words because this forecast is more complicated and frustrating than Mrs. Rich would be reading this run on sentence. I had Mrs. Rich for seventh grade English and God Bless Her, she tried really hard.
Sunday Rain Unlikely
"Drier air is filtering in aloft." NWS-Nashville, 8/23/20.
Rain unlikely but not impossible today. The HRRR model pops a few showers regionally, only one locally, and that one only covers a small fraction of us.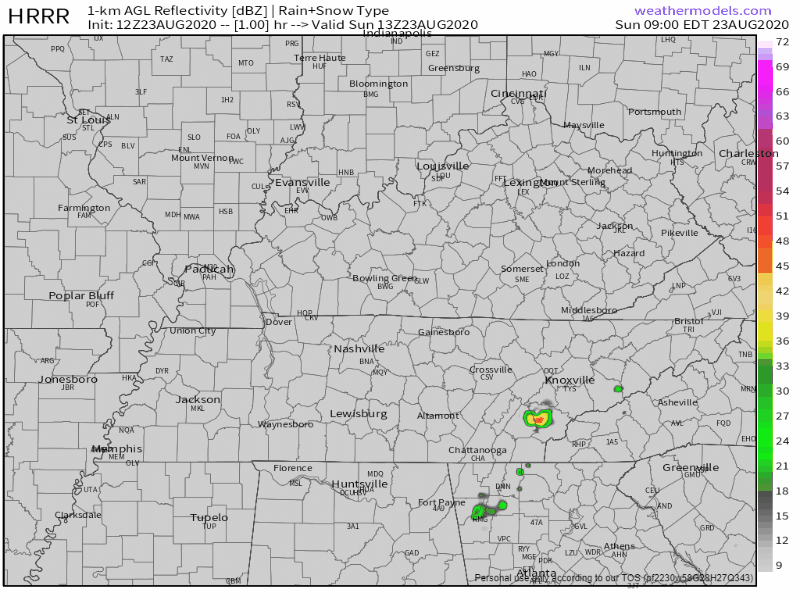 Higher Humidity
Dewpoints will climb over 70° this week. An unwelcome increase.
Temps up too. Notice they're a bit "lower" Monday due to more cloud cover and afternoon rain chances. Lower again Thursday through Saturday because forecasters are hedging their bets on what Marco will do.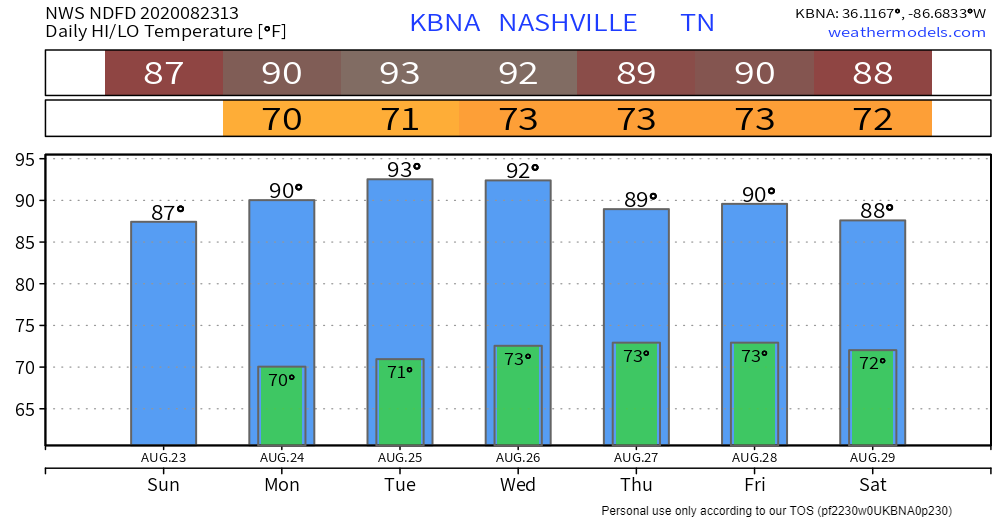 Tropical Models Are Having A Hard Time
I wish I had a clearer picture for the rest of the week. Everybody is focused on the impacts the tropics may have here at home, but the problem is the models are really all over the place regarding the path/intensity of either of these two systems.

NWS-Nashville, 8/23/20
The Marco Polo joke is low hanging fruit, probably too low hanging even for me — that's a low piece of fruit — but it tells the story. There's water, Marco is in the water, trying to find its way.
Where is Marco going to make landfall, at what strength remains a mystery. Then what will it do after that? That's a greater mystery.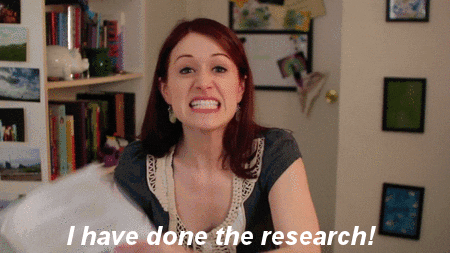 Anyway, here's where the two storms are as of Sunday morning.
(Delete any Facebook or Twitter source that's trying to clickbait you with these two storms combining into one superstorm. No way Laura is going to date Marco).
Next here's the 7 AM Sunday advisory from NHC on where the center of Marco is expected to be over the next 4 days. This graphic does not show storm size.
What Marco does after landfall is anyone's guess, really. Here are several Euro ensemble model guesses: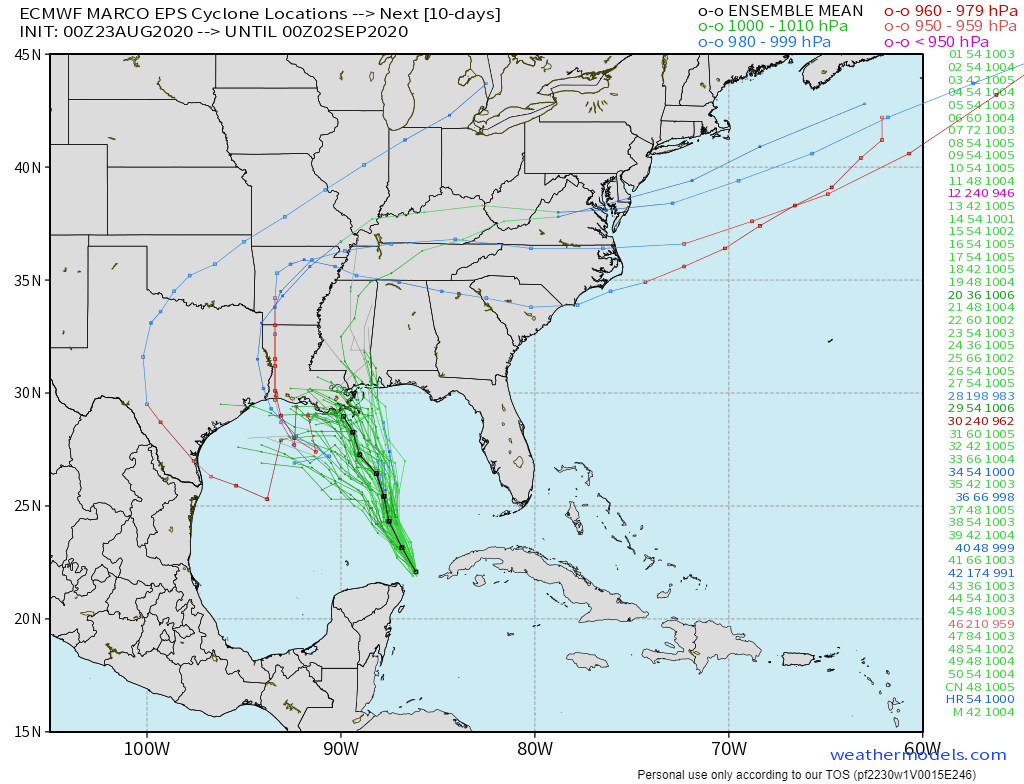 But the current belief is we will have some Marco related rainfall as early as Wednesday, more likely Thursday and Friday. Confidence is low.
By the way, the following week, we have Laura coming into maybe Louisiana or Texas or Mexico or Mississippi, with its remnants curving back across the southeast, who knows?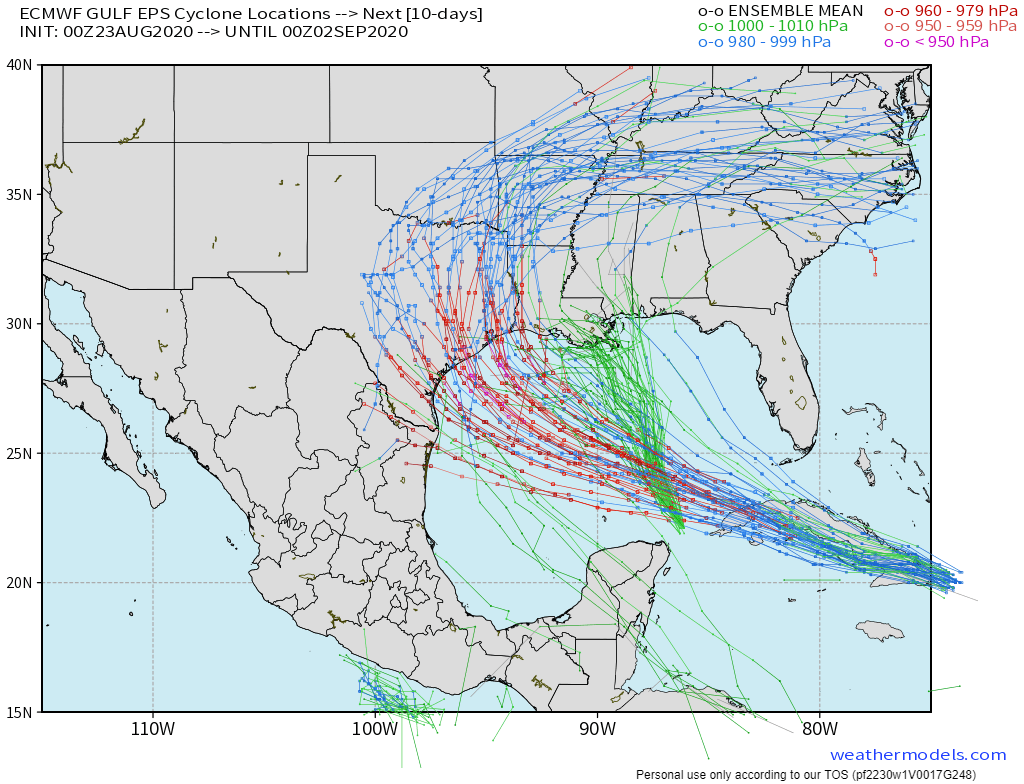 So what does all that mean to our forecast?
Monday & Tuesday
Monday and Tuesday being rather dry compared to the last few days, as well as an increase in afternoon highs, with temperatures climbing back into the 90s.

NWS-Nashville, 8/23/20
Wednesday Thru Friday
I think we can bank on rain chances increasing greatly in Middle TN by Thursday, lasting into Friday, but Marco could give us increased rain chances as early as Wednesday.

NWS-Nashville, 8/23/20
WPC thinks Thursday will washout, with Friday and Saturday pretty wet too. Here's the WPC 7 day total rainfall map: