The National Weather service has issued a Heat Advisory from 10 AM to 6 PM. Dew points in the low 70s and temperatures to 98° will send the heat index value as high as 105°. A Heat Index is issued when the NWS thinks the heat index will get to 105°, the level NWS thinks will cause you problems.
Editor's Note: Heat Index charts are under scrutiny. Here we have an article "Judge Finds No Scientific Basis for NWS Heat Index Chart Used by OSHA in Heat Stress Cases." Longtime readers may recall several of my anti-heat-index rants, and I'm still on that rant. Those in charge of people – especially kids – working or playing outside should be using a Kestrel Heat Stress Thermometer on-site and using the Wet Bulb Globe Temperature, and modifying activities based on current science and not some chart made 40 years ago. If you need help with such a policy, I've given talks about it and written a local policy based on these guidelines for those in youth sports.
This Week
Rain is possible but unlikely Monday and Tuesday. Plenty of heat and humidity, but too much high pressure will depress rain chances.
Wednesday and Thursday the high pressure weakens, and will allow for rain and storms to develop along west-to-east moving shortwaves high up in the atmosphere. Heat and humidity will be plentiful. Expect typical pop-up thunderstorms each day during the afternoon or early evening. So the only threat here would be potential strong winds, lightning, and briefly heavy rainfall. Storms won't move quickly, so if you get stuck under one, you'll have to get inside for a while. Nothing severe, and not everyone will get one.
Temperatures will continue to be sweltering hot throughout this week in the mid to high 90s. Dew points will continue to sit in the mid 70s.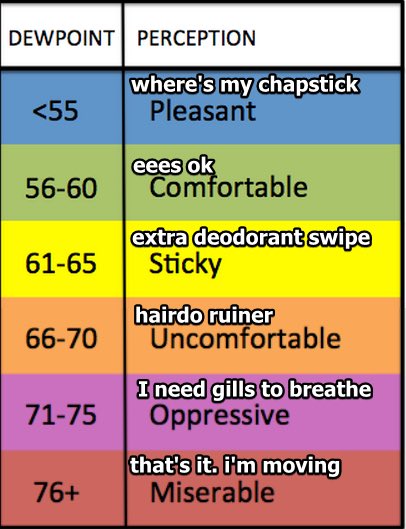 There is no end in sight.
Models show high pressure rebuilding this weekend. If that happens, our rain chances go down, and we might approach 100° again. We have not hit 100° since July 8, 2012, despite five close calls last year. The last 99°s we've had without hitting 100° were:
August 2, 2012
September 10, 2019
September 13, 2019
September 16, 2019
October 2, 2019
October 3, 2019