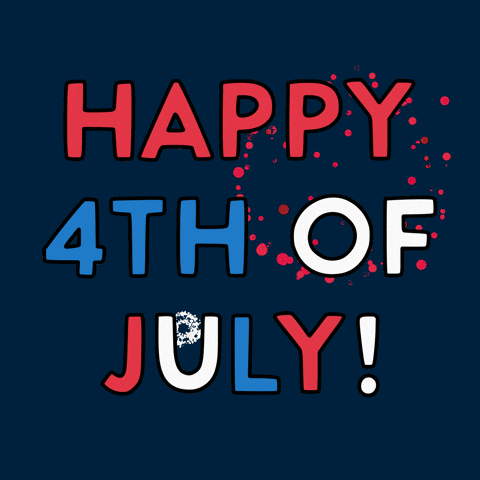 On behalf of us here at NashSevereWX, we want to wish you a safe and happy Holiday Weekend!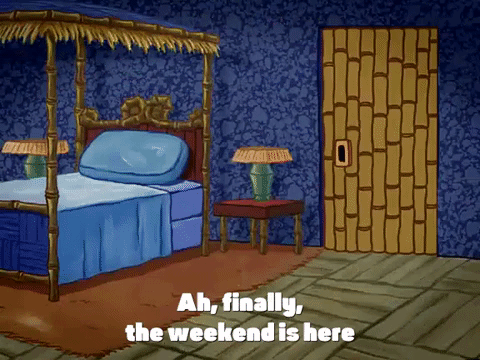 A gorgeous 4th of July is in store for us today, with temperatures in the mid 90s and NO RAIN!
Humid, humid, and more humid weather for Independence Day.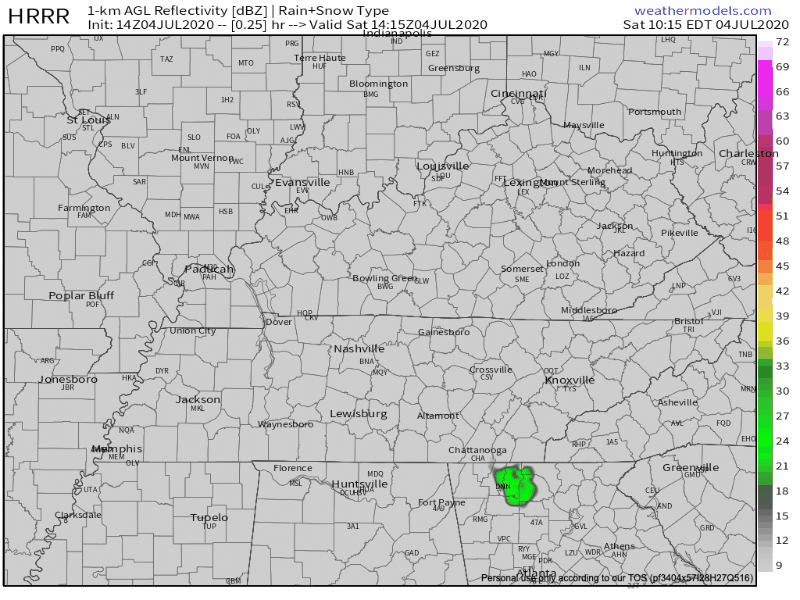 Most of the rain this afternoon will lie in our southern and eastern counties as a weak low pressure system slides through the Deep South into the Gulf Coast this weekend.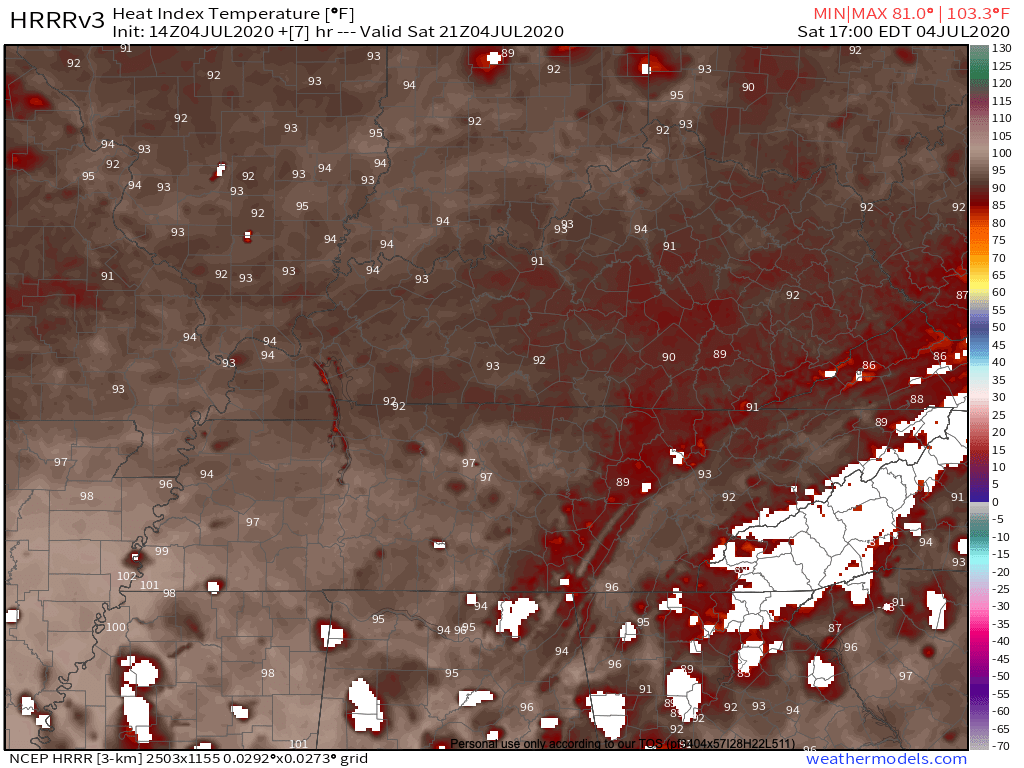 We'll top out in the mid-90s but will actually feel like the upper 90s. Safe to say, it's going to be humid this afternoon.
Tomorrow, we could be waking up to a few isolated showers and thunderstorms. Potential scattered showers and storms throughout the afternoon tomorrow is expected, but when not raining – mostly sunny conditions.
GFS model above shows tomorrow at 1 PM. Rainfall amount totaling to a tenth – quarter inch possible.
Higher rainfall amount totals are possible in thunderstorms. Most of the activity tomorrow ends after 8 PM.
Heat indices are on the rise again tomorrow!
Although we will be cooler than today (by only a few degrees,) expect temperatures to still feel like upper 90s.
A Message from The National Weather Service
…those that will be outdoors for long periods of time over this weekend should keep heat safety precautions in mind, drink plenty of water and take breaks in areas with a/c when possible.

NWS Nashville – Forecast Discussion 7/4/20
Check Those Back Seats
As always, please never leave pets or kids in locked vehicles for any length of time! The interior of cars can quickly rise to the 120s and 130s in only a few minutes!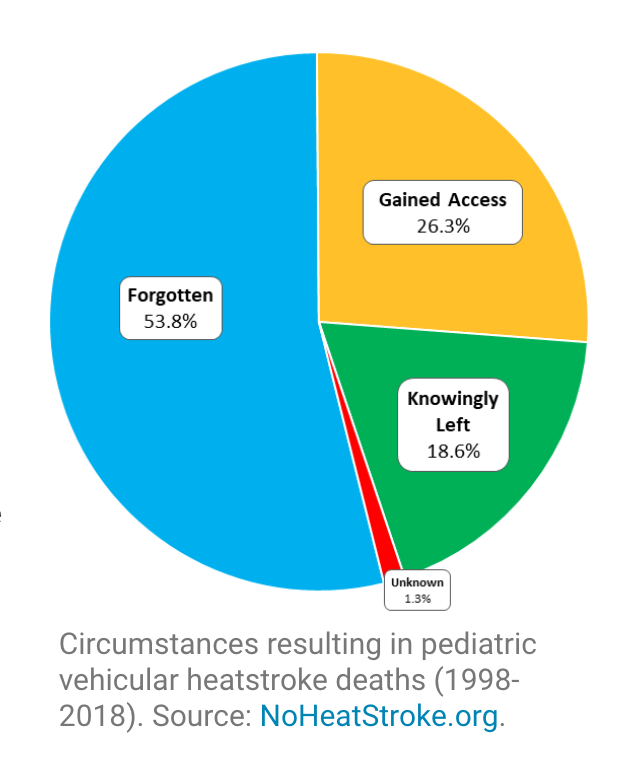 A Taste of Next Week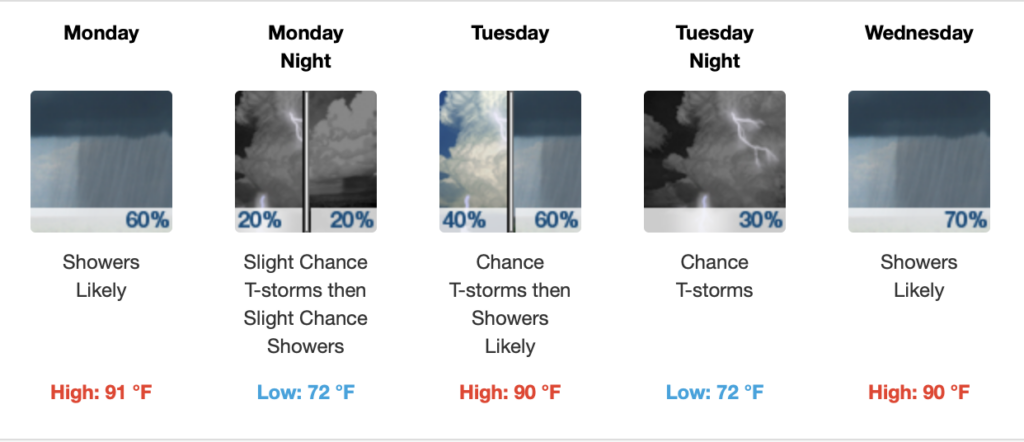 Monday: Hot, 91. Partly Sunny. Chance of showers before 10 AM, then showers/storms between 10 AM and 1 PM.
Tuesday: Hot, 90. Partly Sunny. Chance of showers likely after 1 PM.
Wednesday: Hot, 90. Partly Sunny. Chance of showers and storms likely after 1 PM.
90s this upcoming week with pop-up storms to come in the early week.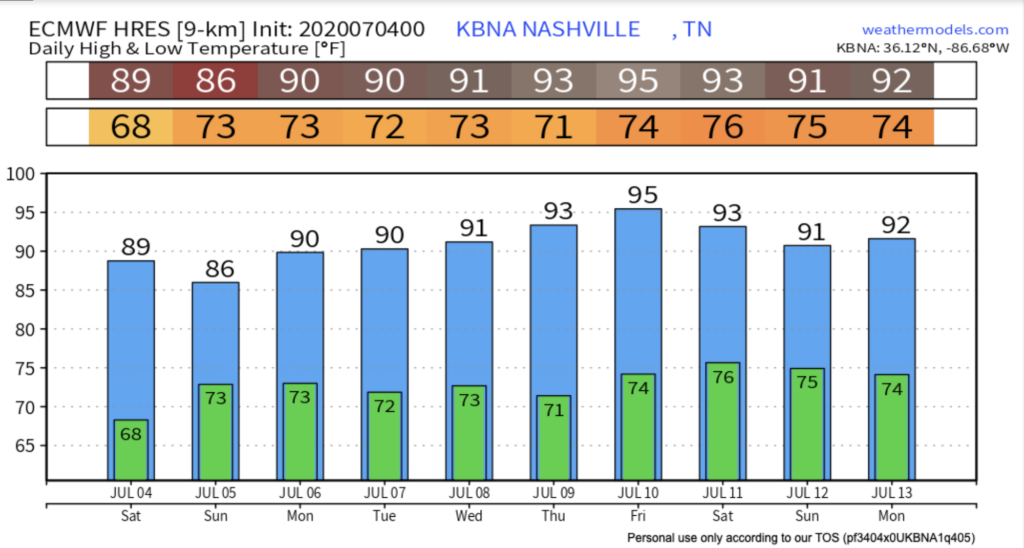 As always, check back for updates to the forecast and be sure to follow @NashSevereWx on Twitter!