Scattered Showers will Continue Throughout the Day, But Will We Get Any?
Storm Threats
We are not included in the SPC outlook regions for tornadoes, wind, or hail. The biggest threats with any storms we will receive today are lightning and downpours.
Heavier rain is more likely the farther west you go. But rain will come and go today, and scattered around, so you may get stuck under a downpour, or get nothing at all. Rainfall total ranges between nothing and a half inch; officially, NWS-Nashville says we'll see 0.23″, but again that's not for everyone.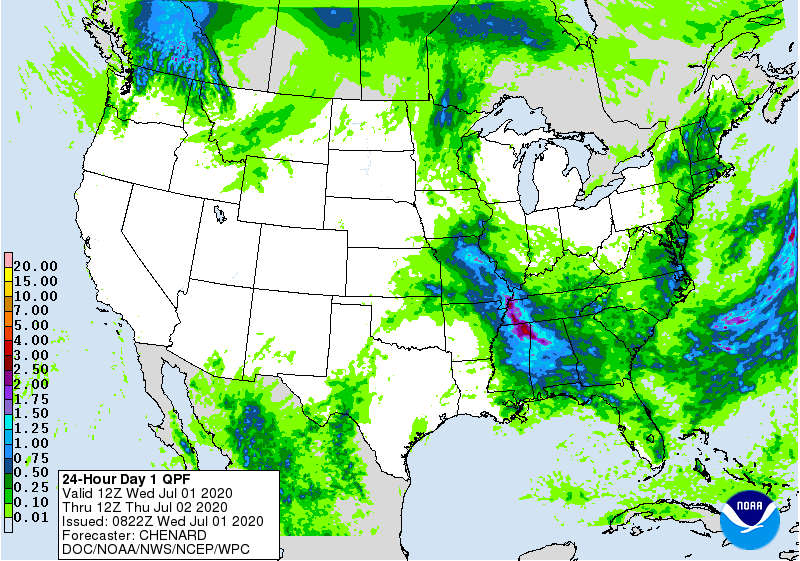 We are also under a marginal risk for excessive rainfall–there is a 5-10% risk of rainfall exceeding flash flood guidance within 25 miles of you. This is especially true if you received some of the heavier downpours yesterday since the ground is already saturated.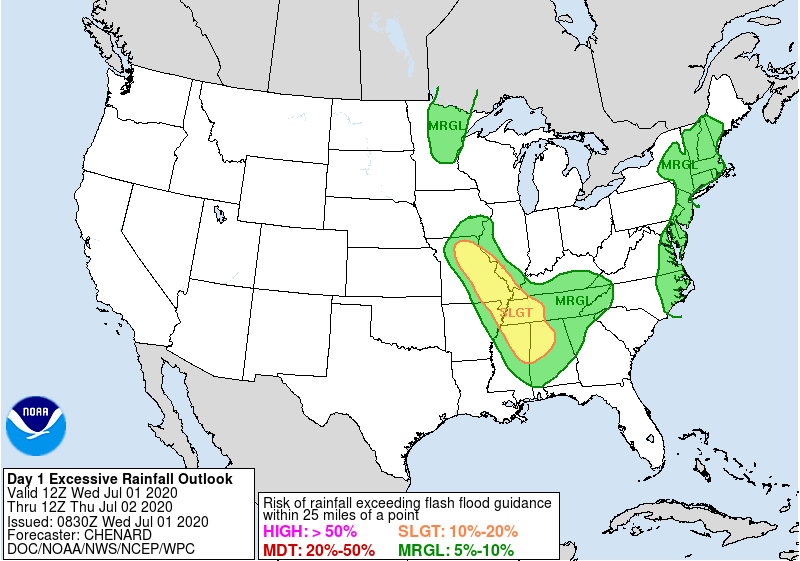 Flash Flooding should occur if, over one hour, we get 1.6″ in Nashville or more than 2″ in Will Co.
This seems unlikely based on all model data, but storms can "train" over each other in this environment and cause excessive rainfall. Not really worried about it but it was worth mentioning.
Rain Timing
Some areas have already received rain this morning. Scattered storms may continue to land on top of you at any point today. They should clear the area by about 10pm. The HRRR isn't going to be spot on with locations and timing, but here's what the most recent run has to say: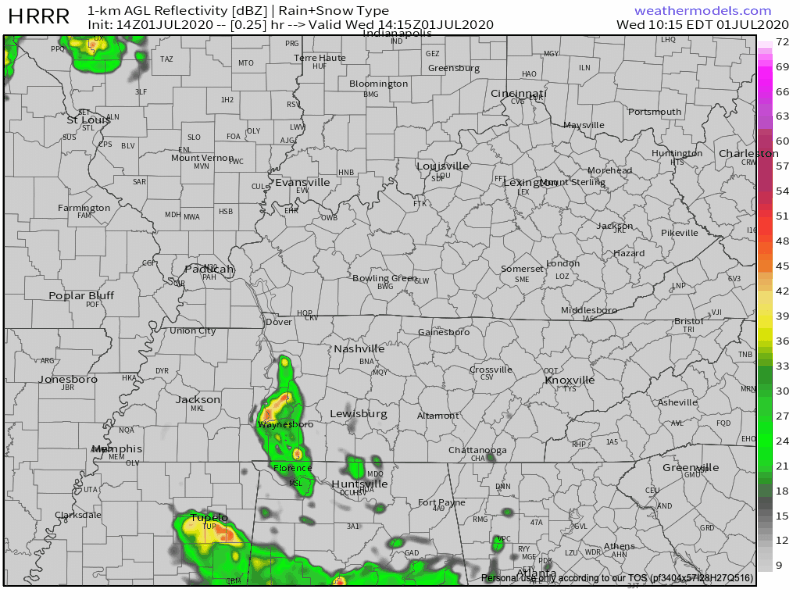 Notice how the rain and storms come flying in from the northwest, just missing us, passing to our southwest. If this model is even a bit off, we could get more, or less.
Based on the pattern, you're more likely to get rained out in SW Will Co than you are in Hermitage or Goodlettsville.
Feel that Humidity?
Our temperatures are right on track for this time of year, and unfortunately so is our humidity. That's feeding the starving storm cells. As the rain moves through, it eats the humidity and we are left with *slightly* drier air. So, some rain might be a nice relief from 73º dew points…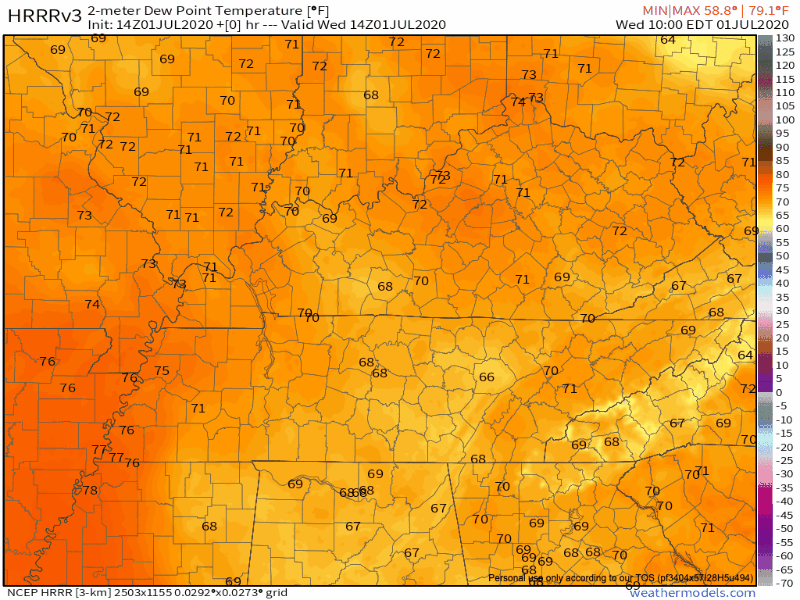 Look Out for Another Baby SAL
This one will be much less significant than the last, but it's still Saharan air that's made it all the way to Middle Tennessee!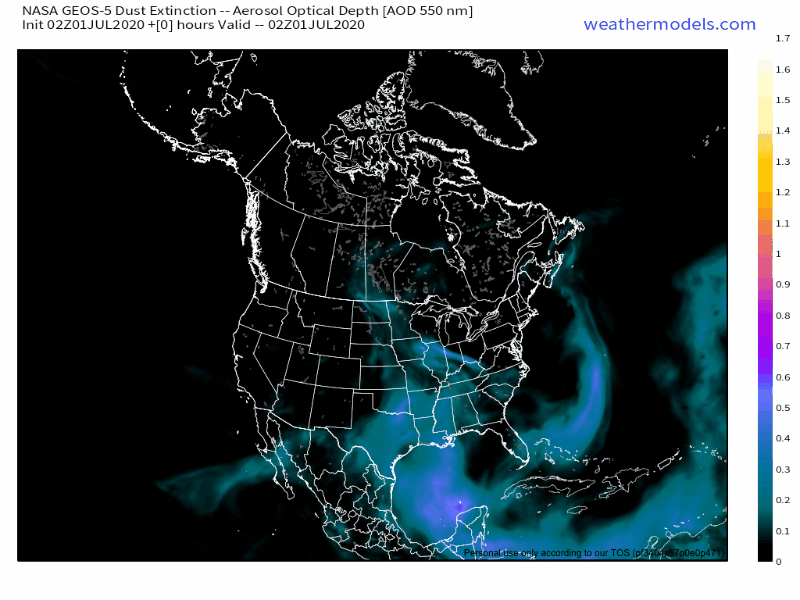 Today might be a bit hazier than usual. If the rain & clouds clear for the sunset tonight, the dust may accentuate colors. But, that's a big if. You probably won't feel it.
A Chance to Dry Out Thursday & Friday
The upper level low sponsoring today's rain will move south by Thursday morning. A drier airmass will move in behind it. There is still heat and humidity in the forecast, so we can't rule out everyone's favorite afternoon pop-up showers.
A Possibility of Afternoon "Meteorological Fireworks" for the Holiday Weekend
Aka lightning.
Uncertainty – caused by varying model solutions – will make weekend planning difficult.
It's too early to tell if any holiday plans will need to be moved inside, but it shouldn't be a complete washout this weekend. Temperatures and dew points look about right for the beginning of July…