Partly Cloudy skies for today developing our next round of possible showers and thunderstorms late tonight into tomorrow morning.
We could see a pop up shower develop in the area after 1 PM, but most of the activity increases before midnight.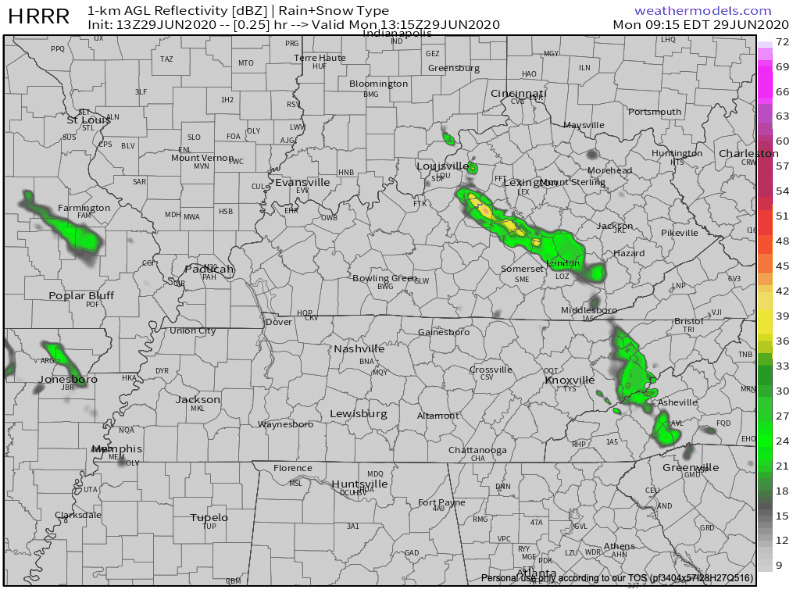 HRRR model above is timed out from 8 AM this morning to 2 AM tomorrow morning. Scattered showers and storms linger in the area throughout Tuesday hitting on-and-off into the afternoon.

Heat Index values today will possibly top out in the lower 100s… And just look at those dew points! All within the 70s for the next 24 – 48 hours!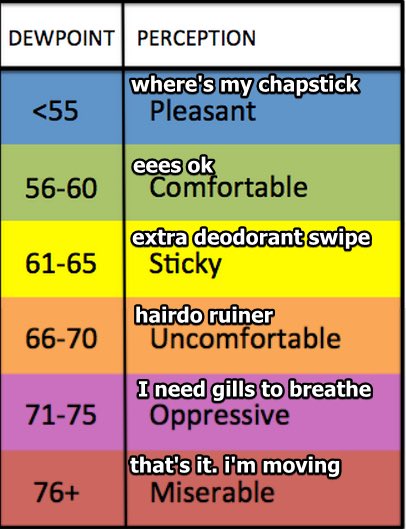 The sun may not be out to make the humidity outside feel oppressive today, but with this wet weather lingering in the area for several days on end, it is still going to feel uncomfortable.
Tomorrow, Nashville is the center state categorized under a Marginal Risk of Severe Weather through the Storm Prediction Center.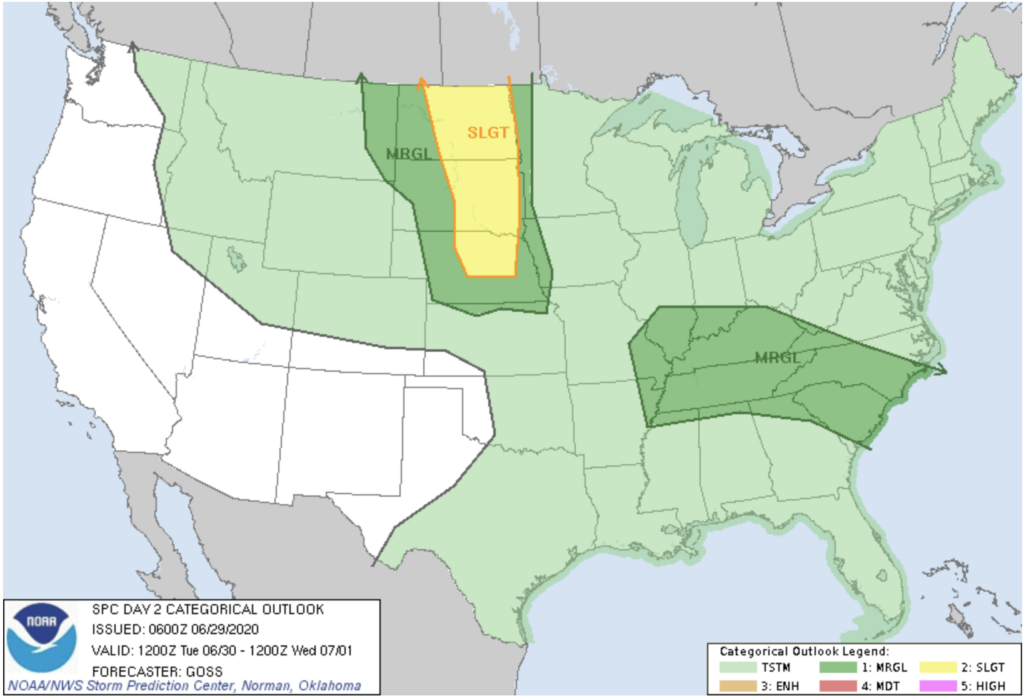 A few strong to severe thunderstorms are possible Tuesday afternoon into the night. The main threat with these storms is locally gusty winds. See 5% probability for severe winds below. Most of the stronger storms will occur after 2pm. About a quarter to a half inch possible tomorrow.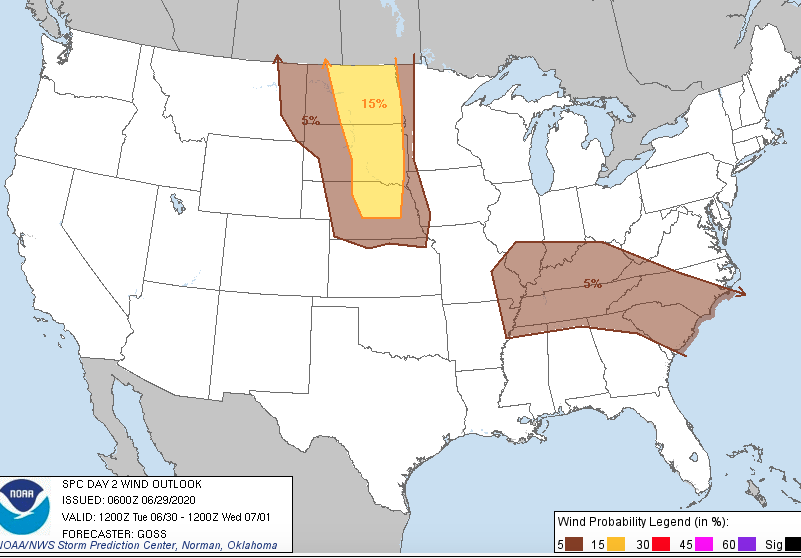 Continuing rain and storms from Tuesday night into Wednesday, we're shaping up to have another rainy day for Wednesday as well.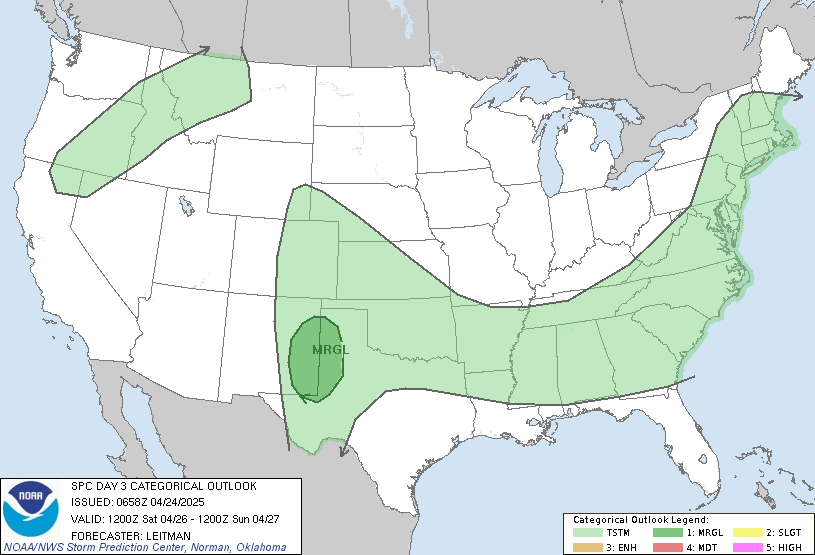 That same Marginal Risk for Nashville remains for much of Wednesday. Once again, scattered showers and thunderstorms for most of the day on Wednesday until around 1 AM.
These storms bring the same characteristics with locally gusty / damaging winds.
How Much Rain Are We Getting?
From now until Thursday afternoon, around 2-3 inches possible. That's a lot of water for only a few days!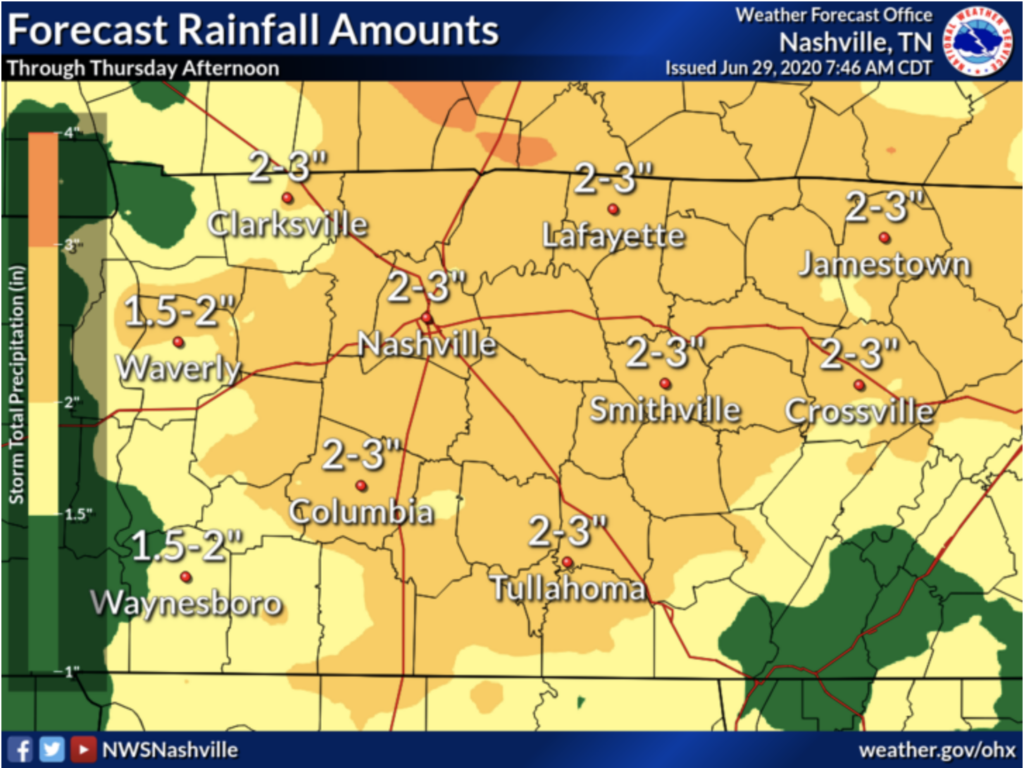 Will We Ever See the Sun?
The sun may peak itself out behind the clouds on Thursday. Some models predict the clouds will move out on Friday.
We still have a chance of showers and storms on Thursday, lasting until around 8 PM. Friday, however, has a lower chance for showers and storms, but expect mostly sunny weather.
4th of July Weekend Outlook: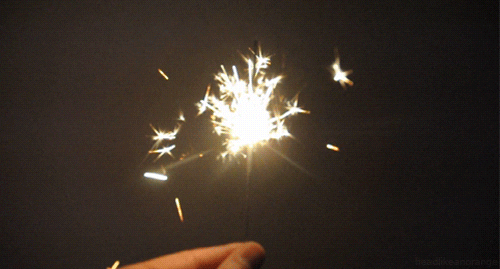 Friday: Mostly sunny, a slight chance of a stray shower mainly after 1 PM. Highs in the low 90s.
Friday night: Partly cloudy with lows in the 70s.
Independence Day: Mostly sunny, a slight chance of showers and storms. Highs in the low 90s.
Saturday night: Partly Cloudy with lows in the 70s.
Sunday: Mostly sunny, a better chance of showers and storms, but still a slim chance. Highs in the upper 80s.