Rain with a few weak thunderstorms should as through lunch hour, lingering into the early afternoon.
HRRR model thinks rain and storms will hang around until sundown . . .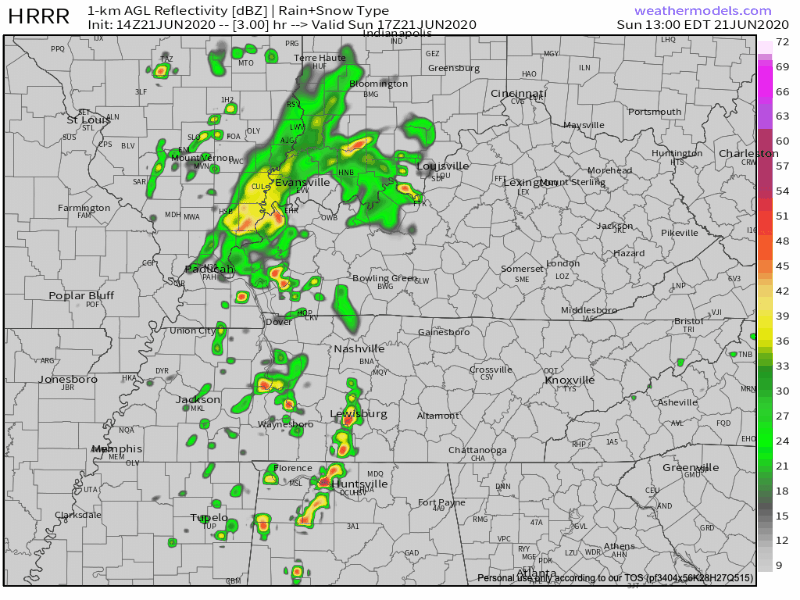 . . . but the HRRR model is probably overdoing it. Here's why we think that.
First, satellite shows drier air not far behind the lunch/early afternoon rain we're getting now. We would expect to see more activity and around the Mississippi River to believe we'll see several storms around late this afternoon: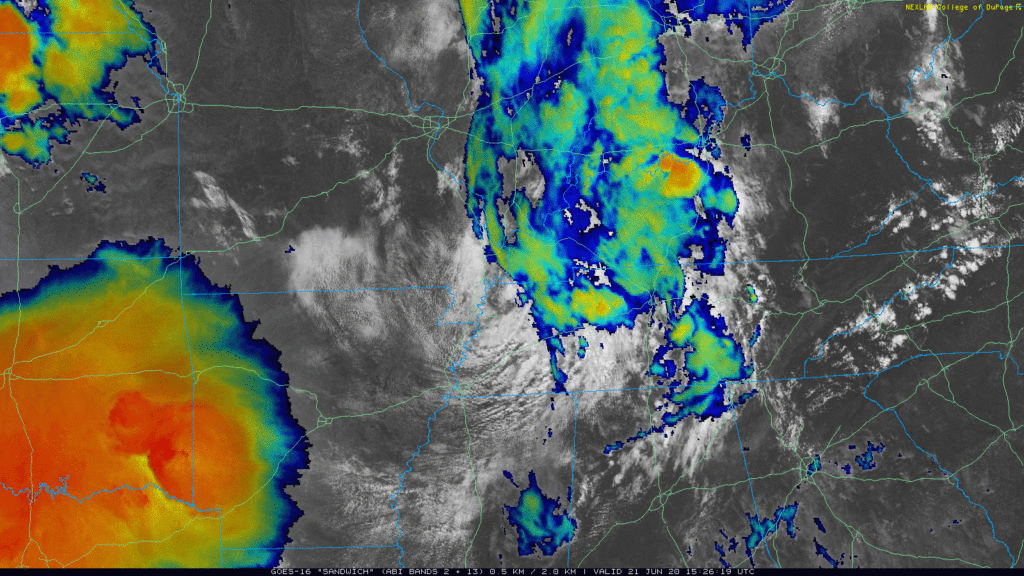 Second, if we get a few hours of cloud cover and heavy rain over lunch, it'll be difficult for the atmosphere to reheat and recharge to power up another round of rain and storms.
Therefore, expect a dropoff or outright end to the rain/storms by late afternoon.
That said, stay close to radar and an enclosed shelter if you're planning to be outside through mid afternoon.
Damaging winds are possible in any thunderstorm, but the probability of that within 25 miles of you is 5%.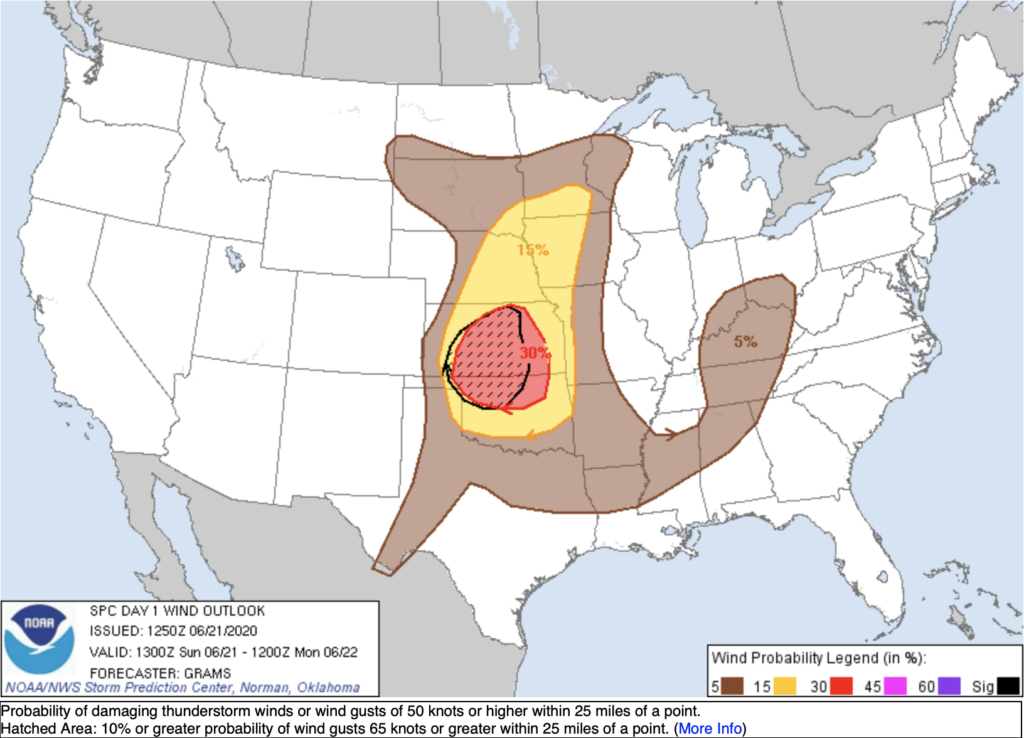 Small hail is possible but not expected. Stronger storms are expected in Kansas and Oklahoma.
Fog is possible overnight into the early morning hours.
More Rain & Storms Monday, Tuesday
Monday: NWS-Nashville thinks rain is "likely" Monday, but not a continuous rain. About 0.25″ forecast, but more than that could fall Monday night into Tuesday morning. Rain with weak thunderstorms are most likely Monday afternoon and evening as another shortwave – similar to what we are getting now – swings through.
Tuesday: Do you see the cold front situated over Oklahoma / eastern Kansas / northwestern Missouri in this map?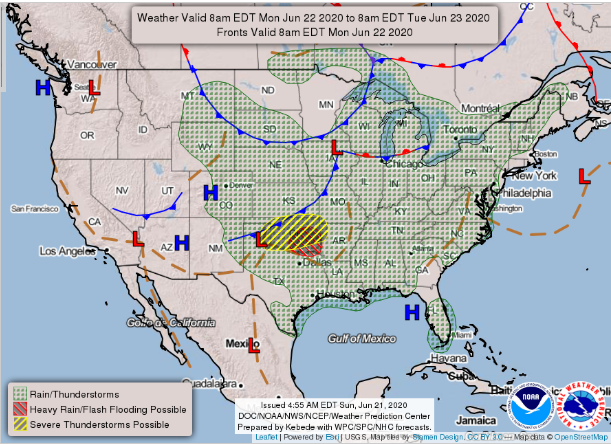 That is headed our way Tuesday into Tuesday night. It'll bring stronger thunderstorms Tuesday into Tuesday night. Tuesday will be our heaviest rain day, with totals between 1.5 to 2.5 inches. Heavy rain and localized flooding is expected into Tuesday night. Severe weather is possible, but right now it looks a low-end damaging wind threat, maybe small hail, but there is no indication of a tornado worry right now.

Wednesday: Stormy weather dwindles after 8 AM leaving us with mostly cloudy skies and temps in the mid 80s. We cannot rule out a spot shower or two as high pressure tries to settle in before Friday.
Wednesday Night: Potential for a stray shower before 8 am. Clouds will move out of the area leaving us with mostly clear skies with a low in the mid 60s.
Ending the Week
Small chance for showers and thunderstorms for Thursday and Friday. Rain/storm probability is low.
Rain is the topic of conversation this week, but here is what our high temps are projected to reach over the course of the next 10 days!
As always, check back for updates to the forecast and be sure to follow @NashSevereWx on Twitter!