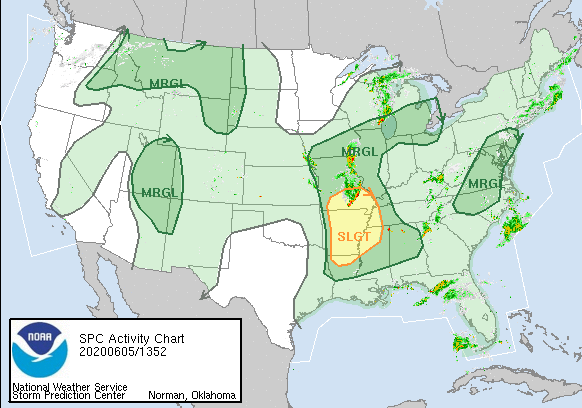 Severe thunderstorms in the MO Bootheel this morning should stay west of us this afternoon. The severe risk looks to be in the yellow and dark green areas above. We are east of all that. Expect some clouds this afternoon, but with all this heat and humidity, we can't rule out an afternoon or evening pop-up thunderstorm.
Explanation: You may wonder what's up with all these random summertime thunderstorms that forecasters can't seem to put a finger on? High humidity and very warm temperatures create opportunity for warm, moist air to rise, a basic ingredient for thunderstorm production. But, that's not all it needs, and those little things the atmosphere requires for pop up storms occur on such a small scale, it's difficult for the forecasting system to see them. There isn't a clear frontal pattern, for example, that can be easily read to determine when it will rain for a certain area, so most of these summertime storms can come out of nowhere. Exactly when and where these "airmass" storms develop is like trying to predict when and where the first bubbles will surface on the pot of boiling water. Summertime pop-up storms are most likely during the late afternoon or early evening, but before sundown, and sometimes they can form in "cold pools" aloft, which can often be hard to see. Some of you may get drenched and stormed on; others 5 miles away get nothing. As David says, "June's gonna June."
Saturday and Sunday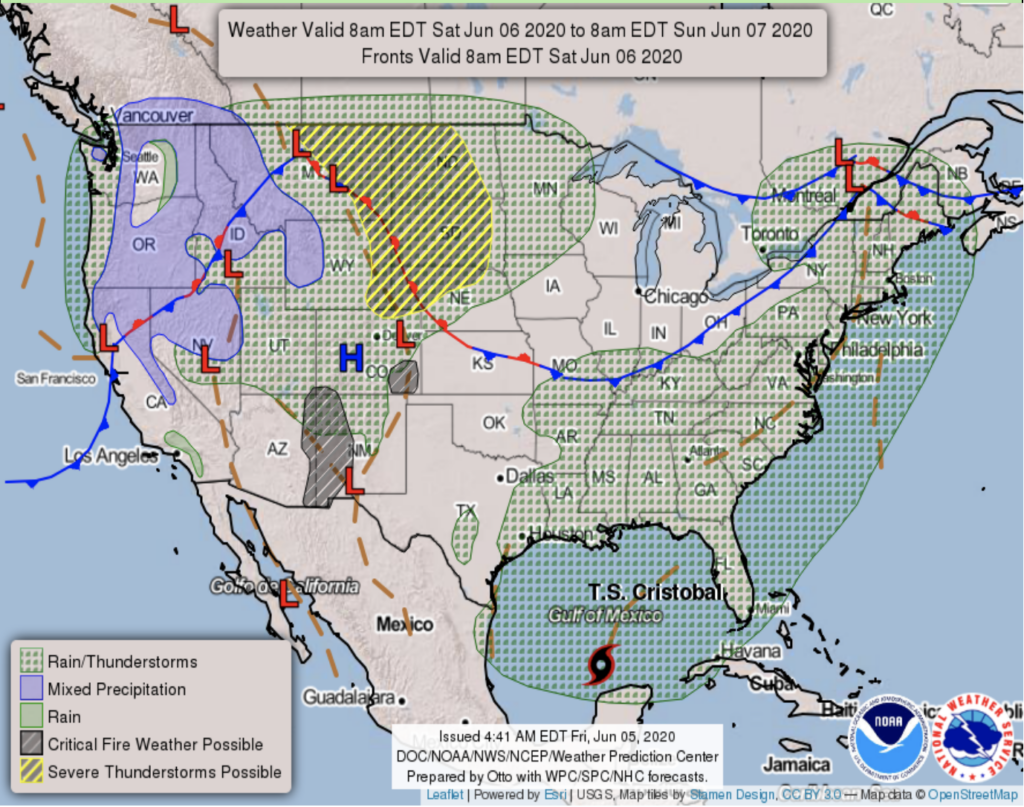 With temperatures climbing into the lower 90s, our heat index or "real-feel temperatures" will climb as high as 97 on Saturday, with our temperatures only at 93.
More hit-or-miss thunderstorms arise after 1pm on Saturday, but the NWS predicts mostly dry for Saturday morning.

Hot temperatures hang on for the weekend!
While Sunday has temperatures in the low 90s, we're set for mostly sunny skies with winds from 5 – 10 mph. Rain is less likely Sunday.
Next Week Outlook
After Tropical Depression Cristobal makes landfall in the Gulf Coast late this weekend, what's left of it will move northward along the Mississippi River Valley, bringing showers and thunderstorms to us for the early part of next week.
We won't see any rain from Cristobal until Tuesday and/or Wednesday, while Monday should remain mostly dry with partly sunny skies.
The center of the storm should be far enough west of us so we aren't really concerned about severe weather. But, how much water are we getting next week? Not a ton, most of Cristobal's water will be dumped in the Deep The South but will continue upwards into the midwest. Roughly for us here in Nashville, about 0.5 – 1 inch projected, but this is an early guess. If Cristobal remnants track further east, we could get soaked.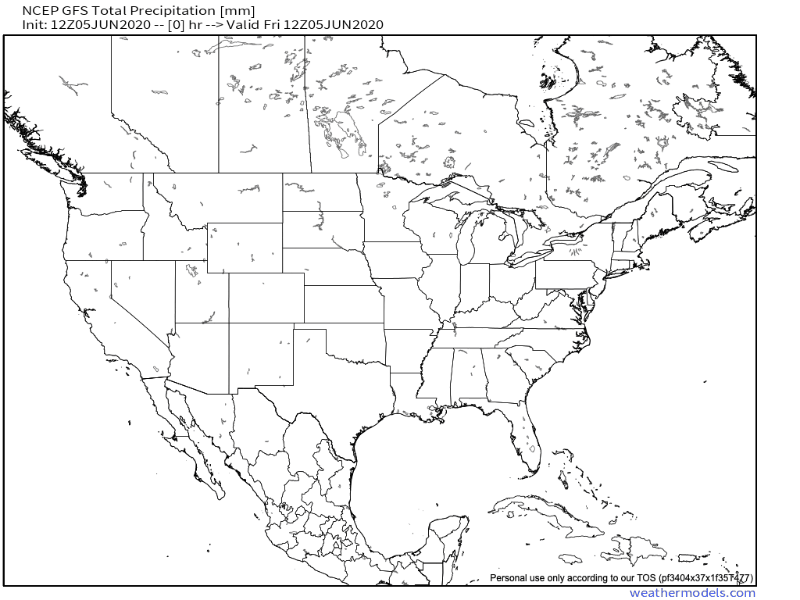 Weekend Reminder: