Wednesday
Off and on rain this morning will hang around this afternoon. A few thunderstorms may be embedded in the afternoon rain, but high winds, hail, and tornadoes are not expected locally.
WPC thinks we may see up to 1″ of rain in some spots through 7 AM Thursday: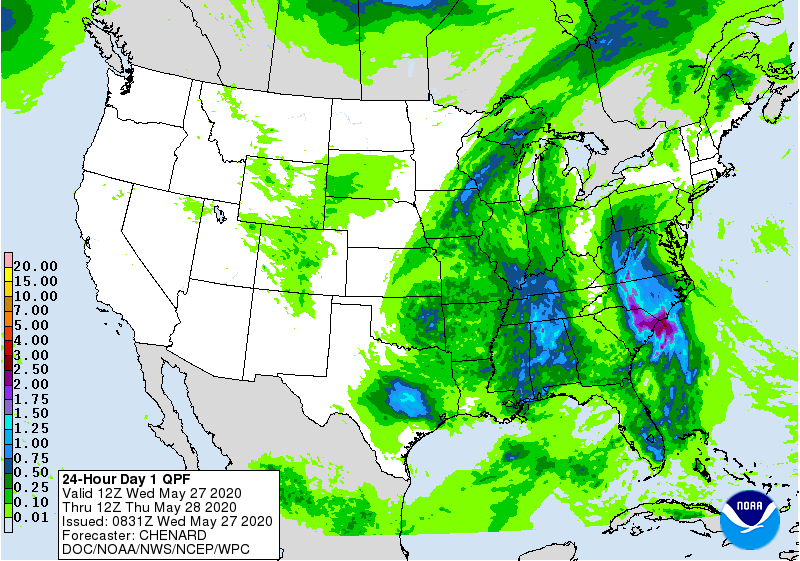 Most of us will get around 0.5″. An overachiever might parks itself over your area, where you could easily pick up that inch of rain. Unlike the past several days, rain should continue long after sunset. We may even have overnight rain, but not severe weather. The flooding threat is low, around 5% to 10%, per WPC's outlook here: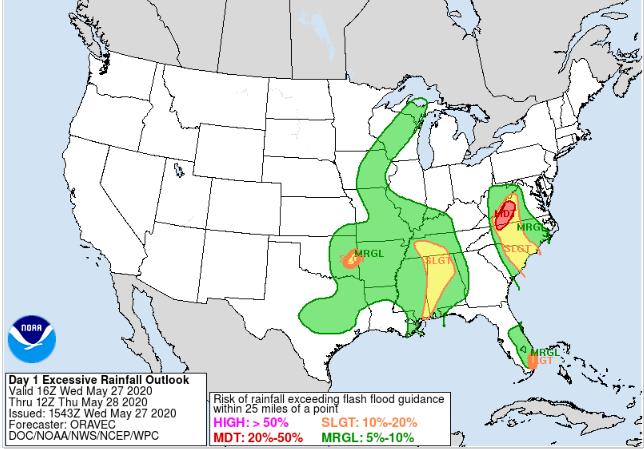 Temps will be cooler than yesterday thanks to the cloud cover: High around 77, Low around 66.
Stronger Storms Possible Thursday (if we get anything at all…).
Yes, warm with scattered, primarily afternoon/evening storms. However, a couple storms could be a bit on the stronger side. That is, if we get anything at all.
Threats & Risks
The Storm Prediction Center has expended the risk area to now include ALL of Davidson and Williamson Counties. (5% chance of seeing severe weather within 25 miles of a given point)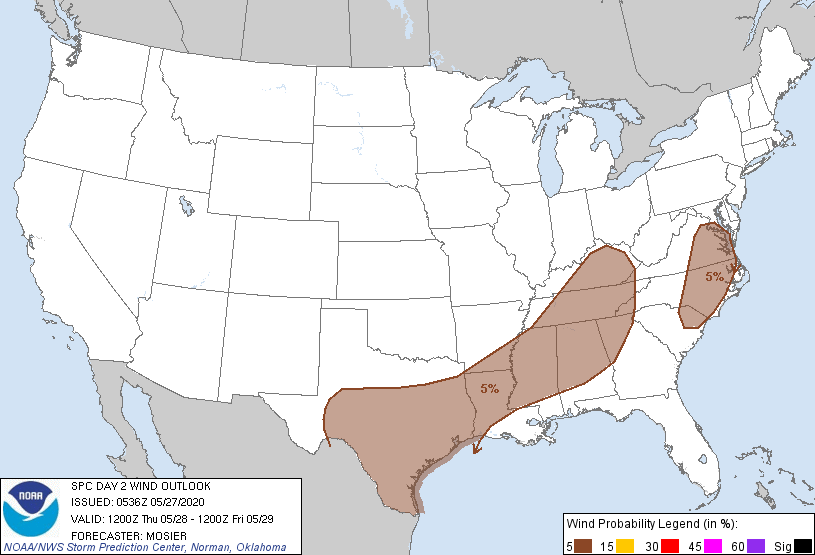 SPC dropped us from its 2% tornado outlook.
While this is a much lower threat, you should plan activities where you have immediate access to weather information and are able to quickly respond to shelter in the event of lightning, or less likely, a severe thunderstorm warning. Do not leave yourself vulnerable. Know what you are going to do and where you are going to go should it be necessary.
Stay Connected, Current Model Runs Look Quiet Thursday (for now…)
All that said . . . look at the HRRR model running through the rest of today (Wednesday) through 7 PM Thursday. After a lot of rain today and tonight, then Thursday looks . . . uneventful, with only a few storms widely scattered around Middle Tennessee.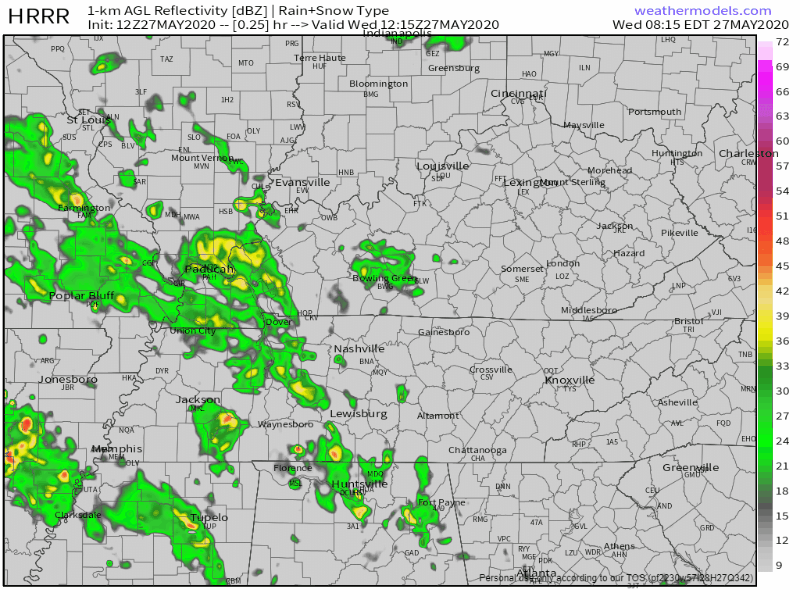 The Euro model is similar for Thursday.
It's possible, then, that we don't see any rain — or very little rain and no storms — during the day Thursday. However, these models may be way off, so continue to check back through the day today and Thursday for revisions (upgrades and downgrades) to this forecast.
(Editor's Note: My anxiety level is pretty low.)
Drier, Sunnier, Cooler Weekend
Four words you always want in the same sentence. We still have to get through the rinse/repeat scattered showers/storms on Friday. But once a cold front moves through late Friday night, that will signal an end to this "outdoor plans ruining" forecast.
Check out these temperatures starting Saturday and lasting through early next week: