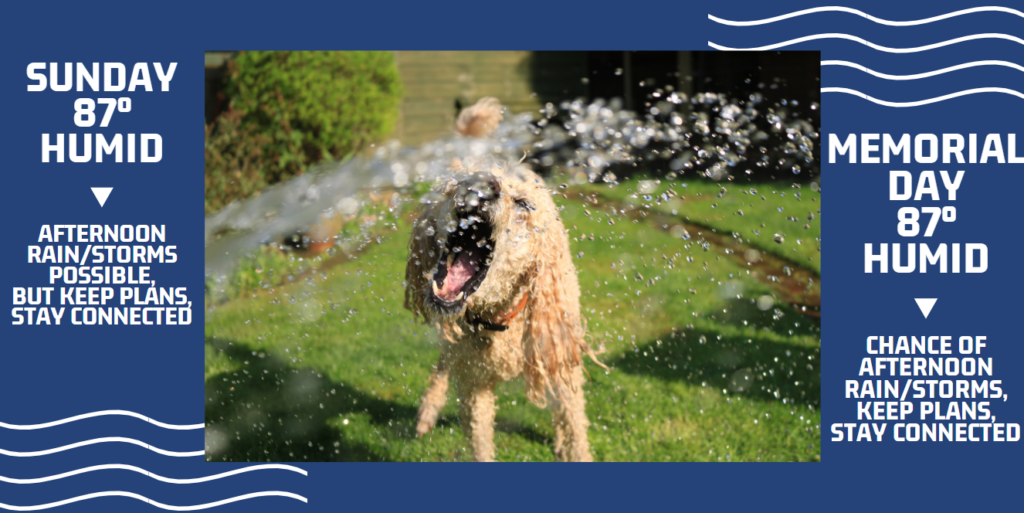 ---
Happy summer folks! The weather patterns in this forecast are sponsored by heat, humidity, and afternoon pop up showers.
Sunday
Temperatures today will peak in the upper 80's. The dew point will be up to 68º, so at least remember to put on deodorant before you go outside today. Welcome to summer!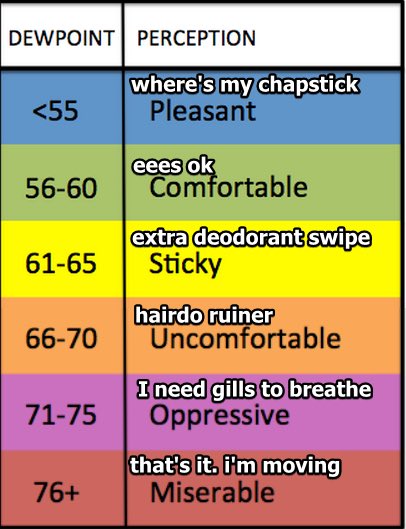 This afternoon, expect to see some scattered showers across the area. The greatest chances will be to our west, though. Since it's (almost) summertime, storms are not always easy to pinpoint. The HRRR model has us bone dry . . .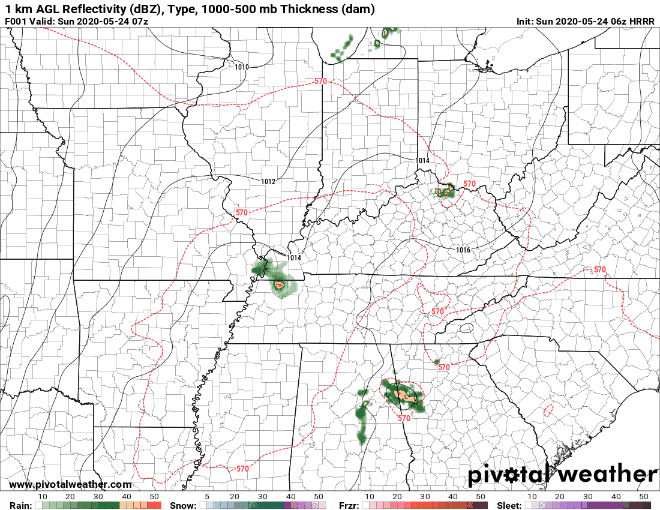 . . . but the Euro model shoots showers across Middle Tennessee this afternoon. So does the GFS model: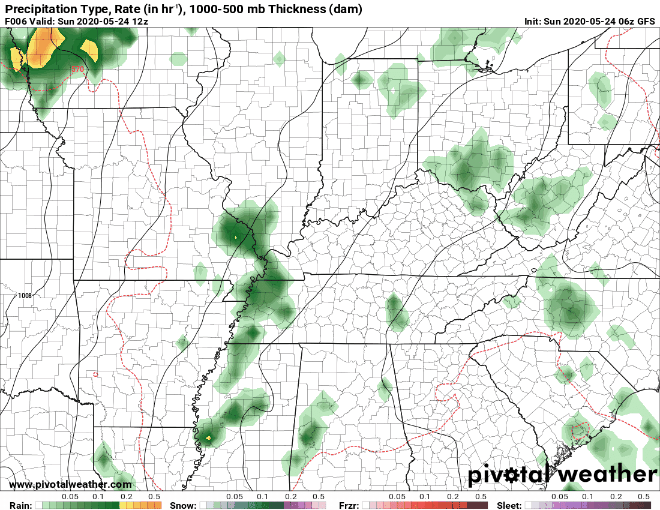 It's helpful to have a radar handy for the most up to date look at any incoming rain. Here is a great mobile-friendly radar: https://nashvillesevereweather.com/radar/.
The HRRR is not nearly as generous with the number of storms we will see today. The HRRR is a higher resolution model, so I tend to trust this model more. Take the information as you will, and bring an umbrella to the park either way.
In short: the models do agree that as we heat up this afternoon, some storms will pop up. When and where? Eh, we don't know. No afternoon plans will be washed out, but stay weather aware in case you need to shelter from a passing thunderstorm. We are excluded from all SPC outlooks with hail, damaging winds, and tornado threats.
Monday (Memorial Day)
More widespread showers are expected tomorrow afternoon. Keep your afternoon plans, but make sure to be close to an enclosed shelter from a lightning-producing storm in case one decides to try to rain out your Memorial Day activity.
Here is the GFS model for Monday, not too bad.
And here is the HRRR model for Monday afternoon: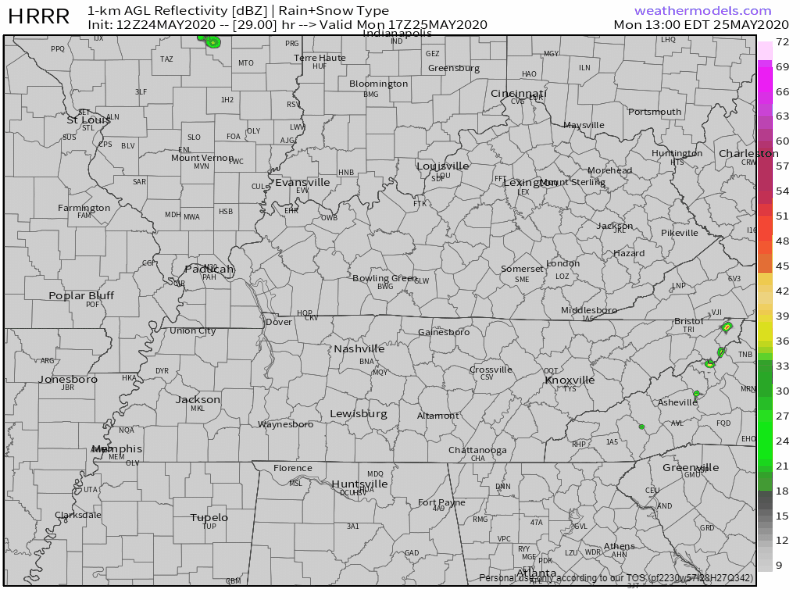 The rain will attempt to sabotage plans tomorrow after about 2 PM . Will they succeed? That depends upon your location vs. where storms decide to dump rain. We think it's fine to keep your plans as long as you can stay connected to weather information and not venture too far away from a lightning-safe (must be fully enclosed) structure.
A little more CAPE (storm fuel) will be powering the Monday storms. Storms are expected to stay below the severe threshold though. This doesn't mean that they won't pack a punch—they could still bring lightning and some strong winds. This risk of storms across the region is what prompted NWS-Nashville to issue the below lightning clip art for Monday. The day won't be a washout, but you should stay connected to radar and other weather information.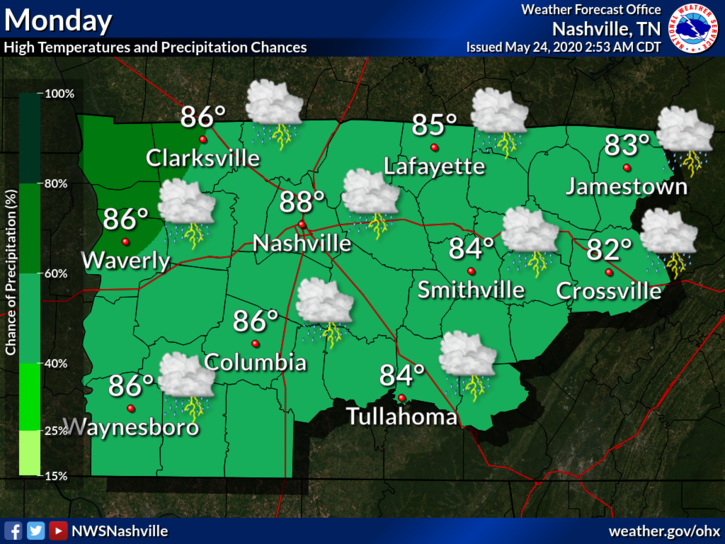 The heat will persist through Monday. Also, don't forget the humidity–that will be plentiful too!
Looking Ahead
The upper level ridge sponsoring this weekend's forecast will lead to the formation of a cutoff upper level low. This will bring moisture and an even greater chance of afternoon storms through Thursday. This is why your crap app extended forecasts look like this from Tuesday through Thursday: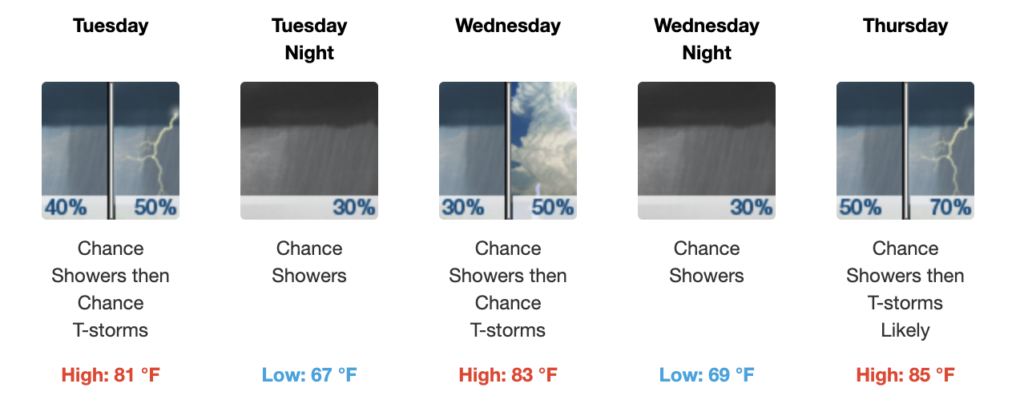 Model resolution is poor at this range, so specifics will be difficult, but, after Monday, NWS-Nashville thinks the most likely days for rain will be Thursday evening and Friday afternoon. However, rain is possible every afternoon this week.