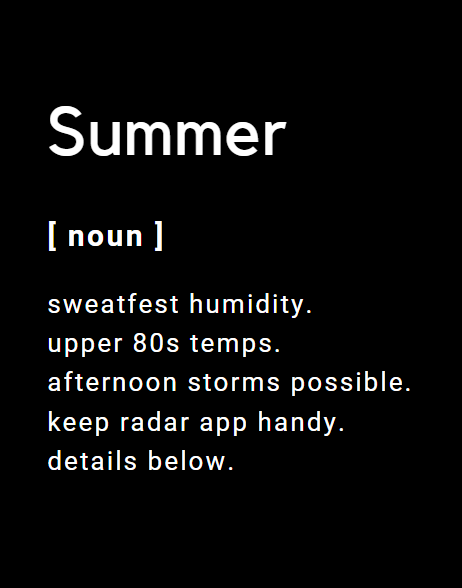 ---
Keep your mobile radar app handy. We recommend RadarScope. There's also a (free) radar (mobile optimized) here: https://nashvillesevereweather.com/radar/. Memorial Day weekend will be full on summertime pattern, where forecasting tools are not that helpful for ETAs and advance planning.
Saturday Sweat, Afternoon Storms Possible
High humidity is here. Uncomfortable, hairdo-ruining levels.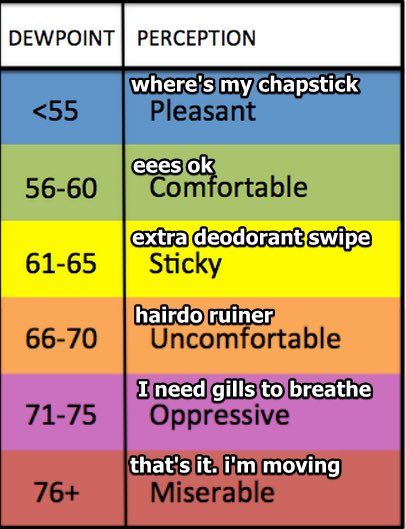 By lunchtime temps will near the mid 80°. Through the afternoon we may see enough heat to loft that moisture to make rain and thunderstorms.
Exactly when and where is anyone's guess. We will probably (not definitely) be OK early this afternoon, but as we heat up around 3 PM and beyond, we should see downpours and cells to break out in random/unknown spots in Middle Tennessee. This may mean you, or…not. The HRRR model is little help; it has predicted storms to drift north of us, over us, and (in the latest model run below) south of us.
A few storms may misbehave. The National Weather Service in Nashville noted in its Hazardous Weather Outlook for today and tonight that strong storms will be possible today, although the strongest fuel for that will be to our northwest. Hazards include strong wind gusts and small hail. The probability of a damaging wind or 1″ hail event is 5% for those just northwest of us. Tornadoes are not a concern.
Will your [event] get hit with a rain shower or thunderstorm? We don't know. Place your bets. The later in the day, the higher your chances of getting something.
Any rain/storms should start to die off after sunset.
Hot & Humid Sunday, Afternoon Storms Possible.
Sunday will be like Saturday. Rain and storms are possible mostly in the afternoon and early evening. High temperatures around 88 in the shade. Notice the below run of the HRRR model whacks us with storms Sunday mid-afternoon: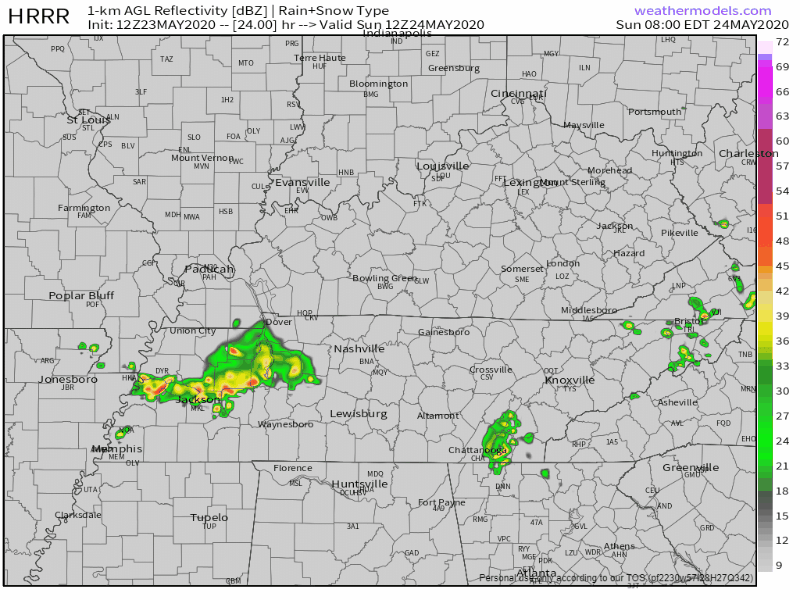 Lightning is the main worry, with a remote chance of damaging winds.
Memorial Day Afternoon Rain (Storms?)
Rain and storm chances increase Monday. The most likely time for rain this entire three day weekend is Monday afternoon. Below see Euro model data in 1 hour chunks for Monday afternoon: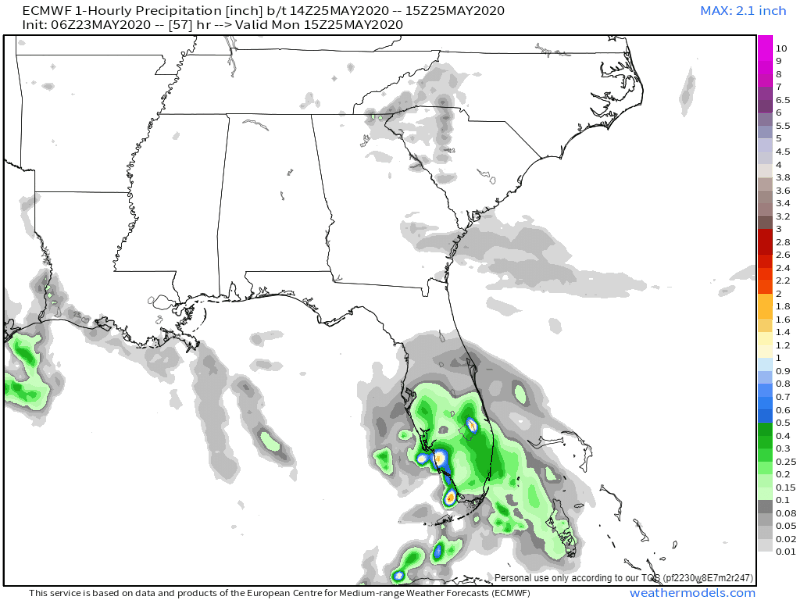 Probably not a complete washout, but if the data is correct, you'll need to run inside to shelter from a passing/arriving lightningstorm. Notice how Monday's rain/storms are modeled to come in from the SE, moving NW. That direction is unusual for spring, but not for summer. Storms will move that way because high pressure will be east, and winds move clockwise around high pressure: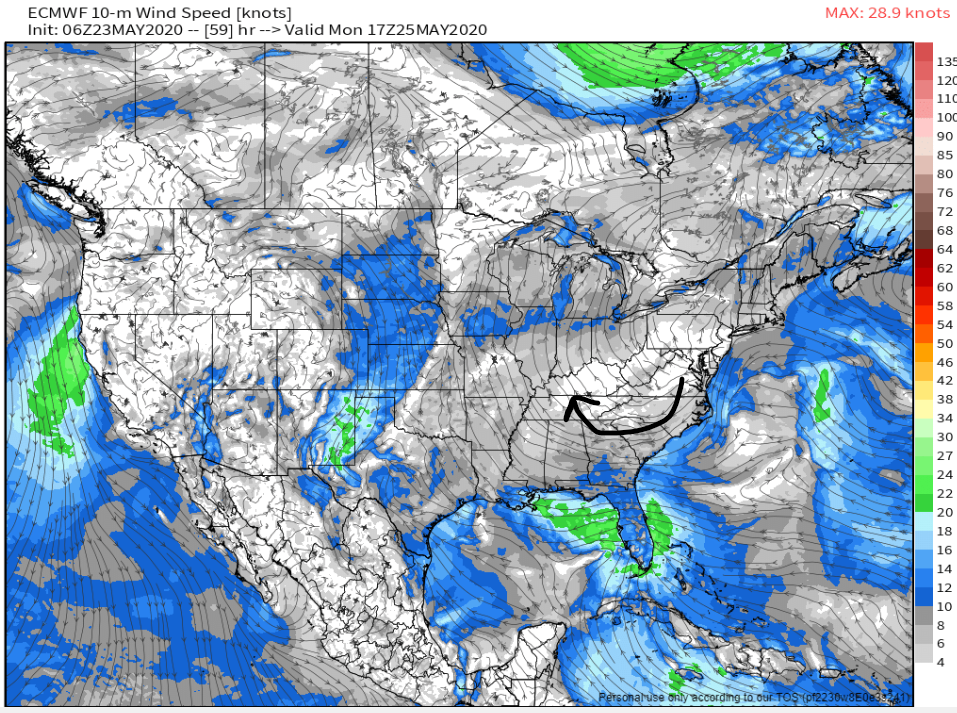 Memorial Day afternoon storms will be fed by substantial surface based CAPE, aka storm fuel powering up lightningstorms and heavy downpours: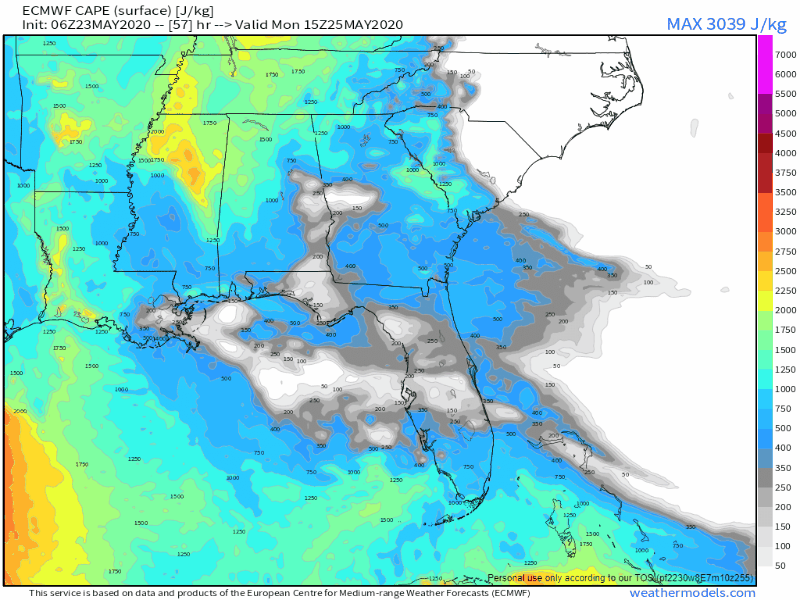 Tuesday Cool Down? Kindanotreally. Still Humid.
When temps drop in this model data, it doesn't always mean cooler. Probably just means humid and cloudy, which is what a look underneath the hood of this data shows: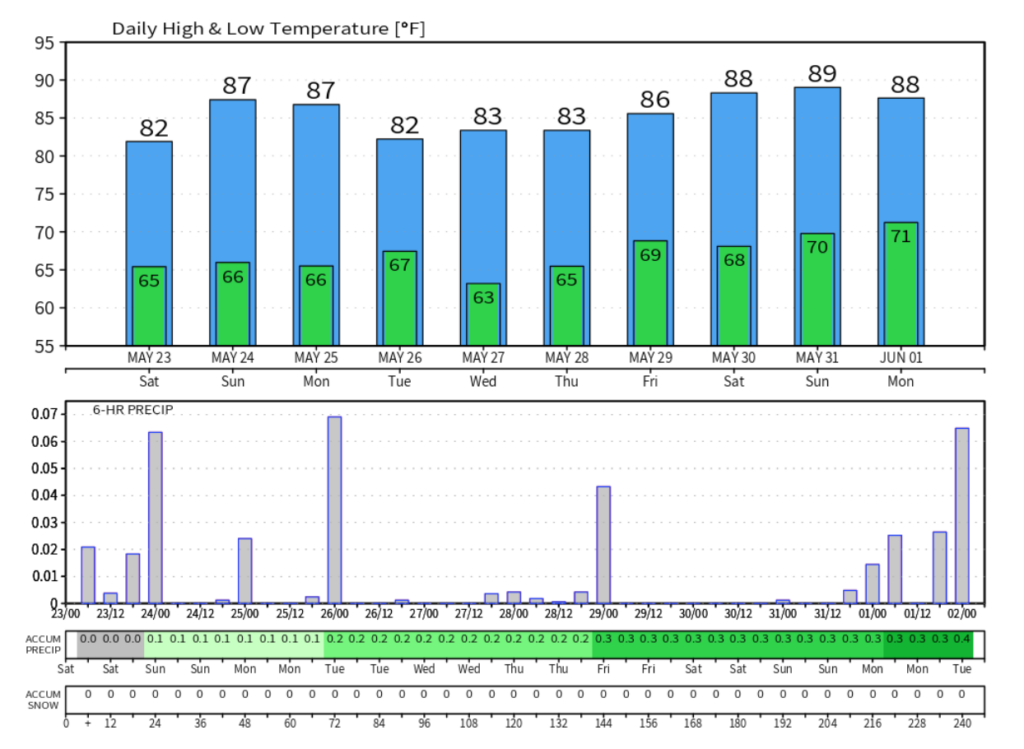 Have a great weekend and be weather aware!