Today (Thursday)
Look outside, it's cloudy (then sunny). Already some showers rotated in from the west, around the low we've been tweeting about most of the week.
This afternoon after 1 PM, models predict these overcast skies will produce showers and thunderstorms, mostly north of I-40 in Nashville. The storms will be isolated, and the models think the storms will drift north and east, so they may clear our area by late afternoon. However, a few storms may develop right overhead, but the bulk of the rain and storms should move away as we go through the afternoon and night.
Those mid-to-late afternoon storms running north of I-40 will have sufficient instability to be strong, according to the NWS-Nashville mid-morning forecast discussion. It's more likely the strong storms will be to our north and east today.
The HRRR model predicts what we're talking about, as storms form mid-afternoon and move north and east: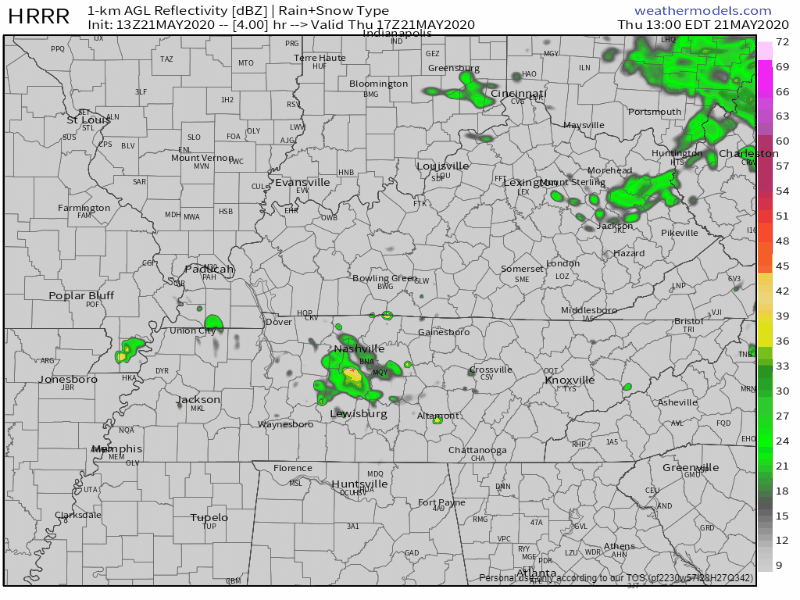 But hey at least it's going to be warm today with a high of 75.
Notice there won't be flooding; most of the rain will be far to our east in VA and NC where flash flooding is a big worry.
Friday and the Long Weekend
Friday into the weekend is going to be super humid.
The HRRR model shows a complex of showers and storms moving in Friday morning, then a clearing in the afternoon. We'll have to update this ETA later today as more model data arrives.
Summertime humidity and near 90 afternoon highs begin Saturday and last through the long weekend and into next week.
Substantial moisture arrives Saturday morning. NWS-Nashville thinks rain is "likely" then.
With all this heat and humidity around, scattered showers and thunderstorms should bubble up in random spots all over Middle Tennessee, more likely between early afternoon and early evening. The most likely day for afternoon/early evening showers will be Monday, but they're possible any afternoon this weekend.
Boaters, Golfers, Hikers
Lightning and heavy rain are the main hazards. Strong downdraft winds are also possible. Tornadoes aren't expected.
Many storms this weekend will form directly overhead, so you may not see the storm on radar until the first lightning strike hits. Be aware of your surroundings. Do not disconnect from weather information.