Beautiful today. Friday not so much!
High Thursday: 69°. Low humidity, too.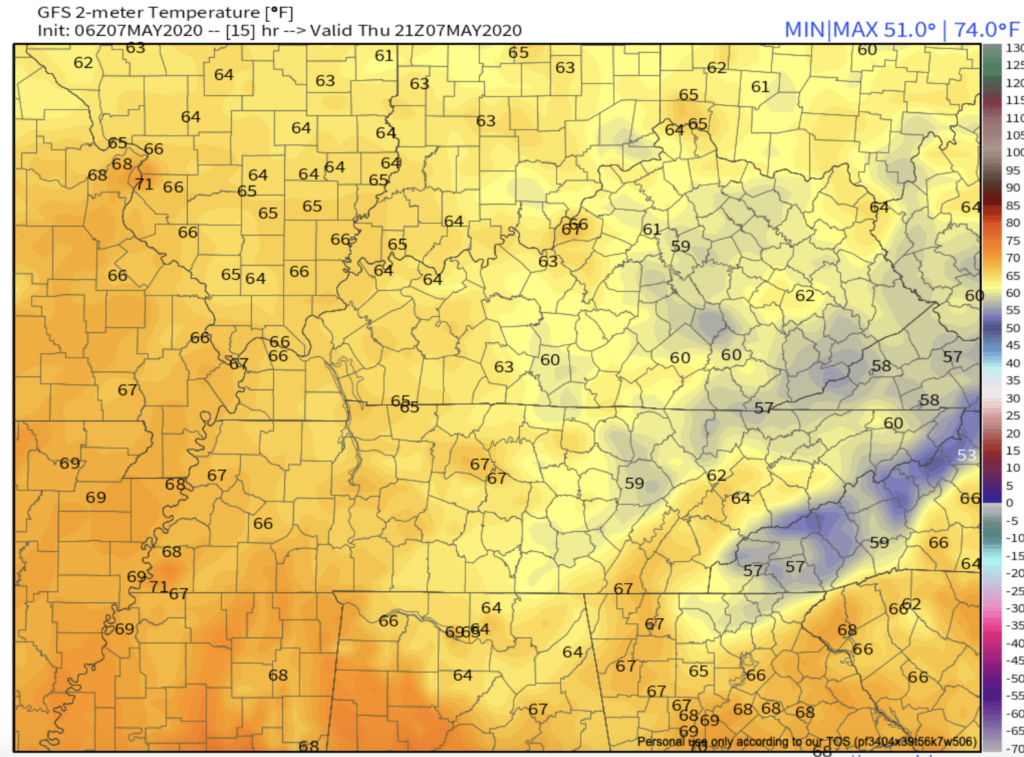 Clouds increase tonight ahead of rain arriving Friday morning.
The HRRR model thinks it'll be raining when you wake up, heaviest by late-morning, then slowly tapering off mid-afternoon into the evening.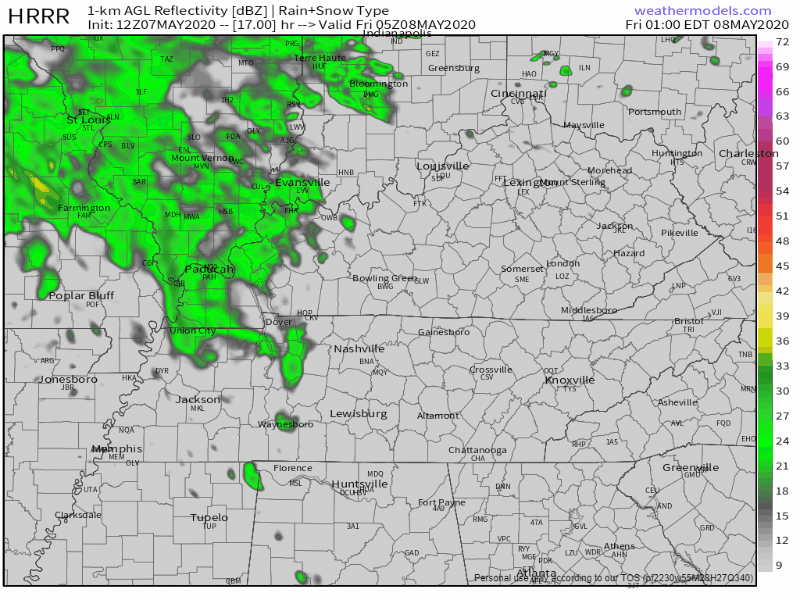 NWS-Nashville has us down for just under a half inch total. New data shows it may be as much as 1″.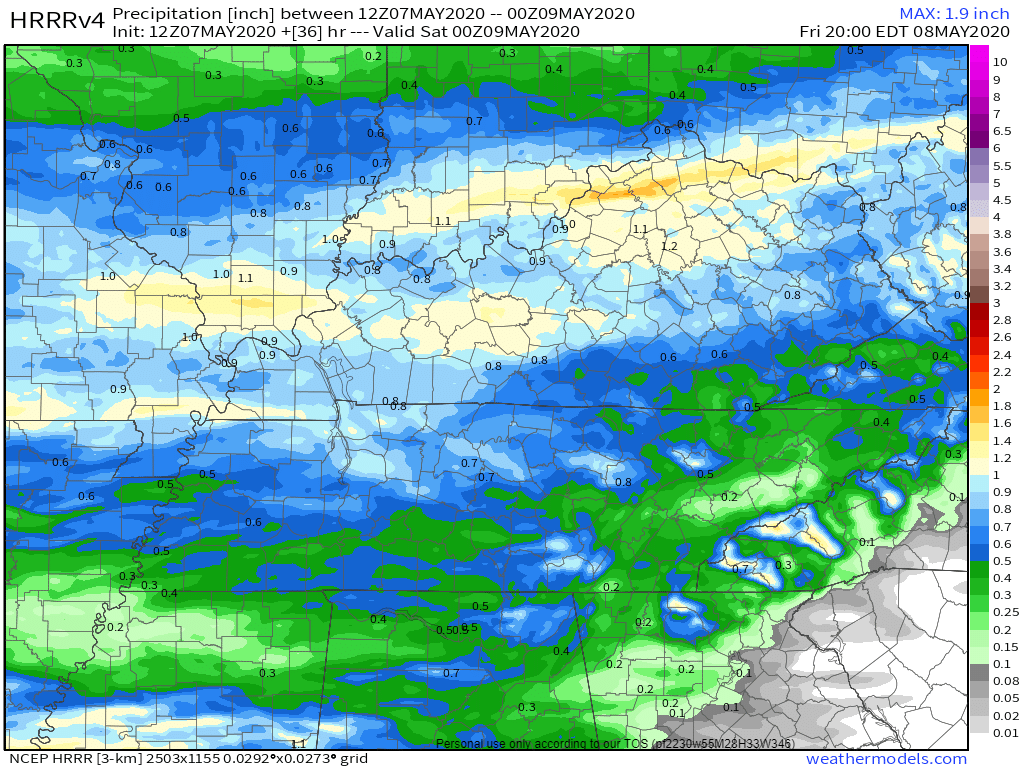 That'll wreck most outdoor plans. What a mudmaker.
Windy, too. South wind of 10-20 mph. Some gusts could reach up to 30 mph.
No severe weather expected. A non-severe thunderstorm is possible, but unlikely. We don't expect enough instability to power up storms.
Cloud cover will keep the Friday's afternoon high under 60°.
Saturday morning frost possible.
Friday night, temps will crash through the 50°s into the 40°, and drop into the 30° in the predawn hours of Saturday morning.
Not expecting a widespread freeze here, but it might freeze to our east at higher elevations.
"Issued a freeze watch for the eastern third of the mid state where near and below freezing temperatures are likely Saturday morning. The rest of the mid state will likely need a frost advisory with lows in the mid 30s." – NWS-Nashville, AM Forecast Discussion, 5/7/20

NWS-Nashville, 5/7/20.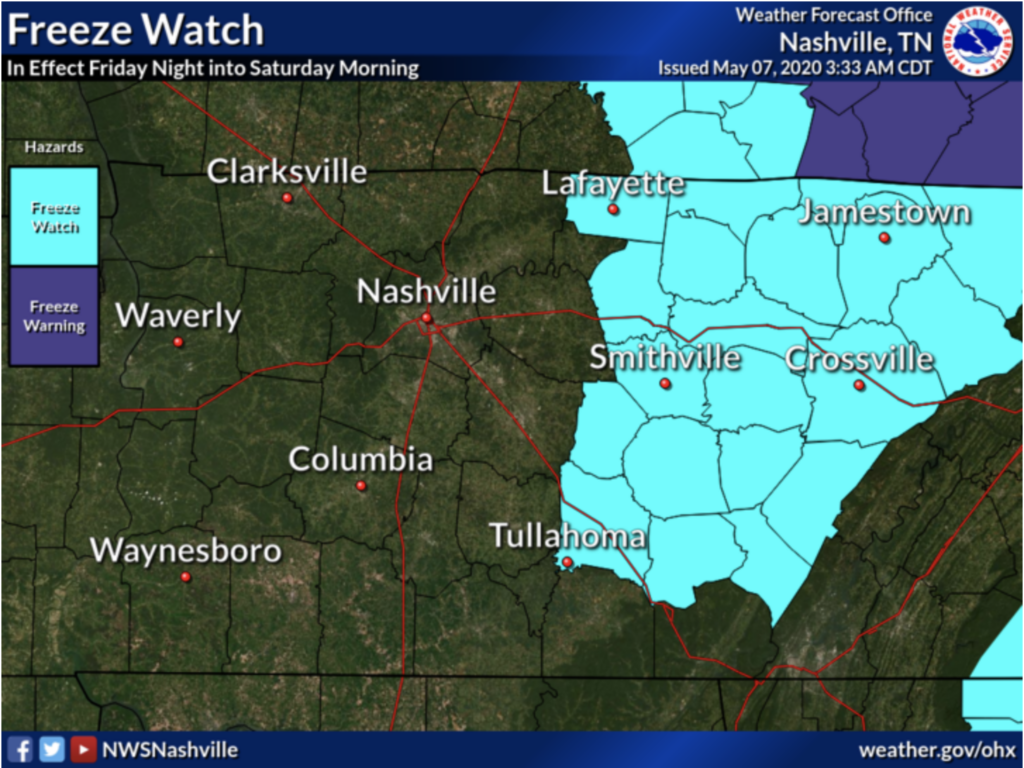 For us, a Frost Advisory will probably be needed for those early Saturday morning temps. Low 36°, but some local areas may reach freezing — many places at elevation often get colder than the official forecast temp for the airport.
Expecting about 3° warmer Sunday morning, low 39°.
I thought we got rid of winter a while ago?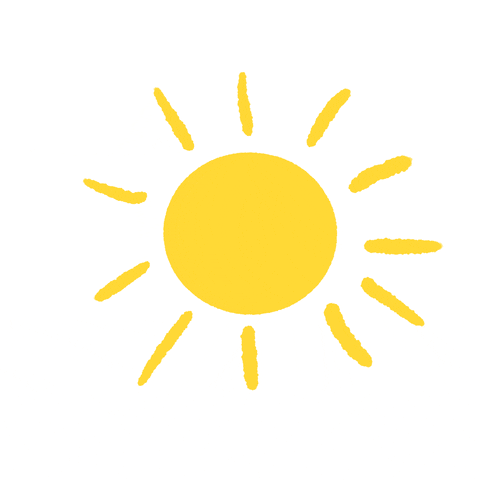 Sunny and 60's Early Next Week
It may not be "Sunny and 75" but it will be pleasant with spring-like weather! Next chance of rain: Wednesday morning.
To do: Cover plants Friday night for Saturday morning!