Remainder of the Afternoon
Sunshine and 72° as of 4:00 pm. This has been a fantastic day.
Tuesday will be similar, a bit warmer, with highs around 77°.
The Next Storm System
Tuesday night, our next system will swing in bringing a chance for rain and thunderstorms. The window for rain opens Tuesday late afternoon and closes Thursday morning.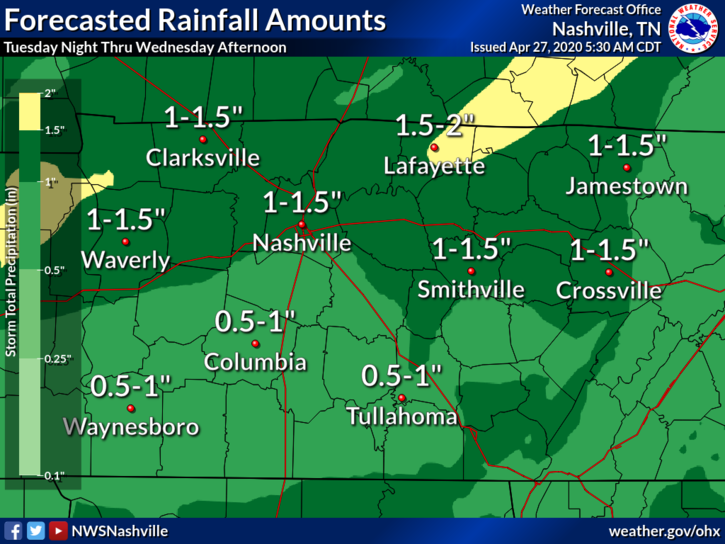 This will be a good soaker for us. So, if your yard gets mushy after a rain, Tuesday is your yard work day.
Our local NWS office indicates the chance for strong to severe storms is low, but not zero.
Instability increases after midnight as well, and continues through the mid afternoon ahead of the cold front, so still not ruling out chances for strong to severe storms. Main threats with any stronger storms that do develop will be gusty winds and even some hail thanks to steep mid level lapse rates and colder temperatures aloft.

NWS Nashville Afternoon Forecast Discussion 2:31 pm April 27, 2020
We'll be watching for any storms that try to get out of hand.
We are forecast to keep our 60°+ high temps through the rain-maker.
Quick Look at the Weekend
We're several days out right now, but it look slike the first half of the weekend should be nice with temperatures in the 70s to near 80°. Rain may make it back in by Sunday. We'll see.
10 Year Anniversary of the Nashville Flood
This weekend marks the 10 year anniversary of a chapter in history many of us will never forget. The creeks and rivers you may be out walking along today made their way into our neighborhoods, our streets, our houses and even very familiar parts of downtown Nashville. Today's picture is from Antioch Pike where severe damage occurred along Mill Creek.