Yesterday's Wilson/Smith Co. Tornado.
Just before 4:45 PM, the line that came through north Williamson County/south Davidson County tapped higher instability and slightly more favorable tornadomaking ingredients.
A tornado touched down just south of I-40 in Wilson County, then crossed the interstate.
This tornado was rated EF-1 for 90 MPH winds. It traveled 3.81 miles and was on the ground 7 minutes. It was 100 yards wide at its peak. It crossed the path of the March 3, 2020 EF-3 tornado.
It moved through Wilson County damaging buildings, a barn, snapping power poles and dropping trees. Debris lofted 7,100 feet. The tornado moved into Smith County.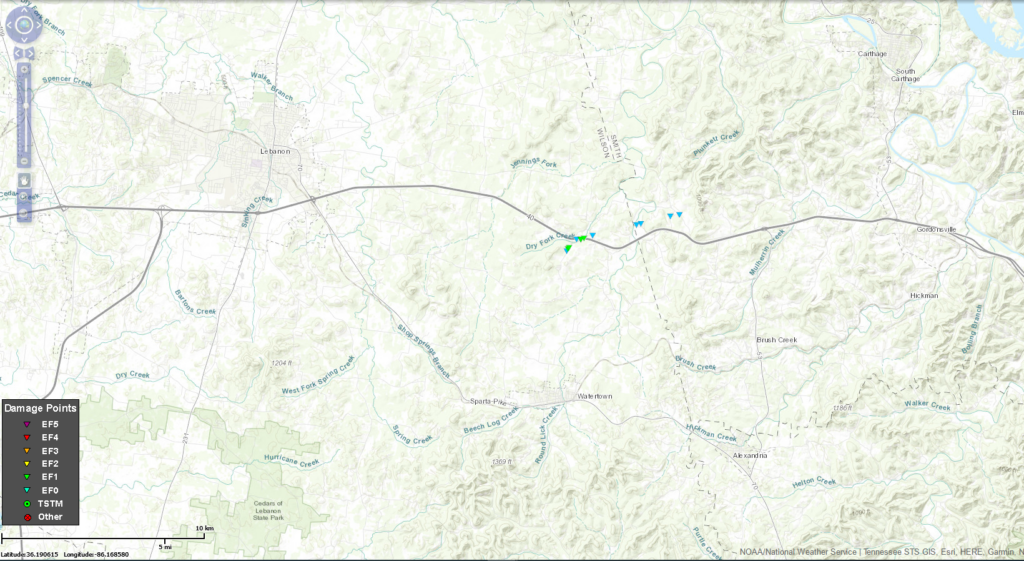 ---
Light Rain Today.
Rain should replace drizzle early this afternoon. HRRR model thinks rain will be light and along and east of I-24, gone before dark.
Afternoon high 57° but a stiff NW breeze will make it feel colder than that.
---
Seven Day Temps.
Cold Monday morning. Highs spike in May.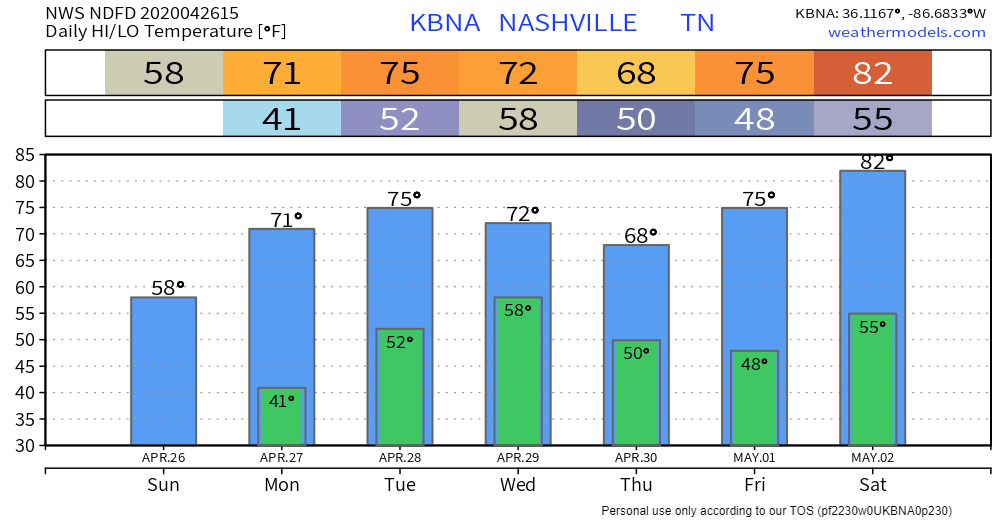 ---
We Done Freezing?
The Climate Prediction Center, GFS and Euro model runs out to 240+ hours, all suggest no more frost this Spring. Northern Indiana is as far south as the freezing line gets, on May 12.
---
Tuesday Night – Wednesday.
Rain will be pushed through Middle Tennessee late Tuesday night into early Wednesday morning.
No severe weather expected. Models think the system will be cut off from stormmaking instability (higher res models are out of range, so check back tomorrow). For now, we only expect rain.
Heaviest rain between late Tuesday and lunch Wednesday, then light rain or drizzle after that. About a half-inch or so.
---
10 Year Anniversary Friday & Saturday.
Coming up, May 1-2, ten years ago.