Today we'll see waves or rain, and possibly some strong to severe storms.
Radar trends this morning show the HRRR model is well initialized in its 10z run (below).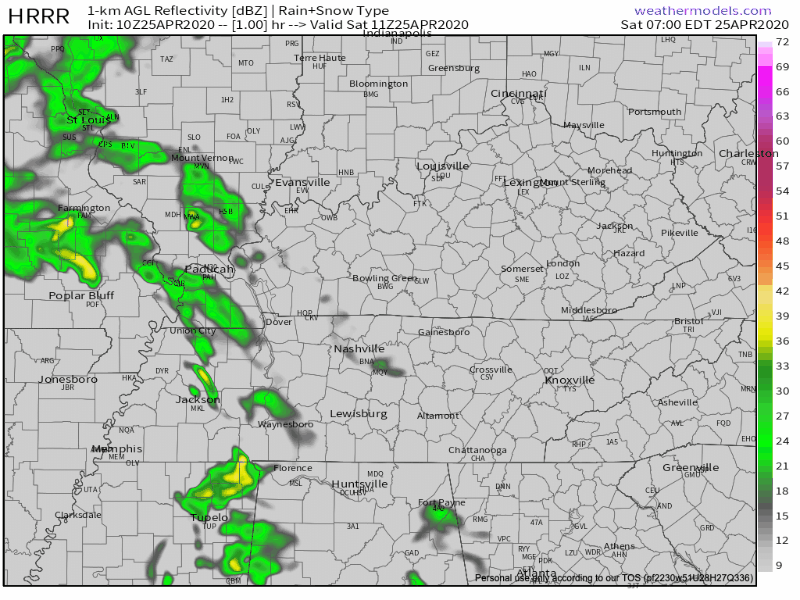 Upper and lower level low pressure will spin by us to the north and bring enough instability that some of the storms could pack a punch with wind and large hail being the main thread. There could be enough ingredients to spin up a brief tornado as well. Stay weather aware today.
Let's discuss probabilities for wind, hail, and tornadoes.
SPC has issued a convective outlook with the following predictions.
| | | |
| --- | --- | --- |
| HAIL | 5-15% | |
| 58+mph wind | 5% | |
| Tornado | 2-5% | |
SPC Probabilites
This mean that you have x% chance of seeing the above within 25 miles of your location. The probabilities are higher the further east you go.
None of these probabilities are overly alarming, but certainly work paying attention to as we go through the day.
Timing
Current thinking was well discussed in the morning Area Forecast Discussion by NWS Nashville.
As for the
timing of this threat, it looks like 11 am to 3 pm for areas west of
I-65, and 1 pm to 5 pm to the east of I-65.
So for us, this is probably an early to mid-afternoon event.
Sunday and Beyond
Cooler temps and light rain hang around overnight Saturday and into Sunday as this system passes. Skies will start to clear as we progress through the day on Sunday.
Temps will rebound on Monday. Lots of sun and low 70's.
Tuesday brings back clouds with those same 70's and sets the stage for our next rain chance mid-week next week.